How The Pros Are Quarantraining
Heading out the door? Read this article on the new Outside+ app available now on iOS devices for members! Download the app.
Gyms are closed and races are canceled, but that's not slowing down these pros. From stair repeats to impromptu dance parties to introspection, here's how top runners Abby Levene, Jason Schlarb, Courtney Dauwalter, Matt Daniels, Cat Bradley and Addie Bracy are dealing with social distancing.
Get Inside
When the weather is nice, the North Face 50 top-five finisher Abby Levene has been escaping her Boulder apartment by jumping on her bicycle, but, when the weather shuts that down, she's been doing tough spin workouts inside. "While it's not vitamin D dosing, hitting some hard intervals is incredibly cathartic." Levene has been struggling with a mysterious IT band issue since the fall, but is staying positive, "I really wish I could run right now. But I also realize this is a great time to be injured if there ever is one," says Levene.
The 2019 UTMB champ Courtney Dauwalter has still been able to run her local trails in Golden, Colorado, but already has a contingency plan if she is told to shelter in place. "I have been eyeing my staircase, as it would be interesting to see how much climbing I could squeeze into a day on those stairs," says Dauwalter.
Addie Bracy, a pro runner and mental-performance coach, recommends leaning on established routines. She has also used her extra free time to focus on some overlooked aspects of training, like core work, strength training and stretching. "I've been training every day to keep some sense of consistency and normalcy," says Bracy, "but I've also been careful not to put too much pressure on myself in terms of how hard or long to go."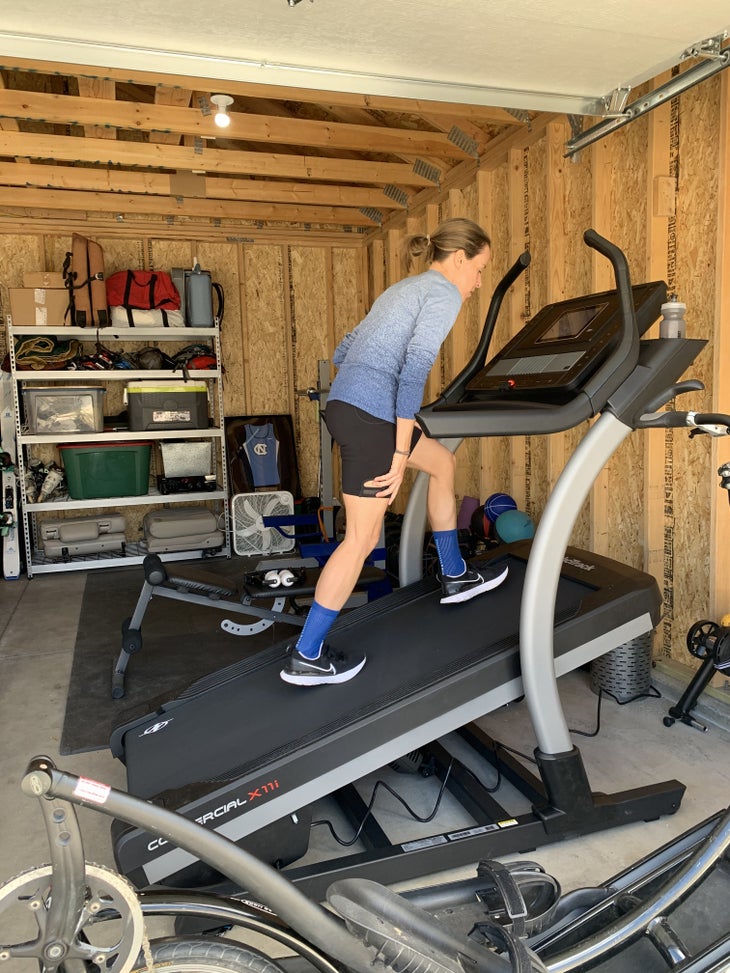 Embrace The Space
As races are canceled and training schedules are rearranged, runners can feel a mix of emotions. The three-time (2013, 2015, 2018) Run Rabbit Run winner Jason Schlarb actually felt some relief when his spring races were canceled.
"I can now train without a race looming," says Schlarb. "I'm no longer focusing on a specific outcome in the near term." He's using his extra time to seek out activities that would normally be hard to fit into a rigorous training schedule, "My training has had more emphasis on fun and less on measurable improvement," he says. "With more flexibility, I'm doing more skiing or other adventures."
It's impossible to always be in peak condition, and some pros are using "quarantraining" as a time to rest rather than double-down on home-based training. Cat Bradley, the winner of the 2017 Western States Endurance Run, says she's using social distancing to lay low and recover from winter training. "I'm giving myself a lot more leeway in what I run and how hard I run," she says. If she's not feeling up to it, Bradley takes the day to rest, guilt-free.
Dauwalter too is tuning into how her body feels and giving herself extra grace during these uncertain times. "If that means lower mileage than normal or slower miles, that is fine by me," she says. "I am also fully committed to social distancing and limiting time out in public spaces, and am spending a lot of time FaceTiming with my family."
Tune Out
Staying informed is one thing, but continuously refreshing the Johns Hopkins corona-tracking map is another. Remember that you can control the information that you see and that it's important to tune out things that you can't act upon.
"I am not going to lie, as an informationaholic, I found myself getting lost in the depths of Twitter and news outlets," says Levene. She is a writer and spends a lot of time on the computer. Recently, she has consciously avoided obsessing on news and updates.  "Controlling the controllables is providing me with more stability and sanity."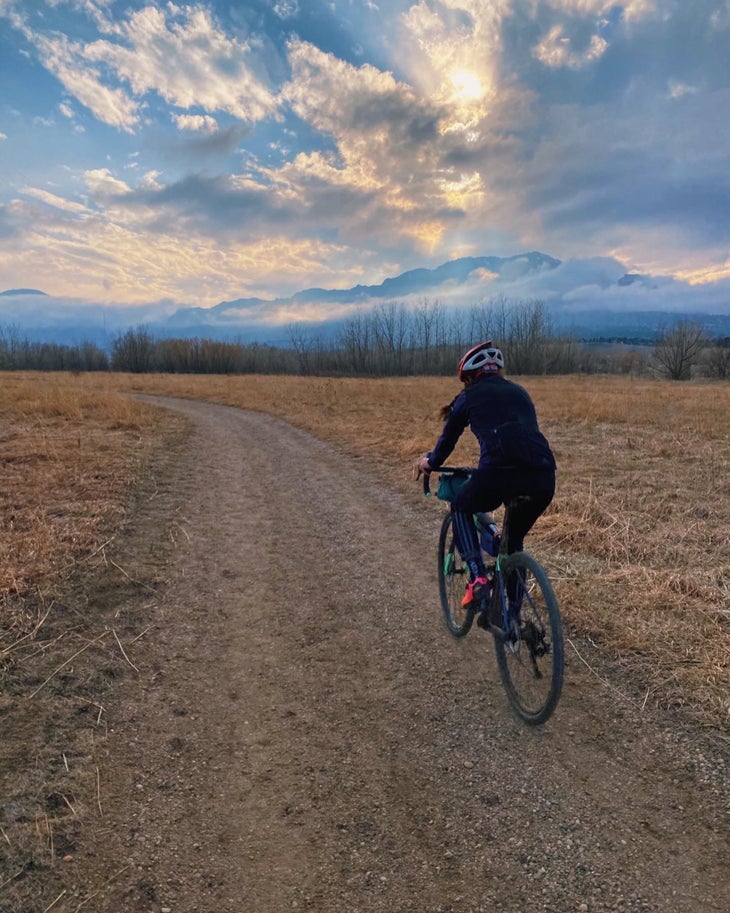 Top Five finisher at Western States, Matt Daniels also cautions against too much time spent scrolling through social media. "Try to limit the amount of social media I'm on. While it's nice to have instant access to what we need to be doing, I've found it to be overwhelming with not knowing what to believe or not to believe," says Daniels.
Be Connected
Instead of consuming social media, now is good time to connect with people in your community who might be feeling isolated.  Schlarb has been reconnecting with friends and family, as well as practicing mindfulness: "I meditate and journal daily which helps keep me grounded and provides longer-term perspective versus getting caught up in the stress of the near term." A new addition to Schlarb's training are mandatory daily dance parties, alone in his house. Train like nobody's racing, dance like nobody's watching.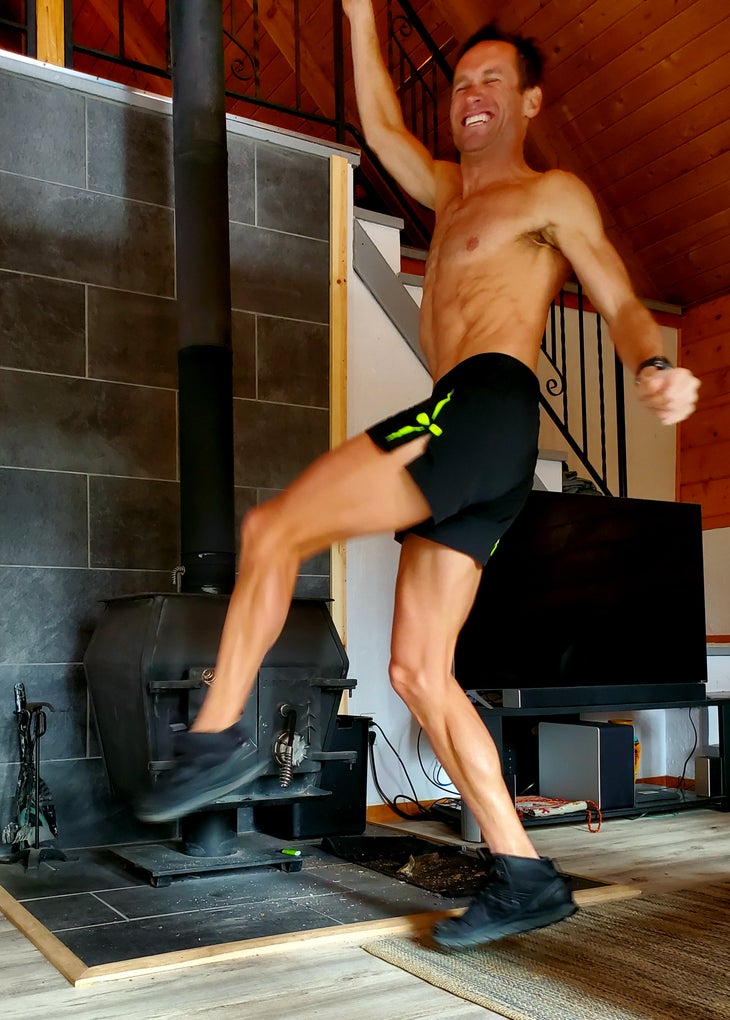 Reaching out to others has helped Bracy put her own situation into perspective "I've made an effort to stay connected to friends, family and the athletes that I work with to remind myself that we are all in this together," says Bracy. "It puts me in a better headspace than focusing too much on how I'm personally impacted."
Be Grateful
Many runners are using a race-free season to get back in touch with why they love running in the first place. "I run because I love it, and, if races end up happening, that will be an added bonus to the year," says Dauwalter.
Levene keeps her chin up by focusing on what she's thankful for. "I'm trying to focus on gratitude," she says. "Gratitude to our angel healthcare workers, truck drivers, cashiers and grocery-store workers, and everyone else keeping us fed and supplied.
"It's made me more grateful to live in a place with incredible outdoor access. I'm hopeful that this strange, scary time will fill us with more appreciation for our outdoor playground, and more incentive to try and protect it."
Bradley too has used quarantraining to put running in perspective and stay positive. "Running is something I keep turning back to for comfort. Knowing that I still have a place in the sport and that there are trail races in my future is enough to keep my chin up through these times of uncertainty."
Schlarb also says recent events have helped him put his passion into perspective, "When I can't do something I love, it makes the experience that much greater when I can," he says. "Increasing my appreciation for trail running and racing has been a positive result of the coronavirus restrictions."
Zoë Rom is Assistant Editor at Trail Runner , host of the DNF Podcast and a trail running coach. She enjoys podcasts and pizza.