An Advanced 50k Training Plan For Trail Runners
The 12-week plan provides a range of mileage options starting at 31 to 65 weekly miles and reaching 50 to 95 weekly miles, including weekly workouts and guidance, geared toward supporting peak performance and long-term growth.
Heading out the door? Read this article on the new Outside+ app available now on iOS devices for members! Download the app.
I love coaching the 50K distance. Athletes can push themselves, but the effort shouldn't be too uncomfortable. They get to have a major life experience, but without the risk of overnight hallucinations (why is that Yeti wearing a fanny pack?!). And most of all, the combination of aerobic endurance and speed rewarded at 50Ks feeds right into peak performance at all distances later on, from 5Ks (with some additional speed work) to 100 milers (with some long runs). An athlete that has optimized their performance potential at 50K is ready to conquer the freaking world.
For coaches, trail 50Ks are such exciting nuts to crack. That's because they combine skill sets across multiple events, making them devilishly fun to figure out for each athlete and their unique physiology. 
RELATED: Run Your Best Race Ever With Trail Runner's Training Plans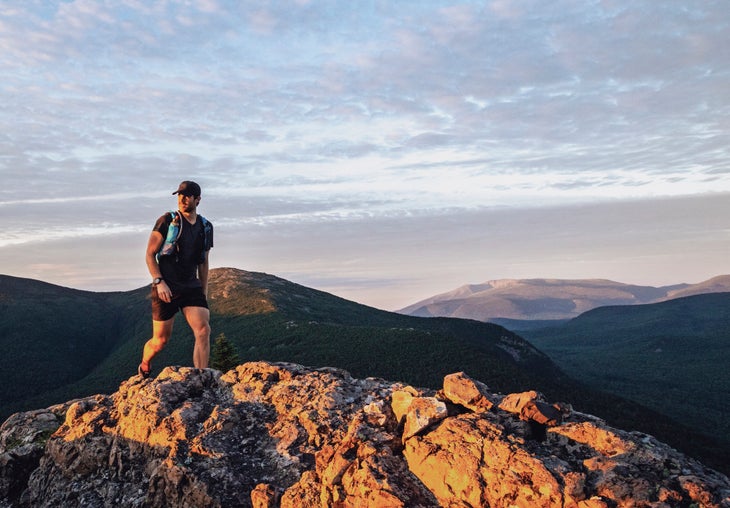 What You Need To Run a 50k
A road marathoner's velocity at aerobic threshold will almost directly translate to a 50K, as long as they're comfortable taking off their funny-looking shoes for another pair of funny looking shoes that have more pointy rubber bits on the bottom. Personally, I don't see road runners, or trail runners, I just see runner's united in our love of funny-looking shoes. YES WE CAN!
A trail half marathoner's ability to put out power over variable terrain around lactate threshold comes in handy too, as 50Ks reward the ability to use speed when the course allows it. Velocity (or climbing power) at lactate threshold directly correlates to velocity (or climbing power) at aerobic threshold for most athletes, so it's a quick step from a fast half to a fast 50K. 
RELATED: Level-Up Your Training Routine With These Tough Interval Workouts
Finally, a trail 50 miler's aerobic endurance and musculoskeletal resilience are instrumental as races get beyond a few hours long. All of the running economy in the world won't mean much if an athlete bonks from inefficient lipid metabolism or is hobbling around on muscles ravaged by eccentric muscle contractions. And if you both bonk and lose the ability to contract your quad muscles, you're just one step away from the David-Roche-Trifecta of what happens to me when my endurance is underdeveloped. (The next step involves full body cramping that leads to onlookers dumping pickle juice on me like it's Gatorade and I just won the Super Bowl.)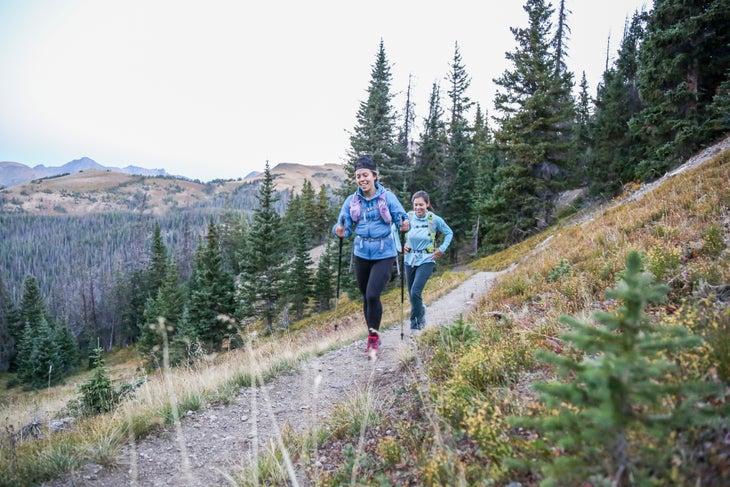 50k Training Plan Elements
This 12-week intermediate/advanced training plan harnesses all of those different skills to a race day peak with sky-high velocity (and climbing speed) around aerobic threshold. A primary goal is to compress the spread between aerobic threshold and lactate threshold, allowing athletes to hold their top efforts for longer, much like a road marathon. That compression is achieved by developing threshold power (tempo and cruise efforts) on top of a speed base (strides and faster intervals), then increasing the amount of time around aerobic threshold over the 12 weeks (steady running and long run workouts). Efforts that feel somewhat fast at week 4 should feel just above easy running by week 12.
Layered on top of that is short distance speed, developed via short intervals at 5k/10k effort and reinforced by strides even as the plan moves more toward endurance. Raw VO2 max intervals (and intervals just easier than VO2 max) are a big part of the first half of the training block, with the second half keeping the output familiar but prioritizing more aerobic intervals. Week 3 should feel hard the first time around, but if you went and repeated it instead of racing at week 12, it should feel much more relaxed as speed and aerobic development rise together.
RELATED: 10 of The Worst Tips You Hear In Running Training
As the plan progresses, endurance and race-specific stresses become a heavier focus. This is where it's key to understand the demands of your race. If the 50k involves lots of vertical gain and loss, make sure you're getting those types of vert ratios on your weekend runs, and add some climbing to your easy mid-week runs as well when possible. If the 50k is flat, the runs can be flatter, but continue to do some vert to adapt to eccentric muscle contractions that are a part of all longer races as ground contact time increases. See last week's Some Work, All Play podcast episode for other key elements for improving fatigue resistance.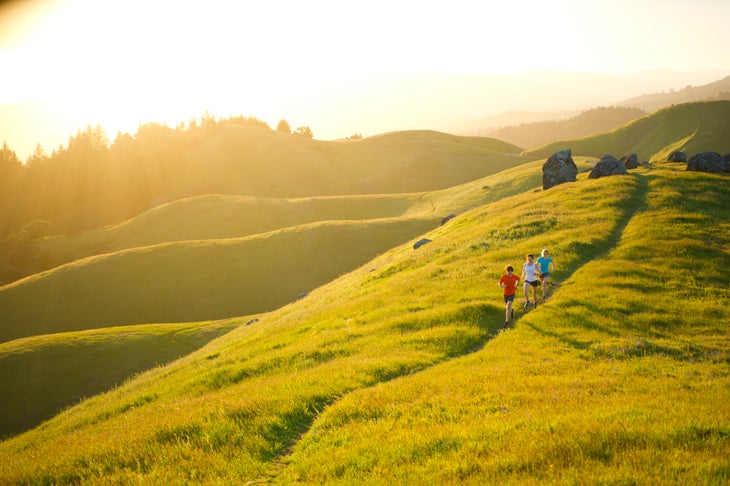 50k Training Plan Overview
The 50K intermediate/advanced plan is designed for athletes who already have a base. Each day is given as a range of miles, with the design being to stay at the low, middle, or high end without going back and forth too much week to week. Start at the lower end of the range unless you have healthily run higher mileage in the past, though some athletes will want to get in some of the slightly longer long runs before the race.
You can think of it as 3 different plans in one! 
Low end of range = intermediate (starting at 31 miles per week, and peaking at 53 miles per week). 

Middle of range = advanced (starting around 45 miles per week, and peaking at 70 miles per week). 

Top of range = very advanced athletes that prefer higher volume (starting at 65 miles per week, and peaking at 93 miles per week).
RELATED: 10 Theories About Improving Fatigue Resistance In Ultras
What you need to know to run a 50k
Be careful increasing mileage, and

always rest or x-train at the first sign of injury

. This is a perfect-world plan, and it's designed to allow for missed time.

You can use run/hike strategies to do the designated mileage. Hike with purpose when needed (

form tips here

), since hiking is an important part of most ultras. And when that's not possible, remember a five-minute run/hike counts too.

All of the numbers in the plan are general guidelines, rather than specific rules. Mix it up to fit your life and background. It's always OK to miss a day or two or substitute-in an easy day.

Do light rolling/massage and optional light stretching daily, and make sure you're always

eating enough food

.

The plan is designed for an athlete that wants to optimize their potential, but no single day is too important. Prioritize happiness and health above all else. Before starting any new routine, talk with a doctor or medical professional. This is not specific coaching advice for your individual history, but a general template to help you design your own plan. It's always best to work one-on-one with a coach.

You are loved and you are enough, just as you are, always. Not directly related to the plan, but an important background principle.
Key resources:
Within the plan, there are goals and descriptions for most key days, along with links to articles that explain terminology. Most fun of all: complete this plan, and even if you don't have a big 50k race at the end, you'll be ready to rock any distance from half marathon to 50 miles with a short specific build. Consider it a main order of long-term growth with a side of crushing b*tches in 12 weeks!
Download a PDF of the plan here, with clickable links for terminology!
You are AMAZING!
David Roche partners with runners of all abilities through his coaching service, Some Work, All Play. With Megan Roche, M.D., he hosts the Some Work, All Play podcast on running (and other things), and they wrote a book called The Happy Runner.