A Training Plan To Run 200 Miles
What happens when you do a race that pushes your physiology beyond the horizon, only to realize that you're not even halfway done? The new frontier of 200 mile racing is exciting, but can also be scary and overwhelming. This training plan hopes to make it a bit less scary. You have permission to remain overwhelmed.
Photo: Getty Images/EyeEm
Heading out the door? Read this article on the new Outside+ app available now on iOS devices for members! Download the app.
Think about what it means to sign up for a 200 mile race. You saw all of the other options out there, from shorter distances to going to Cancun. And you thought… Let's see where the limits truly are. That is courageous as hell, the tribulations of being human summarized in what motivates many of the greatest adventurers: because it's there. Heck yes! I am so damn proud of you, and a bit in awe too.
(If you make the saying past tense by changing it to because it was there, you have the epitaph on many tombstones, so be smart too.)
Almost a year ago, I wrote a training checklist for a 200-mile race. I threatened writing a 16-week training plan for these monstrous events if enough athletes were interested. Many athletes were interested. It was officially a deadline.
SEE OUR FULL LIBRARY OF TRAINING PLANS HERE. 
Oh crap.
Weeks passed, and nothing. Then months. Now, almost a year. I'm sure there are a number of doomsday cults that have been watching their inboxes, sipping Kool Aid while they await the plan that was promised.
Well, it's officially here—it's 200-mile training plan day. Call me the Baby Coach because I met the deadline in a bit over 9 months.
I joke because I have actually procrastinated this article topic for SO MANY MONTHS. And I think it's because I'm scared. My fear is that 200 milers rely on uncertain training principles, existing in the liminal space between body and mind. There are no good studies on training for the distance, just a compilation of anecdotes from successful athletes. Maybe those athletes would be successful with a number of different approaches. Maybe the true secret has something to do with genetic variations in fatigue resistance (podcast here). Maybe these distances are just a mix of random chance and logistics. We don't know for sure.
So what I describe today is based on application of general physiological principles for long-distance events over 24 hours, along with how my co-coach Megan and I have applied them for athletes we coach. That includes John Kelly, who won 2021 FKT of the Year for his performance on the 268-mile Pennine Way. But, for full disclosure—I think John's secret is that he's extremely hard working, talented, and driven, as an athlete and person, destined for success at whatever he pursues in life. Also, perhaps he's a witch.
Before getting to the plan, I'll list the 7 training principles from the previous article, along with how the plan puts them into practice.
RELATED: How To Train For 200-Mile Trail Races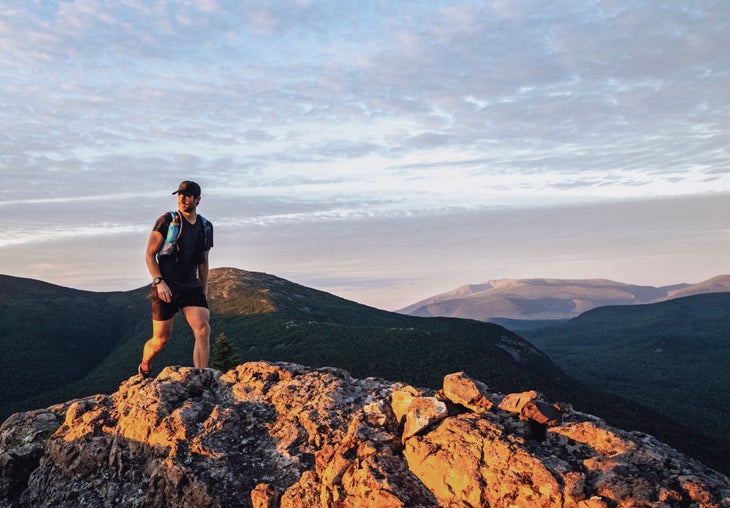 Training Tip 1: Aerobic volume matters via running, hiking, and cross-training. Maximize consistency with activities five to six days a week.
The plan focuses on lots of easy running and hiking, including optional doubles. In particular, treadmill hiking and running can allow for higher training volume with lower impact. 
Training Tip 2: Raise aerobic threshold with enough speed work to develop neuromuscular and biomechanical systems. Some strides plus one workout a week is plenty.
The workouts are deemphasized relative to one of my other training plans, focusing on building musculoskeletal and mechanical strength and power to let all efforts correlate with faster paces, but without overloading stress on non-specific intense days. Strides still play a big role, since maximal output has a strong relation to output below aerobic threshold. While it's not the primary goal, the hope is that an athlete finishes this plan with improved running economy to use in future training cycles, even if that speed is not as relevant to race performance as it would be for less diabolical distances.
The Edge of Possible: The Growing Phenomenon of 200-Mile Races
Training Tip 3: Dial in sleep/recovery and stress balancing.
Rest days are a key part of the plan. We don't want to elevate fatigue as a virtue.
Training Tip 4: Do some specific efforts where you are out there for many hours, moving on a fatigued body.
Back-to-back runs and hikes are a key part of training, often every other week to allow for recovery (and to avoid occupying every waking hour with training). The long run-long hike/run weekend structure allows for higher volume with reduced risk of injury or overstress. While the plan includes a training race option 5 weeks out from race day, a 100k or 50 miler anytime in the 4 to 8 weeks before the race would work wonderfully, just make sure you have 4-6 days of recovery afterward before gradually working back into the plan. And make the big Sunday hikes focused efforts if possible, incorporating some downhill running if things feel good. 
Training Tip 5: Strong downhill training and tempo running during long runs can prepare the muscles for later in races.
While the race itself will be relatively slow, the running in the plan is rarely as slow as the average pace on race day. Resilience to muscular damage and fatigue is helped by introducing threshold tempos in long runs, requiring glycogen recovery and improving fat oxidation, plus an emphasis on strong downhills.
RELATED: What It Takes To Train For A 240 Mile Race
Training Tip 6: Do strength work.
Strength work is a non-optional part of the plan, unlike some of the plans I have written for shorter distances. In peak weeks, that means 2 short "Mountain Legs" sessions and 2 medium "Speed Legs" sessions. Add weight to the Speed Legs for additional resilience. To level up, do the Strength Work Cheat Sheet.
Training Tip 7: Practice fueling in long runs.
On most Saturday long runs, practice fueling with an array of foods like you will on race day. And throughout the training cycle, make sure you're eating plenty to fuel the work.
RELATED: Back To Back Long Runs Are Next Level Training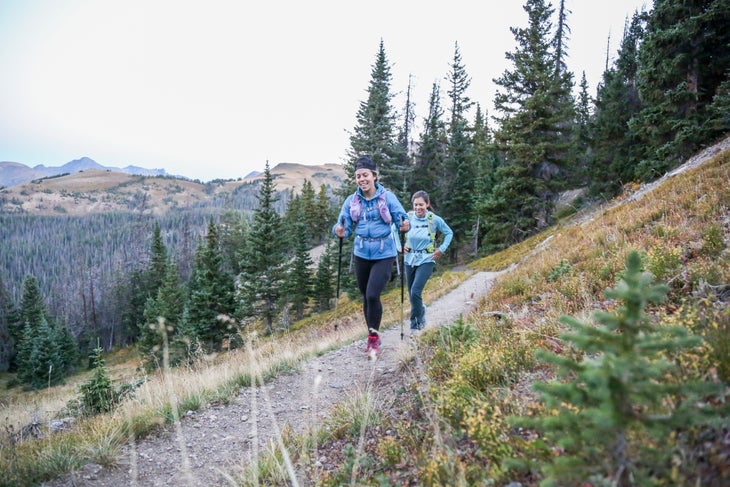 200 Mile Training Plan
The 200-mile plan is designed for athletes who already have a base. Each day is given as a range of miles, with the design being to stay at the low, middle, or high end without going back and forth too much week to week. Start at the lower end of the range unless you have healthily run higher mileage in the past.
You can think of it as 3 different plans in one! 
Low end of range = intermediate. If you are at the low end, consider reducing the number of intervals by 20% in some of the bigger workouts to avoid excessively hard

intensity distribution

, and consider doing the high end on some of the longer weekend back-to-backs later in the plan.

Middle of range = advanced.

Top of range = very advanced athletes that prefer higher volume. 
Other Things To Know!
Be careful increasing mileage, and

always rest or x-train at the first sign of injury

. This is a perfect-world plan, and it's designed to allow for missed time.

You can use run/hike strategies to do the designated mileage. Hike with purpose when needed (

form tips here

), since hiking is an essential part of 200 milers. And when that's not possible, remember a five-minute run/hike counts too.

All of the numbers in the plan are general guidelines, rather than specific rules. Mix it up to fit your life and background. It's always OK to miss a day or two or substitute-in an easy day.

Do light rolling/massage and optional light stretching daily, and make sure you're always

eating enough food

.

The plan is designed for an athlete that wants to optimize their potential, but no single day is too important. Prioritize happiness and health above all else. Before starting any new routine, talk with a doctor or medical professional. This is not specific coaching advice for your individual history, but a general template to help you design your own plan. It's always best to work one-on-one with a coach.

You are loved and you are enough, just as you are, always. That's not directly related to the plan, but an important background principle.
Within the plan, there are goals and descriptions for most key days, along with links to articles that explain terminology. Most fun of all: complete this plan, and even if the 200 miler doesn't go perfectly, you'll be ready to rock future events too.
Access the PDF plan with clickable links here
What's beyond the horizon? And what's beyond the next horizon after that? I don't know the answers to those questions. I'm not sure that 200-mile racers have the answers either. But I love the humanity of stubbornly chasing the horizon. Again and again and again.
Because it's there.
David Roche partners with runners of all abilities through his coaching service, Some Work, All Play. With Megan Roche, M.D., he hosts the Some Work, All Play podcast on running (and other things), and they wrote a book called The Happy Runner.