3 Tips to Keep Your Race Director Happy
A few simple things you can do to make your RD's job easier.
Heading out the door? Read this article on the new Outside+ app available now on iOS devices for members! Download the app.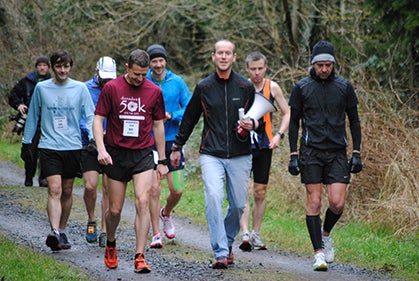 Remember when you were young and gave your favorite teacher an apple as a way to say thank you? When it comes to trail running, sometimes your race director deserves an apple, too (or a beer, as the case may be).
Race directors are often the unsung heroes of trail running. They dream up the races that we come to love. They design the course, secure the permits, find volunteers, answer our emails, stock the aid stations, coordinate timing systems—then, come race day, wake up early to mark the course and work to keep us safe, hydrated, fueled and happy.
They should know that their hard work and effort does not go unnoticed. So, as my tip of the hat to them, here are three ways to make their lives easier and keep you on their good side—because we all know the rules: Always tip your bartender, never anger your chef and appreciate thy race director.
1. Listen up.
Always listen to (and follow!) pre-race instructions. Before the race begins, we are often busy warming up, stretching or listening to headphones—but those 10 minutes before the race could be crucial to your safety and that of your fellow runners. Turns may have been changed last minute or markings may have been altered.
2. Don't be a sheep.
It may sound funny, but never follow the person in front of you during a race. As my fellow runners and I like to say, "They have no idea where they are going!"
Your best bet is to always be alert and pay attention to the markings on the course. I've been on both sides of this scenario and neither is fun; nobody wants to be "that guy" who followed somebody for two miles off trail, nor do you want to be followed and find out you are the lost one.
3. If you drop out, let someone know.
Always notify the race director (or aid-station captain) if you have gone off course or stopped running the event. For safety reasons, it's vital that the RD stay updated with your status while on the course. Some races will have a "sweeper" to run the course last and check for runners, but not all do. A missing person on course can lead to many questions and even contacting authorities. Don't be the guy or gal at home enjoying a post-race beverage while the park rangers are searching for you on the trail.
Joe Granat is an avid runner, health writer and beer enthusiast. Follow his antics on the blog HealthLush and Twitter.