Inside The Adaptable Mind Of Courtney Dauwalter
How Courtney Dauwalter uses adaptability to stay cool, calm and collected when the going gets tough.
Heading out the door? Read this article on the new Outside+ app available now on iOS devices for members! Download the app.
One of the most dangerous traps to fall into, in running and in life, is thinking you've got it all figured out. When you mistake fitness and preparation for having control, your perceptions, thoughts and beliefs become rigid. You tend to acknowledge only the cues that support your expectations, ignoring anything that suggests otherwise.
Even when there are cues suggesting that the current trajectory may not be the most effective way to get to the destination, athletes will try to push on rather than reevaluate and reroute. When this scenario plays out, it can result in injuries, DNFs and massive blowups.
More training and more preparation don't give you more control over circumstances on race day—they give you more tools to respond to those circumstances.
RELATED: 5-Point Training Checklist For (Almost) Any Ultra
CASE IN POINT
Courtney Dauwalter,  36, of Golden, Colorado, is considered one of the greatest ultrarunners the sport has ever seen. She has won almost every major ultra-distance race, including the great 100-milers Western States Endurance Run, Ultra-Trail du Mont-Blanc and the Run Rabbit Run. She has earned overall wins, besting her male competitors, in multiple races, most notably the Moab 240 Endurance Run and Big's Backyard Ultra.
Regardless of the race circumstances or how things are going, Dauwalter is known for smiling, staying calm and keeping her cool. One of her biggest assets out on the course is her ability to smoothly and swiftly use her problem-solving ability to overcome any challenge she encounters,
For someone who consistently performs at the highest level of our sport, Dauwalter comes across as very calm and collected about her approach to races. In the 2020 Big's Backyard Ultra, Dauwalter became the second woman to win the event after Maggie Guterl, for a new record of 68 hours and 283.33 miles.
RELATED: Try Our 100 Mile Training Plan
Big's has no finish line. Competitors simply continue doing 4.1-mile laps, one every hour, for as long as they can. The race goes until just one person remains. By most standards, that's a performance situation with a lot of unknowns and the potential to invoke anxiety or doubt in even the most seasoned athletes. Yet Dauwalter simplified the experience, saying she broke it into a manageable routine of run, eat, rest, repeat.
Many athletes approach an ultra race feeling that just the distance alone is an unbelievable undertaking, potentially requiring a heroic effort. Then, when any extra layers of challenge or adversity arise, an effort that was already daunting begins to feel insurmountable. By simplifying the physical demands as much as possible, you can preserve some of your mental resources to overcome the inevitable challenges you'll face.
RELATED: Meet Courtney Dauwalter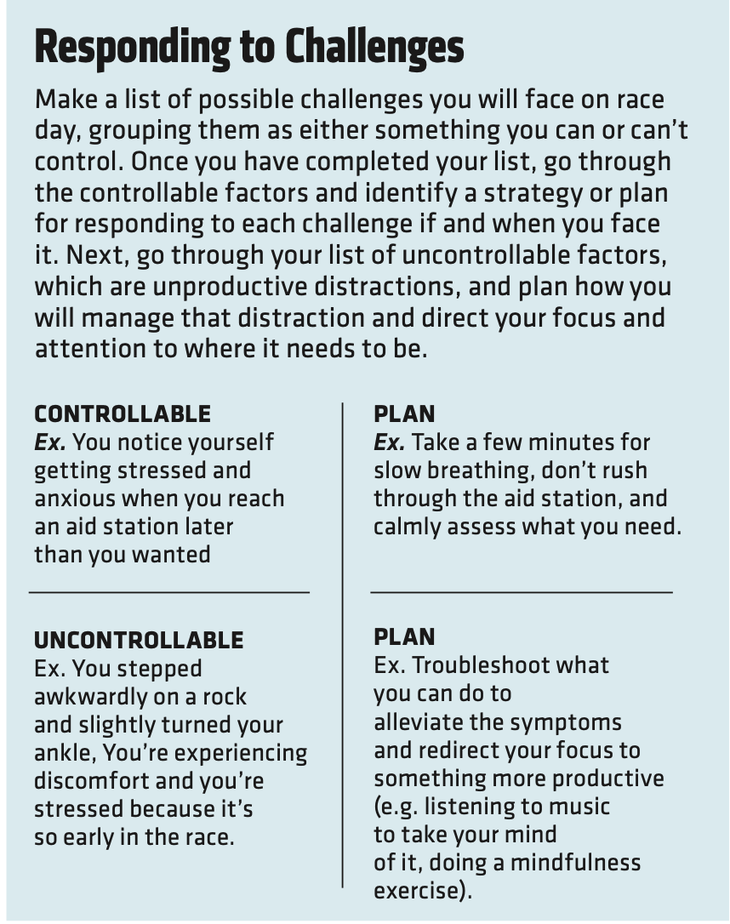 It's Not That Simple
Just because Dauwalter is able to simplify the physical demands of her race doesn't mean that she expects the experience to be easy. In fact, quite the opposite. When it comes to roadblocks and adversity, she says you have to expect it. She goes a step further, suggesting that you embrace it, because the way she sees it, you chose this. Her ability to break down the physical demands of the event into manageable doses doesn't ignore or avoid difficulty, but instead it makes room for it. She invites adversity to take a seat at the table.
Dauwalter describes how she conceptualizes challenges in a race in a novel way.
"I imagine a filing cabinet where I have files labeled with all the challenges I've faced in the past," she says.  She continues to explain that  when something pops up in a race, she can calmly recall her mental files and pull the one that says 'nutrition' or 'heat,' and sort through the things that have or haven't worked in the past. The file serves as a symbol of both familiarity and solutions.
When Dauwalter stands on the start line of the race, she has probably put more time and energy into training, planning and race logistics than anyone else out there. She then embraces the simple task of left foot, right foot, left foot, right foot. When you can convince yourself that running an ultra really isn't that complicated, you can reserve the emotional and mental capacity to handle the unpredictable hard stuff when it does pop up.   
Adapted from Mental Training for Ultrarunning (June 30, 2021, published by Human Kinetics).