Your Complete Guide to the 10th Annual Black Canyon Ultras
"Maybe be one of the deepest 100Ks ever on U.S. soil"
Photo: Courtesy Aravaipa Running
Heading out the door? Read this article on the new Outside+ app available now on iOS devices for members! Download the app.
Travel one hour north on Interstate 17 from downtown Phoenix, Arizona, the sprawling desert capital of over 1.6 million people—5 million in the greater metropolitan area—and you'll find the Black Canyon Trail. You'll find it looking west from the highway, an 80-mile stretch of mainly single-track trail that extends north-to-south, a historic National Recreation Trail that's been used and followed for thousands of years.
This weekend, Aravaipa Running is back for its third event of the year, the Black Canyon Ultras presented by HOKA, and, judging by the lineup, plus the fact that there are Western States Golden Tickets at the finish, it's going to be a barn-burner.
Course Description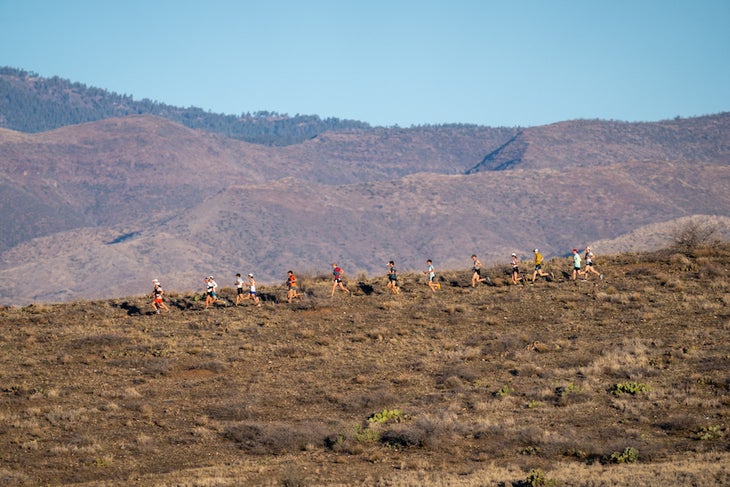 The Black Canyon Ultras 100K/60K are held on the traditional lands of the Yavapai Apache and the Hohokam. The race is held on the Black Canyon Trail, an uninterrupted route that descends toward Phoenix from the Bradshaw Mountains to the north. In 1919, the U.S. Department of the Interior designated it a livestock driveway, where woolgrowers would drive sheep every summer north to the high country, then south again in the winter. (Some still do.) A large section of the trail parallels an old stagecoach road that once linked Phoenix and Prescott.
After being designated the Black Canyon Trail in 1969, it wasn't until 2004 that the Black Trail Coalition formed and cranked the dial in transforming the route into the world-class, multi-use route that it is today. In 2008, the trail was designated as a National Recreation Trail due to its pristine condition and history.
Following the trail, you're enveloped in an open Sonoran Desert full of saguaro cactus and rocky slopes, as it dips in and out of steep canyons. The Black Canyon Ultras cover 55 miles of the historic trail and crisscrosses the Agua Fria River to eventually finish at the Emery Henderson Trailhead. One bonus for running the 60K distance is that it finishes at Rock Springs Cafe, known for their world-famous pies.
Course-by-the-Numbers
Type: Point-to-point
Surface: Single track
100K: 5,190 feet gain, 7,050 feet loss
60K: 2,297 feet gain, 4,770 feet loss
Course Records
Men – Sage Canaday (2016) 7:52:26
Women – Brittany Peterson (2021) 8:48:32
When Jamil Coury, co-founder of Aravaipa Running—the company in charge of this weekend's event—first found the Black Canyon Trail, he knew it was an instant classic route.
"What's so unique about Black Canyon is that it's a point-to-point 100K of single track, more or less," he said. "I don't know of any better point-to-point 100Ks out there. It's like a mini-Western States. You start higher. Net downhill. Pretty fast and runnable. Then you've got these canyons in the middle that shake apart the field, and then it flattens out and you can just kind of burn it down at the end … if you've got anything left."
Ten Years Old and Still Innovating
This year will be the 10th anniversary of the Black Canyon Ultras, and the team at Aravaipa continue to look at ways of providing the best race experience possible for both runners and spectators, near and far.
In 2021, Aravaipa launched a livestream for the race, which was groundbreaking at the time for live, on the-ground-coverage for the sport. "This year will be our third year doing that," says Coury. "We are also going to have field reporters—Leah Yingling and Zac Marion—who will be out chasing the leaders and giving the play-by-play from the field." The race organizers also plan to hold an athlete panel for the expo on Friday.
"I don't know of any better point-to-point 100Ks out there. It's like a mini-Western States."
Coury shared that, since its inaugural run in 2014, there has only been one person who's run every single year, Mike Melchiors, 62, a local from Dewey, Arizona. He'll be at the starting line this weekend. Brianna Grigsby, 35, from Tucson, is a top contender and member of the Aravaipa Racing Team. This year will be her sixth year running the race.
"If I had to choose a favorite race, this would be it," said Grigsby. However, she warns against the temptation to go out fast on this course. "I have seen many fast people run times that aren't consistent with their potential, due to the tricky nature of the course and the heat." With most of the climbing in the last 25 miles of the course, Grigsby recommends saving some for the end. "Those climbs can feel challenging that deep into a 100K."
Though many head to the Black Canyon Ultras for some later winter desert run in the sun, Coury warned that the weather can be a wildcard. "Some years we have temperatures in the 90s, which makes it hot and exposed and brutal. Other years we've had flash flooding and course re-routes. It always keeps us, and our runners, on our toes."
This year, there were reports of snow on the upper parts of the course, and the organizer's fingers are crossed that there hopefully won't be too much rain to force a re-route.
Runners to Watch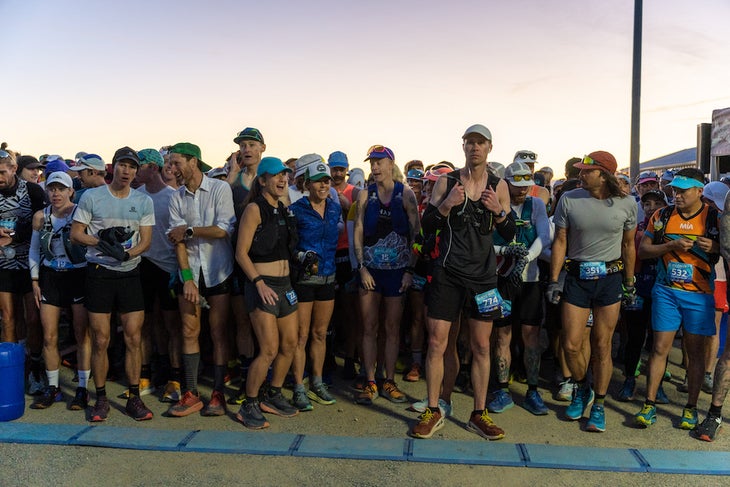 "People are saying this weekend's race is one of the deepest 100Ks ever on U.S. soil," said Coury. "And definitely, besides Western States, it might be the deepest field this year in the U.S."
The men's field is a stacked lineup for this weekend's Black Canyon 100K, a function of both the fast course and the Golden Ticket offering, which get the top two male and female runners automatic entry into Western States 100. Notable elites on the men's side include Ryan Miller, 2:14 marathoner and winner of the Gorge Waterfalls 50K in 2022, and the Bandera 100K in 2021. After running at 2:12 at Sacramento's CIM in December, John Raneri, 31, from Flagstaff, Arizona, will be making his ultra debut, gunning for that Golden Ticket. Someone who's not gunning for a Golden Ticket, but will be in contention for a podium spot, is Tom Evans from the UK, one of the sport's most accomplished runners, with a third-place finish at the 2022 UTMB race and third place at last year's Western States 100.
RELATED: Three Takeaways From Kilian Jornet's UTMB Training And Race Data
Anthony Costales, 34, from Salt Lake City, will be another name to watch. A 2:13 marathoner, Costales placed second behind Adam Peterman at last year's Chuckanut 50K, and has won a handful of competitive ultras including the Canyons 100K and Moab Red Hot 55K, both in 2021. Other heavy-hitters on the men's side include David Laney, Cole Watson, and Tim Freriks.
"People are saying this weekend's race is one of the deepest 100Ks ever on U.S. soil," said Coury. "And definitely, besides Western States, it might be the deepest field this year in the U.S."
On the women's side, the competition has perhaps never looked stronger. Ailsa Macdonald, 42, from Alberta, Canada, holds the second-fastest time on the Black Canyon 100K course, winning it in 2018 in 8:53:33, alongside a second place finish at Western States in 2022, and wins at both New Zealand's Tarawera 100-miler and the Bandera 100K in 2020.
Ida Nilsson, 42, is a decorated Swedish runner living in Norway, and she'll be in the fight for the podium. Nilsson carries with her a third-place finish at CCC in Chamonix, in 2018, a win at Transvulcania 73K, and a deep history of success in cross country and sky racing.
Keely Henninger, 30, from Portland, Oregon, will toe the line as a top female contender. Winner of the 2022 Gorge Waterfalls 50K, the 2022 Lake Sonoma 50 miler, and a ninth-place finish at last year's Western States, Henniger thinks the course will suit her style of training. "My training grounds are filled with rolling single track that lets you churn out steady, fast miles,"she said. "I think the course, with its speedy nature mixed with punchy climbs, really mimics my backyard trails." Henniger is gunning for a Golden Ticket to "go back to Western States and finish what I started last year."
Georgia Porter, 34, from Flagstaff, Arizona, is an up-and-coming star, and this will be her first time at the 100K distance, after a win at the 50-mile distance last year at Run Rabbit and third-place at Broken Arrow Sky Race. Porter is familiar with much of the course, having finished second at last year's Black Canyon 60K. Triathlete phenom Heather Jackson, 38, made a splash at her debut ultra at Javelina Jundred by placing fifth, and she will be in contention for the podium as she builds for Western States in June.
RELATED: What is Endurance? A New Study Shows the Importance of Mind-Body Connection In Endurance Running
Hannah Allgood, 31, from Colorado Springs has been wanting to run Black Canyon for years, and this year she'll get her chance. "I am feeling mentally prepared to take the next steps in my running career by putting myself in more competitive races," said Allgood. "I'm excited about the field that Black Canyon has brought and how it will test my fitness levels." The 100K distance might be Allgood's specialty distance, with a second-place finish at UTMB Thailand Cliffs 100K in December and a win at the 2022 Gorge Waterfalls 100K, among other top performances.
How to Follow the Race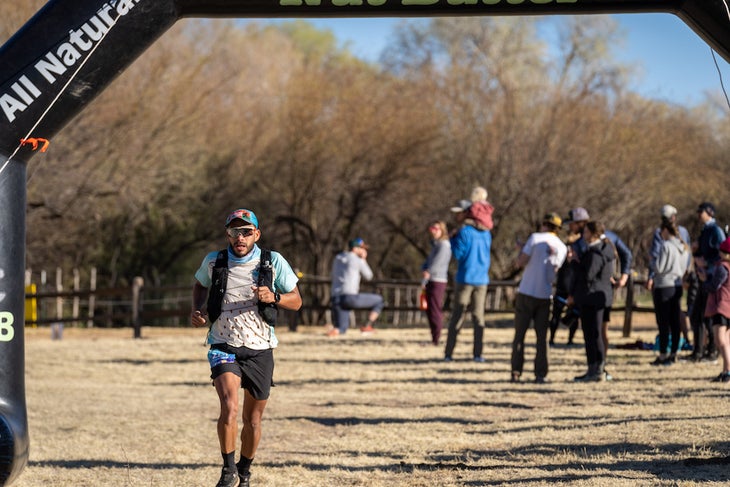 The most exciting thing for Aravaipa co-founder Jamil Coury is the innovations with the livestream experience, something he's really proud of. "This kind of live viewing of the sport is new and it's ever evolving," he said. "We're hoping this will be one of the better ones in the U.S."
Nicholas Triolo is the Senior Editor for Outside Run & Trail Runner. He holds an M.S. in environmental studies and has been an ultrarunner since 2008. Previously the digital strategist for Orion, Triolo is an ultrarunner, a writer, and reader, with work featured in Orion, Outside Online, Dark Mountain Project, Patagonia's Dirtbag Diaries, Best American Poetry Blog, Juxtaprose, and others.