Race Preview: Western States 2022
It's time for Western States! Here's what you need to know about the biggest event in ultrarunning.
Heading out the door? Read this article on the new Outside+ app available now on iOS devices for members! Download the app.
When the days get long and the weather heats up, you might think of the summer solstice. But approaching the longest day of the year makes us think of something equally long and hot, one of the most exciting races in the sport of ultrarunning: The Western States 100 Mile Endurance Run.  
This weekend, June 25-26, 2022, over 300 runners will start from California's Olympic Valley and begin the 100.2-mile point-to-point race toward Auburn (don't forget that last fifth of a mile on the Placer High School track). Covering 18,000 vertical feet of gain and 22,000 vertical feet of descending, racers have thirty hours to finish. Twenty-four if they want a silver belt buckle (finishing between 24 and 30 hours earns a bronze buckle).
This race, which started in 1974, has become one of the most exciting races to track. And with both of last year's first place finishers, Jim Walmsley and Beth Pascall, not starting this year, the spots of King and Queen of Western States are up for grabs. Race Director Craig Thornley is excited for breakout possibilities this year, as well as innovations in race coverage. "We have spent a lot of time figuring out how to get more live footage out on the course—a challenge given the remoteness of the trail and connectivity challenges—but we have put in new systems and are super excited about the progress from last year. Still not promising anything but stay tuned."
Here are some essentials to be ready for the show.
RELATED: How to Run Western States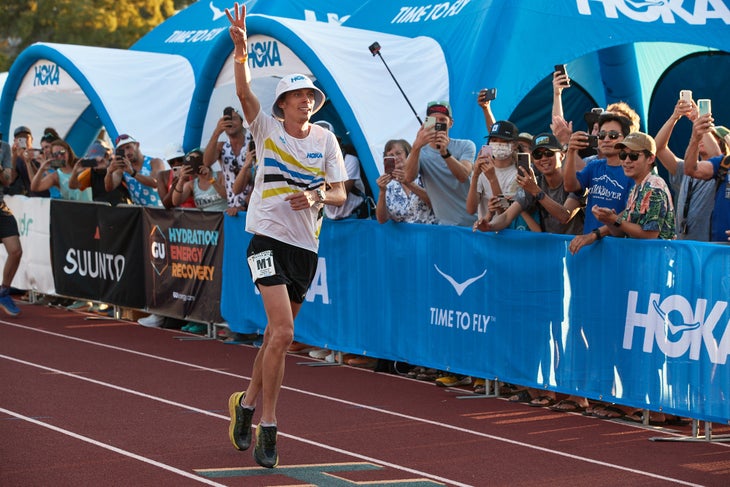 Course Description
The race starts on the unceded traditional lands of the Washoe people and extends west into Sierra foothills where the Nisenan have lived for thousands of years, adjacent to lands of the Maidu to the north and Miwok to the south.
The Western States 100 Endurance Run was fashioned after the famous Tevis Cup horse race, started in 1955, when Wendell T. Robie (for whom Robie Point at Mile 99 is named) and several others rode horses from Tahoe City to Auburn in one day. Gordy Ainsleigh would famously attempt to run the route in 1974, after a woman he was dating ran away with his horse.
Starting in Olympic Valley, the course climbs over four miles to Emigrant Pass (8,750 feet), before beginning a net downhill scream following ridges and through canyons. Prominent aid stations and milestones include Robinson Flat (Mile 30), Michigan Bluff (Mile 55), Foresthill (Mile 62), Green Gate (Mile 80), and finally, the Placer High School track. Each runner has thirty hours to finish.
Runners to Watch
Arguably the two most talented U.S. ultrarunners competing today—Jim Walmsley and Courtney Dauwalter—will not be toeing the line this year. Walmsley has won Western States three times (2018, 2019, and 2021) but has chosen to focus his efforts on UTMB this year, while Dauwalter is slated to race the Hardrock 100 in mid-July.
The Women's Field
A highlight of the 2021 Western States was the stacked women's field, and this year will be no different.
Katie Asmuth (fifth place female at last year's Western States) says she will be icing everywhere to keep cool: arm sleeves, bra, neck, down the shorts. She plans to race within herself, "to start conservative, be in the mix by Foresthill, and, starting at Green Gate, race as hard as I can to the finish line." Asmuth agrees that, though Western States is a runnable course, "it's also a perfect combination of flow and torturous grind. It is a tough race to nail. But the allure of a magical day keeps you wanting to come back!"
Ellie Pell (Golden Ticket winner at the Bandera 100K) is all about the love this year. "Western States is my community. It's the people who I love and who love me. I'm getting goosebumps just thinking about all the people I get to meet and who get to experience this with me." Pell is looking forward to crossing No Hands Bridge (Mile 96.8). "I think it'll be surreal to run across it." When asked what her race strategy was, she said: "I am Ellie Pell. I will not be afraid." 
Ruth Croft, adidas Terrex athlete from New Zealand (last year's second place female), shared her number one strategy for staying cool: "Envisioning polar bear cuddles." Her adidas Terrex teammate, Emily Hawgood, shared that her race strategy is all about staying curious and confident: "Run the course like it's the home course, take in the magic of it all, and believe in my plan."
Salomon athlete Lucy Bartholomew (third place female in 2018) told us exactly what Western States means to her. "This race has given me more than any other race I have done. It means community, history, beauty, struggle and growth." Her philosophy for having a great experience on race day is to "look for opportunities to find my best."
RELATED: Three Lessons From Foresthill At Western States
Other Women to Watch
Ruth Croft

Camille Herron

Audrey Tanguy

Lucy Bartholomew

Brittany Peterson

Tessa Chesser

Zoë Rom 

Leah Yingling
The Men's Field
On the men's side, Nike Trail athlete Tyler Green (second place, 2021) is just grateful to have another crack at this historic race. "The route is a single deep ribbon of history, memories, stories, and connection. I just can't think of another race that carries such significance." Though feared by many, the canyons are what Green looks forward to most. "Each descent and climb is a little different and I find I can get into a nice flow state rolling down and back up each one." Green's race strategy this weekend: "Stay sharp, grateful, and hungry."
RELATED: Four Lessons from Western States
Third place in 2021, Drew Holmen is looking forward to the bliss in those early miles. "Coming over the Escarpment and dropping into the high country was pure magic last year. Between the wildflowers and all the running water, it really does set the stage for experiencing so much in one day." Holmen's main strategy for high performance is regulating temperature—and some mental gymnastics.
"All the ice, all the time. And a bit of reality distortion to convince me it's not that hot."
Missoula, Montana-based Adam Peterman (Hoka) has won every ultramarathon he's ever entered, but Western States will be his first 100-mile race. "I've followed Western States ever since watching 'Unbreakable' when I was in high school," said Peterman. "My partner, Erin [Clark, also a Hoka-sponsored trail athlete], ran States last year, and I was blown away by the experience. I didn't think that I would run States so soon, but after getting a Golden Ticket at Canyons, I couldn't turn down the opportunity." Peterman is most looking forward to the river crossing at Rucky Chucky. "I've never run more than 100K, so making it to 78 seems like you're nearly home. Cooling off in the American River sounds incredible." Though relatively new to ultrarunning, Peterman has an attitude of curiosity and gratitude. "I may be relatively new to the sport, but I believe in myself and feel like I have nothing to lose."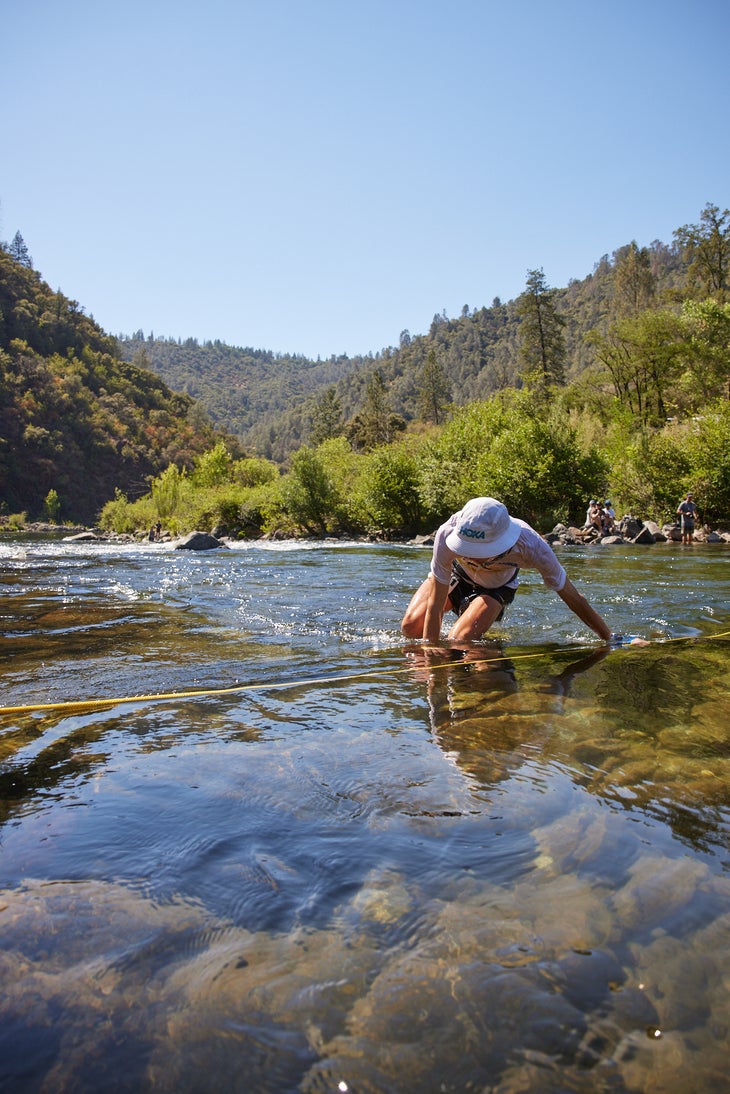 Other Men To Watch
Tyler Green

Drew Holmen

Cody Lind

Tim Tollefson

Hayden Hawks

Alex Nichols

Adam Peterman

Jared Hazen

Tom Owens

Kyle Curtin
How To Watch Western States 2022