Why We'll Be Watching UTMB This Weekend
This year, UTMB is looking to be the exciting, star-studded trail running extravaganza we've come to know and love.
Heading out the door? Read this article on the new Outside+ app available now on iOS devices for members! Download the app.
The Ultra-Trail du Mont-Blanc (UTMB) might be the biggest and most exciting annual event in trail ultrarunning.
It kicks off this Friday afternoon, local time, so even the frontrunners will run through the night and finish the next day. (Many runners will see two sunsets.)
Here are some reasons we'll be following along – and why you should, too.
1.
A Crazy Hard, Crazy Beautiful Course
UTMB is 170K – or 105.5 miles – on some of the world's most challenging and technical mountain terrain. The course, which starts and finishes in Chamonix, France, circumnavigates western Europe's highest peak and crosses into Italy and Switzerland. It provides participants endless, stunning views of the Alps – if they find the will to lift their heads while grunting up its endless climbs.
For all its beauty, the course's over 32,000 feet of vertical gain can tear asunder even the best-laid plans of the best-prepared athletes. As with other 100-milers, some of the late finishers are just as inspiring, if not more so, than the front-of-the-packers for their grit and determination in finishing this brutal course.
RELATED: The Morning After UTMB
2.
Unpredictable Weather and Conditions
It turns out holding a 100-miler in the mountains can subject runners to variable weather conditions. (Just ask Adam Campbell, who withstood lightning striking between him and his pacer to finish third at the 2014 Hardrock 100.)
UTMB has proven equally challenging in its own right, with weather frequently forcing reroutes and improvisation that can unsettle type-A runners.
In 2010, the race was initially canceled after its Friday start due to a mudslide; runners then started over Saturday morning on a modified version of the Courmayeur-Champex-Chamonix (CCC), UTMB's 98K sister race.
In 2012, rain again forced a revised version of the course, shortened to just over 100K.
Even with more agreeable weather, the overnight run can throw runners more accustomed to daylight for a loop. American Sage Canaday was contending for the lead in the first half of last year's race when he fell overnight, cutting his leg open, which forced him to drop out.
Chamonix's forecast looks agreeable this weekend – highs of 83 and 77 degrees Fahrenheit on Friday and Saturday, respectively – with a small but slight chance of rogue thunderstorms. In our opinion, even that tiny chance shouldn't be brushed off.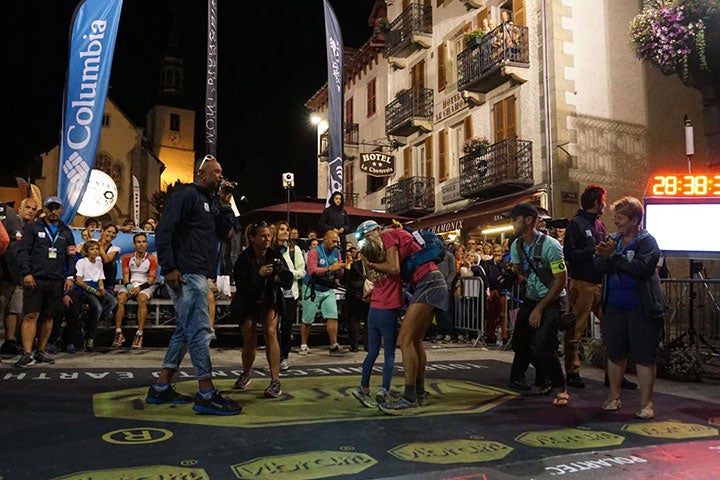 3.
Mega-Deep Competition
UTMB is, as always, positively stacked.
Fast Returners
In 2013, American Rory Bosio put on a clinic in winning the women's race, setting a course record and finishing in the top 10 overall; in 2014, she defended her title. She was absent last year, but she'll be toeing the line this weekend. The 32-year-old from Truckee, California, doesn't win every race she's entered, but she always seems to hit her stride at UTMB. Last year's runner-up, Uxue Fraile of Spain, could be nipping at her heels.
American men, meanwhile, have typically struggled to make the podium against the world's best mountain runners at UTMB. But David Laney, 27, of Ashland, Oregon, bucked that trend last year, finishing third, and he'll be back to mix things up (he'll have last year's runner-up, Spaniard Luis Alberto Hernando, as well as 2014's runner-up, Tofol Castanyer, to contend with); Jason Schlarb, 38, of Durango, Colorado, finished fourth at UTMB in 2014 and is back as well, fresh off a tie for the win at the just-as-mountainous Hardrock 100 in July.
Timothy Olson, 32, of Boulder, Colorado, ran smart at UTMB in 2013 to place fourth; he'll be back and, presumably, hungry to race well after a rough day at Hardrock last month.
RELATED: What Top Athletes Are Wearing At UTMB
Fast Debutants
Magda Boulet, 43, of Oakland, California – a 2008 Olympic Marathoner who won last year's Western States 100 – can never be counted out of a race she enters, and she'll be running her first UTMB this weekend. She dropped out of this year's Western States early with an illness, and you can bet she'll be looking for revenge on the 100-mile distance on a big stage.
Zach Miller, 27, of Colorado Springs, has torn apart stacked fields at the Lake Sonoma 50 and TNF 50 San Francisco by running hard from the front, and has experience on the course from last year, when he won CCC; will he pull it off over 105.5 miles, or blow up spectacularly? Either way, it could be something to see.
Fellow American and 2015 CCC runner-up Tim Tollefson, 31, of Mammoth Lakes, California, will also be taking on the "full" course this year.
American women like Aliza Lapierre (35, Williston, Vermont) and Larisa Dannis (29, Mill Valley, California) have shown crazy-fast results on shorter courses, meanwhile, and will be testing their mettle at UTMB for the first time.
4.
The List Goes On
We've barely scratched the surface of who's entered, and didn't even name many non-Americans; the truth is, the list of who might contend is huge.
So is the list of reasons this race might be thrilling or otherwise worth watching. UTMB always manages to throw some inspiration and high drama our way, be it in the form of a triumphant performance, an excruciating struggle to beat the cutoff or – like last year – a finish-line marriage proposal between two high-profile athletes.
All of these – and the reasons we haven't even thought of – are why we'll be glued to the race, just like every year. Stay tuned.