What Went Down at the 2019 CCC
Heading out the door? Read this article on the new Outside+ app available now on iOS devices for members! Download the app.
Brought to you by Columbia
It was hot. Much warmer than predicted. The skies over the Chamonix valley were a deep blue marked by the occasional cloud drifting past the towering granite peaks.
The CCC starts in Courmayeur, Italy and circumnavigates Mont Blanc counter-clockwise to Chamonix with a 100-kilometer course. The course essentially covers the last 60 miles of the UTMB, and is equally technical and challenging at 100k speeds. 2,132 racers started the race, and as of publishing this article, almost 600 had dropped, including Chamonix celebrity Emelie Forsberg.
Forsberg dropped in Trient after 9 hours of running and 30k to go. After giving birth to her daughter Maj this spring, Forsberg put in a few weeks of hard effort, but it wasn't enough for her to run comfortably to the finish. Deciding against walking it in, Forsberg decided to drop and spend more time with her daughter.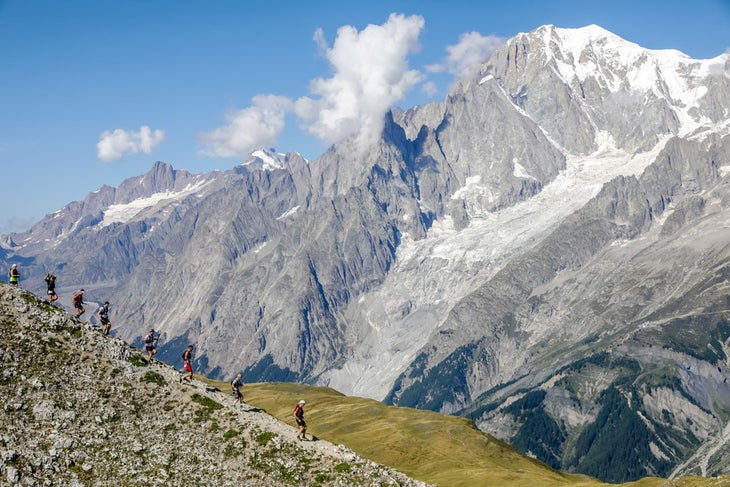 The heat was a major factor for many runners. The course spits runners into the alpine without shade and rushes them through low baking valleys. Around the 9th hour of racing, light rain fell over the course, cooling runners just as the first men approached Chamonix.  Both the men's and women's field were stacked with internationally recognized talent, and the day's course led to a few surprises and standout performances.
Spain's Luis Alberto Hernando Alzaga held the lead for over 70k to win the CCC after overtaking Chinese Columbia Montrail athlete Shen Jiasheng's huge initial lead. Alzaga has won world-championships in Sky Running, trail running and SkiMo. He completed the CCC in a blazing fast 10 hours 28 minutes.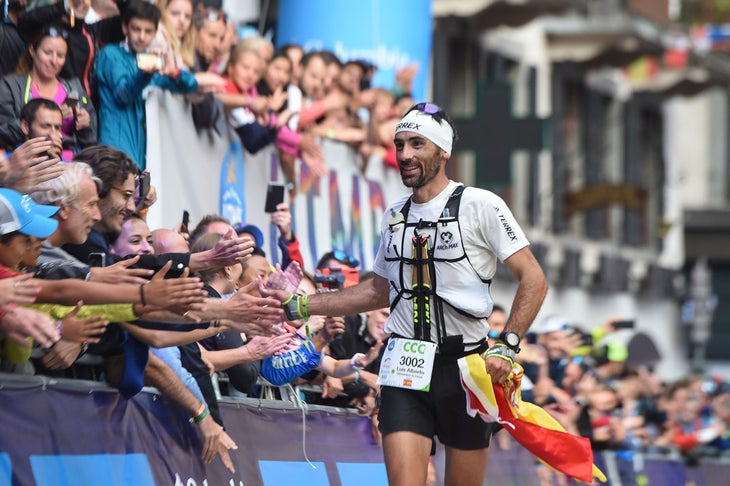 French runner Thibaut Garrivier was second and held a steady pace behind Alzaga for the latter half of the race. He finished just ten minutes behind Alzaga.  Garrivier is no stranger to Sky Running podiums and took third-place at this year's Transvulcania.
Jiri Cipa from the Czech Republic rounded out the men's podium in his furthest ever race. He made a decisive surge at 80k and pushed onto the podium. Cipa has finished top ten at Penyagalosa trails in 2018 and first place at Grossglockner Ultra-Trai this year.
Ragna Debats from the Netherlands won the women's CCC in 12 hours and ten minutes after taking the lead at 20k. In a post-race interview, she said she had planned to attack at 40k, but upon finding herself in the lead much earlier on, she just went with it.  Debats is a renowned Sky Runner and snowshoe racer with multiple international wins under her belt.
American Amanda Basham cruised into second place – fueled by aid station croissants. Basham flew under the arch after a 12-hour 27-minute race where she surprised herself by passing one of her heroes,  Emelie Forsberg. Basham has two top five finishes at Western States
Camille Bruyas from France ran a conservative and steady race, inching up into the top ten and onto the podium with consistency until unleashing her more competitive side around the halfway point at Champex Lac. Bruyas took the bronze in 12 hours and 34 minutes.
NOTE: Check out the amazing UTMB live feed here.