RECAP: Western States 2022
The 49th running of the world's oldest 100-mile race proved one of the most exciting races in years. Here's what went down. 
Heading out the door? Read this article on the new Outside+ app available now on iOS devices for members! Download the app.
Over 380 runners from 32 countries toed the line in the Olympic Valley, California, ready for the 100.2-mile odyssey to Auburn. Eighty percent of them were experiencing the Western States Endurance Run for the first time. 
Despite rainy, unsettled weather days before the start, forecasts called for a hot race day, which prompted officials to prepare the course with approximately 32,000 pounds of ice, distributed among the course's twenty aid stations. It ended up being a very warm year indeed—the eighth hottest year on record, with highs reaching 101 degrees on Saturday. Almost as hot as the competition. 
Western States 2022 Recap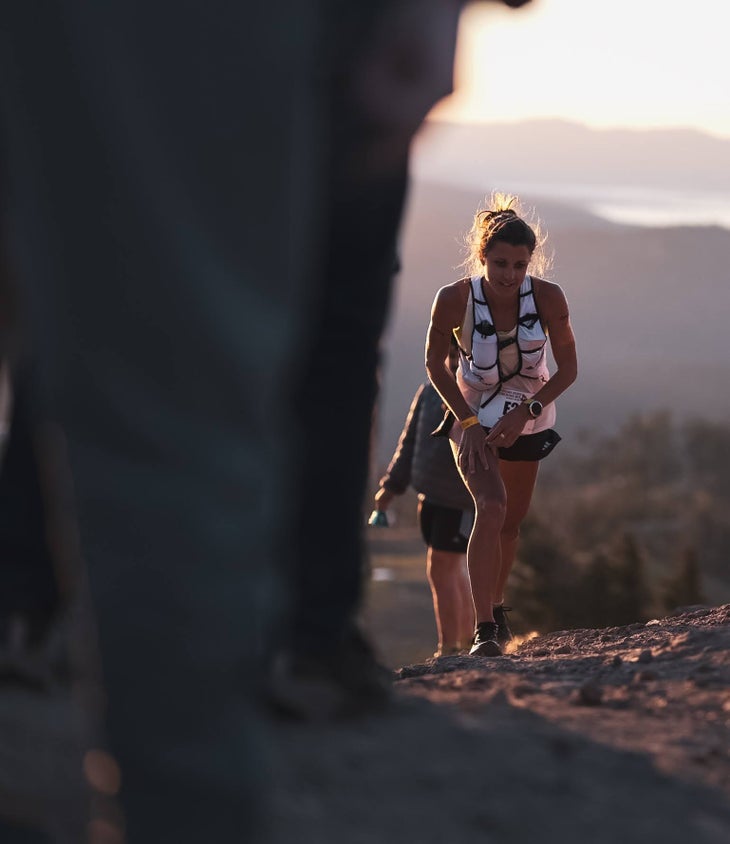 The Women's Race
With last year's winner Beth Pascall not racing, competition was fierce for that podium in Auburn. At Robinson Flat (mile 30.3), New Zealand's Ruth Croft had her game face on, running with Adidas teammate Emily Hawgood. The two would check in on each other, working together as they ran through the canyons, with Keely Henninger coming up behind them.
 At Foresthill (mile 62), Croft and Hawgood were still close, but Croft was now a few minutes ahead, with 100-mile world record holder Camille Herron closing in on third place. At the Trail Sisters panel on the Women of Western States a day before the race, Herron exuded her characteristic glee and confidence, revealing some of her tricks of the trade (e.g. sweet tea as an essential crew/aid station pick-me-up!). When asked how to complete a 100-miler, Herron remarked, "How do you eat an elephant? One bite at a time."
Croft would continue to widen the gap after Foresthill to finish in 17:21:30, the third-fastest women's time in the race's history.
In an interview minutes after finishing, Croft confessed that it took a while to get into the flow of things. "I felt pretty horrible until the second canyon," referring to El Dorado canyon, she told Dylan Bowman and Corrine Malcolm, who also hosted much of the race's YouTube livestream. 
When asked if, now that she's won Western States, she'll be returning next year, Croft was quick to respond, with a smile. "Yeah, I definitely won't be back." A fair gut response after running for over seventeen hours in some of the hottest conditions in the race's history.  
RELATED: The Basics of Heat Training For Runners
For Croft, success at Western States came down to mindset and levity. "I think a lot of it is just having fun. One hundred miles is a long way, so if you're not having fun, I think it's just a lot further." Her crew was an integral part of reminding her of keeping it fun. They even promised her that "if you run well to Auburn, we'll get in dinosaur costumes, so that was enough motivation right there." Her crew delivered. Three dinosaurs chased her around the track, making for a finish no one will forget.
Canadian Saucony runner Ailsa Macdonald would overtake Hawgood and Herron, to chase Croft and finish 25 minutes back in second. Bandera 100K champion Marianne Hogan would round out the women's podium in 18:05:48.
Women's Top 5
Ruth Croft 17:21:30

Alisa Macdonald 17:46:45

Marianne Hogan 18:05:47

Luzia Buehler 18:08:32

Emily Hawgood 18:15:59
RELATED: 7 Quick-Hitter Takeaways From Western States 2022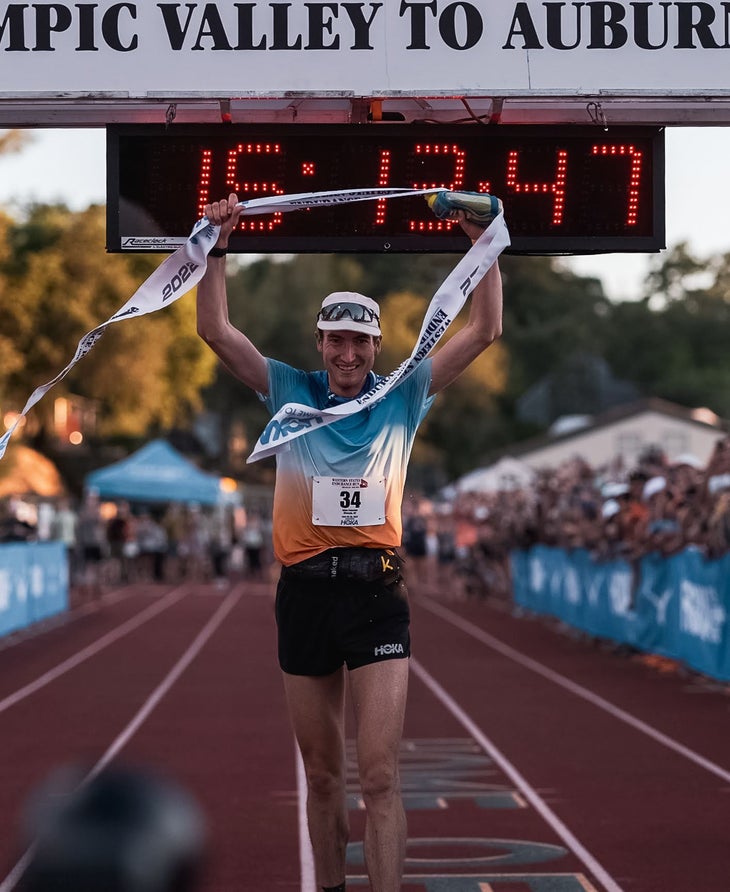 The Men's Race
Last year's winner and course record holder Jim Walmsley was not racing this year's Western States, which added a higher-than-normal level of anticipation to see who might step up to the plate. High profile athletes—Tim Tollefson, Hayden Hawks, Tyler Green, Drew Holmen, Jared Hazen, to name a few—were expected to perform within the top 10, while others–Adam Peterman, Cole Watson, Arlen Glick—were lesser-known names also in strong contention.
At Robinson Flat (mile 30.3), Frenchman Ludovic Pommeret came through in first, followed by Hayden Hawks minutes back, and Adam Peterman close in third. By Foresthill (mile 62), Hawks remained in the lead, looking determined and fast, but Peterman had drawn up into second, looking light and with a constant smile. Jared Hazen, who holds the second fastest time in WS100 history (14:26:46), followed in third through Green Gate (mile 78.9), but would eventually drop at Auburn Lake Trail (mile 85). 
After the long downhill to the Rucky Chucky (mile 78) river crossing, Peterman had overtaken Hawks, but not by much, and he would maintain the lead until the finish, stretching it to over a half hour. 
"It's just crazy to run that far." Peterman told Trail Runner. "The first third I really didn't feel very good. I wasn't even thinking about it as a competition, more just like completion."
Peterman stopped having rough patches after mile 45, and everything started to feel strong. "At that point I started to realize that something special might happen. I never felt bad again, it was crazy. That was a really cool moment, to feel like everything was really smooth and in control, even at mile 95! That was the best moment for me." 
Despite temperatures leaning toward triple digits, heat regulation seemed fully manageable for Peterman. "I think I'm okay in the heat, but I really never felt hot yesterday."
"I felt like I was getting chased until, at mile 94, my crew told me I had 30 minutes. I cried. Maybe a single tear." 
RELATED: The Trail Runner Lightning Round – Adam Peterman
Adam Peterman surely benefitted from having Evan Barnes, Jim Walmsley's crew chief, at his side, for he had taken many notes that proved helpful come race day. Both parents greeted Peterman at the finish line, with his father even running most of the last mile with him.
Hawks would arrive in second, and Arlen Glick and Tyler Green would share the track in what turned into one of the most dramatic finishes of the day, with fan-favorite Glick outkicking Green to finish just 50 seconds ahead in second place.
Men's Top 5
Adam Peterman 15:13:47

Hayden Hawks 15:47:27

Arlen Glick 15:56:15

Tyler Green 15:57:05

Drew Holmen 16:08:59