Kilian Crushes Sierre-Zinal, and Turns His Sights to Pikes Peak
Heading out the door? Read this article on the new Outside+ app available now on iOS devices for members! Download the app.
Ten years ago, a 21-year old Catalan trail runner showed up in the end-of-the-valley village of Zinal, in Switzerland's Valais Canton, not far from the Italian border. He had a list with him.
"It was just a sheet of paper with names of races," says Chamonix, France-based trail-running author Alain Bustin. "It wasn't races he wanted to win, or course records he wanted to break. All he wanted to do was take part. Sierre-Zinal was on the list."
Even then, Sierre-Zinal was iconic. The 31-kilometer race that started in the valley village of Sierre and finished in Zinal was already established as one of the most competitive trail races in the world. And that year, the young runner won.
A few weeks later, he won the 171-kilometer Ultra-Trail du Mont-Blanc.
That runner, of course, is Kilian Jornet. And last weekend in Zinal, he won "S-Z" for a seventh time, further surpassing Mexican runner Richardo Meija's five wins between 1998 and 2005. And this time Jornet did something that no one had done in 16 years. He broke one of trail-running's most-coveted course records with a time of 2:25:35—not by seconds, but by 3 minutes 37 seconds.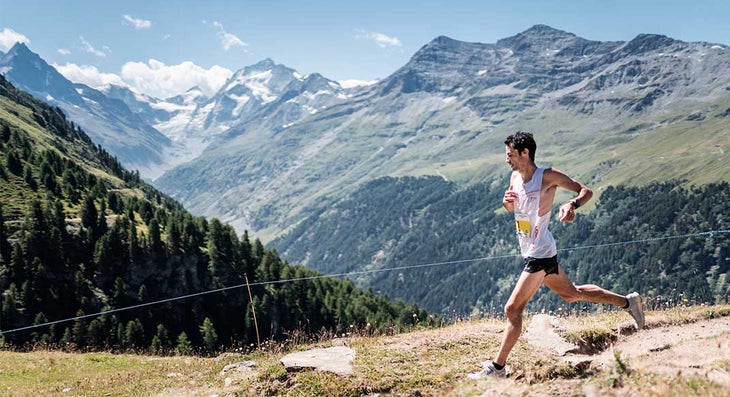 The 2:29:12 record had been held all those years by the New Zealander Jonathan Wyatt, now 46, indisputably one of his generation's greatest mountain runners. Starting more than two decades ago, Wyatt began racking up records from the Alps to the United States, at races as diverse as Switzerland's Jungfrau Marathon (2:49:01 in 2003) and New Hampshire's Mount Washington Road Race (56:41 in 2004.) Both are still course records. For his part, however, Wyatt was surprised that his Sierre-Zinal record lasted as long as it did. "To be honest, I was embarrassed about all the hype that people created for it this year.  I built up a lead in the first half and managed the advantage until the end knowing that with other races coming up including the Jungfrau Marathon a few weeks later."
Jornet's new record is robust enough that it stands up well in the face of a common observation among Sierre-Zinal vets: with smoothing, trail work and removal of rocks, the course has gotten incrementally faster over the years. Say Wyatt, "(There were) lots of rocky sections that were more of a feature in the past, in the final third of the track. You don't hear many talk about that, but it is true."
Would it have mattered in the end? Probably not, according to Wyatt: "I don't think that would have slowed runners like Marco [DeGasperi] or Kilian much given they are two of the top technical-terrain runners around!"
United States runner Jim Walmsley (below, with Jornet) had a notable success, finishing third in his first running of the famed course, in a time of 2:31:52—a result that in any other year would likely have had him breaking the finish-line tape.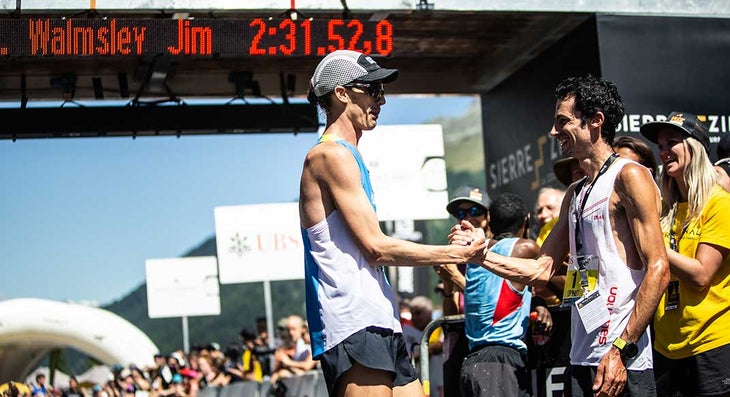 This year," Jornet said, "the goal was to give everything and not have to worry about recovering for the next race. And I was six minutes faster than my best time here so it seemed to work. I thought it was possible to break the record, but I thought I'd be counting seconds.
While Others Were Tapering …
Throughout the spring, anyone watching Jornet's training on social media would see that he had Sierre-Zinal clearly in his sights. For a mountain runner with historic successes on highly technical trails, there were a surprising number of fast road workouts.
"This year," Jornet said, "the goal was to give everything and not have to worry about recovering for the next race. And I was six minutes faster than my best time here so it seemed to work. I thought it was possible to break the record, but I thought I'd be counting seconds."
The week before Sierre-Zinal, while quietly spending his time in the end of the valley town of Le Tour, France, Jornet ticked off some jaw-dropping results. He ran up and down Mont Blanc from the village of Les Houches, covering over 29 kilometers and 3,860 meters of climbing in 5:47:54. Then, during another training session, Jornet ticked off a "Vertical Kilometer" run of 1,000 meters in 33:20—not so many minutes off the world record time of 28:53. After the run down, he added another 10 kilometers and 70 meters of climbing in 31:40.
Clouds on the Trail Running's Horizon?
Jornet's course record overshadowed numerous other notable accomplishments at this year's Sierre-Zinal—and one unpleasant fact: three of the top finishers had prior suspensions or reprimands for using performance-enhancing drugs.
Second-place finisher Petro Mamu from Eritrea finished just 56 seconds after Jornet. But two years earlier, in 2017, Mamu served a nine-month suspension for twice using performance-enhancing drugs. He was also stripped of his World Long Distance Mountain Running Champion title.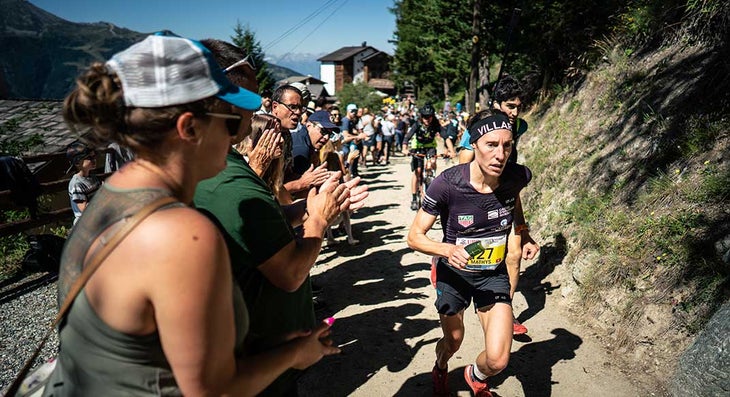 Swiss runner Maude Mathys (above) set a women's course record, breaking the 11-year-old record of Czech runner Anna Pichrtova by five minutes and six seconds, with a time of 2:49:20 (Mathys receive a reprimand from the Swiss Olympic Committee in 2015 for using the pregnancy drug clomiphene, which is listed as a banned substance). Elisa Desco, the 7th-place finisher, was suspended for two years after testing positive for the drug EPO. (For her part, Desco has always strenuously maintained her innocence, wondering if urine samples had been switched. She fought the result with a lawyer and anti-doping specialist, before running out of funds and being forced to drop the case.)
Will others test positive? We'll know soon. In the case of Sierre-Zinal, race organizers partnered with the International Trail Running Association's Quartz Program, plus the non-profit Athletes for Transparency, to oversee three sets of tests. Two—one day before the race, one immediately after the race—were mandatory. Using ITRA's Performance Index—a mathematical score that is used to identify the strongest runners in a race—the top-10 men and women runners underwent mandatory tests using hair and blood samples. Results will be known by August 26.
If a runner in the group has results that show indications of doping, then a three-person Medical Commission will deliver the findings to the race organization, which will decide whether to disqualify that racer's result. Says Athletes for Transparency's President Pierre Sallet, "Our timing is not that of social networks, where everything goes very fast and where things are often at best only partially correct or at worst entirely wrong. We just follow our process to reach a fair decision for all athletes."
The New York City Marathon of the Alps
While Sierre-Zinal is arguably one of the most competitive trail races in the world, and much of the attention focusses on the elite runners, it has a wide and diverse following. This year, more than 5,000 runners took part. Recreational runners started five-and-a-quarter hours earlier, a special aspect of the race-day schedule that allows recreational runners to watch elites arrive, several hours after most of them have crossed the finish line.
Nicknamed "The New York Marathon of the Alps," the race's rich history makes for a special day for runners from around the world. It's a vibe that was felt by runners like Mike Ambrose, formerly the North American Marketing Manager for Salomon, and now based out of the company's world headquarters in Annecy, France.
"Running across that ridgeline with the flowy singletrack, I felt the legends before me," says Ambrose. "That's the first time ever in a race that I was putting myself out there with the greatest and the pioneers of the sport. Maybe I wasn't running at the same speed, but I was part of the history. I actually felt that energy. "
For Jornet, Few Records Left
For Jornet, there are few records left to shatter. At age 31, he has Fastest Known Times from the Matterhorn to Mount Everest. He has won trail running's most prestigious races, some of them multiple times, with course records around the world. It's hard not to imagine that Jornet might begin to turn his attention to other projects. With Skyrunning Champion Emelie Forsberg, he now has a five-month-old baby—and an energetic labradoodle, Maui, to boot.
As he watched Jornet from a jumbo screen not far from the Sierre-Zinal finish line, Bustin, a longtime acquaintance of Jornet's, was in a contemplative mood. "Kilian, he's not just special because of his records at Sierre-Zinal or the UTMB," he said. "He's broken mountaineering records and ski alpinism (ski mountaineering) records, too."
Bustin paused with thousands of other onlookers, as race officials announced to the crowd that Jornet was now 20 seconds ahead of Wyatt's historic course record. On the screen, Jornet looked fluid and in control, calmly, steadily, smoothly "running the tangents" along a rocky section of the course.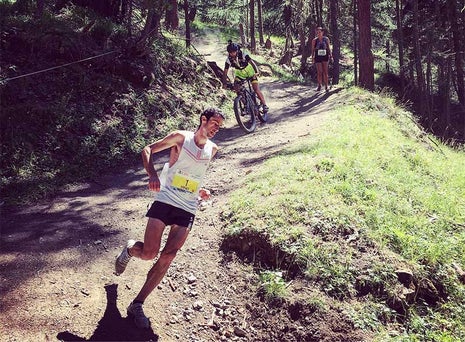 "He's a fantastic guy, with a great mentality about mountain sports. Maybe he's about to say to the young runners, 'Hey guys, I've done my time. Now it's up to you,'" added Bustin. Taking in the weight of what he had just considered out loud—that the world's greatest trail runner could soon be winding down his long stretch of highly competitive racing days—he looked back up to the screen, saying to no-one in particular, "He has nothing to prove to anyone."
Well, maybe not quite. There is, arguably, at least one notoriously difficult-to-beat record remaining:  Colorado's Pikes Peak Marathon. In 1993, Matt Carpenter set a confoundingly fast course record there, with a time of 3:16:39. On August 25, Jornet will be there. It's hard not to imagine he wouldn't like to cross the tape with a time quicker than Carpenter's. The trail-running world will be watching.