How Jasmin Paris Conquered the Barkley Marathons "Fun Run"
The runner from the UK became the first woman since 2013 to complete three loops of the infamous Barkley course.
Heading out the door? Read this article on the new Outside+ app available now on iOS devices for members! Download the app.
There were once again no finishers in the 2022 edition of the Barkley Marathons, the annual 100-mile bushwacker through Tennessee's Frozen Head State Park, created and conducted by Gary "Lazarus Lake" Cantrell. Instead, there was freezing rain, sleep deprivation, and hallucinatory exchanges with inanimate objects. The usual madness, in other words.
Arguably, the most impressive performance in this year's race came from Jasmin Paris, who became the first woman since 2013 to complete three out of five loops (60 miles) of the Barkley course—an achievement known as the "Fun Run."
A national fell-running champion from England, Paris gained prominence in 2019 when she won the Montane Spine Race, a notoriously difficult, 268-mile ultra from Edale, in Derbyshire, to the southern end of Scotland. Not only did she beat all the men and set an overall course record (83 hours,12 minutes, 23 seconds), she was still breastfeeding her 14-month-old at the time. Early on in the race, Paris was expressing milk at aid stations—a fact which briefly made her into an international media sensation.
Paris is 38 and works full-time as veterinarian at the University of Edinburgh in Scotland. She and her husband Konrad now have two children. I spoke to Paris about her experience at Barkley, how she got into ultrarunning, and how she feels about unintentionally becoming an ambassador for breastfeeding athletes everywhere.
OUTSIDE: A lot of ultrarunners got their start doing track and cross-country in school, but you came to running later, correct? Can you describe how you got into the sport?
PARIS: I didn't become a runner until I left university. As far as my way into it, it was just a natural extension of being a hill walker. I started hiking with my parents at a really early age. Even when I was a baby, they carried me across the Andes on one trip. As I grew older, I was always doing a lot of hiking. But it wasn't until I started working as a vet that a colleague suggested I do a local fell race—which is our kind of mountain running. I did it and I loved it. So I joined a club and it kind of went from there.
RELATED: No Finishers At The 2022 Barkley Marathons
Can you explain what fell running is and how it's different from "trail running" as it tends to be understood in the United States, or at a European race like UTMB.
Fell running can really be any distance. The shortest races will be a couple of miles and the longest races usually 20 to 30 miles, in general. The difference compared to trail running is that a lot of these fell races are not necessary on paths. The reason that we can do that here in the UK is that the hills are often not covered in forest, so you can run across them. Fell running also typically requires an ability to navigate, although there are some easier races where the course will be flagged. But usually they are unmarked and you kind of have to know how to be self-sufficient as you move across the mountains and hills. Overall, these races tend to be cheap to put on and very low-key. You don't win big money. Sometimes you win a cake or a bottle of wine. But the atmosphere is really fantastic. Really non-elitist. And it has a real history; as I understand it, the first fell races were often linked to country fairs. Run up and down the local hill type thing.
Isn't there also a strong sense that the prestige comes from being part of the sport's history and culture, as opposed to winning a coveted prize?
Yeah. And also that it's not about the media stuff either. The people whose opinion matters are the old-timers in the Lake District. If they say you did a good run, that's worth a thousand times more than a magazine reporter doing a story.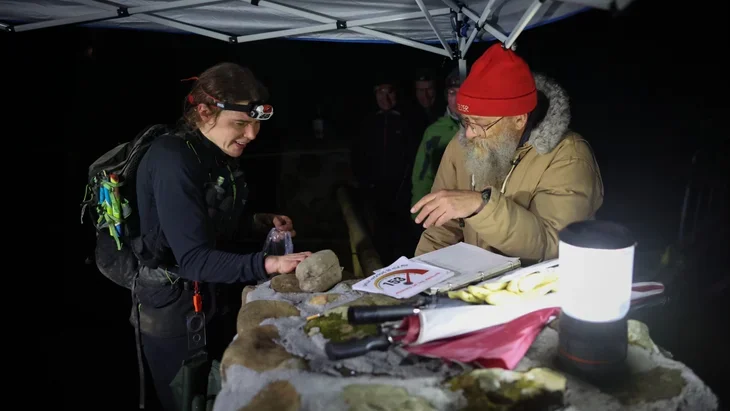 Right. Given the nature of the discipline, do you feel that fell running is good preparation for an event like Barkley?
I think so, because you have to be comfortable with running off trail. Maybe in the U.S. that isn't so common—to be running off trail? Also, being comfortable using a map and a compass is essential at Barkley.
What was it that made you want to run this race?
I've known about it for years. After the Spine race, people started asking me a lot about whether I wanted to run Barkley. But it wasn't until last summer that I decided that I really did want to do it. I just needed to wait for that moment to happen, because it's not the sort of race you can do until you really want to—or that you should do until you really want. I was intrigued by this idea that the likelihood is that you are going to fail, but there's still this tiny chance that you might not. That's really exciting.
RELATED: Watch – Barkley: The Race That Eats Its Young
How did you go about training for this race?
There were some similarities to the Spine race in that I did all my training early in the morning—waking up at 5 A.M., or 4 A.M. on weekends, because I want to spend the weekend with my kids and that way I could get a really long run in before lunch. In terms of distance, I probably did a little bit less than for the Spine, but not significantly less and I did a lot more ascent. I think my biggest week was somewhere between 80 and 90 miles, but with about 35,000 feet of ascent. I also did quite a lot of reps on hills, because I wanted to get steep ascents and descents in and the best way to do that was just to go up and down. My dog thought I was crazy. In fact, he stopped going up and down with me. In the end, he was just staying in the middle, and doing half-reps, just waiting for me to come back up. After seven hours of hill reps, he didn't want to go anymore.
Wait, your dog was doing the workout with you? What kind of dog do you have?
We have a Border Collie. Yes, at the start he would run all the way back down to the bottom and all the way up to the top. But, by hill rep number 22, he didn't make it up to the top anymore. He just sort of went three-quarters of the way up and stayed about a quarter of the way from the bottom when I was going back down. Just sort of sat on the ridge looking at me, waiting to see whether I was going to come back up.
As far as your overall impression of Barkley, how did the experience compare to your expectations?
Well, I guess at the time it felt pretty hard. But looking back, you forget about the hard stuff and just remember the thrill of it, the adventure. That makes the idea of going back appealing. There's a tendency to forget just how awful it was at times, and then just want to relive it, because it was also so intense and brilliant. There's a bit of a hole when you come away, because it's so intense at the time. It's like there's something missing after the experience is over.
RELATED: Five Trail Races You Probably Don't Know About – But Should
Did you feel any added pressure, given that no woman has ever finished this race?
I was aware that no woman had finished it. I didn't actually know the stats behind the "Fun Run" and finishes for women. I think it's a good thing to bring women's sport to the forefront but, honestly, I was mainly doing it for me, to see what I could do. Obviously, I was aiming to finish it, because I think going with any other aim would be stupid. But that doesn't mean I was disappointed with how it went, because I gave it everything.
A few years ago, you made headlines as the ultrarunner who won the Spine Race while breastfeeding. Chelsea Clinton and Barbra Streisand were tweeting about your race. How did you feel about that? Was it annoying?
Yeah, the media did kind of latch on to the breastfeeding thing. It wasn't actually as much of a big deal as it was made out to be. I know that not everyone can breastfeed, but, at least in my experience, part of the joy of breastfeeding is that it is very straightforward and natural. So it just wasn't a big deal for me; I just needed to express a bit of milk while my production was still high, which was really just the first couple of checkpoints and then my production trailed off as I did this stupidly hard challenge for my body. I just had to do it. In terms of whether I found the coverage annoying—I didn't really. To be honest, I find the whole media attention thing in general rather bewildering because I don't really feel that I am this incredible athlete. I'm just pretty determined and sort of stubborn. But, overall, I thought it was good to promote breastfeeding as something you do in public.
This story originally appeared on Outside Online.