Hillary Allen Returns to Europe in Search of Redemption
Heading out the door? Read this article on the new Outside+ app available now on iOS devices for members! Download the app.
Early this morning in Chamonix, France, August 29, the streets were mostly quiet. By 1:30 am, most of the late night revelers along Rue Ravanel had headed for home. Coming in from the woods down valley, however, occasional trail runners appeared every five or 10 minutes, moving through the cool, overcast evening. They were among the top finishers in the in the Ultra-Trail du Mont-Blanc's 145-kilometer Ducs de Savoie, or TDS trail race.
TDS is the UTMB series' most technically challenging race, with just under 30,000 feet of climbing and descending as the route wends its way from Courmayeur, Italy, over the border, and through the French Alps to Chamonix, at the base of 15,780-foot-high Mont Blanc.
One of those runners was the accomplished U.S. trail athlete Hillary Allen, who took second place, in a time of 21:52:16, just 16 minutes back of winner Audrey Tanguay of France. And as she turned the corner into Place du Triangle, a waiting crowd erupted into wild cheering.
It might not have been so. Two years ago, Allen's life nearly ended on Norway's Hamperokken ridge, 1400 meters above the small Norwegian city of Tromsø. There, she took a devastating fall, rag-dolling 150 feet down the rocky ridge. Martina Valmassoi was there, photographing the race.
"I saw Hillary in the distance and hollered a hello," she said. (Valmassoi, a fellow mountain racer, skipped the start line due to injury.) "I looked through the camera, and Hillary disappeared. Then I saw her falling off the ridge. I saw it all. It was really bad. She bounced at least six times. I thought something really bad …" Valmassoi's voice trailed off, perhaps not quite able to say what was on her mind. "But I heard her screaming and that meant she was alive."
I looked through the camera, and Hillary disappeared. Then I saw her falling off the ridge. I saw it all. It was really bad. She bounced at least six times. I thought something really bad …
The rescue quickly took shape. Valmassoi immediately called Catalan trail runner and Race Director Kilian Jornet. "I think Kilian ran his fastest time down Hamperokken Ridge," said Valmassoi. In less than 30 minutes, a helicopter was on site.
The accident exacted a toll on the usually nimble Allen, who is nicknamed "Hillygoat:" a dozen broken bones, a sprained ankle, a torn ligament, bruising. Two surgeries in Norway, three more in Boulder, Colorado. Much of the ensuing two years have been about recovery. Finally feeling strong this spring, she slipped on ice this past winter and suffered a cruel setback, breaking her ankle.
"My confidence was in the gutter," she said. I took all the races off my schedule." For her second recovery, she turned to gravel bike racing. "It scared me and challenged me. It was what I needed."
Just six weeks after slipping into trail-running shoes, she won Italy's 48-kilometer Cortina Trail race. Was she back to her old self? Physically, perhaps. But Allen had unfinished business. Tromsø was never far from her mind. "When I crossed the finish line at Cortina, I made the decision right there to go back [to Tromsø]."
And so, on August 3rd, she found herself once again in northern Norway. Two days before the Tromsø Skyrace, she and Manu Par, one of the first runners on the scene for the rescue, returned to the ridge where Allen fell.
"I didn't feel scared, but there was a pit in my stomach. I spent the afternoon in silence, reflecting. I didn't know if I could go back during the race," says Allen, "But my emotions progressed. I developed some more positive memories. And during the race, I was laughing and smiling."
Though with other things on her mind than getting to the podium, Allen finished 11th of 25 women finishers.
After Tromsø, Allen turned her attention to TDS, one of the six major UTMB series of races that take place at the end of August each year. She spent much of August in the region, doing reconnaissance on the route and running around Chamonix and nearby Annecy, France.
"TDS is my A race. I'm going to prepare as best I can and take it as it comes," she explained, during her prep time in the French Alps. "It's going to be hard, but I'm feeling confident and ready to handle the hard moments when they come."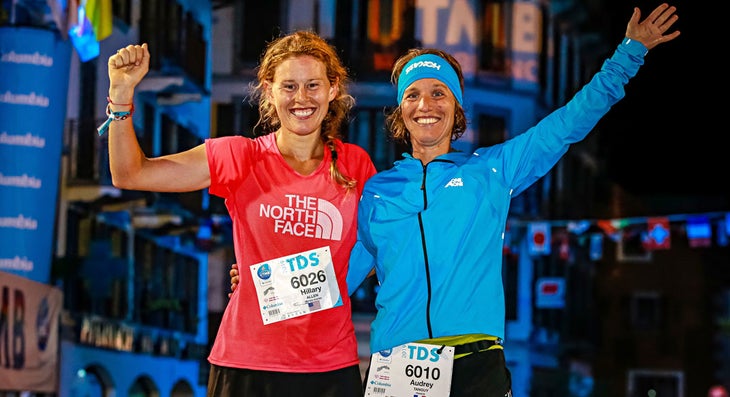 For Allen and anyone following her, the result cements an undeniable fact: she's back.
Sitting for a post-race interview under the icon blue UTMB arch outside the Chamonix mayor's office, Allen reflected on the metaphorical distance she's travelled. "I was told I'd never run again, let alone compete at an elite level," Allen said. "The past two years have been about me trying to fall in love with running again."
Contemplating all that has transpired since her fall at Tromsø, Allen said, "I'm so glad I went back there. It felt so good to close the chapter and celebrate."
TDS's race date was fortuitous—this week Allen also celebrated her 31st birthday. Those months of hard work paid their dividends last night in Chamonix, for Allen. If that was return on investment was unsurprising, she did have one curveball for the crowd gathered to hear her words as clocks edged toward 2 a.m. "The cool thing is," she said, "I've never run this far before!"
Doug Mayer lives in Chamonix, France, where he runs the company Run the Alps. Trail Runner Contributing Editor Brian Metzler is writing an in-depth profile of Hillary Allen for an upcoming issue of Trail Runner.