Is The High Lonesome 100 The Future of Ultrarunning Equity? 
The Colorado 100-mile race became so popular it needed a lottery system. Its 50-50 gender split is one of the first of its kind. 
Photo: Kristi Mayo / Mile 90 Photography
Heading out the door? Read this article on the new Outside+ app available now on iOS devices for members! Download the app.
This year's High Lonesome 100, on July 22-23, was a unique event for a variety of reasons. With nearly 24,000 feet of vertical gain through Colorado's Sawatch Range, this relatively new event was established in 2017 and is singularly challenging in the way that appeals to the truly "Type II Fun" loving trail runner. But aside from the beautiful and bone-breakingly tough course, there are some off-trail aspects that set the race apart, too.
The 2022 High Lonesome was the third year of the race – including a canceled event in 2020 – to use a lottery system that selects runners. However, the High Lonesome lottery is set up differently from any other race known by its race directors Caleb Efta and Kelsey Banaszynski, co-owners of Freestone Endurance. It's the only race the husband-and-wife duo know of that includes a 50-50 split lottery: half men and half women, with a 150-person race field to match. 
Notably, this year's top 12 finishers reflected that 50-50 split, with six men and six women, including Annie Hughes's second place overall finish, the first woman to break 24 hours on the course, in 23:40:29.
Early Success
After the first successful running of the High Lonesome 100, in 2017, the race became so popular that a lottery system quickly became necessary. 
"We didn't really want to do a lottery, and we knew that lotteries sometimes bring in a bias. Not always purposeful bias, but just bias because 100-mile race distances or longer ultra distances often skew toward men," says Banaszynski. "As we were thinking about building this lottery, we were also thinking to ourselves, How do we build this in a way that we don't create a system of bias that's just inherently built in?"
To get there, Efta and Banaszynski turned to the people they knew best as race directors: their trail running community. 
Before they instituted any lottery, they asked runners, recreators, and locals what they'd like to see as the event grew increasingly popular. One of the people involved in those discussions was Silke Koester, who is now a three-time High Lonesome 100 finisher and who came in 11th overall last month as sixth female. 
"You have this amazing race. It's going to sell out every year and that's going to be really popular. And they ticked all those boxes and still they were asking themselves bigger questions about the community and the people," says Koester, who is based in Boulder. "[They're] recognizing that, sure, running is just running, but running doesn't exist without people and people are real and people are different from one another…They so early on were curious about the people who participate in our sport and what their place as race directors and race creators is in light of this community."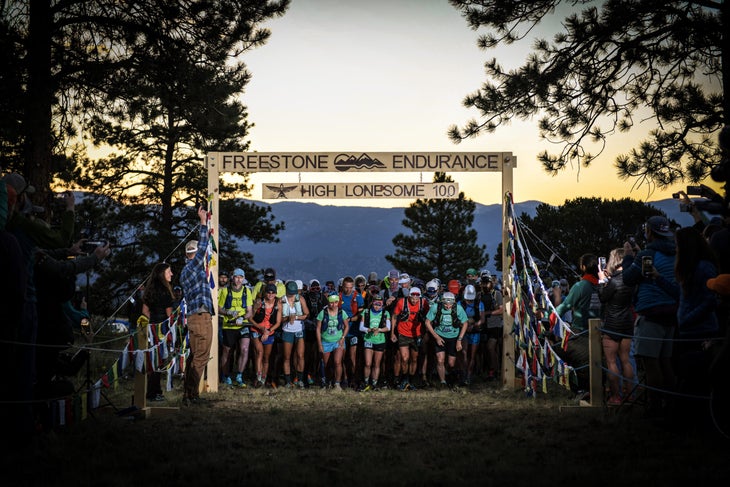 Building A Lottery From The Ground Up
But pulling off an equitable lottery isn't as simple as it sounds. Most races with lotteries, such as the Western States 100 or the Hardrock 100, weigh their lottery entrants in different ways, to allow athletes who have applied unsuccessfully multiple times, or who have finished the race multiple times, a greater chance of getting a place in the field. Historically, since more men have run longer ultramarathons than women, those weighted elements reinforce an uneven gender division among runners. 
Efta and Banaszynski knew they likely couldn't please everyone, but the only thing they could control was their own event. So they swung for the fences and debuted a number of revamped policies.
"We got some experts – because we aren't – involved with how to do it, and we followed IOC [International Olympic Committee] guidelines for most of the stuff," says Efta. "It was sort of this big swoop of equity policies, because we worked in changes to our qualifying and pregnancy deferrals for both partners, regardless of gender, for up to two years. It was a big splash of everything."
They consulted an economist and statistician for help creating the mathematical processes for selecting lottery applicants. The policies governing transgender and nonbinary athletes have also been updated, though Efta notes High Lonesome 100 hasn't yet had any registrants who identified as transgender. From the outset, the goal was just to be as inclusive and approachable as possible.
RELATED: The Hardrock 100 Wants More Women On The Start Line
"We often try to phrase that in our messaging: this is our choice. It's the way we are doing it. We're not saying it's the right way or even the best way. It's just our way. Our main intent there was just not excluding people," says Efta. "If we made an easy and welcoming way for you to be a part of the race, if you ever did want to be a part of it, there wouldn't be some institutional barrier. And so we'll keep it there regardless of if anybody uses it."
The resulting 50-50 lottery at High Lonesome effectively functions like two lotteries: one pool for men and one for women, with separate waitlists as well. If a female athlete can't race, she's replaced by another female athlete from the waitlist, and the same for male runners. To Koester, it simply makes sense.
"In ultrarunning, we're really running two races at the same time," she says. "If you think about Olympic track and field, you've got the 100-meter sprint. And you don't say, 'Looks like the men are going to get six of the lanes and the women are only going to get two.' We offer the men eight lanes and the women eight lanes. But in ultrarunning, we have those same two races. They just happened to happen at the same time in the same place. So it becomes this confusing ground where it feels like one race because it's happening at the same time and in the same place. But really, it's still two separate races.
"So if we think about ultrarunning in that way, then it kind of makes sense that you would have separate entry points for each, separate fields and separate tools to pick from to fill each of those two races."
Devon Yanko, who was the fourth woman at High Lonesome (eighth overall) and a seasoned ultrarunner, agrees that for the sport of ultrarunning to move forward, policies like the ones Efta and Banaszynski have put together are the way to get there. Even though she didn't have the race she wanted this year (troubles started early with a broken trekking pole in the first mile) Yanko calls the High Lonesome 100 a great balance of technical challenge and welcoming community.
"I honestly think our sport needs more policies like this," says Yanko. "You're not going to fix a historic problem if you leave it to fix itself. You're not going to get to a more equitable situation if you don't actually put these kind of policies in place. That's the kind of thing that makes first-timers feel good. This is a race that feels supportive, and it feels like it's a great community and it's committed to the right set of values. At High Lonesome it's like, 'yeah, come on in. Everybody's welcome.'"
Mixed Reviews
The institution of the split lottery has garnered mixed responses, but Efta and Banaszynski stand by the changes they've made. They acknowledge that not all races have the means or opportunities to pull off such ambitious policy changes, and they know that not all athletes or community members will agree with them.
While new women's course record holder Annie Hughes was gratified to see more women in the field at the 2022 High Lonesome 100, she isn't sure how a split field will change the level of competition in the event.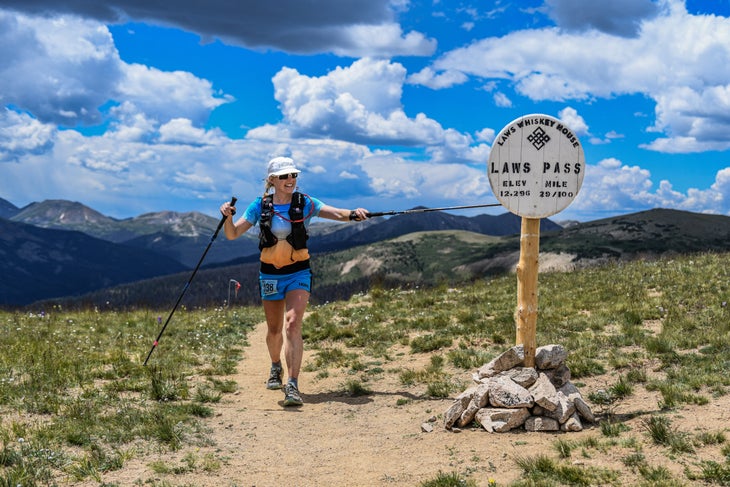 "It's cool to have more women in the race, but from my perspective, I don't know if I would have gotten in second [overall] if it wasn't a 50-50 split, because there'd be more men in the race," says Hughes. "It would probably be more competitive if they let more men in. I don't know if that's totally fair, just because less women sign up in general, but it's cool that they do that and it's very progressive for the sport."
Her High Lonesome win was the continuation of a stellar year for Hughes, who won the Cocodona 250 in Arizona in May, finishing third overall and shattering the previous course record by 14 hours (though on a course that was altered for wildfires and which removed a large amount of vertical gain from the original course). With less than 12 weeks in between, she spent her summer dialing in her mountain skills to prepare for High Lonesome.
"I felt like I had a lot of fitness coming off of Cocodona. And so I recovered fully from that first," says Hughes of her training. "And that took about a month before I was fully back to normal…Then I started upping to like 60 miles a couple weeks, trying to get a little bit of that volume back, and then I upped it back to my normal 100, 100-plus mile weeks and added a lot of longer days in the mountains."
RELATED: Annie Hughes, Joe McConaughy Win Second-Ever Cocodona
Hughes had been advised by a friend and crew member not to arrive at High Lonesome's Cottonwood aid station (mile 31.3) before the seven-hour mark to ensure she started conservatively enough. The start to Hughes' race was so fast that she ended up strolling into Cottonwood at a walk. Her time? 6:59. But she credits the extra conservative start in part for her ability to push later in the race, surpassing her initial goal of 25 hours and 30 minutes to eclipse the 25 hour and 6 minute course record and the 24-hour mark.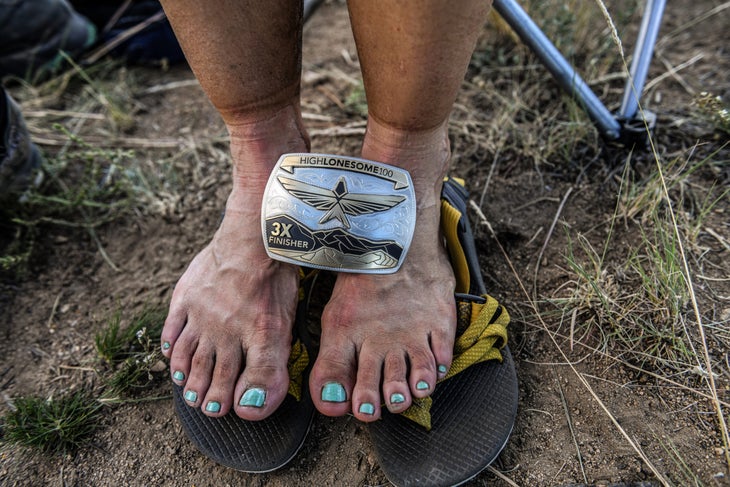 For the High Lonesome race directors, the success comes from the number of women who want to run their race – enough to fill the entire field and waitlist with no trouble. Efta and Banaszynski know there's more to be done across the sport to promote equity and foster welcoming races, but from their perspective, it's a good start. Women feel more welcome and confident stepping up to longer races when the space is made for them, and the numbers reflect that: at this year's High Lonesome, 10% of male racers were using the event as their first 100-mile race. For women, that number was nearly a quarter.
"It all fits in with what we're trying to do," says Efta, "which is to create a space where women could come into and run something challenging and inspiring, and do it in a supported way and not have to be afraid of failure."
In the end, the high-powered women's field did, in fact, push Hughes to her record-breaking finish. As the pain set in, Hughes realized she wasn't building much of a lead on the second-place woman, Rebecca Orig. 
"I wasn't really gaining any time on her. I felt like I was really pushing my hardest," says Hughes. "I really didn't expect to do that well at all. I think if I didn't have Rebecca there pushing me, I probably wouldn't have run as fast."