Dauwalter Wins U.S. Big's Backyard Ultra With Record-Setting Effort
Heading out the door? Read this article on the new Outside+ app available now on iOS devices for members! Download the app.
While you were sleeping last night, Tuesday, October 20, 2020, ultrarunning history was made in Bell Buckle, Tennessee.
American ultrarunning legends Courtney Dauwalter and Harvey Lewis pushed each other beyond previous limits at Big's Backyard Ultra, with Dauwalter completing a record 68 laps and accumulating 283.33 miles to win the event in the early morning hours of October 20 after nearly three full days of running with very little sleep.
Daulwalter, a Salomon-sponsored runner from Golden, Colorado, broke her own American record of 67 laps, or yards, as they're called in "backyard-ultra" vernacular, and very briefly held the world record for the unique style of racing that sends runners out for a 4.1667-mile loop at the top of every hour until only one runner remains.
The U.S. event concluded when Dauwalter crossed the finish line on her 68th lap and she was declared the last runner standing after Lewis failed to compete the lap and retired from the race. But Big's Backyward Ultra was also part of the virtually connected 2020 Backyard World Championship, in which 300 runners competed at similar venues around the world.
After Dauwalter's valiant efforts, Belgian runners Sabbe Karel and Geerts Merijn continued on for several more hours on a course near Antwerp, with Karel eventually outlasting his countryman en route to finishing 75 laps (312.5 miles) to earn the global title.
Wearing a yellow Salomon T-shirt and a pair of long, surf-style running shorts she's become known for, Dauwalter was smiling and energetic after she finished. It's likely she could have kept running to keep pace with the Belgian runners, but the rules of the event state that a backyard event can only continue if two runners are competing.
"Wow, what that was fun," said the 35-year-old Daulwalter, while sipping a cold beer shortly after finishing her 68th lap at 2:46 a.m. CT. "I had a good routine and got a lot of rest. And Harvey was amazing."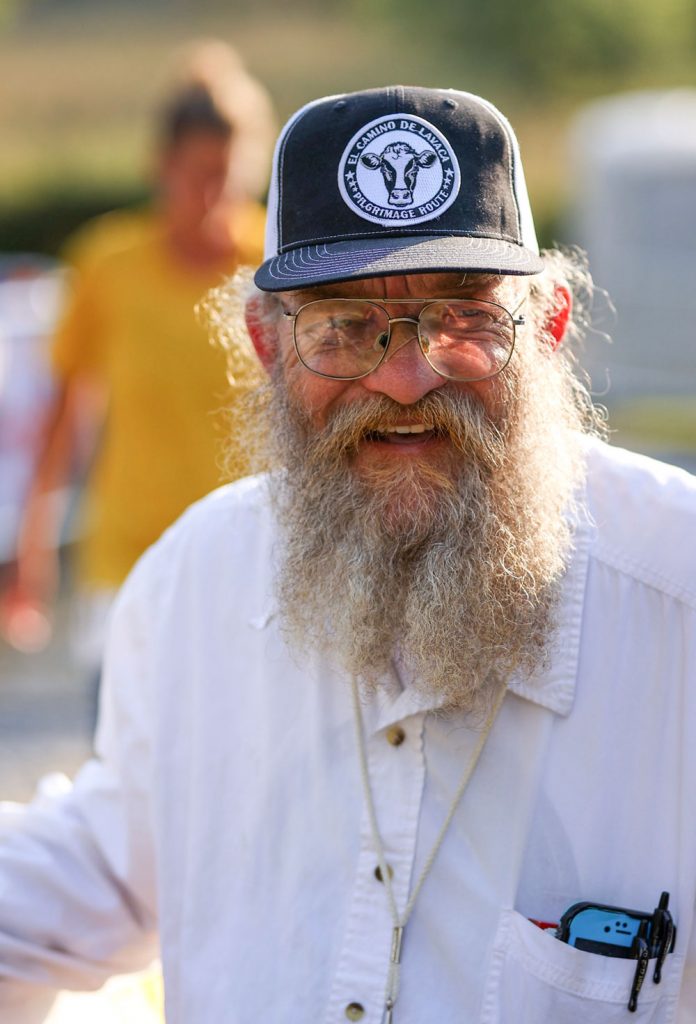 In a modified version of the annual backyard ultra event created by Gary "Lazarus Lake" Cantrell, 14 American runners toed the starting line early Saturday morning on Cantrell's property in rural Bell Buckle. While the event typically has a bigger field and runners from around the world, this year's event had a smaller field because of the Covid-19 pandemic.
But as the American runners ran laps in Tennessee, 286 runners ran simultaneously in similar events in 20 countries around the globe as part of the 2020 Backyard World Championship. The event was virtually linked by a live updated leaderboard of American runners, a live updated international score card on Google Sheets and a start/finish line livestream video feed on Facebook.
Just after Dauwalter finished her 68th lap and broke the previous record of 67 laps set by Sweden's Johan Steene in 2018, Belgian runners Sabbe Karel and Geerts Merijn headed out for lap 69 on their course near Antwerp. When Karel completed that lap about 40 minutes later and Merijn shortly after that, they had secured the World Championship Team Title and also extended the world record that Daulwalter had briefly shared at 68 laps.
Dauwalter previously finished second to Steene in 2018, taking the "assist" to his record-setting performance with 66 laps. Although she didn't win the world title this year, she earned the Big Dog's Backyard Ultra by besting the field in Tennessee.
Dauwalter's cumulative running time was 56 hours 51 minutes 53 seconds. Her fastest lap was 44:03 for Yard 12 and her slowest was 55:13 for Yard 9 and finished with an average of 50:10.
"It was a record-setting performance, but we'll never how far she could have gone tonight," Cantrell said, noting that the rules of the backyard ultra doesn't allow for a solo runner to continue on. "You think she could have gone on, but you can never tell. You always would like to win but you always have to admire a great opponent and the Belgians really brought a tough team."
Cantrell developed the backyard-ultra concept in 2012 but it didn't really start gaining popularity. This was the eighth year of the event
Dauwalter and the rest of the American runners ran a semi-technical singletrack trail loop on Cantrell's for 11 hours during the day, followed by a paved out-and-back road section for 13 hours during the night. The Belgian runners had been running a single 4.1667-mile loop for the first day and a half of the competition, but they were forced to run a modified course of seven short laps around a building in a park from midnight to 5 a.m. local time because Belgium had imposed a strict country-wide curfew as a Covid-19 safety precaution.
Karel, 30, and Merijn, 45, continued on for several hours after Dauwaulter finished, getting through 74 laps. Karel had been working hard to run fast, 40-minute laps so he could sleep more, whereas Merijn ran slower laps and only slept a few minutes, if at all, over the final 24 hours or so and that caught up with him. The event ended after Karel completed the 75th lap in about 50 minutes, but Merijn didn't show until after the hour expired. That allowed Karel, a 31-year-old Belgian dentist, who set a new FKT on the Pacific Crest Trail in 2016 and the Appalachian Trail in 2018, to lay claim to the 2020 Backyard World Championship individual title.
"What I really love about backyard style racing is that it ain't pretty," said Canadian runner Dave Proctor, who finished 189th overall after completing 24 yards for 100 miles in the Canadian race in Kelowna, British Columbia. "After a while, it takes a lot of grit. It breaks you down and everything else you thought that mattered doesn't really matter. What does matter that you get up every morning and you lace up your shoes and you try your best. That's what matters."
The 2020 Backyard World Championship began at 5 a.m. CT on Saturday morning with the start of the Big Dog's Backyard Ultra, but by the time Monday morning rolled around there were still 26 active runners racing at events around the world. As the battle of attrition continued, a dozen runners hailing from the United States, Belgium, Mexico, Sweden and Germany were able to complete at least 50 yards or 208.33 miles.
Dauwalter and Lewis were the final two Americans still running after Ohio's Jacob Conrad failed to start the 50th lap. He covered 204.16 miles over his 49 laps, one more than yard than Gabe Rainwater (Ohio) and Sarah Moore (Michigan), who both timed out after 48 laps and 200 miles.
At that point, there were a handful of runners left in the international race but soon it was down to just Karel and Merijn and three Tarahumara runners competing on a course in the Copper Canyon region of Chihuahua, Mexico. After Juan Contreras dropped after yard 62 to secure seventh place, Miguel Lara Viniegra completed two more yards and retired for sixth, meaning Perdió Parra was the Mexican champion after finishing his 64th and final lap and a fifth-place showing with 266.67 miles completed.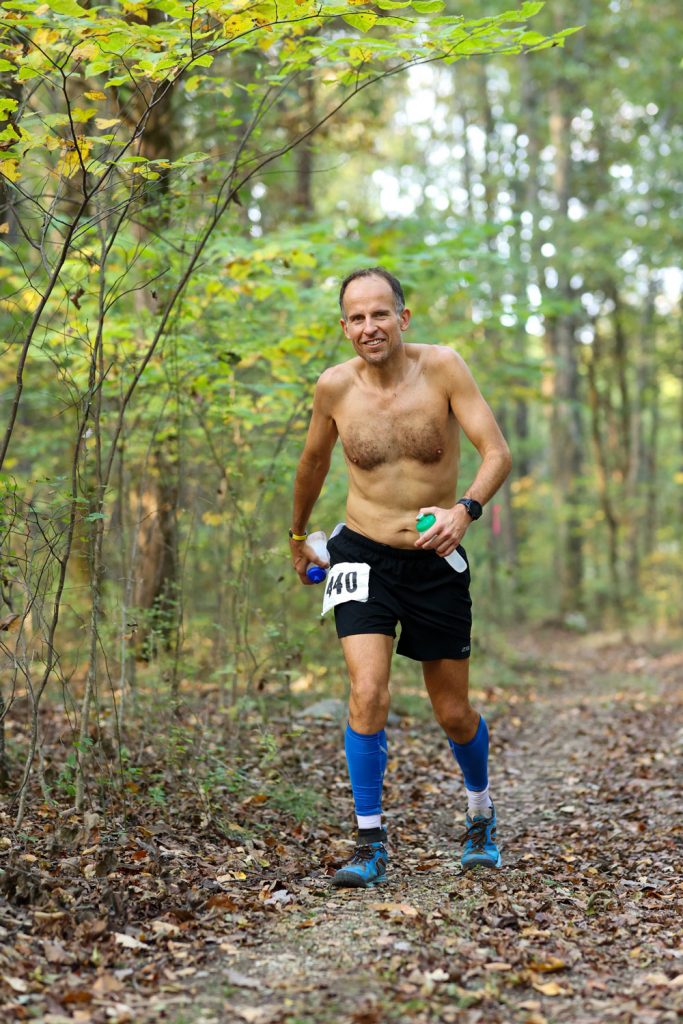 For three more hours, Dauwalter and Lewis continued to grind out yards on the out-and-back road section in Tennessee, encouraging each other was they went. They appeared to be going strong as they turned in some of their faster laps of the event — Lewis split a 40:03 for yard 65, while Daulwalter ran a 45:07 and 44:56 for yards 65 and 66 and used the extra time to sleep for 10 to 12 minutes at a time — and observers figured they might run deep into Tuesday morning.
But Lewis, a 44-year-old runner from Cincinnati, Ohio, was hobbling on his last several legs and slowed to 51:10 and 52:26 for yards 66 and 67. He attempted to go out for yard 68, but turned around and called it quits. Cantrell later said Lewis was delirious and confused when decided to drop out. Officially, he wound up second in Big's Backyard Ultra and fourth in the Backyard World Championship with 279.17 miles.
"I don't think it was the running so much as it was the lack of sleep that did him in," Cantrell said. "You knew that he truly gave all there was to give."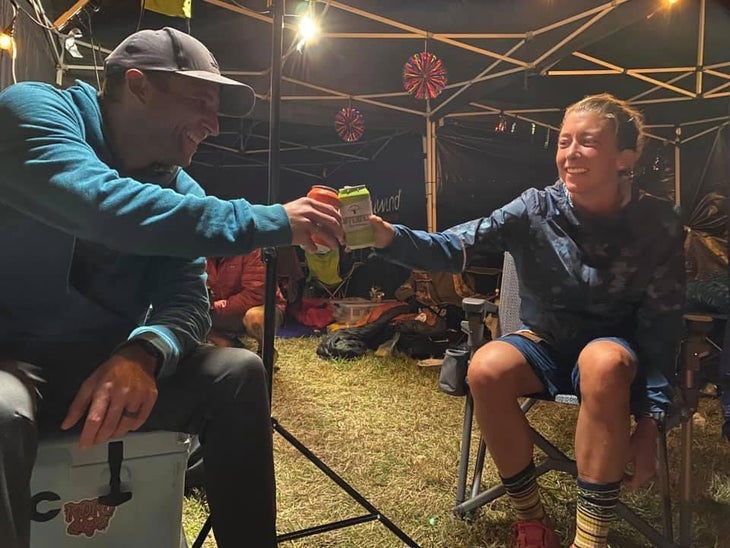 Four other runners at the U.S. event made it through 32 laps before retiring: Aaron Ellison (Maryland) 32 laps, 133.33 miles; Amelia Boone (California) 33 laps, 137.50 miles; Oliver Leblond (Virginia) 34 laps, 141.66 laps and defending champion Maggie Guterl (Colorado) 39 laps, 162.5 miles.
"It's more of a mental game than anything else," said Guterl, who was the overall champion at Big's Backyard Ultra in 2019 with 60 yards and 250 total miles. "Ultimately you have to have the training to back it up, but it's a cool format and a lot different than your typical ultra."
Torbjörn Gyllenbring (55 yards, 229.2 miles) and Anna Carlsson (54 yards, 225.0 miles) finished eighth and ninth, respectively, while Germany's Marina Kollassa (51 yards, 212.5  miles) was 10th overall and the third female finisher.
"As far as how far people can go, I think the backyard is the ultimate style of racing that will put them to their test," said Proctor, who was third in Big's Backyard Ultra in 2019. "And I think it's also a think where every runner can test themselves and also learn to put a little more effort in everything they do."