The Chase for Golden Tickets will be Livestreamed at the Bandera 100K
Colorado's Courtney Dauwalter, Utah's Ryan Montgomery headline strong fields
Heading out the door? Read this article on the new Outside+ app available now on iOS devices for members! Download the app.
If you've never gone running in Texas Hill Country, you might not be aware of the aggressive flora lying in wait around the next twist or turn of the trail.
JUMP TO: Courtney Dauwalter Sets Course Record And Jeff Colt Claims Victory at 2023 Bandera 100K
Although they seem to have sharp claws and fangs, these common high-desert aggressors aren't marauding mammals or antagonistic birds of prey. But that doesn't mean an encounter with a vicious sotol plant is something to take lightly. No joke — it's very likely many of the 1,100 runners entered the January 7-8 Bandera Endurance Trail Race to arrive at the finish line with their lower legs a bit bloodied.
Although sotol plants are sometimes referred to as cactus, agave or yucca plants, they're actually none of the above. They're evergreen rosette plants with long, sharp spiky leaves that attach in a series of circular tiers around a shortened, central stem. The dreaded vegetation is known to wreak havoc on runners' ankles, shins, calves and kneecaps and is so prevalent at Hill Country State Natural Area, located on ancestral Kickapoo (Kiiikapoi) and Jumanos lands, it's become immersed in the culture of the race. In fact, replicas of the vicious flora are embodied in the welded metal sculptures handed out as the event's age group and overall awards. 
"You'll look like your legs have been whipped," says race director Chris McWatters. "They say you've gotta earn your lashings at Bandera, and they're all over the course. All the old guard runners would kill me if I ever went out there and hacked them away. It's just part of the Bandera experience."
That's right, you've gotta be tough to run in Bandera, Texas, which hails itself as Cowboy Capital of the World. The race proclaims itself as an event of "rugged and brutal beauty, where everything cuts, stings or bites." Whiners, wimps and wusses, it says, are not welcome.
RELATED: Western States Endurance Run Announces This Year's Golden Ticket Races
Bandera's first Livestream
Now in its 20th year, the event was started by local trail runners Joe and Joyce Prusaitis and, in recent years, continued by McWatters and his wife, Krissy, along with longtime Texas event directors Brad and Nyla Quinn. (Joe Prusaitis, who turned 68 recently, not only remains the chief course-marking official, but he's also running the 100K race again for the fifth time since 2017.)
While the standalone 100K race on January 7 is the marquee event produced by Tejas Trails — the fourth of seven Hoka Golden Ticket qualifying races for the 2023 Western States Endurance Run — there are also 25K and 50K races on January 8 (as well as a 1-mile race for kids), all run on looped courses over the rolling, technical trails of the Hill Country park northwest of San Antonio.
New for this year, Tejas Trails has teamed up with the video content team at Aravaipa Running to produce the first livestream of the Bandera 100K on YouTube. Led by Jamil Coury, Aravaipa will have numerous drone pilots and runners with gimbal cameras shooting the race from various parts of the course, all connected through Starlink satellites.
RELATED: Healthcare Worker Katie Asmuth Wins Bandera 100K With A Broken Nose And Bloodied Knees
If the livestream production is successful, the Aravaipa crew might repeat the operation at other Hoka Golden Ticket races.
"We'll see how it goes, but if it works here it will work anywhere," McWatters said. "It's going to be a full-on effort of 16 to 20 people, so we're going to find out."
As the first national-caliber trail race of the new year, both the women's and men's 100K fields are loaded with talented runners eager to start the year off right. But the event's low-key, grassroots vibe has helped make it a favorite destination of long-time trail runners and first-time ultrarunners.
"I get equally excited about the front-of-the-pack runners going out to bang for those Western States tickets as I do those who are out there in their first-time ultra or first trail run biting off on something that's this hard," Chris McWatters says. "Those fully sponsored athletes are so much fun to watch attack this course, but it's kind of an equal honor to see everyone else out there running and doing their thing. It's great seeing both sides of the spectrum."
RELATED: Strength, Balance And Sparkle: Meet Ryan Montgomery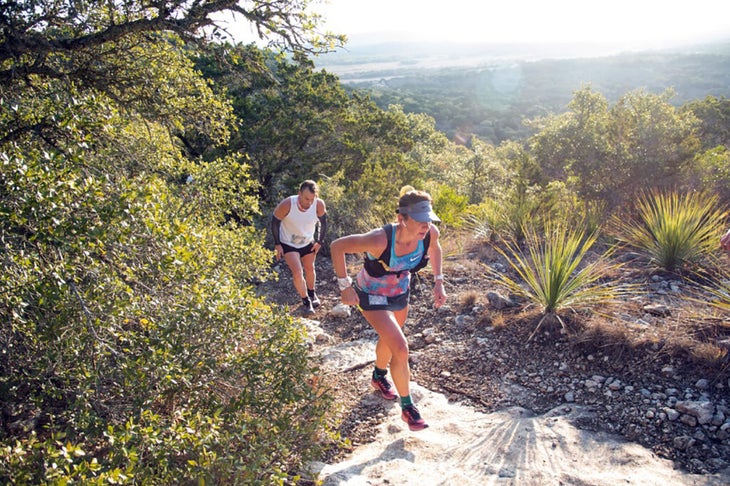 Golden Ticket Contenders
The top two individual finishers for both the men's and women's 100K races will earn a Hoka Golden Ticket that provides automatic entry into this year's Western States 100 on June 24-25 from Olympic Valley to Auburn, California. The event is also a qualifier for the 2024 Western States 100 lottery next December.
The top contenders in the women's field will likely be Courtney Dauwalter, Kasie Enman, Amanda Basham and Nicole Bitter. Dauwalter, a two-time Ultra-Trail du Mont-Blanc (UTMB) champion and 2022 Hardrock 100 winner from Colorado, is actually stepping down in distance, while Vermont's Enman, the 2011 mountain running world champion, is running her first 100K. 
Bitter, who lives nearby in Austin, is coming off a strong third-place effort at the Javelina Jundred 100-miler in Arizona while Basham (Colorado) has numerous top-five finishes in her career. Other contenders include Alexandra Walker (Texas), Rachel Lemcke (Virginia), Katherine Song (California) and Rachel Veale (North Carolina).
RELATED: How Courtney Dauwalter's curiosity and problem-solving push her to the brink of what's possible in ultrarunning.
On the men's side, Utah's Ryan Montgomery, 4th at the Bandera 100K in 2020 and 2nd at Javelina last October, is the highest returning previous finisher. But North Carolina's Canyon Woodward, winner of the Cruel Jewel 100-miler in Georgia in 2001 and 48th-place finisher at UTMB last year, should also be in the competitive mix, along with Arizona runners Nick Coury, 7th at Hardrock and 5th at Javelina in 2022, and Charlie Ware, the winner of the Zane Grey 100K in 2021, as well as Minnesota's Ryan Soule, Pennsylvania's Anthony Wallick, New York's Zach Smith, and Colorado's Bryan Kerl, Jeff Colt, Anthony Lee and Devon Olson.   
Two other notable athletes are Joe "Stringbean" McConaughy, who won the Cocodona 250 last May and has set numerous long-distance Fastest Known Time efforts, and versatile Canadian athlete Ryan Atkins, a multiple world champion in obstacle sport racing.
"I kind of figured it was going to be super flat and easy running, so it was nice to hear the course has some technicality to it," says Atkins, who will be running his first 100K race. "Hopefully I don't get too cut up by all of the cactuses."