The 2023 Broken Arrow Skyrace is Stacked with Elite Runners
The six-race weekend is steeped in trail running culture and community
Heading out the door? Read this article on the new Outside+ app available now on iOS devices for members! Download the app.
Allie McLaughlin has competed in high-level races all over the world and just competed in the World Mountain and Trail Running World Championships in Austria. But the event she's had circled on her calendar for the past year is the June 16-18 Broken Arrow Skyrace.
With a smorgasbord of competitive races at Palisades Tahoe resort in Olympic Valley, California, plus numerous onsite events immersed in the culture of trail running, Broken Arrow Sky Race has established itself as the preeminent trail running festival in the U.S. Positioned a week before the June 24-25 Western States 100, it also serves as a kickoff to the biggest week in American trail running.
Now in its seventh edition, the three-day event includes six races—the Vertical Kilometer race, plus 11K, 23K, 46K trail races, a half-mile kids race, and the 5.75-mile Iron Face Challenge (which includes a via ferrata section in which runners use climbing gear to maneuver over iron bars embedded into rock walls)—as well as the multi-race Triple Crown (VK, 23K, and 46K) and Iron Crown (23K, 46K and Iron Face Challenge) competitions. 
Broken Arrow Skyrace has $50,000 in prize money up for grabs, one of the biggest prize purses in trail running anywhere in the world.
It's all jam-packed into a high-energy weekend with athlete-led shakeout runs, trail running films, skills workshops, expert panels, athlete meet-and-greets and other brand activations, plus post-race celebrations with good food and live music.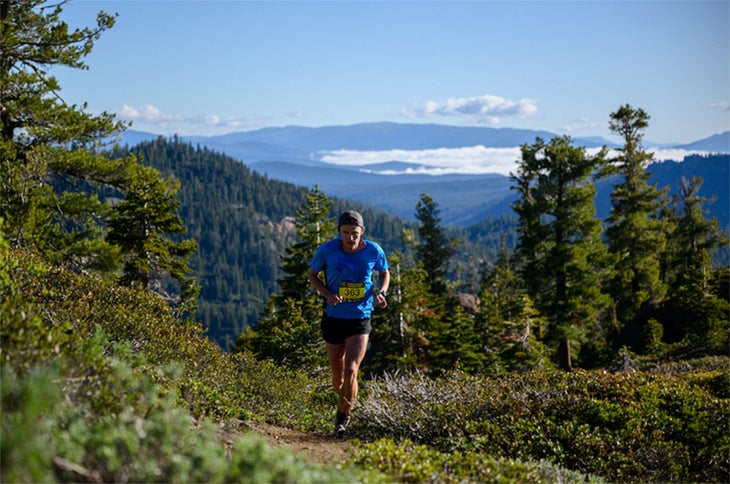 "There aren't too many races that I feel this loyal passion to the way I do to Broken Arrow," says McLaughlin, the 2022 mountain running world champion who won the Broken Arrow VK last year and the Triple Crown in 2021. "They do a tremendous job. The courses are amazing, they have great prize money and they bring together great competition and community. It's high on my list of my to-do races every year because it's got everything in one great weekend."
Aside from the race registration fees, all of the extra community-oriented stuff—including the livestream—is free and open to everyone.
"We feel strongly about creating an event with a lot of things to do for everyone," says Broken Arrow Skyrace founder Brendan Madigan, who co-directs the event along with Ethan Veneklasen and Geoff Quine. "Anyone who is racing or spectating at the races will get to experience the most core attributes of our community. At the end of the day, it always comes back to the people, and we've, we've been real transparent about being a new school and progressively styled event, but always one that honored the DNA or the roots of the sport, which is the people. That's what makes this little, wacky community so fun and accepting and encouraging and compassionate." 
RELATED: Skydiving Trail Runner Allie McLaughlin Takes Flight
Portions of Broken Arrow Skyrace will be broadcast via livestream on the Broken Arrow YouTube channel and UltraSignup's website and YouTube channel. The event's comprehensive livestream production hosted by Dylan Bowman, Corrine Malcolm and Courtney Dauwalter and will feature live footage from the VK, 23K and some aspects of the Iron Face Challenge, and will include aerial footage, unique course segment flybys, embedded racer cams, in-race athlete commentary and pre- and post-race interviews with athletes and race organizers. Remote spectators can also track athletes and follow the races via the new Broken Arrow Skyrace smartphone app.
Top-Tier U.S. Trail Running Talent
The VK and 23K are both Gold-level races in the 2023 World Mountain Running Association World Cup, while the 23K is also a Golden Trail National Series race for North America. Those races will be a who's who of the American sub-ultra trail running scene, headlined by Grayson Murphy, who last weekend won gold and bronze medals in the 2023 world championships in Austria, and McLauhglin, who are both competing in the 23K and VK events, as well as two-time world champion Joe Gray, who placed fifth in the vertical race at last week's world championships and is competing in the Broken Arrow 23K.
Other top-tier U.S. athletes expected to compete include Jennifer Licther (46K), who was fourth at the 45K world championships race in Austria; Eric LiPuma (46K), who finished seventh at the 85K race at the world championships and helped the U.S. earn the team silver medal; Rachel Tomajczyk (23K) who was 38th at the world championships mountain race; 2011 world champion Max King (23K), 2022 SkyRunning world champion Joe DeMoor (23K, VK), five-time obstacle course racing world champion Nicole Mericle (23K, VK); Sophia Laukli (23K), the runner-up at last year's Golden Trail World Series; Hillary Allen (Triple Crown), the two-time SkyRunning World Series runner-up; and Janelle Lincks (23K), the 2021 Golden Trail North American National Series champion and 2021 Broken Arrow 23K winner.
RELATED: Joe DeMoor Runs to New Heights
Among the many other highly competitive runners include Renee Metivier (23K), Sam Lewis (23K, VK), Tabor Hemming (23K, VK), Sean Van Horn (46K), Jackson Brill (46K), Lindsay Webster (23K, VK), Joelle Vaught, (46K), Helen Mino-Faukner (46K), Brittany Charboneau (46K), Kristina Pattison (46K), Sam Hendry (23K, VK), Jeshurun Small (VK) and Yassine Diboun (Triple Crown).
Small, the runner-up at the Canyons Endurance Runs 50K in late April, is coming off a second-place showing at the Pepi's Face Challenge mountain race at the GoPro Mountain Games in Vail, Colorado.
"I first learned about Broken Arrow when it was part of the Skyrunning World Series and I always wanted to run it," Small says. "It's always been an intense North American race that I always wanted to do, so I'm excited to be a part of it this year."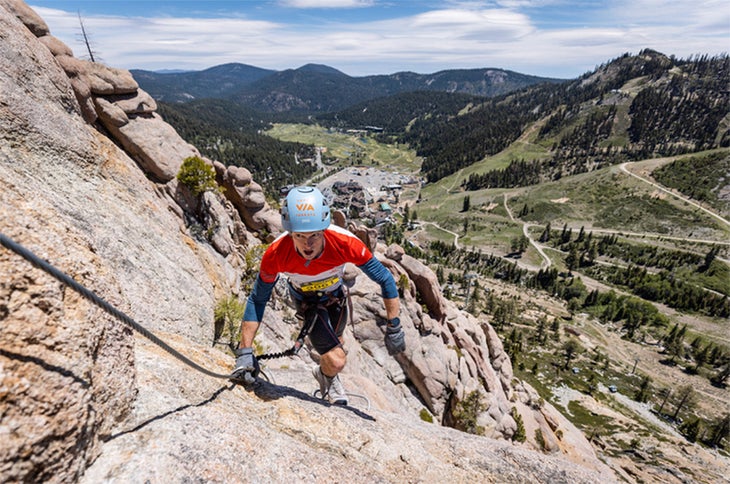 Most of the races will feature snowy conditions, thanks to the massive winter and spring snowfall still lingering in the Sierra Nevada mountain range. Removable traction devices that can be attached to shoes are allowed in the Broken Arrow Skyrace events, but Madigan doesn't think any of the elite runners will use them. Trekking poles are allowed, too, but in both cases, if a runner starts with either of those items, they have to wear or carry them the entire way from start to finish. (View the recent conditions from this course preview video from Steve Woo.)
RELATED: Broken Arrow, Western States Runners Will Battle Snowy Conditions
The VK (June 16, 10 A.M.) ascends technical off-trail talus, and finishes on an exposed ridge line, sending runners up a 3,100-foot climb in 4.5 miles to the summit of 9,000-foot Washeshu Peak. The Headwall ridge is the most iconic portion of the race, complete with stunning views of Lake Tahoe, a bolted hand line, and the infamous "Stairway to Heaven" ladder to the top of Washeshu Peak.
Other race details include:
11K Race (June 17, 8:30 A.M.), a 6.6-mile single-loop course with 2,190 feet of vertical gain;

23K Race (June 18, 8 A.M.), a 14.25-mile single-loop course with 5,030 feet of vertical gain;

46K Race (June 17, 7 A.M.), a 28.15-mile two-loop course with 10,030 feet of vertical gain;

Iron Face Challenge (June 16, Noon), a 5.75-mile single-loop course with with 2,000 feet of vertical gain and a section of the

Tahoe Via Ferrata

; 

Kids Race (June 18, 8:45 A.M.), a half-mile loop course with 130 feet of vertical gain.
All of the races start under the big wooden arch adjacent to Coffeebar in the resort village at Palisades Tahoe, and all except the VK finish there, giving the event an exceptionally spectator friendly vibe. More than 3,000 runners are expected to participate, and, as much as the elite runners chasing prize money are a big focus of the weekend, so, too, are the recreational runners experiencing mountain running at their own pace and intensity, Madigan says.
"We like to celebrate every runner equally, whether it's an elite chasing part of the prize purse or a back-of-the-packer fighting the cutoffs who's been out on course for 12 hours," he says. "It's all about growing the sport and sharing the community, so all of those accomplishments are worthy of celebrating. And we're going to do a lot of celebrating."