Speedgoat 50K Has Decadence and Decree
A stacked field, solid prize money, a brutal course and a bit of controversy make the Utah race the talk of the sport.
Heading out the door? Read this article on the new Outside+ app available now on iOS devices for members! Download the app.
After the case of mescal was gone and the dancing was at full stoke, I remember two things—I remember Jenn Shelton convincing me to put on a dress identical to hers and I remember making a bet with Anton Krupicka. Somebody—not Anton and not myself—planted the bet, nourished it and before I knew it we were shaking hands and grinning. At the Speedgoat 50K near Snowbird, Utah, in 10 days' time: $20 for the first to the top of the initial climb. Another $20 to the first finisher.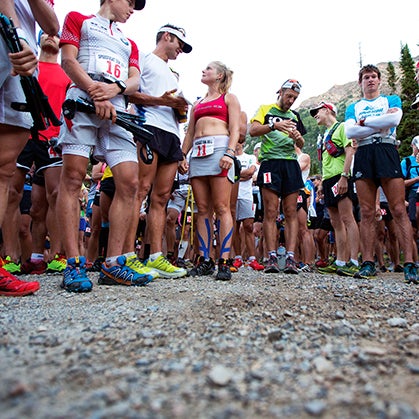 Earlier that day, Anton and I had run up Green Mountain, above Boulder, Colorado. It was the first time I'd run with the two-time Leadville 100 champion since an injury in his calf and shins sidelined him from racing 18 months earlier. At the summit, his gaunt, shirtless torso reflected a hue that was almost Moroccan. He took off a shoe to reveal a dust-blackened foot—calloused and cracked. Both his skin and his foot strongly suggested that a lot of hard miles had been run, finally.
A week later, I was mulling over the details of Utah's Speedgoat 50K course, designed by ultrarunning stalwart and its race director, Karl Melzter, in the back of my brother John's newly acquired 22-foot, five-ton RV, dubbed Minnie Winnie by Winnebago's marketing department, 27 years ago. While John chugged along at 58 miles per hour my mom tossed a ball for Leica, my brother's slightly neurotic, smallish black-and-white dog.
We made the drive from Aspen, Colorado, over a couple days. As we approached the I-70 service town of Green River, Utah, I took advantage of a spotty phone connection in the living room of Minnie Winnie, and called the Speedgoat himself, Karl Meltzer.
"Hey, man," Karl answered. He was part way up Mount Baldy, marking the course.
Nicknamed "Speedgoat" by friends on a return trip from the Pikes Peak Marathon in the mid-1990s, Karl has carved out a sizeable niche for himself in the ultrarunning world. After 30 hundred-mile wins, 47 ultra wins and two 2000-plus-mile trail-record attempts (Appalachian and the Pony Express trails), Karl knows how he would like to see a race take shape—from the terrain to how it is organized to how much money you should make if you run it really fast.
I asked him what the impetus was behind adding one more race to an already saturated race calendar.
"I've always wanted a race of my own. Bring some of my fast friends into it. Give away some prizes. Drink some beer. Eat some pizza," he told me. "I'm at a point in my career where it's kinda cool to have my own baby. Give something back to the running community. I make it difficult, and I do some weird things. I want it to be unique. If people don't like it, then it's like, whatever."
Approaching from the east, the Wasatch Mountains rose gradually like a wheelchair ramp to 12,000- and 13,000-foot summits above Salt Lake City before dropping off precipitously to form the western most edge of the Rocky Mountains.
The course starts and finishes at the base of 11,000-foot Mount Baldy amid the funky concrete structures comprising Snowbird, a ski resort 20 miles southeast of Salt Lake City. With nearly 12,000 feet of climbing over 50 kilometers (31 miles) it makes an honest claim to the title of the "toughest 50K in the country." The profile climbs and descends the mountain in its entirety, two-and-a-half times, thereby also making it a particularly spectator-friendly course. As a viewer, you can, in fact, high-five the same runner five times during the race, without ever having to get into a car.
The race came about in 2007 when, after working at Snowbird for 17 years—supplementing a meager running income with bartending and coaching—Karl decided to start his own race.
"I bet the resort events director that I could get 100 people there on the first year." That year, 112 runners braved the starting line, which has grown to the current capacity of just over 300. In May of 2012 it was announced that the Speedgoat 50K would be one of five international races to make up the inaugural International Skyrunning Federation's (ISF) Ultra Cup. The European-based ISF's first attempt to crown a worldwide ultrarunning King and Queen would be an addition to their already popular marathon-distance Skyrunner World Series.
"Tony was saying low five hours," he said through the phone, talking about a potential drop in the course record from Kevin Shilling's 2010 time of 5:43, "but I don't think he's really seen what I've thrown together. The technical shit just slows you down and there's places out there where you're just not going that fast. I don't care who the f*** you are."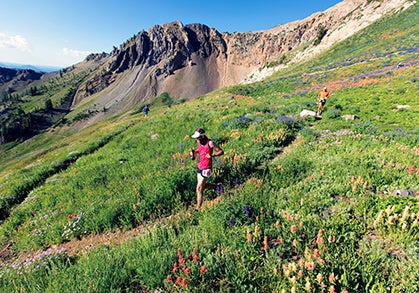 Karl's a gambling man. When he goes to Las Vegas, he makes money. His personal website is a pre-race go-to for horse-track odds on upcoming ultra showdowns. To make the race a little more interesting, the Gambling Man placed a  thousand-dollar bonus for the first man and woman to the top of the first 4500-foot climb. "You gotta still run though. I don't want to see someone just charge to the top and then slog it in with the wife." The "King of the Mountain" must finish the race in under 6.5 hours, the Queen in less than seven.
The Speedgoat 50K is Karl's chance to make all the right decisions. It's his chance to put together a challenging course, call upon his cache of fast runners and give them the opportunity to make some money, have some fun and enjoy the flowers. "The flowers right now are amazing. Waist high. Super cool." Coveted trophy? Karl's got that too—a goat leg mounted on a rock, mounted on a stump. "I didn't really do a prize for second and third. But you get paid. Go buy something."
The cast for the 2012 starting line became one that created a pre-race buzz that has become common over the past couple of years. The race's inclusion into the ISF's Ultra Series helped bring other Europeans to Snowbird, too, including French ultra-champion Thomas Lorblanchet, the young standout Philipp Reiter, 21, of Germany, and Kilian Jornet from the Catalonian Pyrenees. The hype felt similar to the 2010 Western States 100 in California and the Ultra-Trail du Mont-Blanc in the Alps, the 2011 The North Face Endurance Challenge in San Francisco and the Transvulcania in the Canary Islands.
Following five years of undisputed dominance in both mountain-running and ski-mountaineering races, Jornet recently announced his intention to establish or break records up, down and across some of the world's most prestigious mountains, starting with Mont Blanc and Denali before moving on to Argentina's Aconcagua and finally Mount Everest in 2015. The project would call on his skills as a runner, climber, and skier and could otherwise establish him as the world's greatest mountaineer. The ambitious project, titled "Summits of My Life," left the gates tragically.
On June 17th, en route to break the record for the Mont Blanc crossing, Kilian watched as his climbing partner, Stéphane Brosse, fell 2000 feet to his death.
"We were talking about deaths in the mountains only an hour before the accident," Kilian told me. "The mountains are dangerous—you take a ticket every time you go into the mountains and you keep taking tickets and one day you will not arrive. You start to realize the risks but you can't stop the passion because of it."
The day before the race I was sitting with two-time TNF50 champion Anna Frost, 30, of New Zealand, and Krupicka in a pseudo-hipster café on the outskirts of Salt Lake City. Coffee drinks were uninformatively titled the Marilyn Monroe or the James Dean.
In May, Frost focused on Transvulcania. She rented a flat near the starting line and, for four weeks straight, trained once or twice a day on the hot, jagged Canary Island course off the coast of northern Africa. She broke the course record by nearly two hours, and was closing in on the top 10 men with great rapidity. (I was the 10th man.) Though her hard training paid off, it wasn't without consequence. In the eight weeks prior to the Speedgoat 50K, Anna had hardly run, much less trained specifically for the race. Though Karl would never wish ill upon anybody, and much less so a competitor in his own race, he admitted that "if Anna were to drop out, the competition for first place would get better."
I could see she was thinking about the race.
"Take it easy tomorrow," I said to her. "Run with the next woman."
"You think?" She thought about it for a second. "You know I can't do that."
Perhaps to help get her mind off the race, Anton piped in.
"It was brought to my attention that we made a bet," he said.
"Yeah, I remember that," I said. "20 to the top, 20 to the finish."
"We shoulda just bet beer."
"That would have been more gentlemanly."
I asked Krupicka about his race plans, which I immediately realized is like asking to see a guy's cards across the poker table. He didn't let on to any plans but having been out of competition for the better part of two years. Also, claiming to be in the best shape of his life, it was clear he wanted nothing shy of the win.
"I'm going for the grand at the top of the hill," I told Tony, showing him my cards. I did this because he is a friend and I didn't want him to chase somebody with intentions entirely different from his own. "A grand is what you make at Mount Washington these days. So … I'll run Mount Washington, then hang on for 23 miles."
He finished his drink and said nothing. His plans for the race would be unaffected by my decision to go for the prime.
From there we went on to the house where the Salomon International Team was staying. The opening ceremony for the London Olympics was going on for a third straight hour, seemingly highlighting everything great that England had ever done. Kilian was standoffish, quiet and content lying on his stomach on the floor. He read Harukami's IQ84 on his computer, looking up occasionally to see the Queen make her presence in the stadium or Mr. Bean jog along with the opening sequence of Chariots of Fire.
I sat and talked with Kilian briefly about the course. He seemed rather unhappy about it—about the meandering loops through the ski area. "The problem in the U.S. is that there are so many beautiful mountains with so many beautiful trails but the races don't take these trails—they just go in the ski areas to make kilometers rather than just running for just running."
This was the first glimmer of a debate that would nearly eclipse the race by the weekend's end. The debate was once summed up by an American ex-pat friend in Chamonix some years ago: "If the Grand Canyon was carved down the center of France rather than in Northern Arizona," he said, "a sanctioned race, from rim to rim, would exist … as would a tram down to the river."
The early morning air was filled with jam-band tunes, no doubt from Karl's iPod—a welcomed deviation from the Eye of the Tiger anthem present at most starting lines. Jerry Garcia sang:
All my life it's been like this
If you love me it's your own risk
When the dust hits my shoes
I got the urge to move.
Added to Karl's signature image of a Red Bull cap, gloves and sunglasses was a walkie-talkie and a spool of orange tape attached to the front of a large backpack. Following a quick briefing, Karl set the Speedgoat 50K into motion. From the beginning, my intentions were obvious. Not wanting to sprint for the grand at the summit, I opened up a sizeable gap on the field and stayed a full minute ahead of Kilian until I was sure that the 10 Franklins were mine.
At the summit, I paused, looked around and took in a lot of nutrients to make up for all that I had just spent. I took in the view of the surrounding Wasatch Range, chatted with my spectating mom briefly and watched Kilian crest the climb and disappear before I continued on my way.
We descended down the backside of the mountain. From 80 yards back, I watched Kilian dart down a narrow eroded slope connecting the upper and lower part of the service road. A race official stood there watching it. When I approached and saw that the race official was in fact the Speedgoat himself, all I could manage was,
"What the f***, Karl?" as though I was blaming him for the blatant course cutting.
I flashbacked to a Skyrunning Race that I had run in northern Italy in 2007. I had begun a several-thousand-foot descent down a steep slope of interwoven tussock and rock. I zigzagged the switchbacks while wildly animated spectators yelled at me and pointed down the slope. "Diretto!" they screamed. "Diretto!" I learned quickly that cutting switchbacks was not only legal but actually encouraged.
Watching Kilian fly down the mountain, I was faced with a decision. At the time, it wasn't about going faster or slower, or about tromping wildflowers or unnatural erosion. It was about following our rules or theirs. I followed the switchback around. There was no way for me to be maddened by Kilian's shortcutting—I knew that he was simply following different guidelines.
I continued descending into Mineral Basin, through a large field of flowers that were just as Karl had said, "Amazing. Waist high. Super cool." The course descended several thousand feet more, then a short out-and-back at the bottom of Mount Baldy allowed me to take inventory on where I stood in the race—two minutes behind Kilian and a few minutes ahead of recently crowned World Mountain Running Champion, Max King, Tony and the rest of the field.
Jerry Garcia sang to me in my head while I began the second ascent of Mount Baldy:
I know you rider, gonna miss me when I'm gone.
I was feeling good, which is to say that I wasn't feeling bad. Halfway up the climb I spotted Kilian less than a minute ahead. He glanced over his shoulder and looked back at me. I pointed my head down and grunted forth. Looking up would have prevented me from taking a wrong turn, moments later, which cost me another two to three minutes. After getting myself back on track I did the two proper things that can be done in that situation and that is to utter some profanities and remain calm. The race was only half done and a sprint to make up for lost time could have cost me dearly.
After passing through Mineral Basin a second time, 19 miles into the race, the course started up a steep, trail-less slope. It started off as hands-on-knees steep and ended with hands-on-ground—I pulled at the grass in front of my nose so as not to go tumbling back down the mountain. With the vegetation so close to my nose, I caught a whiff of mint. The leaf that I put into my mouth wasn't mint, though. At the top of the climb near the summit of Hidden Peak, my brother was waiting.
"The rumor is Kilian's gonna get DQed."
"I suspected as much," I said, and then dropped down off the ridge and through a tunnel that connects the north and south sides of the mountain.
I plummeted fifteen-hundred feet down the north side of the mountain and back to the summit of Hidden Peak, where my brother and my mom were again waiting for me. I switched out shoes, revealing a mess of bloody toes. Several glances back and down, I saw no one. I grinded the final five miles to the finish where Kilian and Karl were talking. Karl approached me.
"I'm probably going to have to DQ Kilian."
Karl looked more tired and less happy than most of the runners in the race. That he hadn't yet made a decision told me just how much it was wearing on him.
Max came in, and Tony soon after. Forty-five minutes later Anna crossed the finish line—a half-hour ahead of the next woman.
Karl's final decision was to award Kilian the win and the points for the ISF Ultra Series but to shift the prize money and course record down a place. All told, the decision earned me an extra two grand for a total of $4000.
No sooner had Karl made his decision did the armchair ultrarunning judging begin. And for the next couple of days I did something that I had never done before—I followed the cyber ultrarunning experts word for word. I scanned through hundreds of comments both praising and condemning Karl's decision.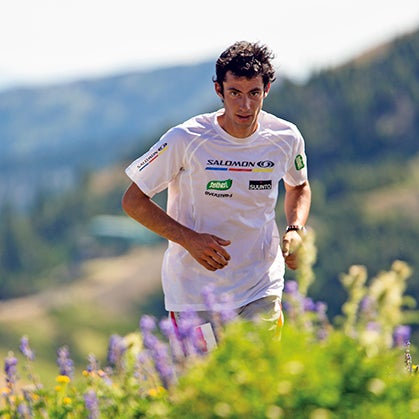 "Killian did not break Skyrunning rules," Karl explained, "and because in my 'rules,' it did not say to not cut switchbacks, I let him run under the other rules. But in my race, he doesn't win the money because he cut corners and it was not a 50K per se. He didn't gain four minutes, that's doubtful, but, hey, he didn't follow the route."
The wad of hundreds in my pocket made me want to leave the matter at rest. My interest in the controversy, however, inclined me to find an answer. I sat with Kilian the morning following the race. He was eating cold oatmeal. Windshield-size checks lay on the floor around us, Tony's, Anna's, my own. Kilian's demeanor was no different than it was before the race nor immediately after, when he was told that he'd not be given the prize money. He remained calm and cheerful. I asked him if he was OK with Karl's decision.
"I'm OK with it because it is an American vision for the sport," he replied. "The mentality in Europe is to go straight. To go up and then go down. It is an exercise of visualization and not just running with blinders. When I go running I can't enjoy it if I'm not looking where it's possible to go. I don't have the same mentality, but I agree with the decision."
The differences in rules between American and European races, I was beginning to realize, were not just about cutting switchbacks. The issue brought to light quintessential differences between two cultures that have been growing steadily apart for several hundred years. The issue is about how we interact with our environments. It is NASCAR versus Formula One. It is McDonalds Quarter Pounder versus Le Royal. The issue is about American Order versus European Entropy.
In the five years that I've known Kilian I have watched his name become known to nearly every mountain culture in the world. I have seen in him a transformation of a timid but eager boy fighting to win and dominate a sport to a calmer, more mellow man to whom it couldn't matter less whether he wins, loses or gets disqualified.
One question burned and I hesitated to ask but went forth—"You're tired of racing, aren't you?"
He laughed uncomfortably as though I'd seen something I wasn't supposed to see, as one would if a girl's phone number fell out of his pocket.
"Yeah," he said. "It's important to me to keep moving and not do the same things all the time. I've raced almost all the races I want to race and have achieved almost all of the things that I want to achieve in racing. I don't go for the win anymore."
He continued, "I go for the fun. Of course when I'm racing I try to win because I am competitive but the motivation to train for specific races is no longer there."
This apathy towards winning, losing or disqualification highlights the one thing that needs to be understood about Kilian—that he is bigger than mountain running. He is bigger than skiing. He is bigger than climbing. Kilian is the sum of these sports and his ambitious projects require the full quiver of all that he has mastered over the past several years.
"Now," Kilian said, "I am more motivated about some mountain projects."
On a hot day in July, the Speedgoat 50K, with both decadence and decree, found itself in the center of all the world's mountains. The armchair argument that emerged from it, perhaps more than anything, illuminated a growth in the sport and a rupture between the two continents where it has been most popularized. Regardless of where the course goes from here though, one thing can be guaranteed—it's going to be difficult, weird and unique.
Rickey Gates is still waiting for his 40 bucks from Tony.