Hardrock Champ Sabrina Stanley Turns to Tackle UTMB
Anchored by relentless positivity, Sabrina Stanley's career continues on an upward trajectory.
Heading out the door? Read this article on the new Outside+ app available now on iOS devices for members! Download the app.
With two Hardrock 100 wins and a third-place finish at the Western States 100, Sabrina Stanley has earned her place among the world's top ultrarunners.
But like so many people who come into the sport, her ultra career got off to an inauspicious beginning with a humbling DNF in her first 100-miler.   
Despite her initial disappointment, Stanley has relied on an intense competitive fire, meticulous attention to detail, and a relentlessly optimistic outlook to help her progress from that initial Leadville 100 experience to become one of the world's most successful ultrarunners in a few short years. 
Those qualities have helped her get through the darkest moments of some of the world's hardest races and also led her to the world's biggest stage, as the 32-year-old runner from Silverton, Colorado, will be one the top women in the star-studded 171K Ultra-Trail du Mont-Blanc (UTMB) on August 26 in Chamonix, France.  
The Adidas-Terrex-sponsored runner has earned a reputation as a fierce, determined and sometimes outspoken competitor, one who has been amazingly consistent and rarely off the podium since 2016.
"I like to say that I am a true believer in persistence," she says. "If you do the work and put in the time, it will pay off. It might take a while to pay off, but if you keep grinding, no matter what, one day it will pay off. I'm all about getting after it every single day, and even if it's the worst run I've had in five years. If I just keep showing up every day, those runs will accumulate and they will mean something when race day comes."
Seven years ago this week, Stanley, then 25 with just one 50-miler under her belt, was struggling in that initial Leadville 100 — her first race longer than 50 miles — and didn't make the time cut-off to reach the mile 87 May Queen aid station, which resulted in a humbling DNF.
After a career change and a move to New York City, she eventually found her way back to Colorado, learned how to train better, prepared meticulously and made herself the runner she wanted to be. She returned to Leadville in 2016, finished 4th, and has been on an upward trajectory ever since.
"Yeah, It's really awesome when you set a goal and the first first time it goes off without a hitch and you can move on to something else, but also it could go very, very wrong," she says. "You have to accept that and not think that everything getting there was a loss, but instead take that and use it for your next goal and improve upon the goal that you just missed. And for me, if something doesn't work out, I guarantee I'll come back and do it again until it does.
"That experience at Leadville was the most painful point of my life at the time and to work so hard and come back and finish fourth, that was so huge for me mentally, and I have carried that through my career. No matter how horrible one day is, if you stay with it and keep working, it will turn around and get better."
Not only does she have two wins at the rugged Hardrock 100, a victory at The Grand Raid de la Réunion/Diagonale des Fous and a 3rd-place finish at the Western States 100 to her credit, she also holds the Fastest Known Time (FKT) mark on the formidable Nolan's 14 route in Colorado's Sawatch Range. 
About two years ago when most races were shut down during the Covid-19 pandemic, Stanley used meticulously planning and relentless training to set a new FKT on Nolan's 14 — an absolutely gnarly 100-mile point-to-point partially off-trail route over 14 peaks over 14,000 feet with 44,000 feet of elevation gain — to smash Meghan Hicks' 2016 mark by more than 8 hours with a 51-hour, 15-minute effort.
When Hicks lowered it by 43 minutes less than a month later to 50:32, Stanley went back in early October with an even more steely focus and shattered the mark again, lowering it to 48:49.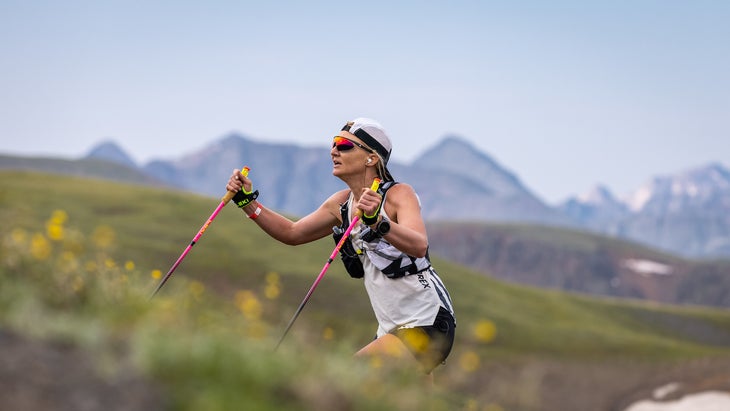 "For me to work so hard at it and then have nothing to show for it, that was kind of a crush to the soul," she says. "As soon as I realized I didn't have the record, I decided I had to go back, do it right and hopefully regain it."
Stanley was entered in UTMB last year, but opted not to run it after another hard effort winning her second Hardrock. She skipped Hardrock this year and has been living and training in Chamonix since June. 
She intended to run the Mont Blanc 90K race in late June, but it was canceled only hours before because of a pending storm. Instead, she and some of her Adidas-Terrex teammates—and boyfriend Avery Collins with whom she operates Power Couple Coaching with—headed to the 119K Swiss Scenic Trail a few valleys to the east in Tesserete, Switzerland. Stanley won the women's race in 18:43, while Collins was the overall winner in 16:14. They're both running UTMB, and she says she hopes to chase Collins down on the way back to Chamonix. But her goal is firmly centered on running the past race she can without going out too hard. She's been running various sections of the course repeatedly for weeks, including the dastardly final 3,200-foot ascent up Tete au Vents between Valorcine and the final aid station atop the La Flegere ski area. 
Stanley has also been hardening up her mental faculties for what she knows will be a grueling experience. The UTMB sends runners on a 171.5K loop (106.5-miles) around the Mont Blanc massif, with nearly 33,000 feet of vertical gain. 
"I have never had a race where I didn't feel like I was flying at some point, and I have never had a race where I didn't feel like I was at death's door," she says. "You have to wait for the highs and lows to come and enjoy them for their own uniqueness each time. So much time can be lost if you are wallowing whatever pain you are in. So early on, I learned to love the pain and befriend it. 
"In a 100-miler, you are going to have a level of pain the entire race," she adds. "But there is always a positive moment that comes, and I just think you have to absorb the low point and accept it instead of dreading it and wondering when it will be over. It's kind of like you're just tricking your brain by telling yourself the longer it lasts and the more painful it is, the faster you're going to go when you feel better as the opposite comes. You just have to wait for that high because it's going to be amazing when it comes."
Stanley certainly should be among the contenders in this year's UTMB, but with the 2019 and 2021 winner Courtney Dauwalter not returning to this year, Sweden's Mimmi Kotka and Spanish/Dutch runner Ragna Debats figure to be the favorites. The 41-year-old Kotka, who was third in the UTMB last year, has won the CCC 100K and the original TDS 120K in the past and is coming off a win a the 120K Lavaredo Ultra Trail in Italy in late June, while the 43-year-old Debats, was third at the 2021 Western States 100 and won the 126K Transgrancanaria in the Canary Island and the Istria 100-miler in Croatia. 
The only other elite-level Americans in the womens' field are French resident Katie Schide,  Idaho's Brittany Peterson, Colorado's Hillary Allen and Washington's Kaytlyn Gerbin. The 30-year-old Schide, who has lived in Nice, France for several years while working on a PhD. in geology, was sixth in UTMB in 2019 and ninth last year, while both Peterson, 36, and Allen, 33, dropped out of their first attempts at UTMB last year. 
Allen has run well in other races in Chamonix (including a runner-up showing in the TDS in 2019) and ran to a strong third-place finish in Colorado's San Juan Solstice in June, while Peterson has a history of being a strong 100-miler despite struggling to a 16th-place showing at Western States this year. Gerbin, 33, has a long history of ultra-distance podium finishes, but she has never run any of the races in Chamonix.
Spain's Azara Garcia, who has won numerous races since last year, and Zimbabwe's Emily Hawgood, who was 10th at UTMB last year and fifth at Western States this year, should also be contenders, along with French runners Manon Bohard (last year's TDS 145K winner), Audrey Tanguy (a two-time TDS winner who was second behind Dauwalter at the 115K Madeira Island Ultra-Trail in April), Lucie Jamsin (seventh at UTMB last year) and Jocelyne Pauly (third at UTMB in 2018). 
Aside from the hard Quest for the Crest 50K she and Collins ran in North Carolina in May, Stanley's only other race since Hardock in 2021 was the Madeira Island 115K race last November in Portugal. She took fourth there behind Allen, Kirsten Amundsgaard of Norway and Ekaterina Mityaeva of Russia, giving her another taste of high-level international competition on a difficult course.
Stanley knows she's not a favorite to win UTMB, but she believes she can run with anyone in the field on the daunting course, so anything is possible. And given her racing record, it's hard to think she won't be in the mix. She's excited for the race to begin, but also stoked that her mom and dad, Jodi Sayad and Rodney Stanley, are traveling to see her compete.
"Sure, it would be really nice if I could win and set a new record, but realistically it could go badly," Stanley says. "Whatever happens, it just means I will come back until I get it right."