North American Ultrarunners Deliver Top Performance at the UTMB Asia-Pacific Major in Thailand
Quilty, Allgood, Lockwood, and Schlarb secure automatic entries into UTMB Mont Blanc after this weekend's Doi Inthanon Thailand by UTMB event.
Heading out the door? Read this article on the new Outside+ app available now on iOS devices for members! Download the app.
Over 5,400 runners from 64 countries—along with several thousand crew members, spectators, and vendors—arrived in northern Thailand's Doi Inthanon National Park this past weekend to participate in what is quickly establishing itself as one of the largest and most important trail events in Asia.
Want Trail Runner delivered directly to your inbox? Sign up for our newsletter here.
The Doi Inthanon Thailand by UTMB event is part of the UTMB World Series, a network of over 30 races taking place across Asia, Oceania, Europe, Africa, and the Americas, funneling runners to gain "stones" or automatic entry to its crown jewel: UTMB in Chamonix, France.
Within the UTMB network, there are three "Majors," and Thailand is the Asia-Pacific Major. Val d'Aran by UTMB has been designated as Europe's Major in 2023, and The Canyons Endurance Runs by UTMB will be the American Major. 
Thailand's UTMB  Major offered 100-mile, 100K, 55K, 20K, and 10K distances, where the top 10 overall male and female runners gain guaranteed access to UTMB Mont Blanc. Age group winners, both male and female, also gain guaranteed access. In Major events, every race finisher is granted double the amount of UTMB Running Stones which are used in the Finals lottery, compared to other World Series Events. (Here's a helpful guide at Trail Runner for learning more about the UTMB structure.) 
With the World Mountain and Trail Running Championships happening in northern Thailand only several weeks prior, trail running is clearly booming across Asia, and this weekend's UTMB event drew an ultra-competitive international field, due to its many opportunities to gain access to UTMB in Chamonix, and its beautiful – and often punishing – course.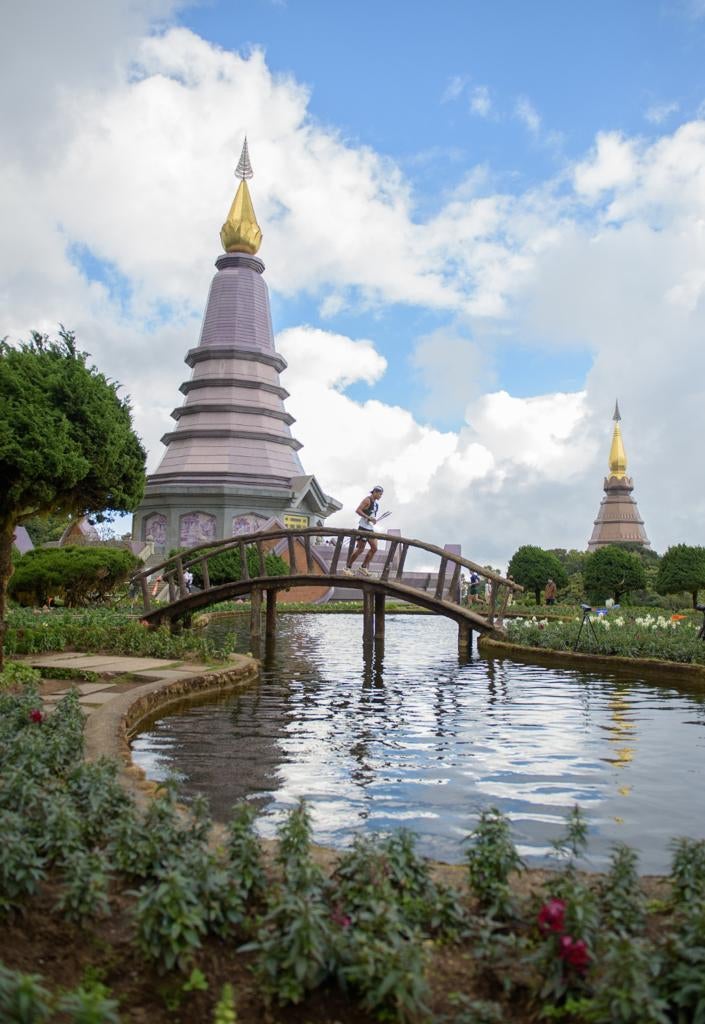 Summit 160
The Summit 160 was the marquee distance of the weekend, a large 105-mile circuit course that climbs 33,000 vertical feet through jungles, small villages, agricultural lands, and open ridgelines. Its high point reaches Doi Inthanon, the highest mountain in Thailand, at 8,415 feet.
Jenny Quilty, 34, from Abbotsford, BC, Canada, won the women's race in 27:24:14. This was Quilty's debut 100-miler, with competitive previous finishes at the Squamish 50 Miler (1st, 2019), the Mammoth Trail Fest (2nd, 2022), top 10 at Chuckanut 50K, and others.
"I stayed very process-oriented, taking the course one piece at a time based on the terrain that was in front of me," said Quilty. Though it was a very difficult course in terms of technicality and vertical gain, Quilty found that the diversity of running surfaces suited her. She also relied heavily on a routine of gels, and her stomach held together. "Whenever I felt off I just ate more. The answer is in your snacks," she said.  
As a full-time coach, Quilty practices what she preaches, especially when it comes to training specificity, which, for a humid, steep, competitive race like Doi Inthanon Thailand, required extensive heat training. Quilty chalked up an 8-week sauna practice as critical for her to prepare for the race. "I think I missed three days," said Quilty about her newfound love for the sauna. 
In addition to gaining automatic entry to UTMB at Mont Blanc next year, Quilty also receives a Golden Ticket for the Western States 100 Mile Endurance Run, something she's particularly excited about. "That will be my primary focus; I'll have six months to build speed again," she said. Quilty plans to go to Chamonix, too, but has no intentions of stacking both Western States and the UTMB 100-miler.
On the men's side, Jiaju Zhao (China) won overall (21:53:49), with Canhua Luo (China) in second (22:11:49) — both are pending Golden Tickets — and Gediminas Grinius (Lithuania) in third (22:47:22).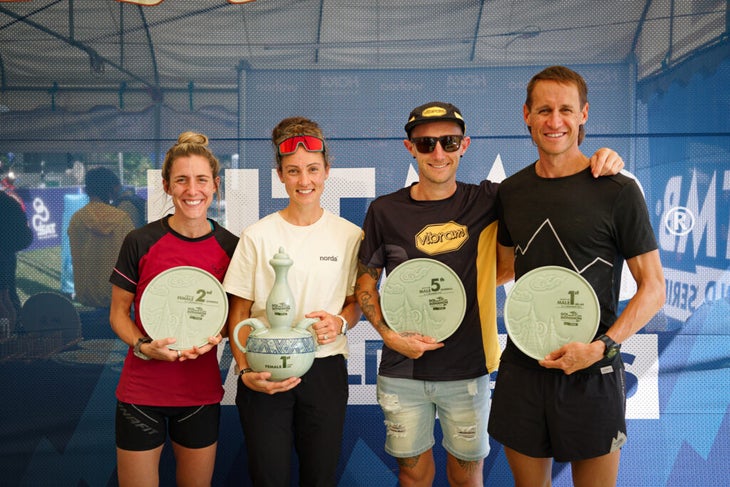 Cliffs 100K
Though the 100-mile course requires a significant amount of climbing, the Cliffs 100K climbs over 20,000 vertical feet following a looped course. Of all the race distances, the strongest American showing came with the 100K race.
Rich Lockwood, 35, from Seattle, Washington, came in second in 12:07:45, less than 15 minutes behind the winner, Huohua Zhang, from China. This was Lockwood's first international race. Earlier this year, he won Colorado's Run Rabbit Run 100, as well as delivering several strong performances around the Pacific Northwest, including a second-place finish right behind David Laney at the Gorge Waterfalls 100K earlier this year.
"There were so many amazing moments out there," said Lockwood about the Thailand UTMB race. "I linked up with Scotty Hawker [New Zealand] and at one point I ran with this Thai guy from Chiang Mai who knew all the trails. We probably shared 10 miles together." 
At one point he found himself alone, hovering in third place, and decided to give it all he had on the final climb to try and reel in the second-place runner, a Chinese elite, near the crest. He would go on to finish in second place. 
"To stay on top of the humidity and the heat was crux all day," said Lockwood. "Water over your head, ice bandana, salt pill every hour." 
Hannah Allgood, 31, from Colorado Springs, Colorado, finished second woman in the Cliffs 100K race against a stacked field.
"I'm super happy with my race," said Allgood. "The terrain was just so gnarly. I can't even describe it. It's just insane! Really fun. I was happy with how I problem-solved, identifying any issue and figuring out solutions to get better." Taking the lead for the first 15 miles of the race, Allgood eventually settled into second and held onto a strong finish in 13:56:17.
"I experienced everything possible out there," said Allgood. "Cramping. I fell. I slipped a lot. Ran through multiple streams. I never felt like I could get enough fluids in." Allgood has a bone to pick with the CCC race in Chamonix, as her race year was not what she had hoped. Fortunately, her second-place finish offers automatic entry into next year's CCC event in Chamonix, which she's excited about. "Last year's race was not a good race for me," said Allgood. "CCC is a course I really like. I know I can put a really good time down on that course."
Longtime American elite Jason Schlarb, 44, finished first in his age category and 10th male, out-kicking the 11th place man by literal seconds. Last year, he suffered an injury skiing that set him back through knee surgery, and the recovery has been a long road. 
This year, he raced the Quicksilver 100K, in California, got 5th, then spent the summer in Europe putting in big miles to train and race – first the Eiger 100K, and then UTMB in Chamonix, six weeks later. Between the positive but ambitious recovery and the big year of racing and training, this weekend's tenth place finish in Thailand was the best he could give on the day.
"30K into this race, I knew it was not going to be great," said Schlarb. "I puked twice, took a nap for 10 minutes. Got to the last aid station in 14th, passed 3 people, and then right at the finish, I beat a guy by a second to get top 10!" He also secured first place in his age group, which guarantees UTMB entry as well.
This weekend's race at the Doi Inthanon by UTMB showcased just how much energy there is around trail running in Asia. For example, over 70 percent of the more than 5,000 participants were from Thailand, followed by large registrant pools from Japan, Singapore, Malaysia. China continues its dominance, with elite performances and increasing influence in the region. The future is uncertain, but the future of trail-running culture in Asia has perhaps never been brighter.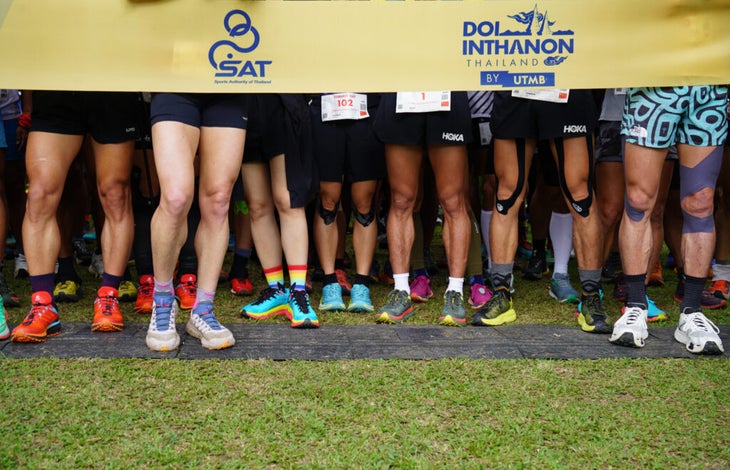 UTMB World Series: What's Next 
The last UTMB World Series event to wrap up the 2022 year is Australia's Ultra-Trail Kosciuszko in Thredbo, Australia (December 15-18). Here's a preview for what to look out for in 2023: 
February 11-12: Tarawera Ultramarathon (New Zealand) (Also a Golden Ticket Race)

April 13-16: Istria 100 (Croatia)

April 28-29: The Canyons Endurance Runs (USA)

May 4-6: Transvulcania La Palma Island (Spain)