Heading out the door? Read this article on the new Outside+ app available now on iOS devices for members! Download the app.
Unquestionably one of the toughest 5K races in the world, Mount Marathon is as much of a local celebration of Alaskan heartiness as it is a hard-to-enter, bucket-list running spectacle. Held almost every year on the 4th of July for more than 100 years, the race sends runners up and down its ridiculously steep namesake 3,000-foot mountain that rises from the sea above the quaint fishing village of Seward.
The course starts on pavement in town but then varies between dirt and rocky trails, a choice of routes over steep, rooty terrain or treacherous jagged cliffs and no route at all over a field of constantly sliding rocky scree. For each of the 1,000 runners (350 men, 350 women and 300 juniors) in the field, competing in the race is a well-earned badge of honor. Mount Marathon features a grueling uphill slog that requires hand-over-hand scrambling and a precarious (and dangerous) downhill blast back to the finish amid throngs of cheering spectators. More often than not, runners return bloody, muddy and bruised, but that death-defying dance is what many runners appreciate most.
"It was fun, so beautiful," said superstar Kilian Jornet of Spain after winning in a course-record time in 2015. "It's amazing, but it's very technical and very difficult."
While the race has attracted elite trail-running stalwarts in recent years, it's close to the hearts of Alaskans. A year after Jornet's record (41:48), which had previously only been held by Alaskans, local trail fiend David Norris took it back in 2016 with 41:26.
"This is a true Alaskan event," says Norris, who won the race again in 2018. "There's a lot of local pride and a history of tough local runners who have competed in it."
Race Specs
Race Date: July 4, 2019
Mileage: 5K (3.1 miles)
Vertical Gain: 3,000 feetParticipants: 1,000
Founded: 1915
Population: 2,800
Elevation: 0 feet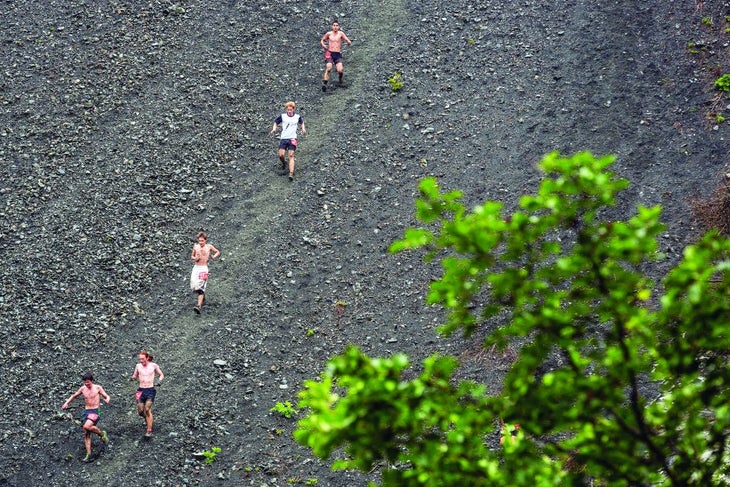 Vibe
Seward is a small port city on an inlet on the Kenai Peninsula and the gateway to Kenai Fjords National Park, a great place for trail running, as well as whale and porpoise watching and checking out the glaciers that flow from the Harding Icefield. If you're going to visit Seward for a trail-running vacation, try to get a race bib for the Mount Marathon Race and make it a Fourth of July holiday trip. 
"Seward is definitely one of my favorite places in Alaska, just to visit and hang out. I'm into it more than just for the race," says the two-time Mount Marathon winner Norris. "It's such a charming little town, and there are great trails. Also, with the salmon runs you can get your fish."
Trails
Lost Lake Trail, also known as Primrose Trail, begins in a lush rainforest and ventures seven miles to several stunning lakes surrounded by snow-capped mountains. Resurrection River Trail is a 16-mile trail that begins as a mostly flat route for 4.5 miles before joining a more rigorous technical trail to the Russian Lakes and Resurrection Pass trail systems.
"There is just so much to explore," says elite trail runner Max King, who spent a week in the Seward area prior to the Mount Marathon Race in 2018. "The ridges, the peaks, the valleys, all begging to be traveled over on two feet."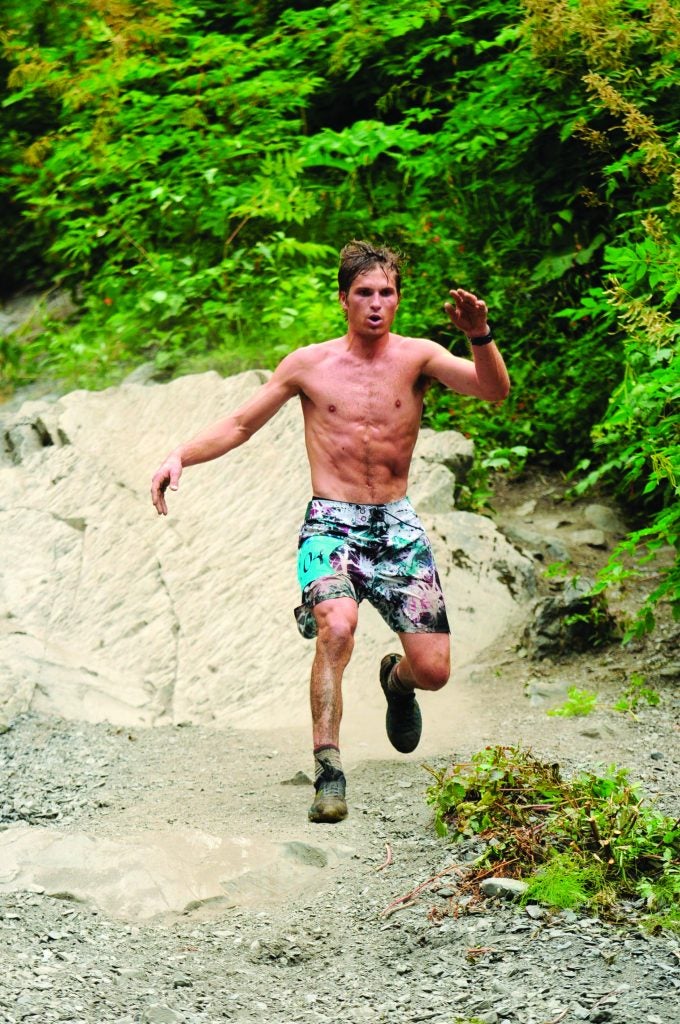 Local Hero
David Norris is a two-time winner of the dastardly difficult Mount Marathon race, but he's not a typical trail runner. Most of his running is geared toward training for his primary sport, Nordic skiing. The 27-year-old Anchorage resident balances a professional skiing career while working on an MBA at Alaska Pacific University.
"It's fortunate for me that the dryland ski training I do is so well suited to uphill running," Norris says. "All of my uphill running is done with ski poles in my hands, and it's more of a bounding technique than it is a classic running technique. These uphill races are so motor-based, so you can get away with having not the best stride mechanics and elasticity and just try to work your muscles and your motor."
Norris won the prestigious 51K skate skiing race at the American Birkebeiner in Wisconsin in 2016 and has competed in numerous World Cup events. Although he narrowly fell short of his goal of making the U.S. team for the 2018 Winter Olympics, he's focused on the five World Cup ski races on his schedule this fall and winter.
However, he does see a future in mountain running once he retires from skiing.
"Skiing is definitely my priority right now, but I would love to do more mountain races outside of Alaska," says Norris. "I've heard people say that hard mountain running in the rest of the country is what Alaskans consider moderate trail running."