Race Preview: The JFK 50 Mile Celebrates 60 Years
This weekend, 1,200 runners – including two Olympians – embark on a 50-mile race in Maryland. Here's what you need to know.
Heading out the door? Read this article on the new Outside+ app available now on iOS devices for members! Download the app.
Before we landed on the moon, before the United States entered the Vietnam War, and a decade before the first running of the Western States 100 Mile Endurance Run, four runners covered 50 miles on foot in Maryland, on March 30, 1963. This would kick off what will now be the 60th annual running of the JFK 50 Mile Race, this weekend, Saturday, November 19.
The weather in downtown Boonsboro, Maryland, in Washington County – about 1.5 hours northwest of Washington D.C. – calls for light snow that'll taper off as the day progresses. Luckily, this course has weathered many storms. "We've held this race in sleet, storms, blizzards, floods … everything!" says Mike Spinnler, who is celebrating his 30th year as JFK 50 race director. "We've weathered every storm, both literally and figuratively. Government shutdowns. Permitting crisis. You name it, we've navigated it." 
Spinnler has been involved since 1971, after running the race when he was 12 years old (he finished in just over 14 hours). At that time, the JFK 50 was a larger race, in terms of runners, than the Boston Marathon and Bay-to-Breakers. Spinnler would go on to set the course record in 1982 (5:53:05), win again in 1983, and place in the top 5 in 1985 (4th), 1987 (4th), and 1988 (5th).   
RELATED: 50+ Tips for Your First 50 Miler
Following the 1992 race, he took over as race director, after the original RD, William "Buzz" Sawyer, retired. Spinnler considered Sawyer a father figure, and someone he admired dearly. It's clear that this entire race – its founders, volunteers, runners, and course – are like family to him.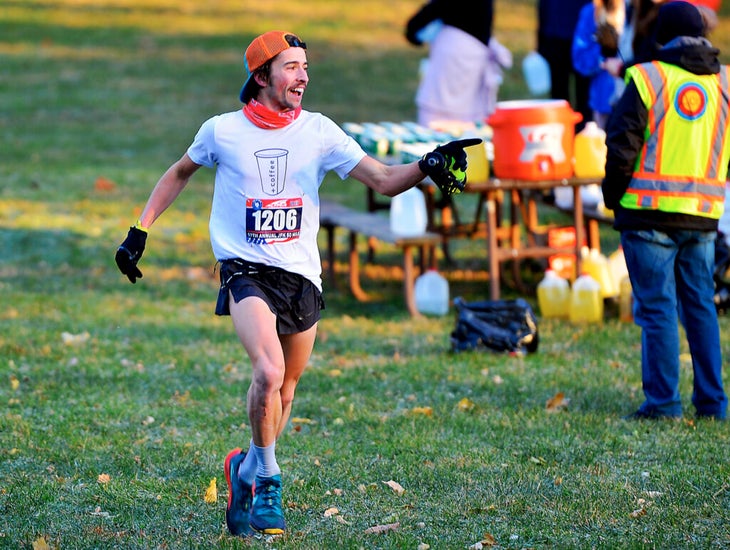 Course Description 
The JFK 50 Mile course is located in western Maryland, Washington County, about 60 miles northwest from Washington D.C. It is a point-to-point course shaped like a giant horseshoe. The race travels through the traditional Indigenous lands of the Massawomek and the Shawandassee Tula (Shawanaki/Shawnee). 
The origins of the race are well-documented, starting in 1963, the same year president John F. Kennedy was shot. The President had instituted a series of 50-mile events around the country as a public health initiative for the nation's physical fitness. After his death, all of these events ceased to continue, except for one, what's now known as the JFK 50. 
"Kennedy's mission was: improve your physical fitness, improve your lifestyle, improve our country. And I think we've kind of done it. We've heeded his call and have been doing it for 60 years." 
The JFK 50 Mile course can be described in three main sections: 
Section 1: The Appalachian Trail (Mile 0 – Mile 15.5)
Starting in downtown Boonsboro, the course hits the Appalachian Trail (AT) after 2.5 miles and climbs 1,172 vertical feet in the first 5 miles, where it reaches the course's highest point. From miles 2.5 to 15.5, runners follow the Appalachian Trail and its rocky single track (with a few miles of pavement) before dropping 1,000 vertical feet at mile 14.5 through a series of switchbacks. 
Section 2: The Canal (Mile 15.5 –  Mile 41.8)
Once runners are off the AT, they connect for a marathon distance on the infamous C&O Canal Towpath, through to Mile 41.8. along unpaved dirt and gravel. 
Section 3: The Rolling Finish (Mile 41.8 – Mile 50)
The last several miles follow gently rolling paved country roads to the finish at the Springfield Middle School in Williamsport.
Adam Peterman, the 2022 Western States 100 Endurance Run winner, won last year's 2021 JFK 50 Mile Race, and missed the course record by 58 seconds. 
"I learned the hard way that it isn't over until it's over, being on course record pace until it slipped away the last few miles. I missed the time by just under a minute and can't stop thinking about how long it took me to change out my shoes at one of the aid stations!" 
The course is deceivingly difficult, Peterman shares. "JFK is a much different type of race than what we're used to out West," says Peterman. "It takes about as long as a mountain 50K but it's nearly 20 miles longer."
RELATED: Adam Peterman, U.S. Men Win Gold in World Championships 80km, Women Win Silver in 40k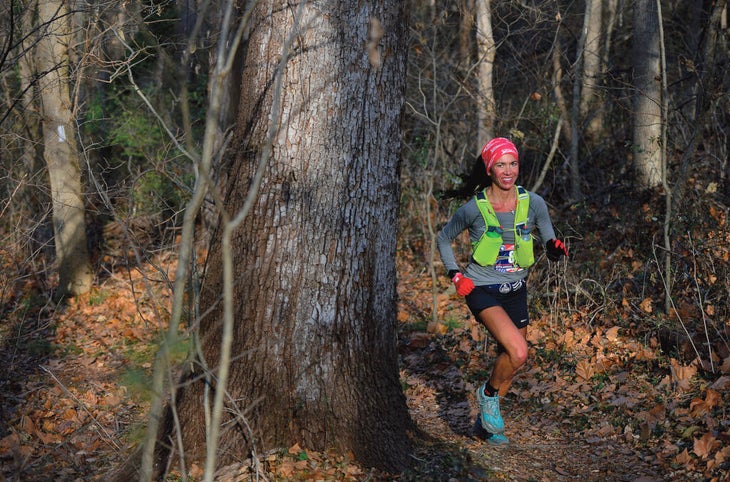 Two Olympians Toeing the Line

This year, the JFK 50 will feature two Olympians, something Mike Spinnler is very excited about. "This is the first time we've ever had an Olympic athlete on the starting line," he said. "I think it's kind of inspirational because both of them are over the age of 40, and yet both are the overall favorites."
Not only are the two Olympians and master's, but they both are international participants, too. Despite being the oldest ultramarathon in the country, there has yet to be a non-American overall winner. Ten years ago, Canadian Ellie Greenwood set the women's course record in 6:12, which stands today, but there has never been an international "overall" winner. 
Perhaps this could be the year. 
In the women's field, Irish runner and Olympian Caitriona Jennings will be leading the field in this year's JFK50. She's the 50K European champion, the Irish National record holder in the 50K and 100K, and holds a strong resume of podiums across the sport.
To perform well at JFK, you must arrive with both technical running chops and road running gears.
In the men's field, Reid Coolsaet, 43, is from Ontario, Canada. He placed 23rd at the Summer Olympic Games in 2016, in Brazil, and his personal best in the marathon is 2:10:28, making him one of the top performing Canadian marathoners ever.
"Twenty years ago, I was working at a running store with a couple of guys who raced JFK 50 every year," said Coolsaet. "They would talk about the race, routinely finish in the top 10, and had some podiums." He was immediately hooked. 
Coolsaet is no stranger to the ultra distance. This past summer he ran the Western States 100 Mile Endurance Run in 19:27:03, placing 25th in a stacked field. "I'd always rather been on the trails, but there just wasn't the Olympics on the trails," he said in a previous interview with Trail Runner. "Without the Olympics, this is really where I want to be." 
"There's Just So Much History"
Brenda and Rufus Chaffee are ultrarunners from western Massachusetts, and they both agreed that the JFK 50 is a great ultra for those curious about long-distances. "The different sections really challenge you, and the positive atmosphere helps to push you to the finish," said Rufus. Brenda agreed.
"To perform well at JFK, you must arrive with both technical running chops and road running gears," she said. "It's required running that you won't regret. There's just so much history."
According to the race website, the race is "in spirit a military race," the result of John F. Kennedy's challenge for all military personnel to be able to cover 50 miles on foot in 20 hours or less to maintain their commissions. One veteran, Chris Knaff, from Portland, Oregon, remembers a powerful experience running the JFK 50 in 2014. 
"I am a veteran who never saw a battlefield," he said. "I didn't feel worthy of being a veteran." But something shifted for him on race morning, sitting in the gym at the start, when the race director asked all the veterans to stand up. "One by one, folks stood up, and eventually I found myself standing," said Knaff. "The applause nearly brought me to tears," It was the first time he publicly acknowledged himself as a veteran, and it changed his life forever. 
Locals have a special connection to this race, too. Eric Laurence ran the race in 2016. Laurence was born and raised in the D.C. area, so the race always hummed within his running community there.
"I had hiked small portions of the Appalachian Trail in my youth, the C&O canal served as a running route throughout my life, and I had camped in the forests of western Maryland," he said.
What Laurence remembers most was the intense variability, both in terrain and weather. After a mild start, temperatures rose into the 70s, unseasonably balmy for a November race. "Then on the C&O towpath, a cold front pushed through," he shared. "Strong wind gusts ushered in frigid rain and sleet. By the time I crossed the finish line, temperatures were in the 30s!" 
We've held this race in sleet, storms, blizzards, floods … everything!
These are just a few of the thousands of stories created by the JFK 50 Mile race. And, according to Spinnler, they're just getting started. 
"This Saturday morning, there will be 1,200 runners starting on Saturday morning, and that's 1,200 incredible stories," says Spinnler. After directing the race since 1992, he has more enthusiasm than ever about the JFK 50, so much, in fact, that they've already set the 100th anniversary race on their calendars.
"It's going to be November 18, 2062," he says, laughing. "We've already started the planning!" 
Runners to Watch
Men
Nick Arndt

Reid Burrows

Reid Coolsaet

Garrett Corcoran

Matt Daniels

Josh Park
Women
Shea Aquilano

Sarah Biehl

Megan DiGregorio

Tara Dower

Caitriona Jennings

YiOu Wang
Other Information

Cash prizes are awarded for the Top 10, plus a $3,000 bonus for anyone bold enough to establish a new course record. 

The Kennedy Cup is a special award for the top finishing military teams.

"Personal listening devices" are strictly forbidden. No pacers, either.

They will be offering a 360-degree photo booth for finishers at the end.  

How to follow the race: updates on

Instagram

,

Facebook

, and the race's

official website

.