Colorado's Imogene Pass Run Turns 50 This Year. Here's How It Was Accidentally Founded.
If race organizer Rick Trujillo's friend hadn't abandoned him on his first run over the pass, the race might never have been
Heading out the door? Read this article on the new Outside+ app available now on iOS devices for members! Download the app.
(Editor's Note: Registration for the September 9, 2023 Imogene Pass Run opens June 1 at 6 A.M. MST.)
On September 29, 1974, six runners completed the first Imogene Pass Run—from Ouray, Colorado, to Telluride 17 miles and 5,500 feet of climbing. The route echoes with rushing creek water while the rugged road hugs sheer rock walls before opening up to fields of high alpine flora. Aspen leaves are just changing from green to golden, until you get so high that it's all rock, and then you can see for miles.
To fully understand the event, and why it's so special, you have to understand its founder, Rick Trujillo, and the other runners who have been participating in this race for decades. Trujillo moved to Ouray, Colorado, with his family when he was not quite two years old, because his father got a mining job. Nicknamed the "Switzerland of America," Ouray sits at nearly 8,000 feet elevation. Originally home to the Ute tribe, it was established as a silver and gold mining town in 1875. At the height of its era, Ouray had more than 30 active mines.
Now, at 75, Trujillo still calls the small mountain town home. But it's not as though he never left the comfort of the box canyon community. Trujillo has traveled all over the U.S. and has lived and worked throughout North America and South America. But he's always found himself back in Ouray.
Growing up In the Mountains
Trujillo became the oldest of 11 siblings, and they spent lots of time outside, exploring the mountains on family hikes and scrambling up steep rocks. The Ouray high school didn't have any kind of running or track team until Trujillo was a freshman there.
"I began running in the spring of 1963," Trujillo said. "Two local teachers decided to start a team." Trujillo's first run with the team was up a rough road next to the local ski hill. "We broke through the snow up to our waists and I realized, this was something I really enjoyed doing." So he kept doing it. He ran track and cross country, but it was the mountain trails that he was drawn to. "This was long before mountain running or trail running ever became popular," Trujillo said. "Even in the 70s, it was so rare to see someone else out—I would only see someone on my trail runs once every two or three years. It was such a rare occurrence that [if I saw someone else out on the trails] I would stop and talk to them about where they came from and where they were going."
He became the high school state champion in the mile, and earned a running scholarship to Colorado University in Boulder. "Our coach told us never to run on the trails up in the foothills, but I thought, to hell with that!" Trujillo spent much of his free time exploring Green Mountain and Flagstaff.
He earned a degree in geology, and imagined it would take him to far-off places. But the first job he could find was at Camp Bird Mine, just above Ouray. While it wasn't the world travel he had dreamed of, being back in Ouray was when he truly started mountain running in earnest.
An Early Competitive Colorado Mountain Racers
According to Trujillo, he was a competitive mountain runner from 1970-1979. After, he still raced regularly, but considered his exceptional days behind him. Others would say his impressive feats stretched well into the 90s and beyond. He ran the Pikes Peak Marathon eight times and won five times. He held the course record for nine years (1973-1982). With an ascent of 7,800 feet over 13 miles in 1973, a time of 2:07 for the climb is impressive to say the least. There was no such thing as trail running shoes back then. No electrolyte mix or gels to gulp.
In the 1970s, Trujillo ran every mountain race he could find. And more times than not he won and set a new course record. Sometimes his course records stood for years; a few still stand today. In many ways, what kicked it off was Imogene Pass. In training for the Pikes Peak Marathon and other trail races, he decided that if he could run the 17-mile route from Ouray to Telluride in a decent time, then he'd be able to do just about anything.
The road over the pass wasn't completed until 1966. "There had always been trails," Trujillo said, "But the connection over the pass didn't come until later." Even then, four-wheel-drive vehicles didn't really exist. Today, jeep tours and off-road vehicles litter the area, but in the 70s, there was literally no traffic anywhere in the mountains.
First Time Running Imogene
On Tuesday, August 6, 1974, Trujillo ran over Imogene Pass—13,114 feet—for the first time. He gave the keys to his jeep to a friend, Ernie Andersen, and asked him to drive the jeep over the pass and meet in Telluride. Trujillo started his run right after work—at 5:12 P.M. He told Andersen he didn't know how long it would take, but certainly he'd be there before dark. In his running diary Trujillo wrote, "I felt somewhat tired at the beginning of the run but gained strength and felt strong through Lower Camp Bird, Upper Camp Bird, and Imogene Basin."
Trujillo didn't know anyone who ran or hiked the pass. Very few people even drove the rugged mining road at that time. Trujillo arrived in Telluride at 7:45 P.M. "The run was challenging but doable," Trujillo wrote. "I feel I'm ready for Pikes Peak." But, no Ernie Andersen. Trujillo noted that there were very few people around, and the sun was setting behind the peaks. He walked Main Street in both directions looking for his friend.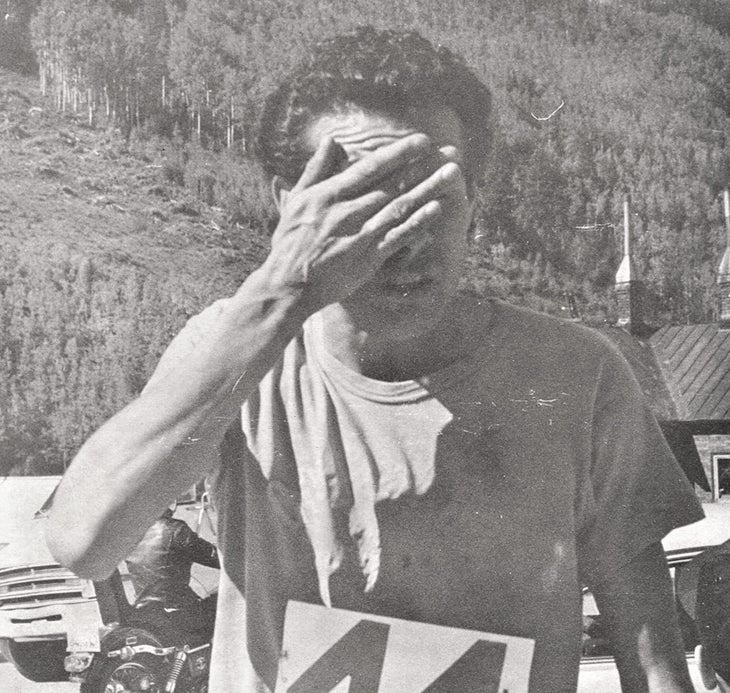 "You have to understand, Telluride wasn't what it is today," Trujillo said. "It was a run-down mining town at the end of a dead-end road."
Finally, he ran into some other friends, Jerry Race and Jim Gowdy, who were also runners and nordic skiers—so they knew exactly how impressed to be with Trujillo's feat. Jerry Race owned the drugstore in town, Sunshine Pharmacy, and had a business mind about him. Both friends were impressed by Trujillo's run and set him up with snacks while he told them all about the journey.
As darkness fell, Trujillo went up to St. Patrick's Catholic Church to use the phone. He called the Coachlight Restaurant in Ouray to find Andersen, and that's where he was. Andersen said he drove all over the jeep roads in Yankee Boy Basin and Imogene Basin but couldn't find the pass road. So Trujillo waited for Andersen to drive around the long way to finally pick him up.
Putting Ouray and Telluride on the Map
A week later, Trujillo got a call from Jerry Race saying he wanted to hold a race over Imogene Pass. He said he was going to work with the Telluride Chamber of Commerce and it would help put Telluride on the map. "At the time, you could fire a cannon down Main Street and not hit anybody," Trujillo said. "Nobody had heard of the place."
So the Imogene Pass Run—originally called the Ouray-Telluride Marathon—was born. They tried it at different times in the year—August and September—and eventually it fell on the second weekend of September. Not too cold, not too hot, and the autumn colors were usually starting to pop.
Seven runners lined up for the first race, six finished. Trujillo won in a time of 2:21:18. The second year, 1975, ten runners started and nine finished, including the first woman, Cynthia Wright, from Silverton, Colorado. Muffy Ritz of Telluride was the first woman to break the three-hour mark, with a time of 2:50:10 in 1982.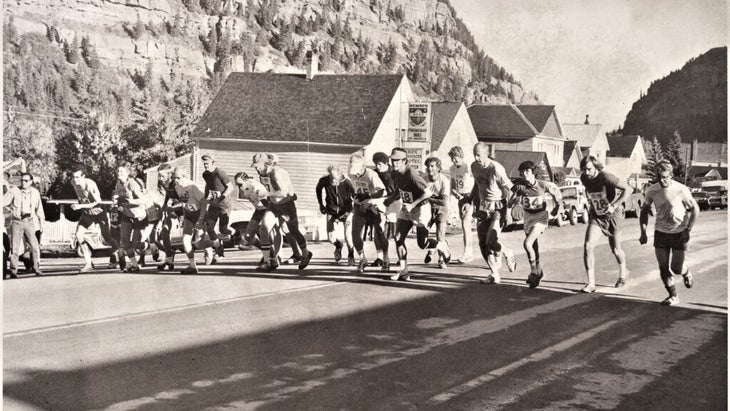 By 1989, the race attracted more than 350 people. At that time they were allowing walkers to also take on the course, but that ended in 2001. Kathy Elmont lived on Colorado's Front Range at the time, and her husband read about the race in a magazine. He had run marathons in the past, so he figured he'd be prepared for Imogene. Not exactly.
Today the race has the tag-line, "a difficult race for well-prepared athletes." And rightfully so. But he came home, mesmerized by the San Juan mountains, and told Kathy she had to run it. So she did, the following year, 1990, and she's run it every year since.
Elmont and her family fell absolutely in love with Ouray and the race. They vacationed there from Denver even beyond their annual Imogene Pass Run trip. After 10 years, the company she worked for moved their headquarters to New York. "I never wanted to go east," she said. "I only wanted to go further west. So I said goodbye to this big accounting career." But at that same time, Ouray was hiring a City Clerk Treasurer, and Elmont got the job.
"You could fire a cannon down Main Street [of Telluride] and not hit anybody. Nobody had heard of the place."
She wasn't making the money that she had been before, but she was living a block from the start of the Imogene Pass Run, and in her mind, nothing could be better. Soon she was running up Camp Bird Road—the start of the course route—and soaking in the beauty of the mountains she had learned to love through the race.
"Being here didn't mean I could run it any better or anything like that, but stepping out of my office over the noon hour, or before work, or after work, and hitting Camp Bird Road. What a gift."
RELATED: Book Review: The Race That Changed Running
At 74, Elmont still looks forward to race weekend like it's Christmas. She still goes to the pasta dinner the night before the race, and still loves listening to Trujillo's race talk.
"Right before I retired, it was my 25th year, and they put a big poster for me in front of City Hall. It's kind of embarrassing, but also very nice. There's a camaraderie among the other people who do it every year."
Bernie Boettcher, 61, started running the Imogene Pass Run in 2000, when he won with what would become his slowest winning time, 2:27:32. He also won in 2003, 2004, and 2007. "My favorite Imogene race is a three-way-tie," Boettcher said. "Winning with the slowest winning time ever in 2000, in my first try at Imogene; nearly catching up to Timmy Parr in 2008 when he had over a five-minute lead at the top, and I got to within 38-seconds by the finish; and setting the senior course record in 2022 by over 15 minutes." That senior record was 2:46:14.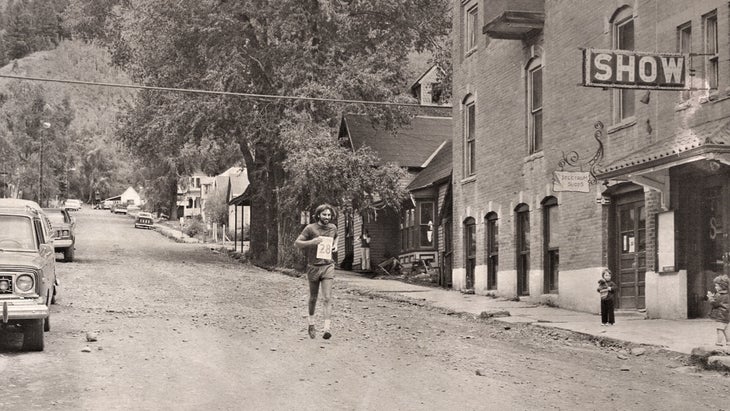 Weather on the Pass
Over the years Trujillo has kept a detailed record of each year of the race, including weather conditions. More than half of the races have enjoyed good weather—mild temperatures, low wind, little to no snow at the summit. But some years have been far less than ideal. Cold temperatures, low visibility, rain or snow, wind at the top.
Only one year in all 50—2006—did they have to alter the course to turn around and end back in Ouray. While the day started decently, it deteriorated quickly. There were whiteout conditions at the top and over eight inches of snow. It became too dangerous to complete the route over to Telluride, so they had to turn people around. As Trujillo likes to say, "The mountains don't care about you." You have to know when to fold.
In 2020, the race went virtual because of COVID-19, but Elmont and other locals still ran the course, just without as many people. In fact, Elmont lined up at exactly 7:30 A.M. just like every other year, and took off toward Telluride. "I thought, I don't want to break my record, so I lined up." Along the way she saw others running, and about a half a dozen people at the top. "When I got to Telluride I had to call my husband and say, 'I'm here!' Luckily I brought a $20 bill to get something to eat."
She watched others run in from Ouray, and ate a sandwich while she waited to get picked up to return to Ouray. In some ways, a similar scene from what Rick Trujillo had experienced so many years ago.
Trujillo Never Stopped Exploring
Trujillo eventually did get to do the world travel he had dreamed of. Camp Bird Mine closed and he worked and lived throughout North and South America as a mining geologist. And everywhere he went, he ran. He also collected an impressive number of summits on the high mountains of Alaska, Mexico, Chile, Argentina, and Uruguay.
When he returned to the San Juans, he jumped right back into mountain races. In 1994, he took second in the Hardrock 100, and then first in 1996 in a time of 30:44:17. In 1995, he summited all of the 54 Colorado Fourteeners in the then record time of 15 days, 9 hours, 55 minutes.
But his most satisfying individual mountain running effort wasn't a race or a well-known course. It was the traverse of the western portion of the Sneffels Range, on August 24, 1996. He completed the mission with his friend, Ricky Denesik in eight hours and four minutes.
"We negotiated the convoluted, narrow, often hazardous ridge between North Pole and Mears peaks," Trujillo writes in his running diary, "In mixed mountain weather that varied between sun and blowing snow. This effort was satisfying to me in that these mountains are literally my 'backyard' and I had dreamed of summiting them since I was a boy. Now every time I return to Ouray on the highway from Montrose I look up during the drive and each and every peak sparks memories of when I was there on foot."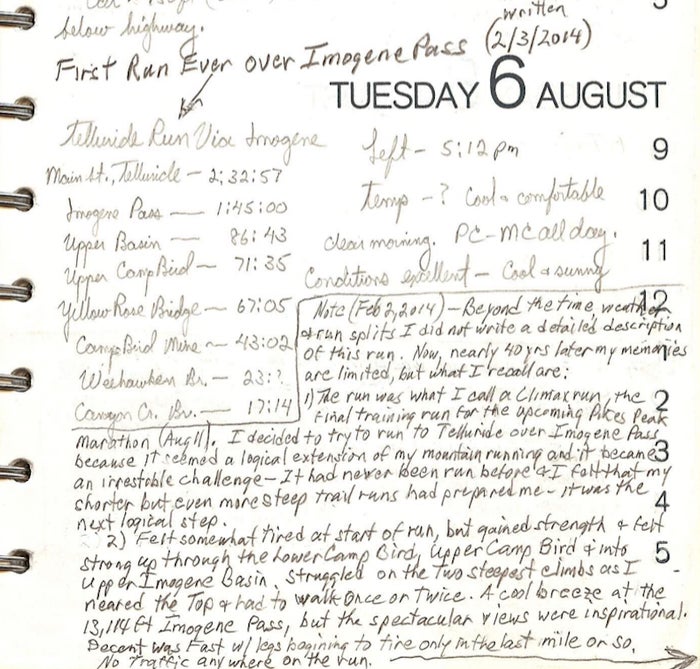 Inspiring the Next Generation
Today, the Imogene Pass Run supports local high school runners through the Alpine Bank / Imogene Pass Run scholarship program. The scholarships are awarded to graduating seniors from Telluride, Norwood, Ridgway, Ouray, and Silverton. Since its inception, the program has awarded over $250,000 in scholarship funds. At the time, Trujillo was one of very few students from the region to earn a scholarship in running. Now the area has a strong history of running and facilitating young running careers.
There's nothing quite like the Imogene Pass Run. Many people do it once and then swear to never do it again. It's tough. It's high elevation. With 5,500 feet of climbing in 10 miles, even the 7 miles down can't make some repeat the experience. But for others like Trujillo, Elmont, and Boettcher, it's the opposite. There's just something about the San Juans.
"You notice little flowers growing out of the scree—the delicate stuff in the midst of the rugged," Elmont said. For those who get it, there's nothing better. They line up at sunrise, they greet their friends, they start running. And on the other side, they eat a sandwich. They talk about the summit and the weather and the colors they saw. And they can't wait to do it all again next year.
Registration for the September 9, 2023 Imogene Pass Run opens June 1 at 6 A.M. MST.