The Trail Runner's Guide to Stage Racing
Stage races are growing in popularity around the world. Here's a comprehensive primer to prepare for your first (or fifth) stage race. It might be the most fun you'll ever have.
Photo: Courtesy TransAlpine Run
Heading out the door? Read this article on the new Outside+ app available now on iOS devices for members! Download the app.
Take a minute, close your eyes, and imagine the perfect summer camp. Imagine sun-bleached days spent outside, carefree, playing games and learning skills, overcoming challenges and eating meals with new friends.
Now merge this daydream with your all-time favorite trail run, and proceed to drape those warm-and-fuzzies over several days, surrounded by nothing but the most breathtaking landscapes.
If you never attended summer camp as a kid, don't worry. The purpose is to paint a picture of something that is here, something available now, an opportunity that might just be one of the most satisfying and underrated event formats in all of trail and mountain sport.
Welcome to the Stage Race.
The following is a guide to learn about the anatomy of a stage race: what they are, where they are, how to train for one, and how to race them. We reached out to world-class stage race athletes, middle-of-the-pack runners, coaches, and race organizers for advice.
Of course, each stage race ranges widely in terms of difficulty, terrain, amenities, and support, so you'll find some generalizations here that may not fit every stage race's structure. Regardless, by the end of this guide, you should have what you need to start planning a future stage race experience, something you'll likely never forget.
Section divider
SECTION ONE: What Is a Stage Race?
You can begin by thinking of a stage race as a multi-day running festival with a competitive lean – consecutive days where the runner, whether individual or in teams, runs through 3-8 stages across a designated region. Many stage races are point-to-point, while others start and finish at the same location. But the main component is that every day is different, everyone is together, and every experience is shared.
There are a wide variety of formats for stage races around the world, as you will see, but here are five common ingredients found in each of them:
1) Multi-Day: For a race to be considered a stage race, you will find most to be at least three days. Sure, back-to-back races may be technically considered a stage race, but the spirit of a stage run requires sustained time together, tracking miles, place, and elevation strung over considerable total mileage across several days.
"You're running with the same people day-after-day and there's this shared suffering, but you also get to really know the staff and crew, too," said Jacob Puzey, elite runner, coach, and race director for the TranSelkirks Run. "I love watching the relationships between racers and volunteers play out. It's often the same volunteers and staff, the same catering folks, the same people setting up the start and finishing line. You forge bonds that are unique and longer lasting than other race formats."
Nate Bender, Montana-based mountain athlete and climate activist, ran the 2022 Snowman Stage Race in Bhutan, this October. The Snowman Race was about as remote and difficult as a stage race can get — five stages over 125 miles, with 34,000 feet of climbing, all at high elevations.
"The stage format at the Snowman Race was magical because it allowed us to experience these off-the-beaten-path parts of the Bhutanese Himalaya as runners, which would otherwise be impossible without support. There are no roads on the route except for the start and finish, and often no electricity in the villages we'd pass, so it took aid station teams four to six days one way to pack in each night's camp on horseback."
2) Individual or Team: Though various stage races do offer a solo category, many offer a team category, too, where runners pair up to run together across each stage, in some stated requirement of proximity. This provides a fun challenge, something unique and different than solo, single-day races.
For example, the TransAlpine Run traverses the Alps and is a 2-person, teams-only race. In fact, teams can be time-penalized if one member arrives through a checkpoint too far in front of the other. This incentivizes finding the right teammate and being accountable in one's preparations.
3) Accumulation: A defining feature of any stage race is the total accumulated miles and elevation gained over multiple days. After each stage there is often a shared dinner and award ceremony, which announces the winners for that stage, along with overall winners for each category. In the cycling world, the Tour de France is an obvious example.
This setup provides a unique opportunity for runners to not only have one good day, or one bad day, but to compile stage performances that test everyone's abilities over many miles and multiple days, under a variety of circumstances.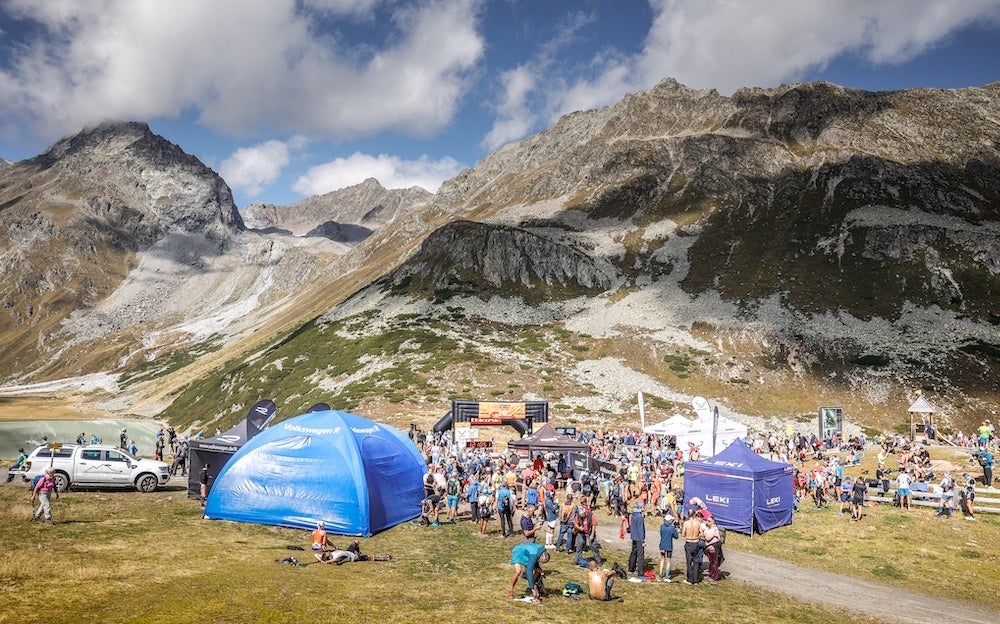 4) Variety: A compelling attribute of a stage race is that each stage showcases a new transect of a landscape. Europe's TransAlpine Run and Colorado's TransRockies Run are both point-to-point stage races, and this makes for a new, exciting course every day.
In addition to challenging each runner's full repertoire of trail skills, it can provide a stimulating diversity of terrain (depending on the race), as it tests everyone to perform on different surfaces in changing weather, as opposed to single-day races, where you must accept the conditions and course of that given day.
5) Community: One thing prioritized in most races is the start and finish ceremony—a course briefing, pasta feed, expo, beer and music at the finish line. But stage races take this to the next level. Because all participants are spending up to two weeks together, stage race organizers often spend more time accommodating for time spent before and after the race, with tents and warming huts, music and massage tents, DJs and coffee stands.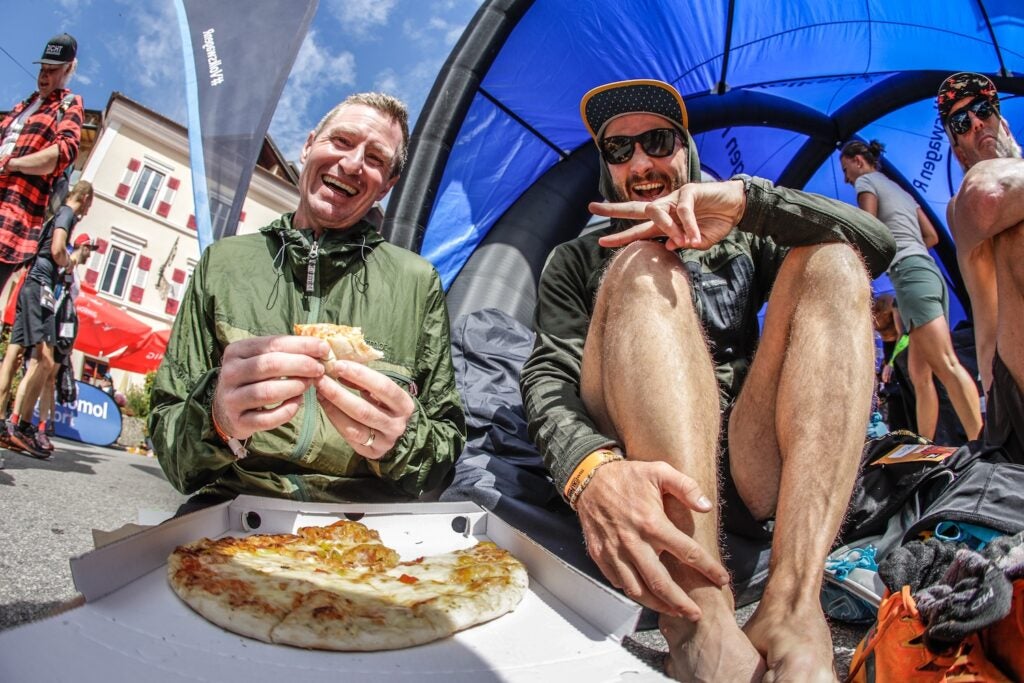 Stage race organizers wish to provide a tight-knit community feel where folks can share their stories, get a head start on the recovery process, and generally feel taken care of. The TransRockies Run, for example, has what's called "ChillVille" at the end of each stage, which offers a common space for runners to hang, stretch, swap stories, grab food, and bask in the day's accomplishments, all while celebrating runners as they arrive.
Aaron McConnell is the president of the TransRockies Run, based in Colorado, and he confirms what makes a stage race so unique — extended time to build relationships. "The multi-day experience is special," he said. "You get a chance to get to know people over many days – not just running with them, but socializing and living with them in camp. You share the struggles and the triumphs." The TransRockies Run focuses on the social component, perhaps more than any other stage race, "which means you are fully immersed in a like-minded community from the moment you wake up until the moment you slip into your sleeping bag at night," said McConnell.
Section divider
SECTION TWO:
Where Stage Races Happen
A stage race is a distinct type of endurance event that requires an incredible amount of running gear, logistical support, permitting, catering, and medical coverage. That said, it's a format that you can find on literally every continent (we see you, Antarctica!). Here's a selection of stage races: 
| | | | | | |
| --- | --- | --- | --- | --- | --- |
| Race | Location | Total Distance | # of Stages | Date | Register Deadline (2023 Race) |
| The Coastal Challenge | Costa Rica | 150 miles | 6 | February | Open |
| Mustang Trail Race | Nepal | 105 miles | 8 | April | Open |
| Marathon Des Sables (MDS) | Morocco | 155 miles | 7 | April/May | Open |
| Cape Wrath | Scotland, UK | 250 miles | 8 | May | Open |
| Namib Race | Namibia | 155 miles | 6 | May | Open |
| Desert RATS | Colorado/Utah, USA | 143 miles | 6 | June | 6/1/23 |
| Gobi March | Mongolia | 155 miles | 6 | June | Open |
| Run Iceland Adventure | Iceland | 63 miles | 5 | June | Open |
| Al Andalus Ultimate Trail | Spain | 145 miles | 5 | July | Open |
| Ragged 75 | New Hampshire, USA | 75 miles | 3 | August | Open |
| TransRockies Run | Colorado, USA | 120 miles | 6 | August | 80% sold out |
| Golden Ultra | Golden, BC, Canada | 55 miles | 3 | September | Open |
| Grand-to-Grand | Utah/Arizona, USA | 171 miles | 6 | September | Open |
| Ring O' Fire | North Wales, UK | 135 miles | 3 | September | Open |
| TransAlpine Run | Germany-Austria-Italy | 178 miles | 2 or 8 | September | Starts 12/6/22 |
| TransSelkirks Run | Revelstoke, BC, Canada | 62-100 miles | 3-5 | September | Open - 8/28/23 |
| Half MDS - Fuerteventura | Canary Islands, Spain | 43-75 miles | 3 | September/October | Open |
| Half MDS - Morocco | Morocco | 43-75 miles | 3 | October | Open |
| Snowman Race | Bhutan | 126 miles | 5 | October | Open |
| Ultra X Jordan | Jordan | 155 miles | 5 | October | Open |
| Himalayan 100 | India | 100 miles | 5 | October/November | Open |
| 20 Year Race | Jordan | 155 miles | 6 | November | Open |
| Half MDS - Jordan | Jordan | 43-75 miles | 3 | November | Open |
| The Last Desert | Antarctica | 155 miles | 6 | November | Open |
| Half MDS - Peru | Peru | 43-75 miles | 3 | December | Open |
Section divider
SECTION THREE: Who Participates In a Stage Race
For many, glancing at the profile of a stage race – days, miles, elevation gain – can appear daunting. To run a single 20-mile trail race with steep climbs and never-ending descents is a lot, so how would the body respond to several days?
Surprisingly – based on feedback from coaches and participants – better than you might think.
An ultra-distance race – say a 50- or 100-miler – can feel, for many, out of one's reach. In a stage race, the runner can cover that same distance (or more), and tackle it day-by-day in more manageable chunks, while having ample time to rest and recover for the next stage.
"Yes, the TransAlpine Run is one of the hardest things I've ever done, but it's all relative," said Rene Unser, endurance coach, staff and 9-time participant of TransAlpine Run, from Kelowna, British Columbia. There is room in these types of races to set different goals. Also, stage cutoff times for stage events are more generous than single-day races. "As a race organizer, I know that the backbone of every event is the mid- to back-of-the-pack," and stage races often cater to setting all runners up to succeed.
TransSelkirks Run Director Jacob Puzey, agrees. While a multi-day event can sound like an overwhelming commitment – both in training and financially – many of his athletes find them more manageable than an ultramarathon. "To be honest, I don't think these stage races are just for those at the front of the pack," he said. "It all comes down to goals."
Some stage races are highly competitive, but many are entirely non-competitive, too, satisfying one's curiosity of how it might feel for the body to push across several days of running. It could also be a running vacation, to explore a new region with the goal of having as much fun as possible, to reconnect with the soul of the sport, or connect with a new trail-loving running group. Budgetary and time constraints notwithstanding, a stage race is available and within reach for a wide swath of runners, from the podium-hungry to those led by the destination.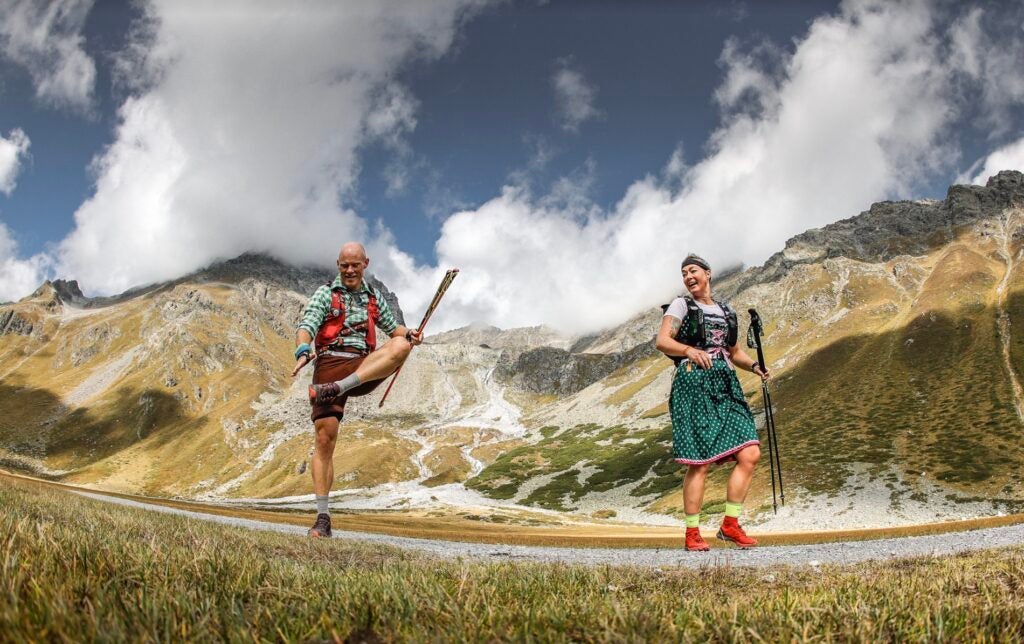 Section divider
SECTION FOUR: How to Train for a Stage Race
Now that you know what a stage race is, and that they exist all over the world, you're online, doing research, scheming. Maybe you've already identified a race that speaks to your skillset, budget, and geographic interest. You've registered and now want to know what it takes to train for a multi-stage run. Of the many training plans and approaches you could follow, here are some of the most consistent elements to a successful stage race training block, to get you started. (We recommend finding a coach or group to provide safe training blocks and accountability.)
See Trail Runner's Stage Race Training Plan
1) Start Early, Be Consistent, Think Durability. 
Though you may be able to get by running a Turkey Trot or a half marathon off-the-couch on minimal training, ultramarathons are not to be taken lightly, and stage races, even more so. If there was one single piece of advice communicated from experienced finishers and coaches about training for a stage race, it is this: Start early.
"It's a long buildup," said Unser, coach and 9-time TransAlpine Run participant. "Life happens, so expect setbacks. That's why it's so important to build up your base early." Unser is referring to the long process of developing physiological adaptations to endure an 8-stage mountain race like TransAlpine, with 55,000 feet of vertical gain over 150+ miles.
Yes, incremental volume increases and consistency are usual suspects for any training plan, but it's particularly important for stage races because of the day-after-day-after-day demands on the body – bones, tendons, and joints. A slow and consistent build offers time for the body and mind to be prepared for such sustained stress. But that doesn't mean going overboard with volume – rest is critical, too.
"If anything, it's actually better to get to the race slightly underprepared and rested than overtrained and injured," said Unser. "Think about it: the odds of you finishing the stage race with an overtraining injury, versus being slightly undertrained, are significant." An overuse injury could get progressively worse over multiple days and potentially end in a stage race DNF, whereas a consistent, moderate volume build can set you up for success down the road.
"Many athletes training for stage races overlook one of the most important components: durability," said Unser. "This is an athlete's resilience to withstand physical work during very long durations. Running on its own doesn't build durability, which is why strength, mobility, and balance routines are all especially important, too."
RELATED: A Trail Runner's Guide to Strength Training
TransSelkirk Run's Jacob Puzey also stresses this focus on durability, as a stage race training cornerstone. "You want to get the race healthy; that's number one," said Puzey. "But ideally your training should be specific enough that it's prepared you to be durable, to be able to handle that amount of time on your feet day after day after day."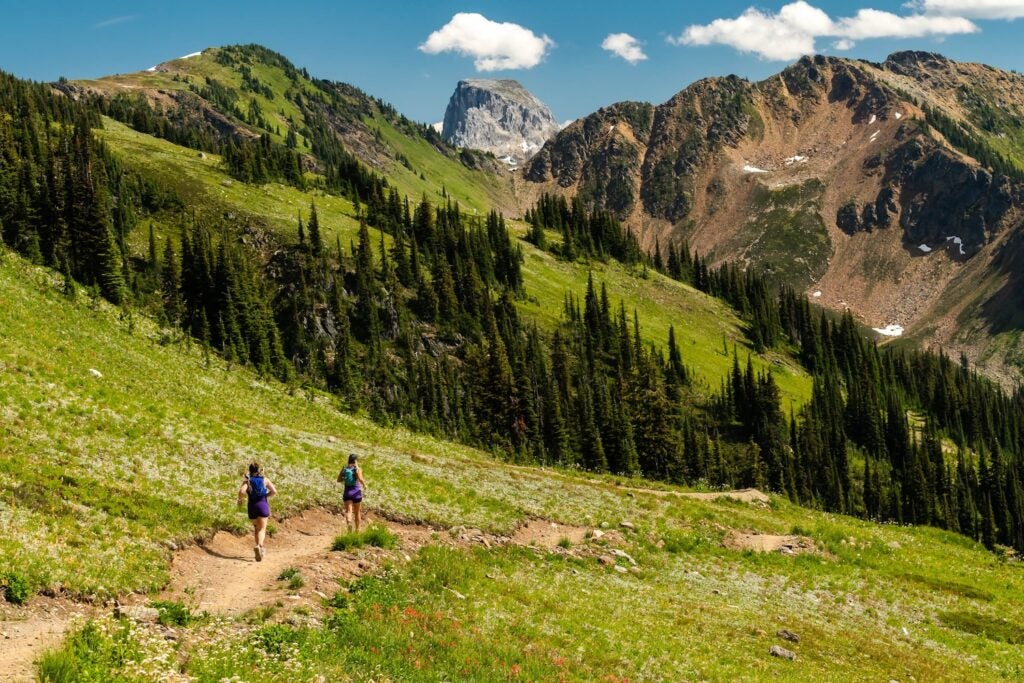 2) Back-to-Back (to-Backs)
A staple workout to build durability is the classic back-to-back long runs. For example: several hours on your feet on a Saturday, followed by a run of equivalent distance or time on a Sunday. These stacked runs are critical for stage races, too, with a caveat that, depending on how long your target stage race is, you may have to begin peppering in back-to-back-to-back runs. (Are we having fun yet?)
This is recommended for reasons of durability, simulation, and adaptation. You need to be able to move with some level of integrity on tired legs, which is what back-to-backs offer, but it also gets you familiar with being on your feet for days on end, how your tendons respond, what nutrition works on day three, and how gear choices might chafe in new and exciting places after multiple long days.
Having these stacked runs – strategically placed and not to be overdone – can increase your week's total volume, as it concentrates hours into one part of your week. Therefore, it's critical to ensure you are taking adequate rest, with 1-2 days off per week, or cross-training throughout the week, to be ready, energetically, for the multiple days strung together.
Some stage racers report this working well for folks with busy schedules. Greg Tew, a first-time finisher at the 2022 TransAlpine Run and college professor at UMASS Amherst, noted that back-to-back-to-back runs were best for him, to get both the volume and specificity in short windows of time. "I knew my body couldn't handle very high weekly volumes," he said. "So I stacked runs whenever possible. If I could only run three times in a week, I made sure to run three days in a row."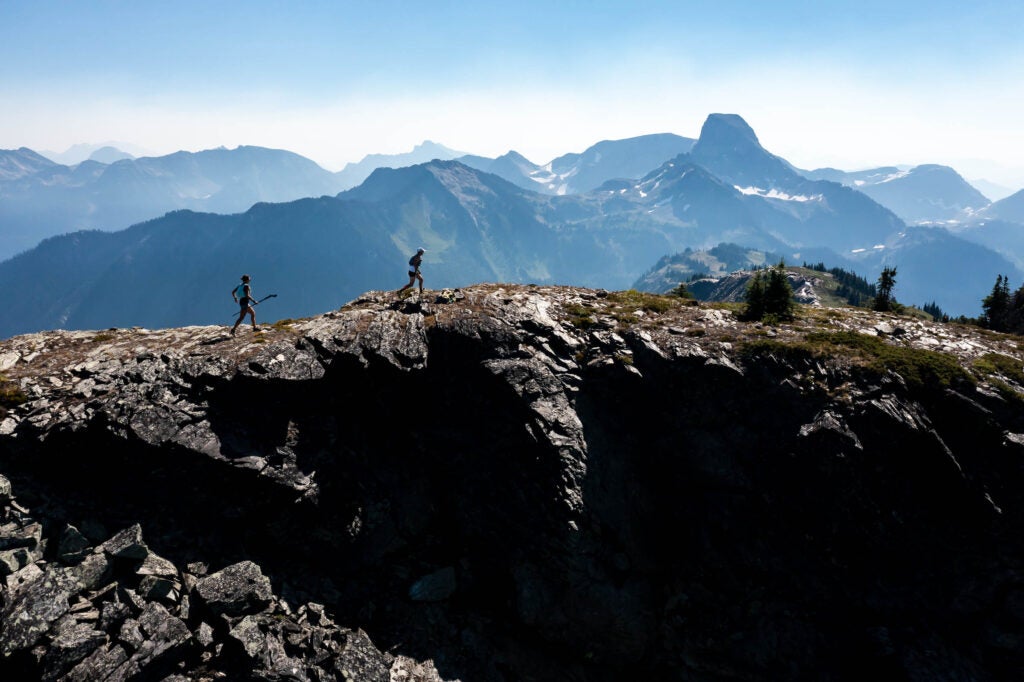 3) Train for Terrain.
Specificity is something you hear often in most training regimens for road, trail, or mountain racing, but stage racing requires additional care to lock in training that is commensurate with what conditions you'll find on every stage. This can be tricky, as some stage races demand different skills on different days.
For example, at the TranSelkirk Run, in Revelstoke, British Columbia, Stage One begins with a 7,000 vertical foot climb called "Kill the Banker" (gulp), while Stage Two and Stage Three feature only half the vertical but offer faster, more runnable terrain. This requires you to train for specific rigors of knocking out hard climbs, while still having good turnover for faster sections.
Rea Kolbl, Dynafit athlete and female open winner of the 2022 TransAlpine Run alongside her teammate, Erin Ton, embodied this level of specificity in her buildup. "I focused more on technical running and steep descending," said Kolbl. "I'm usually pretty sore in my quads and glutes after descending, which makes climbing harder, so I did a lot of races and training with fast and steep descents." Kolbl also incorporated heavier strength sessions, with squats and deadlifts, to develop additional muscular strength to last the load of 55,000+ vertical feet of climbing over 8 days.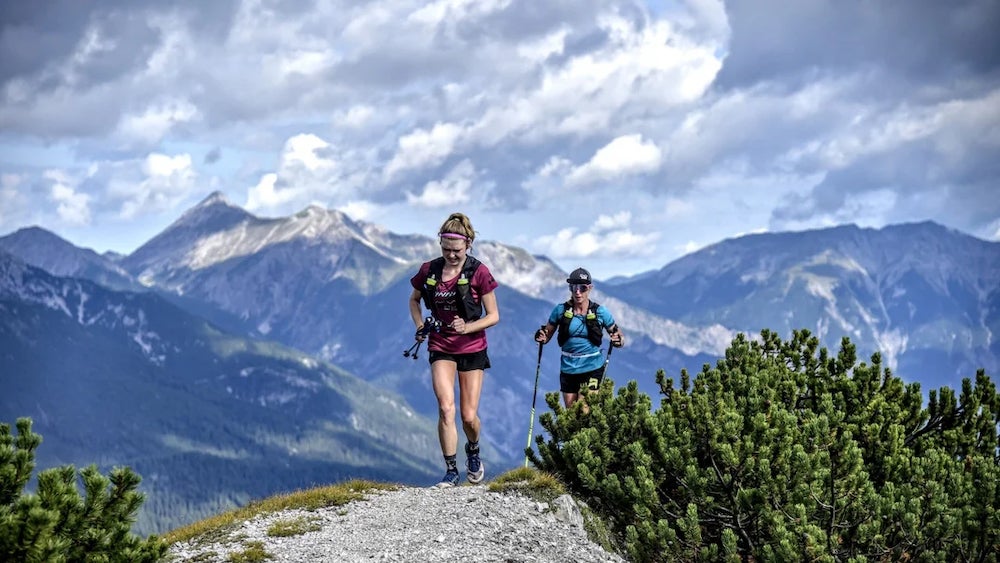 Jason Sarouhan, two-time TransAlpine Run finisher and second-place finisher at the 2022 Ragged 75 stage race [also the author's teammate at the 2022 TransAlpine Run] incorporated specific road approaches to his training runs. "All the stage races I've run have had very technical running portions, with long climbs and steep descents, so I went to the White Mountains in New Hampshire several times to train over long weekends."
For the 2022 TransAlpine Run, Sarouhan studied the road-to-trail ratios of each stage. "Every day begins and ends with a few miles of road running, into and out of town, so I always prioritized running a little pavement within my trail runs to mirror this," he said. "I practiced hiking, too, dialed in my nutrition, and got very proficient at using my poles. I trained in the heat during the summer to simulate similar stress on my body and arrived a week beforehand to get up into some elevation, to spend time building those red blood cells."
For those who live at sea-level, high elevation stage races can be difficult to train for, so getting creative is key. "I live at about 100 feet, and most of the running in the Alps was above 5,000 feet," said Israeli runner Danny Ben Zvi, who completed the 2022 TransAlpine Run. Ben Zvi noted that he and his teammate had to run hundreds of repeats on the small hills, "sometimes even up and down skyscrapers!"
RELATED: Don't Live Near Hills? This Two-Move Series Can Help Flatlanders Get Strong
4) Find a Simulation. 
A natural evolution to finding specificity in stage race training might be to simulate a shorter version of the target race, or at least design your own. This is highly recommended. Here are three options:
Option One: Simulation Race. There is nothing more effective to prepare for your goal race than by putting your gear, nutrition, and recovery strategies to the test in a race environment. A race gets you thinking about fuel, requires that you respond to sharing the trail with others, and gets you closer to what you'll be expecting at your goal stage race. Puzey recommends running at least one trail race before you consider a longer stage race, to understand the components of aid stations and gear. "It doesn't have to be a hundred miler by any means," he said. "But at least a trail marathon or something like that, just so that they get a little bit more familiar with aid stations and in carrying a pack. Carrying a pack can feel foreign to someone with a road background."
Option Two: DIY Adventure. If no shorter races are an option for you, or if budget is a concern, designing your own multi-day adventure can also deliver the goods. Locate a route you've been daydreaming of and splice it up into multiple days. Reserve camping or cabins or lobby for a support crew of friends to come and help. The only prerequisite? Make it fun. Aim for a route that's about 30-50 percent of the total mileage/hours you'll find at your goal stage race, on similar terrain, and go for it. For the 2022 TransAlpine Open Women's winner, Rea Kolbl, a month before TransAlpine she organized and ran the "Softrock," which follows Colorado's Hardorck 100 Mile Endurance Run course, but spread over four days, to mimic the demands of the stage race.
Option Three: Find an Outfitter. There are several reputable companies that now offer fully-supported adventure runs on world-class, multi-day routes. These give you the opportunity to accumulate miles over multiple days, while being with others and safely pushing your edge. Check out Aspire Adventure Running and Rogue Expeditions, as both offer back-to-back-to-back running adventures.
RELATED: Top 8 Ultra-Long Distance Adventure Runs
5) Gear Test
Testing gear and nutrition ahead of time is critical, and of high consequence, with multi-day stage races. What might otherwise pass in a single-day race as oversight in gear could be catastrophic during a stage event: your pack strap breaks, an annoying hydration flask leaks, shoes rub, an unsavory gel flavor turns your stomach, you hadn't practiced your pole storage system until race day.
Experiment and simulate gear, fueling, and hydration as you train, more than normal. Run with them on your back-to-backs and take notes as you go—to confirm maximum comfort and ease of movement. According to feedback from stage race participants, the three most critical pieces to test and train for before race week are shoes, poles, and packs.
Shoes. Footwear can be tricky, but some stage races offer the convenience of gear shuttling, or hotel accommodations that are in one place, so having multiple pairs is advised. Being able to cycle footwear is highly recommended, in the case of a bad fit, or to give shoes time for their foam to pop again. Of course, shoes will become muddy and sandy, so it's nice to have a dry pair or two. This same principle applies to every other essential piece of gear – socks, to shorts, tops, vests, and caps.
Poles. Of course, the choice to pack poles is highly dependent on the race and its profile. Poles are ubiquitous on the TransAlpine Run for most every team on every stage, and also for the steep stages of the TransSelkirks, but, of course, this is contingent on the day's stage. "I used poles on every stage, from start to finish, even on the descents," said Kolbl about her time at the TransAlpine Run. "They made me faster both climbing and descending and when my glute/lower back started to hurt towards the end of the race. They were a nice crutch." The key with poles is to practice storing them during training. Stage races cover a lot of ground, and there will invariably be stretches of the course where poles will come in handy, and areas where they won't. Making a swift transition to using them, then storing them, will make a lot of difference over the course of several days, so be sure and tighten this up during training.
Pack. Most stage races have a required gear list, and a race like Marathon de Sables or Bhutan's Snowman Race will necessitate far more storage when tasked with carrying everything you need for each stage through remote terrain. Regardless, make sure your pack feels comfortable, not only for one day, but for several days. Wear it with the same shirts or singlets you plan to wear for race days, to make sure there are no rub spots. Here's a reminder of your stage race mantra: simulation, specificity, durability.
A Redundant Note on Redundancy: For many stage races, you may be able to pack spares of gear essentials in bags that are transported for you along the way. In addition to having multiple pairs of shoes, consider packing an additional vest, extra poles, several backup hydration flasks, bottles, or bladders, and an extra headlamp. Redundancy is less of an issue for single-day races, but severing a vest on Stage Three leaves few options, and it could be a game-changer.
6) Know Your Partner. 
This recommendation applies only for team stage events, but this was one of the most common pieces of advice when we reached out to participants. More than any other element, it's the team morale, the interpersonal endurance, that lives at the beating heart of stage race success.
If you and your teammate live nearby, training together on long days out is optimal. If your teammate lives in a different part of the country, this is also absolutely workable, but consider regular meetings on the phone or Zoom to check in about training. Sharing a Google Sheet on training progress, or Strava, can help build a sense of shared progress-to-goal.
More than any other element, it's the team morale, the interpersonal endurance, that is really at the beating heart of stage race success.
Because stage races require you to spend considerable time with another person while traveling through difficult terrain and some discomfort, it's advised to first set intentions and be clear about each other's approach. Questions to be on the same page about before the race might include:
What are your goals with this stage rage?
How do you react to challenging moments?
How can I best support you when things get difficult?
What are things I can hold you accountable for throughout the course of the race?
What do you think are your strengths and weaknesses as you prepare for this race, and how can best show up for those?
Flagstaff, Arizona's Caleb Schiff, 2022 winner of the TransRockies Run and top performer at the 2022 TransSelkirks Run, highlighted the importance of goal-setting in your training for a stage race, whether solo or team. Due to the multiple days, elements of the event can get festive, with folks hamming it up in the evenings and paying for it on the next stage. "If you are looking to party, that can totally be done. Just don't expect to feel great each day on the trail," said Schiff. "Know your goals when you show up."
Consider asking your teammate, or yourself, the following: Are you there to simply finish, or do you have a time goal? Are you hoping to podium-or-bust every day, or are you approaching this as a running vacation?
Every goal is completely valid, but things can go off the rails when teammates are pursuing different things. Ideally, both teammates share similar goals in what they hope to get out of their stage race experience. Also, it's totally natural – perhaps encouraged! – to approach a team stage race with different strengths and weaknesses. The point is to communicate them before they become a challenge, so that when they arise, you're resourced as a team.
"A stage race is less about speed than about being strong together," said Israeli stage race participant Danny Ben Zvi. "My teammate and I trained together, getting to know each other's strengths. We were best friends before the race, but we became even closer during training. If you don't love your partner, you won't be able to help and ask for help, be empathic, or ultimately enjoy the race. It is a very tough test for a relationship, and you build that in training. Run with someone that can accept your highest highs and lowest lows."
For 2022 TransAlpine Run winner Rea Kolbl, a last-minute change of plans forced her to find another teammate. Luckily, Colorado mountain athlete Erin Ton agreed, and the chemistry was perfect. "Matching your physical abilities is important, but perhaps even more is matching your personality," said Kolbl. "To be raw and open with the other person. Erin is most of the reason why this race was such an incredible experience."
Bottom line? Clear, direct communication wins out every time. The more you can include this into your training beforehand, the less likely it will become an issue while racing together.
Section divider
SECTION FIVE: How to Run a Successful Stage Race
So you've found a stage race that works for your schedule and budget. You've registered and spent several months training. You've done the work, been consistent by starting early and building volume gradually, stress-testing gear and fueling systems to find a groove that works. You've made it to the stage race. You're ready.
Here are some of the best pieces of advice on how to guarantee a wonderful experience while at the race.
1) Pacing Is Critical.
One thing that distinguishes a stage race from a single-day event is the challenge of pacing yourself over the course of several days. It's tricky because there are multiple time horizons all happening at once. You have the day's stage to pace, but you also have the remaining stages to think about, whether it's 3, 5, 6, or 8 days.
Regardless, it's advised to start out slow. Very slow. Stage One of any stage race should be the day for you to settle into your systems, assess the competition, relax, and go easy. Everything will feel fresh, so it's critical to temper the impulse to fire on every cylinder at the beginning. Remember: You not only have multiple hours ahead; you have multiple days ahead.
"The biggest thing is to not run your partner into the ground, or vice versa," said coach Rene Unser. "Open communication is key. It really doesn't matter how fast you go if you don't finish. Managing your pace as a team means making sure you don't burn all your matches too soon."
TransRockies 2021 overall solo female winner Grace Staberg is a decorated mountain athlete and member of the US National Skimo Team. She found herself hunting for the podium at this year's TransAlpine Run. Staberg noted how different and fun the team component was at the TransAlpine Run. "The team aspect is more unique than even the component of having multiple stages," said Staberg. "Racing as a team is a really nuanced, complex, and amazing experience!"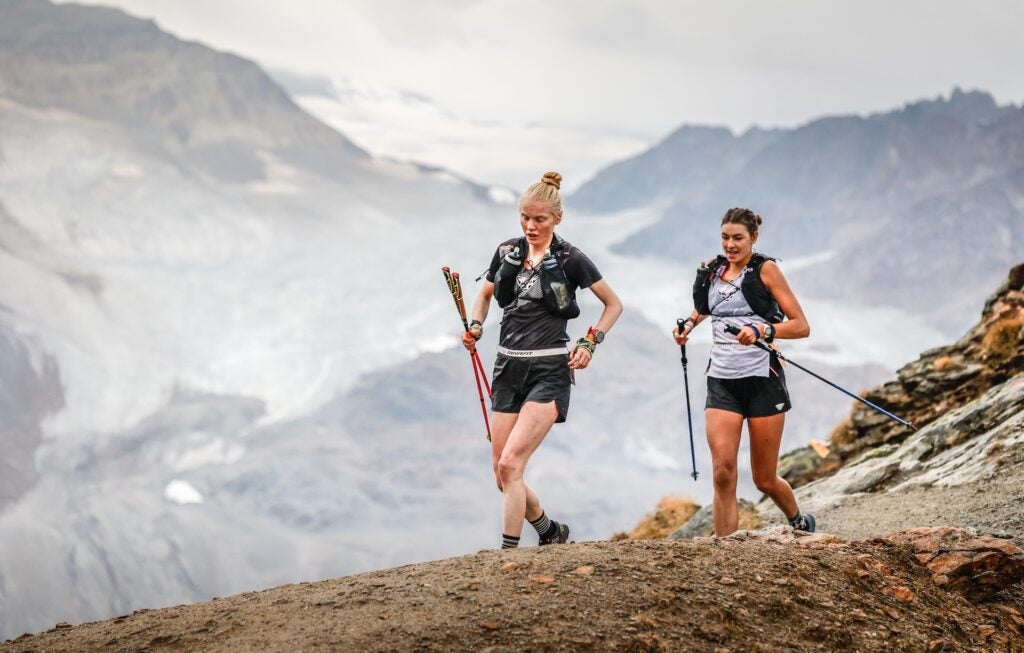 2) Fueling A lot and Often.
One unique component to a stage race is the reality that, at any given time, whatever fuel you're ingesting is simultaneously for performance on that day and recovery for the next day. This is most clearly experienced at stage race finish lines, where runners will come through the chute in celebration and elation, and immediately start the process of recovery and refueling with protein drinks and food.
"I lost 10 pounds both times I ran TransAlpine," said Jason Sarouhan. "So continuing to eat and drink as much as I can throughout the day is absolutely critical." Being part of a team requires a new level of accountability, not to deplete your energy stores to the point where you dig yourself, and by extension your partner, a giant hole, a deficit that is hard to crawl out of.
Consider additional calories per hour to make sure you're not depleting your reserves in the first few days. Near the end of the stage race, there may be conditions where you wish to push your edge on nutrition and fueling, but know that every fueling choice during the race is also an advance payment for future recovery once the stage is over.
This is also important to remember when eating meals, post-race. For example, if you don't normally eat much dairy before a single-day race, make sure you're not making too many dietary exceptions after each individual stage that may result in gastrointestinal distress the next day.
RELATED: I'm A Sports Nutritionist And These Are By Far The Three Most-Common Issues I See With My Athletes.
3) Recovery Is Everything.
Assuming one has the appropriate gear, logistics set in place, and has prepared to be tested physically and mentally for the colossal invitation of running for multiple days through difficult terrain, by far the most common piece of advice veterans and first-time stage race participants could not stress enough came in one simple word, repeated over and over: recovery.
For stage racing, recovery is everything. Having a precise, premeditated recovery protocol that follows every stage will separate the wheat from the chaff.
"The key is really about managing your stress, and that's going to look differently for everyone," said Unser. "Sitting in the creeks. Foam rolling. Naps. That post-race pizza. Massage. All of those things over eight days are significant." According to Unser, you might imagine a stage race as one long experiment in stress management, the stress inflicted on your body and mind over multiple days. Take recovery protocol seriously and your race performance (and enjoyment) will drastically change.
For stage racing, recovery is everything. Having a precise, premeditated recovery protocol that follows every stage will separate the wheat from the chaff.
Another effective way of approaching recovery protocol in stage races is to think of it as radical self-care. Beware: this may feel uneasy for you. Being militant about the recovery process in earnest, the second you cross the finish line each stage, might be a new framework that feels self-indulgent, and it may take a bit of getting used to, but it does make all the difference.
RELATED: Here's How To Refuel After A Race For Optimal Recovery
For many, yoga, stretching, and foam rolling all came up as essential post-stage recovery staples. For others, a 10-15 minute soak in the nearest cold body of water, if available, helped greatly. For everyone, having dry clothes and recovery footwear at the finish is highly recommended.
Ian Kinsella, winner of the 2022 TransSelkirks Run, shared his approach to post-race recovery. "As soon as we finished, I always ate and drank electrolytes, usually some Nuun and Rx bars and potato chips," said Kinsella. "Then we would get to the hotel and have a big lunch, go for a cold swim, a nap in the afternoon, then up for dinner and awards with everyone. It's about as close to a professional runner's day-to-day life as you can get."
Caleb Schiff equates his first-place performance at the 2022 TransRockies Run (Team Category) with taking recovery seriously. "The day-after-day high mileage can really catch up to you if you're not taking time each day to tend to what your body needs, whether that's enough calories or listening and responding to the small cues your body sends you. Single-day racing does not require nearly as much attention to the post-race activities."
For the TransAlpine Run's female winners, recovery was absolutely tantamount to their success, too, which demanded constant maintenance. "We raced [each stage] as if it was just that one day, but we fueled like it was a 150-mile race, and as soon as we crossed the finish line we immediately started working on recovery for the next day," said Rea Kolbl. "Usually, after single-day races I would just relax in the afternoon, but this was working on the race 24/7 for 8 days. We paid just as much attention to recovery as we did to racing, and that really helped a lot."
Here were some components the team share of their winning strategy:
Immediately upon finishing:
A protein recovery drink
Finish line drop bag essentials: Dry clothes, recovery footwear, travel towel
Within two hours of finishing:
Stretching, foam rolling, compression boots for 30-45 minutes, if available
30-minute sports massage (available after every stage)
A substantial meal
Afternoon/Evening:
Do as little as possible
Prepare gear for the next day
Pasta Dinner/Award Ceremony
Socializing can be demanding; don't over-engage! "While I loved the social aspect, that can drain my energy, so we avoided spending all day at the finish line," said Kolbl.
Basically, the more efficiently you can move through each stage – given your abilities and training – the more time you'll have to start your recovery strategy.
It's about as close to a professional runner's day-to-day life as you can get.
But perhaps the most critical aspect, across every stage race location, is sleep, eight hours minimum. Sleep is something easier said than done following races where endorphins, caffeinated gels, and hype comes in hot after accomplishing each stage. All this can result in mixed results for sleeping. But rest is central to any recovery protocol, so be aware of caffeine intake and give yourself enough quiet time in the evening to fully transition.
Again, all stage races provide different settings and accommodations, but most stages start early in the morning, so having bags packed, racing kit prepared, and flasks filled the night before may take more time than you think. The awards ceremony, if offered, can also take longer than expected. All this to say: defend your rest time at all costs.
Section divider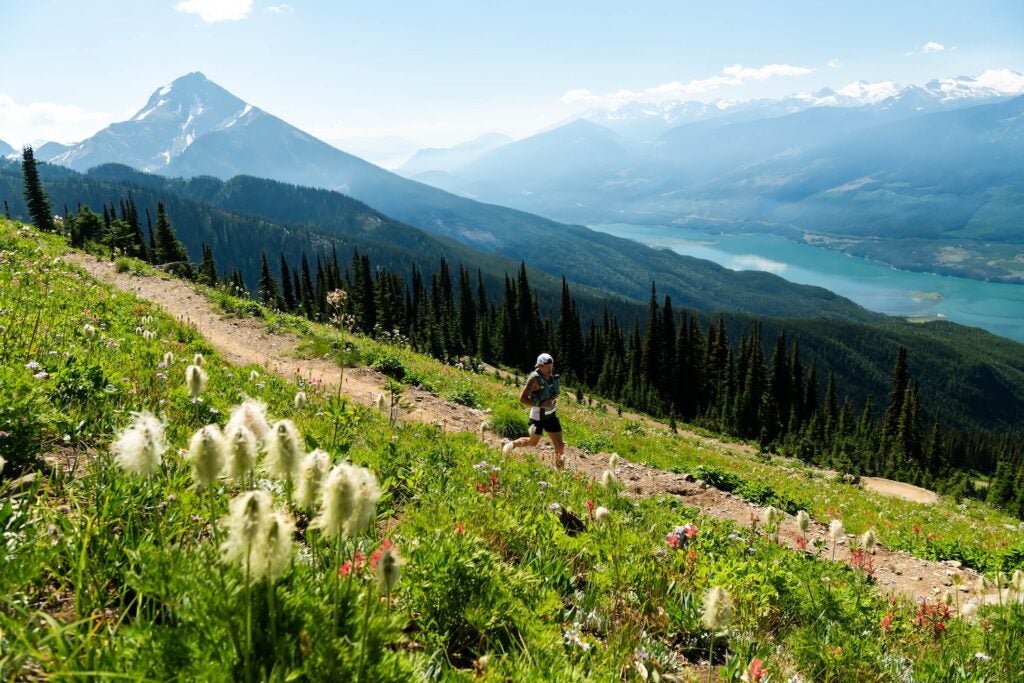 SECTION SIX: Summary
When TransSelkirks Run Director Jacob Puzey reflected on his most meaningful moments as both an organizer and elite stage race participant, it all came down to the collective project of setting and achieving goals.
"On the fifth stage, there were people who'd never done anything remotely close to running this far in the mountains, in their entire lives," he said. "Before they started, they were crying, not sure if they could do it, scared before they even started. So to see how proud they were at the end, and also that our whole crew and medic team made them feel supported – that was really cool."
Despite the challenges of completing several days of running in a row, despite the logistics of dialing in a multi-day running event, in the end, what you're doing out there is of great privilege. That's not to take away from the joy, or the elation in covering terrain on foot over multiple days. Rather, such context place the commitment of a stage race into greater perspective.
"We all slept in the same place, under the same conditions. There was no more social ladder, no more judgment. There was only mutual aid."
Elite mountain athlete Grace Staberg reminds us what's most important, after completing her 2022 TransAlpine Run: "Take time throughout the race to recognize what an opportunity it truly is. Over the course of eight days there are bound to be challenges and hard moments, but at the end of the day, you're running through the Alps. It's hard to have too terrible of a day!"
This August, elite Salomon ultrarunner Mathieu Blanchard, from France (currently living in Canada), finished second at the 2022 UTMB race in Chamonix, France, in under 20 hours, only five minutes after Kilian Jornet broke the course record. When Mathieu's younger brother Luca was 15, he was in a serious car accident, and had to have his leg amputated. Mathieu promised him: "When you're an adult, I'll take you with me on adventure."
Mathieu delivered. This month, he and Luca teamed up to run the Half Marathon De Sables (HMDS), three stages from Wadi Rum, to Petra, to the Dead Sea, in Jordan. "I wanted him to go on an adventure to learn more about himself, to break his denial of disability, and to show everyone that nothing is impossible," he said.
View this post on Instagram
As one of the highest performing runners in the world – including a top 5 finish at the full, 270K (155 mile) Marathon Des Sables stage race, it was refreshing for Mathieu to experience a race from a different perspective. "I stayed with him throughout the race, which also allowed me to see the middle of the race, to discover the different discussions of each other which are different from the discussions of the elites in front of the race. It was very rewarding," he said.
For Mathieu and his brother, what made the stage race format so meaningful, so impacting, was its group dynamics, the base camp community. This is something heard from nearly every stage race participant interviewed. Mathieau, however, may have put it best:
"We all slept in the same place, under the same conditions," he said. "There was no more social ladder, no more judgment. There was only mutual aid."
Section divider
SECTION SEVEN: Additional Resources
For additional information on stage races, here are some selections from the Trail Runner archive: