Canyons Recap: Watson, Nilsson Win Canyons 100K Races
1,700 runners compete in inaugural UTMB World Series Major
Heading out the door? Read this article on the new Outside+ app available now on iOS devices for members! Download the app.
Watch: Our team debriefs the weekend, the heat, and the season to come.
Amid scorching heat, a challenging course and a lot at stake, Cole Watson no doubt had a bit of a home field advantage running in the Canyon Endurance Runs by UTMB 100K.
Knowing where to cool off in local creeks, using his knowledge of the trail system and getting a lot of support from family and friends helped Watson run what might have been the best race of his life on April 29 in and around Auburn, California. The 31-year-old Hoka pro was full of energy as he ran down High Street and broke the finish line banner to secure the win and earn a Hoka Golden Ticket to the Western States 100.
"Just to see familiar faces in these battles of attrition is what you need more than even food and water and ice," said Watson, 31, who lives 20 minutes away in Rancho Cordova. "I just stayed patient early on because I think I knew the unknown a little bit more than some of the other runners because I train here all the time. Having that support and knowing the trails can turn a good performance into a great one if you have the help like that."
That was certainly the case for Watson, who took the lead over early leader and pre-race favorite Matt Daniels at the 43-mile mark on the big climb on the way up to Drivers Flat and never looked back. Watson knew that section of the course—specifically from mile 40 to 48—would be the toughest because of the climbing and the exposure amid temperatures that soared into the upper 80s. But having run that section of trail numerous times over the past several years, he was confident he'd be strong at that point in the race.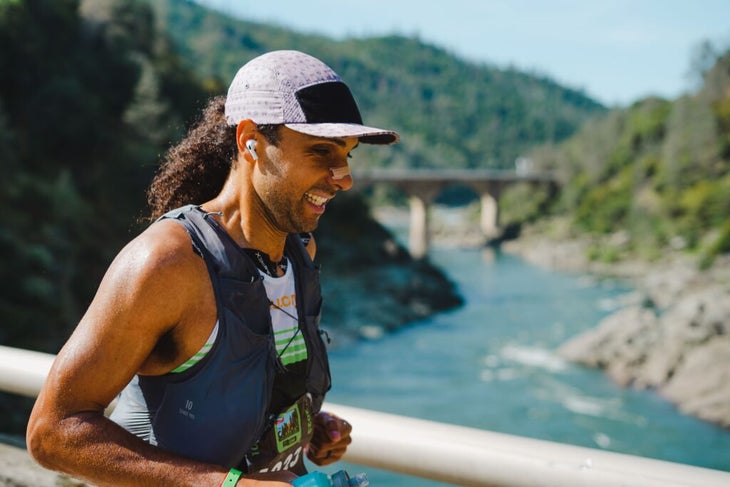 Watson continued to work hard over the final 20 miles to secure the victory in the 104K (64-mile) race in 8:34:38. Colorado's Adam Merry also ran an exceptional race, finishing second overall in 8:50:40 to also earn a long-awaited Golden Ticket entry to the June 24-25 Western States 100. 
Meanwhile Sweden's Ida Nilsson, despite spending most of the winter and early spring training on skis in Europe, also found a way to endure the heat and the course to win the women's race in 9:51:07 and place sixth overall. Although she briefly took a wrong turn and went off course—something that several top runners reported in the 100K and 100-mile races—she recovered and regained the lead and finished with a 9-minute margin over women's runner-up Priscilla Forgie (7th overall, 10:00:20) of Canada. 
"It was never flat, never boring out there," said Nilsson, 42, who added that she suffered some cramping in the final miles because of dehydration. "And yes, it was definitely hot."
Nilsson, a Craft-sponsored runner, had finished fifth and narrowly missed a Golden Ticket at the Black Canyon Ultras 100K on February 18 in Arizona, so she was excited to earn her way into Western States. Forgie, meanwhile, had traveled to Auburn with the intent of earning a UTMB World Series Final qualifier, so she said she'd need to consider which race she'll focus on after finishing second to earn the other women's Golden Ticket.
RELATED: Outside is Partnering with UTMB To Bring You Onto The Trails and Into the Action with Live and On-Demand Race Streaming
Soaring heat in Auburn
The Canyons Endurance Runs by UTMB event was the first UTMB World Series Major, one of three that will be held worldwide. The 100K race was the marquee event of the weekend—and the biggest with 537 starters—because it offered Golden Tickets into Western States, a qualifier for the 2024 Western States lottery and because the top 10 finishers also earned automatic entries into the CCC 100K at the UTMB World Series Final in Chamonix, France. The top 10 runners in the 100-mile and 50K races also earned direct entry to the UTMB World Series Finals, while runners in each of the four races all earned double Running Stones for entry into the UTMB World Series Finals lottery.
While all of the races were stacked with fast runners, it was the heat that was the most formidable obstacle. Temperatures soared close to 90 degrees during the 100-mile race on Friday and the 100K, 50K and 25K races on Saturday. 
While the top 100K finishers acknowledged the searing heat, it was clearly a factor for subsequent finishers after the Golden Ticket winners. Justin Grunewald (3rd, 8:53:30), David Laney (4th, 8:59:06) and David Roche (5th, 9:36:45) all looked worn and weary as they crossed the finish line and Roche admitted he walked for 10 minutes midway through the race after going into a dark place in his head.  Daniels, who had surged to a big lead after the 26-mile mark, might have been impacted the most. He somehow found the energy to finish ninth place among men (10:30:02) before being wheeled to the medical tent to get rehydrated immediately afterward.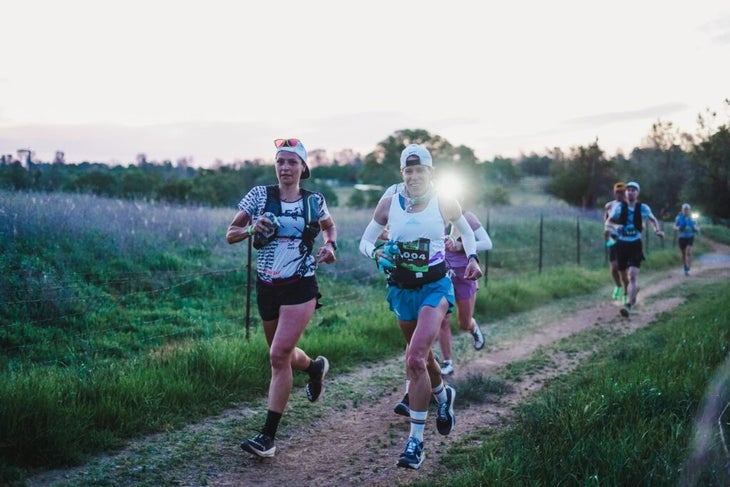 Despite the heat, Nilsson and Forgie headlined an amazing day for women in the 100K. Combined with the strong efforts of third-place finisher Aroa Sio of Spain (10th overall, 10:11:43) and fourth-place finisher Anna McKenna of Australia (11th overall, 10:12:59), four of the top 11 and eight of the top 20 finishers in the race were women as Addie Bracy (15th, 10:43: 34), Mary Baughman (17th, 11:07:31), Sammy Stimac (17th, 11:07:31) and Brianna Grigsby (20th, 11:12:07) all finished within an hour of the final women's podium position. 
RELATED: How Livestreaming Will Shape the Future of Ultrarunning 
100-Mile Results
The 100-mile race was a harsh battle of attrition, especially for those in the middle and back of the pack. Of the 278 runners who started, 151 dropped out (54 percent), including many during the first half on Friday. 
Mathieu Clement of Switzerland and Canhua Luo of China wound up tying for the overall win in 17:05:16, even though Luo appeared to edge Clement in an all-out sprint to the finish line at 2:05 A.M. on Saturday morning But because there was considerable course confusion in the 100-mile race and both Clement and Luo overshot the final turn heading into downtown Auburn, they agreed with race officials that they should share the victory. 
North Carolina's Canyon Woodward was third overall in 17:46:05, although he was one of many runners who found himself having to rejigger his route after event flagging sent him off the multi-looped course early in the race. Woodward said he ran at least 2 miles in the wrong direction and then found he had dropped from third to ninth by the time he had found his way back on the right course, which meant he had to re-pass runners he had already gapped earlier in the race.
California runner Alyssa Clark won the women's 100-mile race and placed 11th overall in 20:13:21 early Saturday morning, ahead of strong efforts from Utah's Alexi Crellin (13th overall, 20:55:06), Colorado's Annie Hughes (14th, 21:26:05) and Oregon's Alex Borsuk (20th, 22:59:02).  
View this post on Instagram
"The heat was hard," Hughes said. "I almost dropped out. Around mile 70, I had some sort of salt imbalance and my hands felt very tingly. I drank some more water and felt really dizzy and couldn't feel my arms. I saw down and then I threw up, and then my hands and arms and mouth seized up. But I took a salt tablet and it cleared up right away. I didn't know what was happening, but I felt good enough after that to keep going."
RELATED: UTMB Announces Pregnancy Deferrals
50K, 25K Results
In the 50K race, Hayden Hawks (3:32:11) won a fantastic duel with Jeshurun Small (3;34:47) as the two Colorado runners exchanged the lead several times until Hawks surged on the final climb and was able to gap Small over the final miles. Eric LiPuma, who dropped from the 100K to the 50K so he could focus on his 80K race representing Team USA at the upcoming World Mountain and Trail Running Championships June 6-10 in Innsbruck, Austria.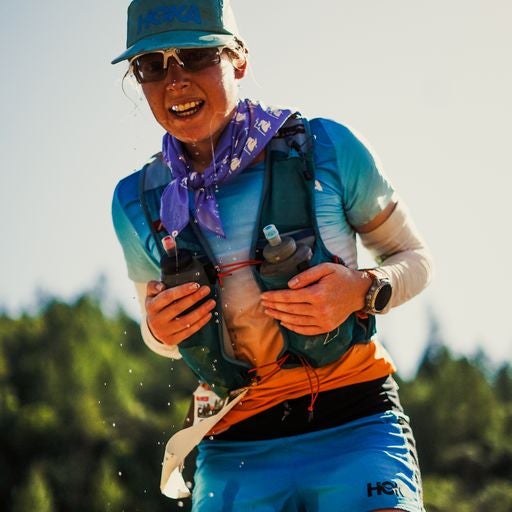 Former pro triathlete Heather Jackson continued her strong performances as an ultra-distance trail runner with a commanding win in the women's 50K. The Bend, Oregon, athlete, who had already earned a Golden Ticket into Western States, won the 50K in 4:09:36, finishing 11th overall with a solid margin over runner-up Caitriona Jennings (16th overall, 4:17:47) and third-place finisher EmKay Sullivan (17th overall, 4:17:50), who is also heading to Innsbruck in June to represent Team USA in the 50K race at the world championships.
In Saturday morning's 25K race, Drew Macomber, from the nearby town of Angwin, outran a strong field to earn the win in 1:32:36 over runner-up Will Fuchs (1:33:27). Canadian runner Alexandra Harriss won the women's 25K in 1:52:45 over local runner Kenzie Macphail (1:55:10) and Ashley Hawks (1:56:45). 
RELATED: Western States Endurance Run Announces This Year's Golden Ticket Races
See you at States
Overall, the first UTMB World Series Major was deemed a success. Despite the devastating heat, some course snafus and what some runners said was less-than-optimal aid station spacing in the longer races, most runners and spectators were stoked about how the event turned out. Race organizers had to scramble to create new 100K and 100-mile courses this spring because the massive amounts of snow is still covering the upper portions of the original courses. But having all four races finish in Auburn certainly added to the spectacle of the event.
While several top-finishers will have to figure out which races they'll be running—especially because the UTMB race organization announced recently that 100K runners could petition their way into the 104-mile race in Chamonix—the post-race focus quickly shifted to excitement for the Western States 100.
And that was especially true for Watson, who after several near-misses in Golden Ticket races, finally snagged an entry on his own merits. (Hoka gave him a sponsor's entry last year, when he finished 14th among men in 17:56.) After a good collegiate cross country and track career at the University of Oregon and a brief stint as a marathoner (in which he ran a 2:18 personal best), Watson has gradually evolved into one of the top ultrarunners in the U.S.  
View this post on Instagram
He started working with a sports nutritionist recently, which he said helped him manage his fueling strategy better in the 100K. Combined with the local knowledge of the trails and the vociferous support along the course, he said it all worked out even better than planned.
"It was a near-perfect day," Watson said. "It was just a different day and I was excited the whole time. I never got too low or too high. There have been races in the past where I have gotten too excited and maybe screwed myself out of one of these in the first quarter of the race. It's been seven years trying to earn one of these. I know desire doesn't earn you one, but I certainly had a lot of it today. I didn't have any quit in me today."