Canyons Endurance Runs Is the Gateway to Western States, UTMB Finals in Chamonix
This weekend's races are part of North America's first UTMB World Series Major
Photo: Scott Rokis for Canyons Endurance Runs
Heading out the door? Read this article on the new Outside+ app available now on iOS devices for members! Download the app.
Last summer didn't pan out the way Alex Borsuk had hoped. After being diagnosed with a stress fracture in the femoral neck of her right leg last May, the 34-year-old Portland, Oregon, trail runner and sports nutritionist spent much of the next several weeks on crutches and doing physical therapy. 
Although she was able to do some road biking by mid-July, the injury nixed her chance to return to Chamonix, France, where she had turned in a strong effort in the TDS 145K race in 2021. Although she did find her way to Chamonix during the last week in August, being relegated to the role of a light-hiking tourist and spectator was bittersweet to say the least.
"I had a rough time. I thought maybe I would feel inspired being there—and I was—but I mostly just felt really sad because I couldn't race or even run," Borsuk said. "That city was alive, and I just wanted to be a part of it in a different way. I kept telling myself I had to get back there next year in a different capacity. I needed to be racing, not spectating."
Borsuk started alternating between walking and easy running in September, but a setback meant she had to go back to crutching around for a few weeks. She returned to walk-run efforts last winter, but another setback—a torn labrum—sent her back to crutches and no running in January.
Fortunately, she was able to go uphill skiing because that became a  primary tool for building her aerobic engine during the winter until she was able to start running again in mid-February.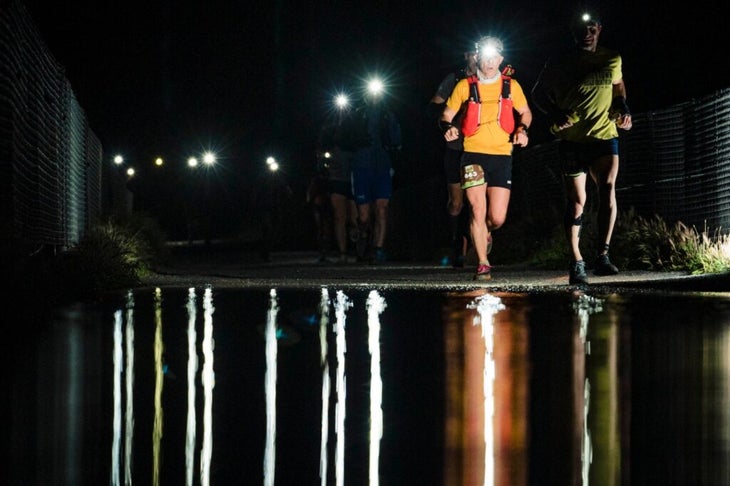 On April 28-29 in Auburn, California, Borsuk will be able to test out her fitness in the Canyons Endurance Runs by UTMB and, hopefully, put the frustration of last year behind her. The goal, of course, is to earn the chance to race in Chamonix once again.
"Oh my God, I cannot wait. I'm so excited," said Borsuk, a Dynafit-sponsored pro who won the Badger Mountain Challenge 55K on March 25 in south-central Washington.  "I don't think I've ever been this excited for a race."
She's not the only one. As of the close of online registration on April 23, there are roughly 1,900 runners from 36 countries signed up for the 25K, 50K, 100K or 100-mile races of what will be the first UTMB World Series Major event held in North America. As one of three "Major" UTMB events worldwide, the top 10 male and female runners in the 100-miler, 100K and 50K, as well as age-group category winners in those races, will be granted automatic qualification for the UTMB, CCC and OCC, respectively,  at the 2023 UTMB World Series Finals August 30-September 2 in Chamonix. 
(The event will also award double the amount of UTMB Running Stones—100M = 8 Running Stones, 100K = 6 Running Stones, 50K = 4 Running Stones, 25K = 2 Running Stones—which can be used by finishers in the UTMB World Series Finals lottery.) 
RELATED: UTMB Announces Pregnancy Deferrals
Plus, the Canyons Endurance Runs 100K race is a Hoka Golden Ticket Race for the June 24-25 Western States Endurance Run (WSER), which means the top two male and female finishers in each distance will earn a place on the start line of historic race between Palisades at Tahoe ski resort at Auburn—assuming the course is navigable in two months amid the considerable snowpack. (The event is also a qualifier for WSER 2024, with runners who complete the 100-mile distance in under 36 hours and the 100K in 20 hours qualifying to enter the WSER lottery.)
The 50K and 100K races are sold out, but registration will be open for the 25K and 100-mile races at the pre-race expo on April 27-28 in Auburn.
"We'll have a fun finish downtown and we'll whoop it up UTMB-style as best we can in Auburn," says race director and event founder Chaz Sheya. "It's something new for downtown Auburn and for our Canyons runners. Auburn is fired up. Everyone is fired up. It's going to be great."
Course Details
The Canyons Endurance Runs started as a 50K race in 2014, then a 100K was added the following year. In some years, the event included only a 100K and 25K, but last year the 50K returned after a four-year hiatus. To align with the UTMB World Series, a 100-mile race was added this year.
For better or for worse, the massive winter snowfall in the Sierra Nevada mountains—nearly 700 inches or just short of 58 feet—has left the upper portions of the original 100-mile and 100K courses buried in snow, so race organizers created new routes that start and finish in Auburn and loop the lower portions of the Western States Trail in the middle. Each one is quite a bit flatter than the originals, but the 100-mile route still includes 17,000 feet of vert, while the new 100K has 10,500 feet of elevation gain.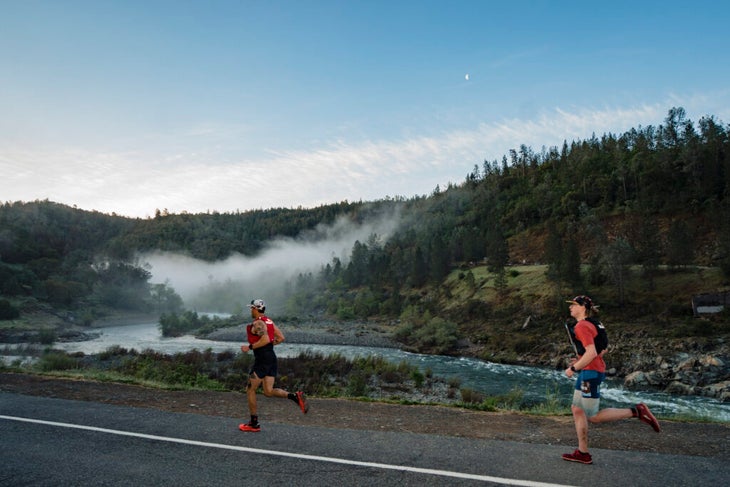 "I actually like the course they changed it to," said 100-mile competitor David Laney. "You know, finishing at China Wall was gonna be great and getting a little bit more vert, but having it out and back essentially on the Western States course, getting to run down Cal Street from Forest Hill is always fun. So I like the update actually quite a bit." 
Race organizers said that more than 50 percent of the new 100-mile and 100K routes will run on the Western States Trail and provide beautiful views of the American River Canyons, lush foothills bursting with wildflowers, and rushing waters of the Middle and North Forks of the American River. The race cutoffs are 32 hours for the 100-mile run and 19 hours for the 100K run.
The 25K (2,800 feet of vert) and 50K (5,600 feet of vert) courses remain unchanged. Race organizers. 
"We had a hundred or so runners defer to next year because they said they really wanted to run the canyons, and yeah, I get it and no worries," Sheya said. "And then the other runners who signed up are like, 'What the heck, it's a lot easier and I get to finish in downtown Auburn. We're looking to put on a good time for everyone, not just for the runners but for the spectators, too. 
Course Description
The Canyons 100K will look a lot different this year. Record snowfall (specifically 651 inches on Donner Pass) has forced race organizers to pivot. What that means is the usual point-to-point course will now be a mountainous labyrinth around Auburn, which will host the start and finish of all the races. This will be similar for the new 100-mile course that was added for 2023. It will follow the same route as the 100k but add an out-and-back from Drivers Flat to Foresthill (about 17 miles one way). For WSER fans, that's the Cal Street section. 
Organizers appear to have referenced other races to create the improvised 100K. The first half consists of most of the Way Too Cool 50K, which boasts mostly singletrack and includes a few thousand feet of elevation gain. The second half then runs on the Canyons 50K course which is also singletrack most of the way up and down.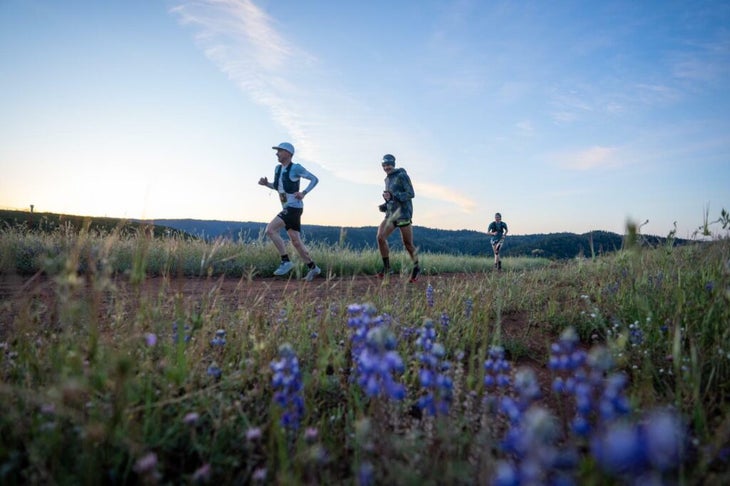 The 100K and 100-mile courses are quite a bit flatter than the originals, but the 100-mile route still includes 17,000 feet of vert, while the new 100K has 10,500 feet of elevation gain. The race cutoffs are 36 hours for the 100-mile run and 20 hours for the 100K run.
Meanwhile, the 25K (2,800 feet of vert) and 50K (5,600 feet of vert) courses, which start and finish in Auburn, remain unchanged. 
With all races starting and ending there, organizers have said that they plan to produce a race-festival atmosphere for runners and spectators. 
Who to Watch
100-Mile Race, April 28, 9 A.M.
Among the top contenders in the women's 100-mile race are Colorado's Annie Hughes, who won four 100-milers last year,  Oregon's Alex Borsuk, who is back to fast racing after being injured most of last year,  North Carolina's Maria Romeo, who has numerous top finishers throughout the Southeastern U.S. since 2019, and two-time UTMB top-10 finisher Manuela Vilaseca of Brazil, among others. Notable runners in the men's 100-mile field include David Laney, a three-time top-15 finisher at UTMB from Portland, as well as , Mario Mendoza (Bend, Oregon), Adam Kimble (Tahoe, City, California), Erik Soreonson (Ridgway, Colorado) and international runners Canhua Luo (China), Mathieu Clément (Switzerland) and Gerard Morales (Spain).
"Getting back to Chamonix is the goal," said Laney, a three-time top-15 finisher at UTMB.  "It's pretty hard not to want to go to that unbelievable place, and the race speaks for itself."
RELATED: History Snowfall Forces Changes at Canyons Endurance Runs by UTMB
100K Race, April 29, 5 A.M.
The 100K race remains the marquee event, given its history and the potential access to both the CCC and Western States. The women's 100K will perhaps be the most competitive race of the weekend, as top Americans Amanada Basham (Boulder, Colorado), Addie Bracy (Denver), Darcy Wade (Louisville, Colorado) will square off with Ida Nilsson (Sweden), Yuri Yoshizumi (Japan), Naomi Brand (New Zealand), Priscilla Forgie (Canada), Aroa Sio (Spain) and Anna McKenna (Australia), among others. Also of note, Amy Palmiero-Winters, a 50-year-old below the knee amputee and accomplished endurance athlete from Hicksville, New York, will also be running the 100K.
In the men's 100K, Matt Daniels (Boulder, Colorado), Adam Merry (Golden, Colorado), Eric LiPuma (Richmond, Vermont), Bryan Kerl (Salida, Colorado), Drew Miller (Brooklyn, New York), David Roche (Boulder, Colorado), Cole Watson (Rancho Cordova, California), Justin Grunewald (Boulder, Colorado), Simon Donato (Canada), Sebastien Spehler (France) and Italian stalwarts Roberto Mastrotto and Alessio Zambon are the frontrunners.
50K Race, April 29, 6 A.M.
Hayden Hawks (Boulder, Colorado), Tom Evans (United Kingdom), Ryan Becker (Telluride, Colorado), Jeshrun Small (Golden, Colorado) and Rod Farvard (Mammoth Lakes, California) headline the men's 50K filed, while Kimber Mattox (Fort Collins, Colorado), Leah Yingling (Salt Lake City), Heather Jackson (Bend, Oregon) and EmKay Sullivan (Reno, Nevada) are among the top runners in the women's field.
25K Race, April 29, 7 A.M.
Rachel Drake (Portland, Oregon), Dani Moreno (Mammoth Lakes, California) Kaytlyn Gerbin (Issaquah, Washington) and Ashley Hawks (Boulder, Colorado) are among the top women in the 25K race, while Pedro Gomes (Portugal) and Ezequiel Alexis Pauluzak (Argentina) lead the men's field.
Boulder-based Brian Metzler has run more than 75,000 miles in his life, competing in every distance from 50 meters to 100 miles, running the Rim-to-Rim-to-Rim run across the Grand Canyon and back several times, racing pack burros on many occasions and going up Colorado's Longs Peak 20 times. In 2018, he ran the Great Wall of China, completed the Leadman series and ran a 100K in South Korea. He is the founding editor of Trail Runner and the author of "Kicksology: The Hype, Science, Culture and Cool of Running Shoes."