Heading out the door? Read this article on the new Outside+ app available now on iOS devices for members! Download the app.
There is no set distance, no set time, just an inflatable arch that says "THERE IS NO FINISH". 
After 250 miles and 60 hours of running, Maggie Guterl became the first woman to win Big's Backyard Ultra. The only way to win the race is to not DNF, which, in this race, has a whole new meaning. So, Guterl's strategy was simply that: don't quit. 
True to her word, Guterl did not quit. She continued to run Sisyphean-circles in the woods for days. She toed the line for what she thought would be her final lap only to discover that she had already won. To win, the victor must complete one more lap than the previous runner.  The penultimate competitor had dropped the lap before, surrendering victory to Guterl.
Last year, Guterl dropped out due to IT pain after 183 miles. Afterward, she wrote in a blog post, "I want to prove a woman can win this. If my body can hang with my mind, then we will be OK."
This year, 10 out of the 72 entrants were female. When the race was whittled down to its final four contestants, two of them were women. 
It's called Big's Backyard Ultra, because it literally takes place in Gary Cantrell's (aka Lazarus "Laz" Lake, who, by the way, is also the race director of the infamous Barkley Marathons) backyard in Bell Buckle, Tennessee, on a labyrinth of trails that he built. "Big" is the name of his very small dog. 
The race is known for its peculiar format, where competitors must complete a four-mile loop through Laz's Appalachian torture forest in under an hour, then, on the hour, do it again, for as many hours as they can. The winner is, literally, the last racer standing after all others have dropped out.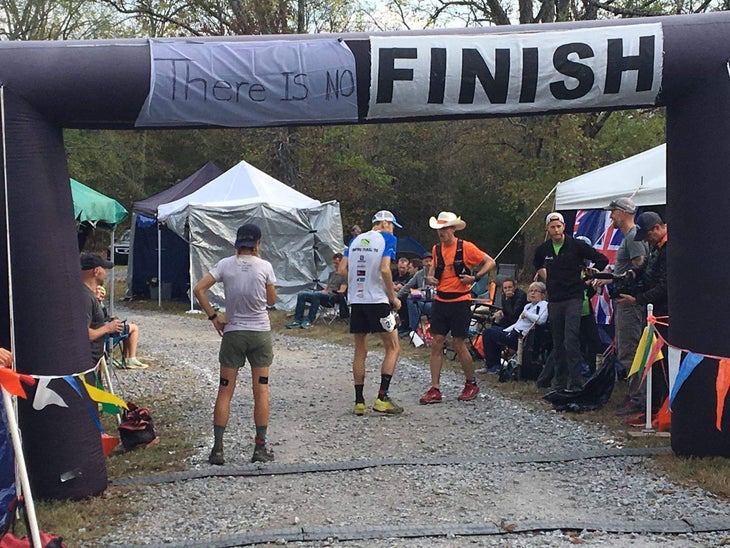 Guterl is drawn to the race's unusual structure. 
"It's really fun. It's the only race where I could run with Courtney Dauwalter," says Guterl. "There are so many unknowns about a race that doesn't end."
Her plan was to run the loop in 53 minutes, leaving her with seven minutes in the aid station to eat, stretch and regroup. She was crewed by the Jeer-leaders, a group of perky women named Gina and Jenn who, waving pom-poms, encourage competitors to quit with jeers like:
There is no finish

There is no end

Just keep running

You prob won't win!
As other racers dropped out, Guterl's crew absorbed willing members who worked on Guterl like a NASCAR pit crew, feeding her and massaging stiff muscles. 
If you're hurting and you know it just drop out

If you're hurting and you know it just drop out

If you're hurting and you know it, then you're probably gonna blow it,

If you're hurting and you know it just drop out
Laz is known for many things. No race director is as inventive when it comes to novel ways to inflict pain on athletes. He's the Picasso of pain, the Mozart of misery. He also has a knack for folksy, psalm-like Facebook posts, like this one posted on his page leading up to this year's backyard ultra:
"they are coming/like turtles crossing oceans to lay their eggs/like monarch crossing continents to return to their home forests/ they are coming/driven by some invisible thing inside them/they are coming."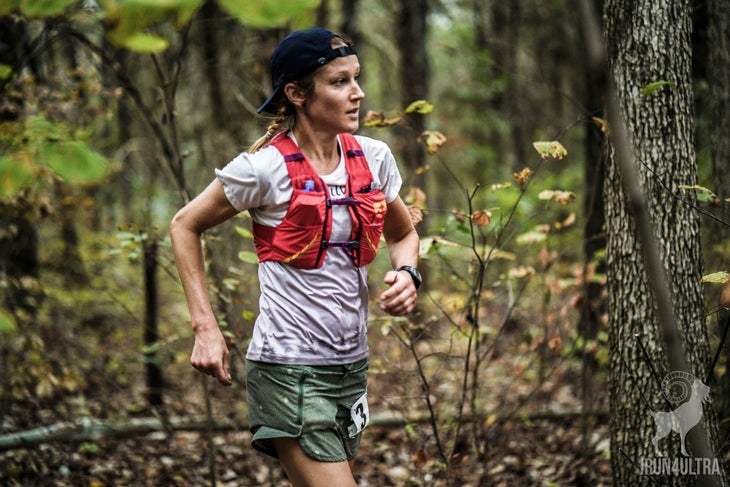 Q U I T

Just quit now

And you'll be free

Q U I T

Just quit now

Come drink with me!
As soon as Guterl dropped out of 2018's race, she knew she wanted to come back. She works full-time for Tailwind and squeezes in two-a-day runs around her professional obligations. After last year's IT band mishap, she switched her focus to include more strength training and road running. 
The four-mile course is easy, or, it would be if you aren't running it 60 times, at which point, it becomes very, very difficult. 
Hey! Hey!

What'd Laz say?

Y'all gotta keep running

For two more days!
"After day three, my body was like, 'Oh, OK. We're really doing this," says Guterl. "I told myself I would not quit. And I had to really believe it."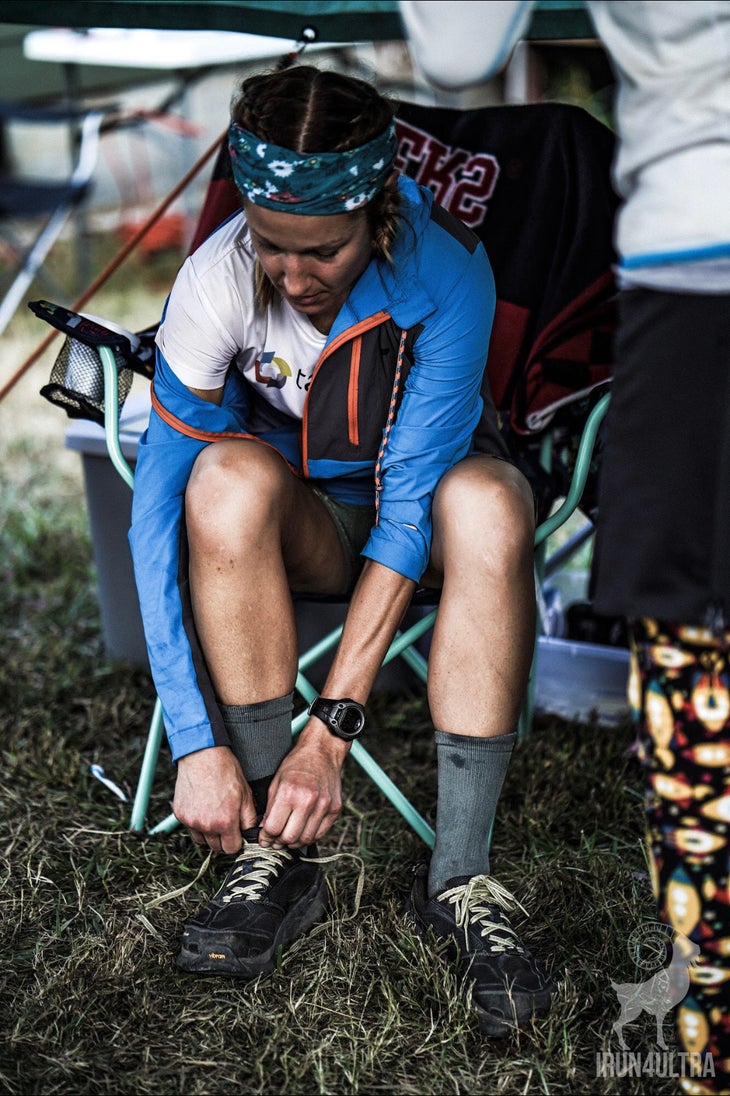 When a niggle would pop up, or a joint would stiffen, Guterl ignored it, and kept on chugging. She's drawn to this event for its low-key, community atmosphere. It's a tight-knit group of ultrarunners who migrate like moths towards the flame of Laz's races., like Big's or Barkley. It's a unique group even among ultrarunners with a penchant for prolonged, rustic anguish. 
After all the aid-station's tents had been packed up, and the ominous "NO FINISH" arch had been deflated, a group of Backyard diehards gathered around Laz as he pet Big, and told stories.
"We were all listening in a circle around him while he told stories. To other people, we probably look like a cult," says Guterl.
Ain't no party

Like a Backyard party

Cuz a Backyard party don't stop

EVER.