Big's Backyard Ultra Gets Bigger and Bigger
Heading out the door? Read this article on the new Outside+ app available now on iOS devices for members! Download the app.
Everyone knew this year at Big's Backyard Ultra was going to be, well, big.
Since 2012, Lazarus Lake, the infamous race director who relishes in the pain of others, has been quietly hosting runners for his last-man-standing race on his property in Bell Buckle, Tennessee. The format is simple: Runners must complete a 4.16667-mile loop every hour until only one hardy soul is left. Whatever time they bank before the next hour begins is theirs. So it's not a race of speed but rather a war of attrition where all but the winner DNF. Last year, a duel between Guillaume Calmettes and Harvey Lewis ended with Calmettes running 245.835 miles in 59 hours. The feat drew considerable attention for the race and attracted a highly competitive field for 2018.
Among this year's main attractions were a returning Calmettes, Courtney Dauwalter, (2018 Western States women's champ and 2017 #2 Ultrarunner of the Year by Ultrarunning Magazine), Cassie Scallon (winner of the 2011 JFK 50 and 2013 Lake Sonoma 50, among many others), Maggie Guterl (third fastest female trail 100-miler holder), Greg Salvesen (Infinitus 888K record holder and winner of the 2018 Jackpot Ultra Running Festival 48-hour run) Joe Fejes (American six-day mileage record holder), Johan Steene (former course record holder) and David Johnston (four-time winner of the Iditarod Trail Invitational 350).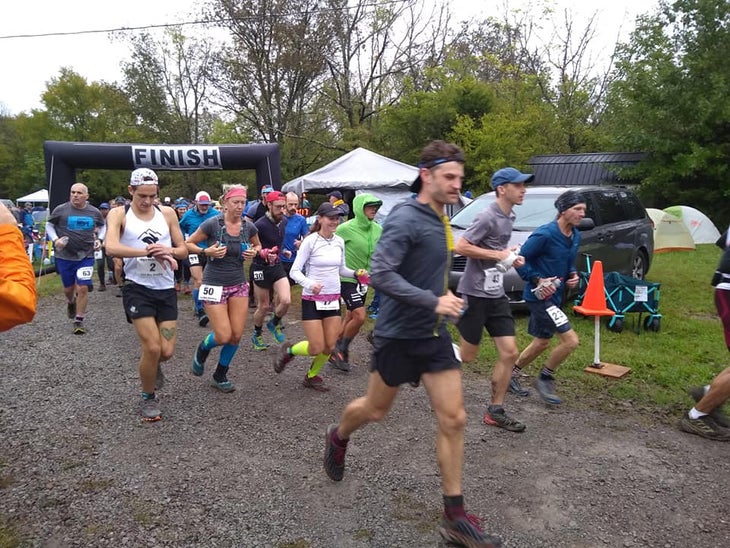 "Watching the race updates from last year inspired me to want to race it myself," said Dauwalter. "What a cool race! I was intrigued by the format and pumped that it seemed to be a unique way to test your own limits."
With such a strong field of ultra-distance and multi-day runners, the event was sure to go longer than the previous year. The question on everyone's mind was, how long?
Most agreed it would break 300 miles and 72 hours. "I have a dream of running 100… hours," said Calmettes beforehand. "How cool would that be?"
Mild temperatures on the first day, October 20, made for a record number of runners lasting the first 12 hours of trail. At that point, the race switches to an out-and-back on road for 12 hours overnight. Of the 70 starters, an impressive 53 made it to the road the first day, double last year's number of 26.
Between laps, runners were comforted by the race's newest addition: The Jeerleaders, a group of three girls who would chant uplifting cheers like "Q-U-I-T, if you just quit then you'll be free" just 30 seconds before many of the loops began.
Freezing temperatures overnight became the main test for runners who huddled under blankets or near camping heaters. With daybreak came a return to the trail for the 30 remaining competitors, now 100 miles in.
Injuries, sleep deprivation and pure despair picked off runners throughout the next day and night, leaving a "fab five" of survivors who saw the dawn of day three and 200 miles: Calmettes, Dauwalter, Steene, Gavin Woody  and Salvesen (Woody won the 2017 Arrowhead 135-miler).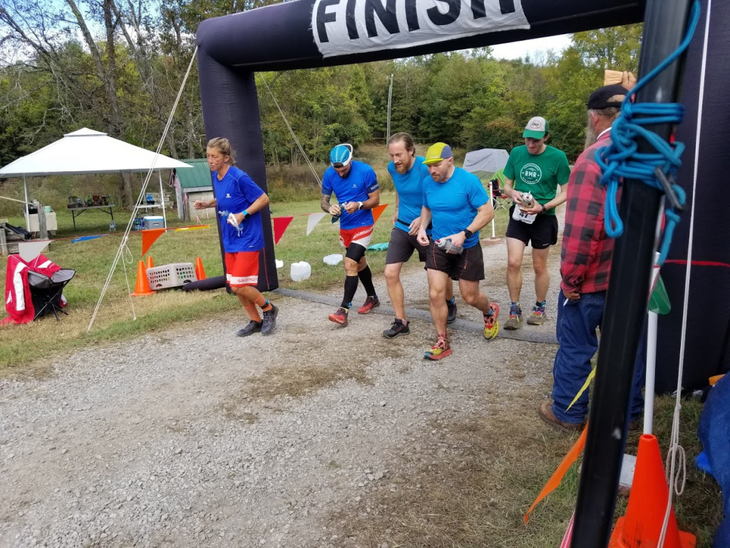 By this point, it seemed certain the race would go beyond 300 miles. Dauwalter looked as fresh and happy as she had from the first lap. The reigning champ, Calmettes, still sported his signature French-laced optimism. Woody looked unstoppable. Only Salvesen appeared to be hanging on for dear life.
And then there was Steene. In the 2014 edition of the race, he battled Jeremy Ebel one-on-one. Eventually, the race went so long that Steene was going to miss his flight back home to his native Stockholm. He ended up dropping at 204.183 miles to catch his flight. Ebel did as well, out of sportsmanship. But despite setting a new course record, both subsequently lost the race since neither man outlasted the other.
This year, his aviation woes continued when his flight to the US was turned back to Sweden after six hours due to mechanical issues. He was able to get on another flight but then missed his connection in Washington, DC, thanks to long lines at immigration. Arriving in Nashville the night before the race at 11pm, he rushed to Walmart to buy his supplies. (The race offers no aid so runners must provide their own for however long the race persists.) In his hurry, he forgot to turn on his headlights and was pulled over by state troopers. Only after mentioning that he was headed to a "race put on by the same guy that does The Barkley" did he get off with a handshake and a warning.
That is to say, Steene came into the race already sleep deprived. Throughout the race, he never looked particularly good and most had written off the former would-be winner. Even Steene himself was no longer sure of his chance, "My mind was not on winning, but I definitely didn't think of dropping."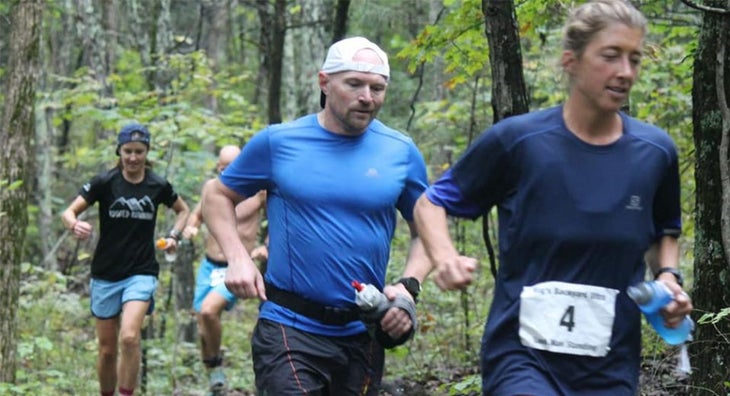 But after 56 laps (233.335 miles), Steene was miraculously in the trio of runners left. The other two were Dauwalter and Woody. (Salvesen timed out on his 57th lap attempt, and Calmettes did the same on his 55th lap attempt after injuring his foot badly simply from the repeated trauma of running 200+ miles.)
The three returned to the road and the cold at the 60-hour mark. Despite being 250 miles in, all looked remarkably strong.
Between laps, each runner would curl up under blankets, eat and then immediately fall asleep in an attempt to squeeze in a few minutes before the next lap began.
Most people in camp went to sleep that night feeling sure the race would reach 300 miles by morning. But hours later, Woody succumbed to destroyed quads. He hobbled back several minutes after going out on his 66th lap and had to be carried back to his chair by his crew. That left Dauwalter and Steene in the final shootout. At this point, they had run from Saturday morning into Tuesday.
Standing at the starting line on Lap 66, Dauwalter quipped, "Johan, you know you can end this whenever you want." Steene coolly shot back, "I don't know how."
Smelling blood in the water, Johan threw down two fast loops, returning to camp before dominant Dauwalter. Until then, she had consistently beaten him back. "When I noticed that I could keep up with Courtney on the road, a much stronger runner than me, and even push her a bit," remembered Steene, "I guessed she was really hurting." It was enough. Dauwalter came in from her 67th lap looking shell-shocked while clocking her slowest lap in three days, a 53:26.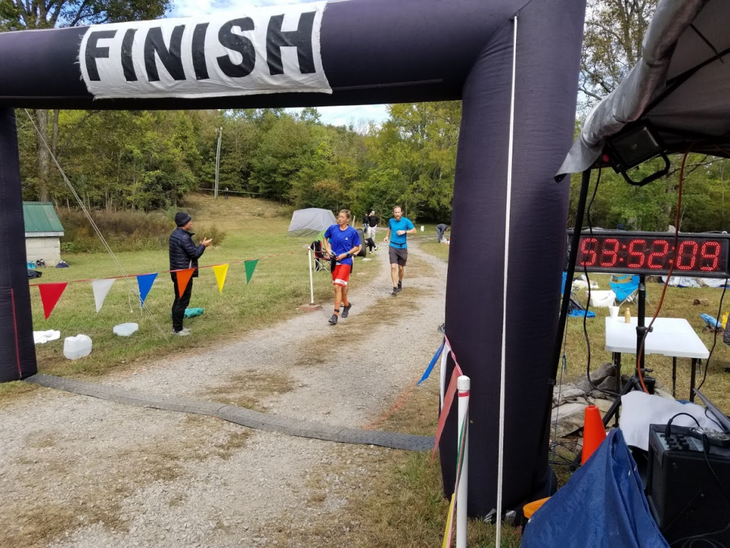 At the beginning of the next hour, when both were to return to the starting line to begin lap 68, only Steene ambled out of his makeshift tent. With mere seconds remaining, Dauwalter slowly stumbled towards the starting line. But rather than step into the starting corral, she extended her hand and congratulated Steene. The two embraced. And then, Steene slipped into the darkness alone. He completed his 68th lap to log 283.335 miles in 68:48:36 to finally become the last man standing in Big's Backyard.
Reflecting back, a day later, Steene wrote, "If there had been a predestined finish line at Big's Backyard, my money would have been on Courtney to win, she would beat me at any such race and distance. But at the Backyard you draw your own lines. As long as we are at least two remaining, there is a feeling of purpose, that this painful game has a meaning… You cannot carry the illusion by yourself. It takes at least two to play. Thanks Courtney Dauwalter for taking us this far. We are good at playing this game."
Then he added, "I think someone will do 85 loops."