American Women Level-Up at CCC With Historic Performances
With four American Women in Top 10, and Helen Mino Faukner on the podium , U.S. women threw down at CCC in 2023 in a historically deep field.
Heading out the door? Read this article on the new Outside+ app available now on iOS devices for members! Download the app.
The competition in the women's race was unprecedented, and the American women rose to the occasion with more than a few surprises and sprint finishes. The U.S. snagged four of the top 10 spots, including the podium's final rung, thanks to a tenacious race from 27-year-old Helen Miro Faukner.
SEE OUR FULL GUIDE TO UTMB HERE. 
The top spot belonged to Yngvild Kaspersen of Norway, who essentially led the race wire-to-wire. It was redemption from last year, when Kaspersen (Adidas Terrex) took the lead early before bonking and slipping to 30th. This time Kaspersen not only held on but chiseled her lead throughout the day to cross the line first in 11:51:22—a healthy 37 minutes before second place.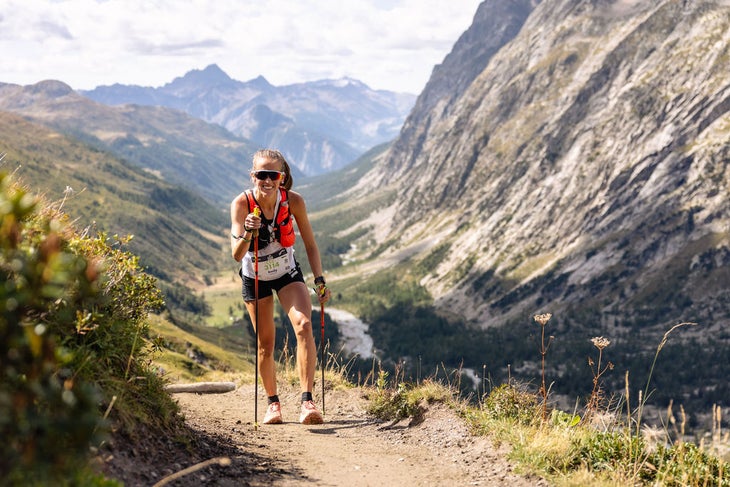 It was a bluebird day with temps in the 70's, conducive to a throwdown in the mountains. Miro Faukner ran fearlessly in second for much of the day, before eventually getting surpassed by Zimbabwe's Emily Hawgood but hanging on for third. Her podium performance comes just days after signing with Hoka. 
"Every step felt hard," Miro Faukner says, demonstrating just how much it takes to succeed at this race and also her perseverance over the 61 miles and 20,000 vertical feet of racing. Miro Faukner had to fight all the way to the bitter end thanks to a late chase from Vietnam's Hau Ha Thi, who surged over the second half to finish just 23 seconds later.
Emily Schmitz, an American who lives a few miles down the road in Les Houches, finished in fifth to bookend a breakout summer of racing after taking seventh at the World Mountain and Trail Running Championships 80K in June. While times aren't comparable to last year's thanks to a course reroute, Schitmz improves upon her 19th place in 2022 by nearly an hour and a half. Audrey Taungay of France crossed the line just 13 seconds back in the second sprint finish of the women's race.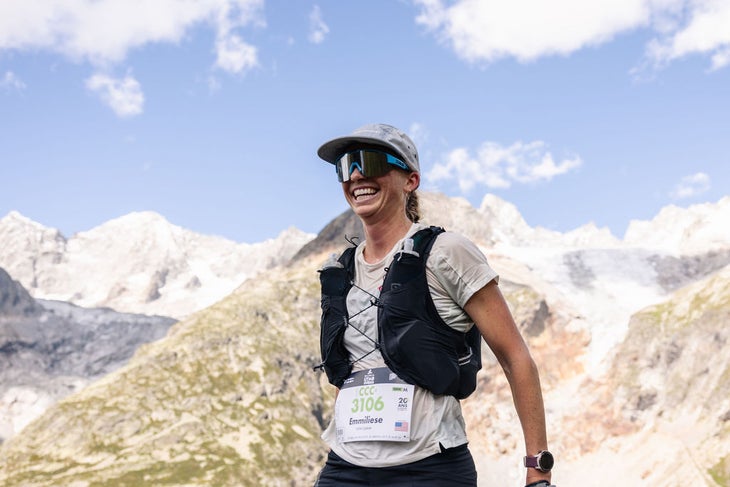 The train of American dominance continued with Emmiliese Von Avis of Bozeman, Montana, who has quietly stormed onto the scene over the past few years, winning the Puerto Vallarta Mexico by UTMB 100K last year and qualifying for the US National Ski Mountaineering Team. She'll no longer be able to fly under the radar after taking eighth in this field.
"Top 10, I can't believe it," Von Avis says. "I was running in fifth and was like what am I doing up here."
Von Avis took a tumble on the final descent but charged to the line to hold off Tara Fraga of the U.S. and Canada's Arden Young, who were in the midst of their own battle for the final two top 10 spots.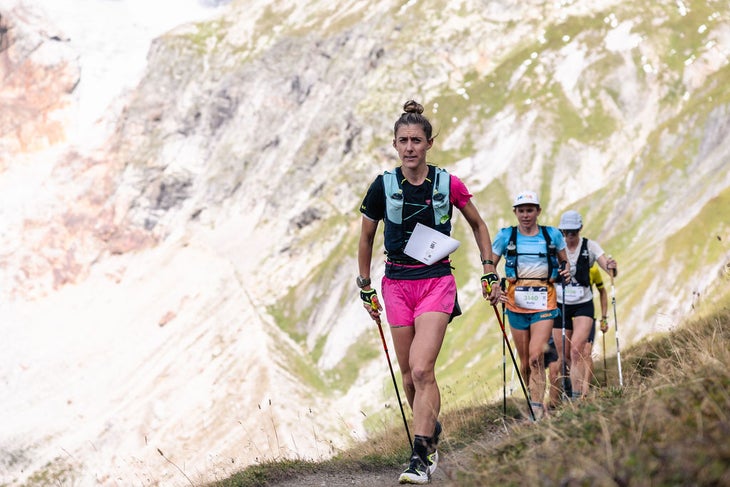 Young passed Fraga on the final road descent, but Fraga latched onto her for a couple of miles before turning on the jets coming into town.
"I wanted to be like, 'I love you, come with me!' But then I actually didn't want you to come with me," Fraga says of passing Young. "I think I PRed in the 5K."
As much friends as they are competitors, Fraga and Young both finished in the top 20 at CCC last year and cited that experience as instrumental to their success in 2023.
"It's a long race, and those climbs will get you if you go out too hard," Young says. "So it's like this fine balance of going out hard enough but not blowing up early."
Fraga and Young also cited the depth of the field as a strong motivator going into the race and throughout the day. Sweeping vistas meant athletes could see racers both ahead and behind them. And with fifth through 10th ultimately separated by less than 30 minutes, Fraga knew there was little room for error.
"It's a long race and nothing is won in sudden moves," Fraga says. "So if someone makes a move and you panic and get your heart rate up trying to go with them it's going to screw you both. This year I had a lot more confidence that if someone came up on me I could read the situation and can catch them again."
The stiffness of the competition kept Fraga and Young in a competitive mindset until the very end, when they finally embraced and immediately traded stories from the day as friends.