Course Records Drop at the 11th Annual Quebec Mega Trail
Kelsey Hogan sets new 100-mile course record, while Americans podium at the Golden Trail Series 25K
Photo: Credit: Quebec Mega Trail / Jean-Sebastien Chartier Plante
Heading out the door? Read this article on the new Outside+ app available now on iOS devices for members! Download the app.
Despite fires burning across northern Quebec and a forecast that called for heavy rain in the southern parts of Canada's largest province, the 11th annual Quebec Mega Trail (QMT), one of North America's largest trail events, saw little smoke or sustained downpours for much of the weekend.
An estimated 15,000 spectators and 3,000 runners from 12 countries descended upon the beautiful ski resort and mountain recreation hub of Mont-Sainte-Anne (about an hour drive northeast following the St. Lawrence river from Quebec City).
RELATED: 10 International Trail Races Worth Traveling to in 2023
Outside of trail running, Mont-Sainte-Anne is known as both a winter sport destination and, in October, site to downhill mountain biking's World Cup championship race. But this weekend was all-in for trail running at the QMT, with 10 distances offered for all abilities, including the marquee 100-mile event, 110K, 80K, 50K, and the Golden Trail Series 25K, perhaps the weekend's most competitive race.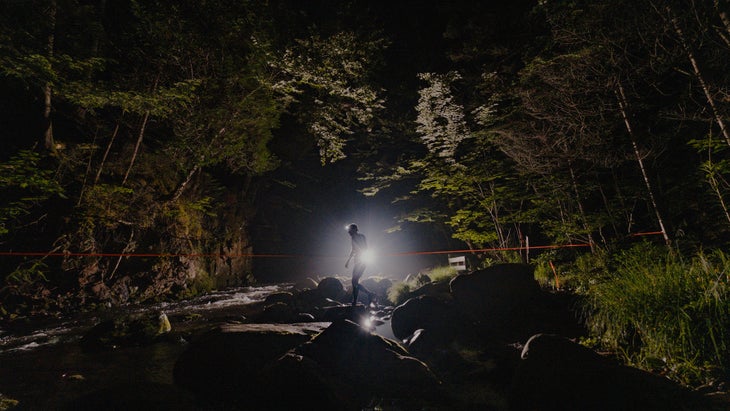 Even with the humidity, the mud, and increased rain on Sunday, course records fell in the 100-miler, 80K, 50K, 10K, and 6K races. Here's what went down at perhaps the biggest celebration of trail running east of the Rockies.
100 Mile: Women's Race Shines With New Course Record
The QMT 100-miler is the only race in the world with an official partnership with the Grand Raid Reunion race, an infamously rigorous 101-mile race (also known as La Diagonale des Fous) on Reunion Island. Both men and women winners receive an all-inclusive invitation to compete in that race on Reunion Island in the Indian Ocean. The 100-miler, alongside the 110K, is also an official 2024 Western States 100 lottery qualifier.
Kevin Biggs, 34, from Calgary, won the highly technical 100-mile race (21,325 feet of vertical gain) in 20:17:29. Biggs most notably finished second at the 2022 Squamish 50 and seventh at Colorado's Run Rabbit Run 100 in 2022.
"I wanted to do a 100-mile in eastern Canada, and this one is the most well-renowned," said Biggs. "It was really muddy this time and very technical. That was the most technical thing I have done in my life. It was insane!"
On the women's side, Newfoundlands's Kelsey Hogan, 28, won the women's race and finished eighth overall, breaking her own record by over three hours, in 24:34:57.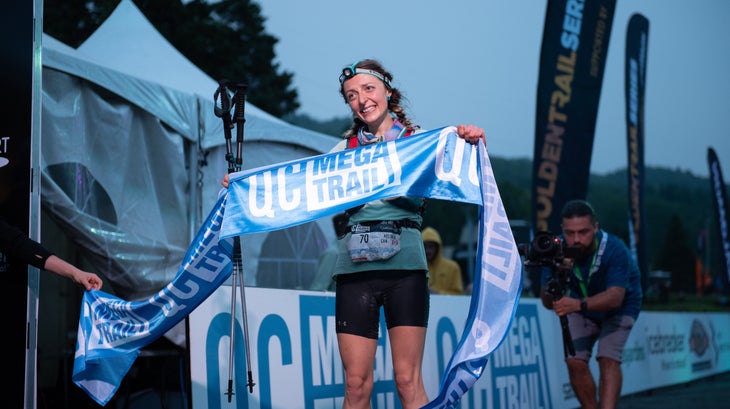 "That was beautiful! Every minute," she said. "The people, the views, the feeling of support and community. I got to share the trail with a lot of different runners. To return to the QMT community and to have got to see my family here again is amazing. There's some cool stuff happening in the ultra world."
American Cole Crosby, 34, from Rhode Island, had an epic 100-mile race, finishing in 22 hours and 38 minutes after a bad fall on the relentlessly technical course, where he smashed his face and cut his lip. After getting beaten up by the course, all he could do was focus on getting to the finish.
"In my opinion, the QMT is one of the most technical 100-mile courses in North America," he said. "While the course was beyond challenging, the people I encountered along the way showed me immeasurable kindness and brought humor during the darkest moments. If you're seeking adventure in truly raw and rugged wilderness, the QMT will deliver."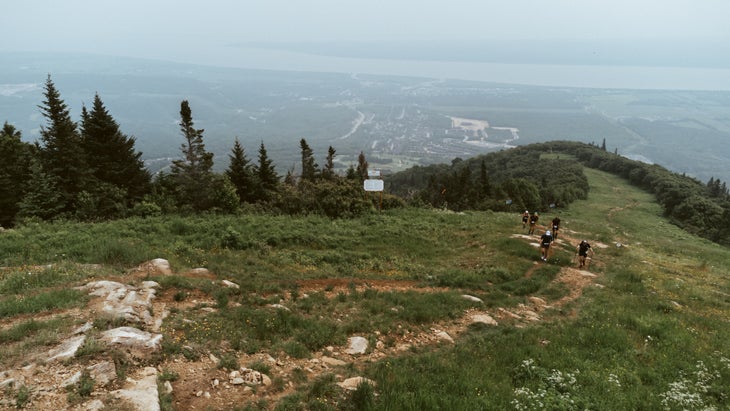 50K: Course Record for Local Favorite
Local favorite and previous QMT 50K winner Jean-Philippe Thibodeau lowered his previous record to win in 4:55:51, while 19-year-old Amélie Simard, took the women's race in 5:54:40.
David Kilgore, 31, from New York, is a Red Bull ultrarunner and On athlete, poised for success at this year's 50K, but about halfway down the descent after the first summit (mile 13.6), he hit a patch of mud and throttled his neck and back, while also hitting his head.
"I honestly was having the time of my life," said Kilgore. "The technical terrain was incredibly challenging, probably the most technical I've ever been on, but running amid the beauty of the forest, the waterfalls, and my fellow competitors was ultimate excitement."
With the air knocked out of him, he continued on but pulled the plug after the last major ascent. "After the second aid station, coming down was really jarring on my body and I was still feeling a bit fuzzy in my mind. I knew it was time to throw in the towel," said Kilgore.
Medical staff believe he suffered a minor concussion. "I will live to fight another day," he said. "The atmosphere here was next-level. I can't wait to make it back up here for another event. Maybe I'll bring a helmet next time."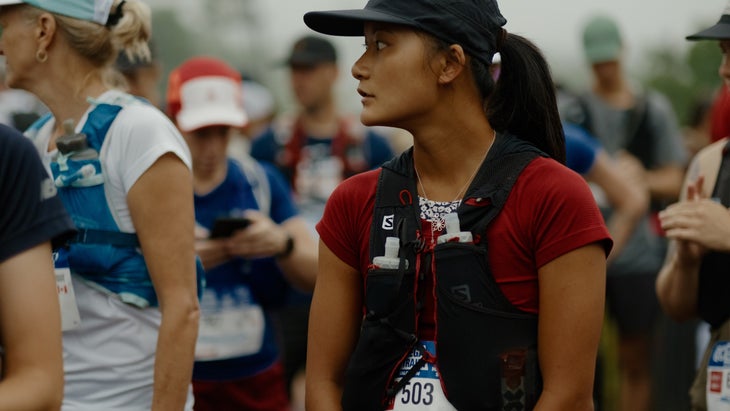 25K: Americans Podium
On Sunday, the weather turned into rain and mud, which made for increased drama on the shorter races like the 25K, Canada's only National Golden Trail Series event. Meikael Beaudoin-Rousseau, 23, from Sunnyvale, California—whose family is from Quebec—took the win decisively in the 25K, setting a new course record of 1:48:11. The Golden Trail Series affiliation attracted some of the weekend's fastest runners, including Beaudoin-Rousseau, who ran track and cross-country at Stanford University, and is just now stepping into trail running, placing third at the Broken Arrow 23K in Olympic Valley, California, only two weeks prior, on June 18.
"The conditions were very difficult," said Beaudoin-Rousseau. "I had a little trouble finding my flow with people in front of me. There was mud and rocks, and I was slipping a lot. It wasn't quite the conditions I'm used to in California. At some point I decided to push, and from there I just kept going and had fun in the tough conditions."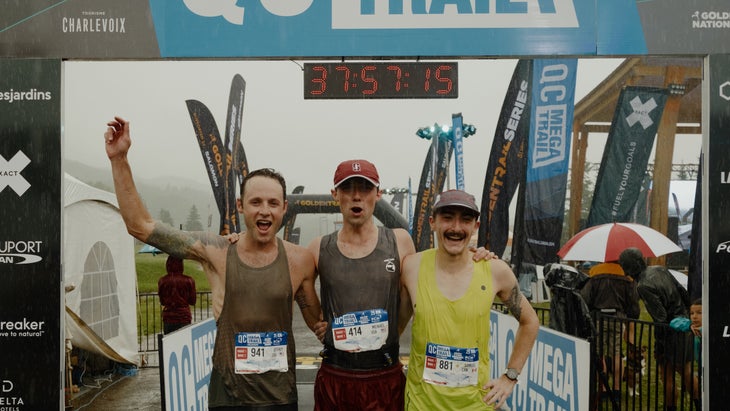 Jeffrey Stern, 36, from Mill Valley, California, is a Salomon-sponsored athlete, assistant editor at Ultrarunning magazine, and the Tamalpa Headlands 50K race director. He competed in the QMT 25K, coming in third place after a near-constant dogfight from the starting gun. Stern chose the 25K option, in part to accumulate Golden Trail Series points, but also because, in two days, he will race the Mount Marathon in Seward, Alaska, on July 4. Ambitious? Indeed.
If you're seeking adventure in truly raw and rugged wilderness, the QMT will deliver.
"I knew Meikael [Beaudoin-Rousseau] was here, and he had a great race at Broken Arrow," said Stern. "He's a 28-minute 10K kinda guy, a sub-14-minute 5K guy, and is getting into trails. If he's on, and the conditions don't affect him, that's an easy win for him." Stern hung on with Canada's Reid Coolsaet, a two-time Olympic marathoner and 2022 Western States finisher, and Sam Poher, from Canada. Poher would sneak in second, Stern in third, and Coolsaet in fourth place.
RELATED: 8 Essential Tips for Trail Running Travel
On the women's side, local elite Anne-Marie Comeau won for the second time, in 2:07:44, ahead of Americans Alayna Sonnesyn and Rachel Tomajczyk. Sonnesyn, 25, is from South Londonderry, Vermont, and this was her first-ever Golden Trail Series race. Her main sport is cross-country skiing, for which most of her summer and fall is mere training. Tomajczyk, 30, a Merrell-sponsored pro from Williams Village, Arizona, finished 38th in the Vertical Race at the 2023 World Mountain and Trail Running Championships in Austria in early June.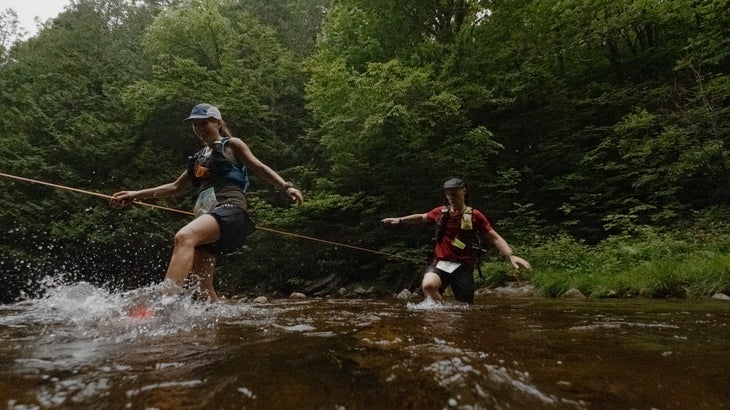 "We do a lot of trail running as cross-training, but I've always loved running. I'm here to try and test the waters, to see what the more competitive field of running is like," Sonnesyn said. Within the first mile, Sonnesyn slipped and went for a full-body fall into the mud. "I lost my water flask and slammed my arm into a tree, so that set the stage for the race!" she said, laughing.
Additional notable race performances included a strong win by 110K winner Urko Larranaga, who traveled over 30 hours from Reunion Island to race, and Geneviève Asselin from Montreal, Canada, who recently represented Canada at the 2023 World Mountain and Trail Running Championships in Austria. In the 80K race, Canadians Ryan Patteson and Mylène Sansoucy took home the men's and women's victories, with Sansoucy establishing a new course record.
"I loved the course, even in three feet of water and mud," Sonnesyn said. "The party here at the finish has been great. I mean it's hard not to have a smile on your face when you're here."
The 2024 Quebec Mega Trail will be held July 4-7, 2024. Learn more.