The 2023 Golden Trail World Series Kicks Off This Week. First up? Zegama.
One of Europe's most popular and rowdy mountain marathons gets underway this weekend in the Basque country of northern Spain. Here's what you need to know. 
Heading out the door? Read this article on the new Outside+ app available now on iOS devices for members! Download the app.
For a few days each year, the small town of Zegama set in the Basque country of northern Spain, about five hours north of Madrid, transforms into one of the world's most dazzling mountain marathon races.
Zegama-Aizkorri, as it's called, is the first race in a schedule of events for the 2023 Golden Trail World Series, a Salomon-sponsored lineup of high profile mountain races around the world, including North American events like the Pikes Peak Ascent (September 16), in Colorado, and the Mammoth 26K (September 22), in California.
With 15,000 spectators along its technical and often muddy route, Zegama is an event that calls for redlining, that has its own version of a scream tunnel that congregates near the course's high point, Aizkorri, armed with cowbells and positive cheer to meet runners as they complete the steepest section, "Santi Spiritu," an epic 1.4-mile, 1,725-foot climb.
But what makes this race so important is that it's one of Europe's fan favorite races. It also kicks off the Golden Trail Series, one of the largest international series of sub-ultra trail events in the world. And lastly, Zegama attracts some of the fastest mountain athletes on the planet.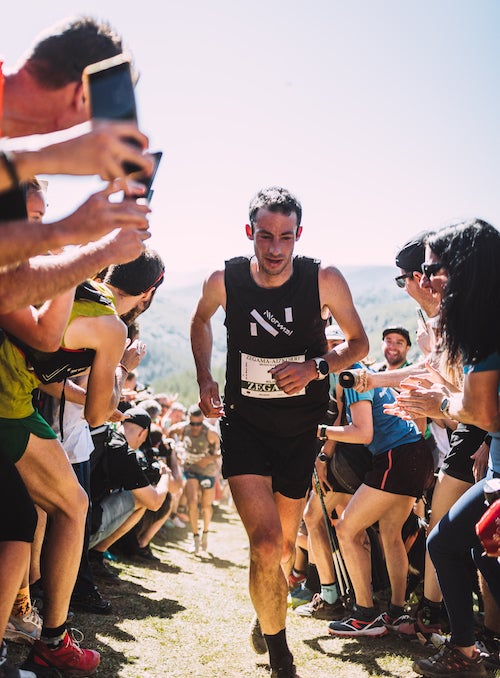 Race Description
Zegama has been a running event since 2002, and this year will be its 22nd running. There are three different races: the marathon, the VK, and the junior race. The marquee marathon course starts and ends in the town of Zegama, linking up four of the highest points of the Basque Autonomous Community, Here are the basic specs:
Distance: 26 miles
Total elevation gain: 8,975 feet
Course type: Loop
High point: Aizkorri Peak, 5,089 feet
​​This year, the race will be live-streamed in four different languages: on the GTWS YouTube Channel (English, Spanish) and public television (Basque, Catalan). "The deployment of fixed cameras, drones, bikers, and camera runners is going to be truly impressive," said Maialen Arizkorreta, Director of Communications for the Zegama-Aizkorri race.
Zegama's special sauce is the overwhelming community that supports and attends the race. "It's still a race organized entirely by volunteers—more than 500 in a town of 1,500, more than one volunteer for each participant," she said. "We're fortunate that the Basques love the mountains and sport, so every year the whole route fills up with people cheering on all the participants, as if they were climbing the Tourmalet in the Tour de France."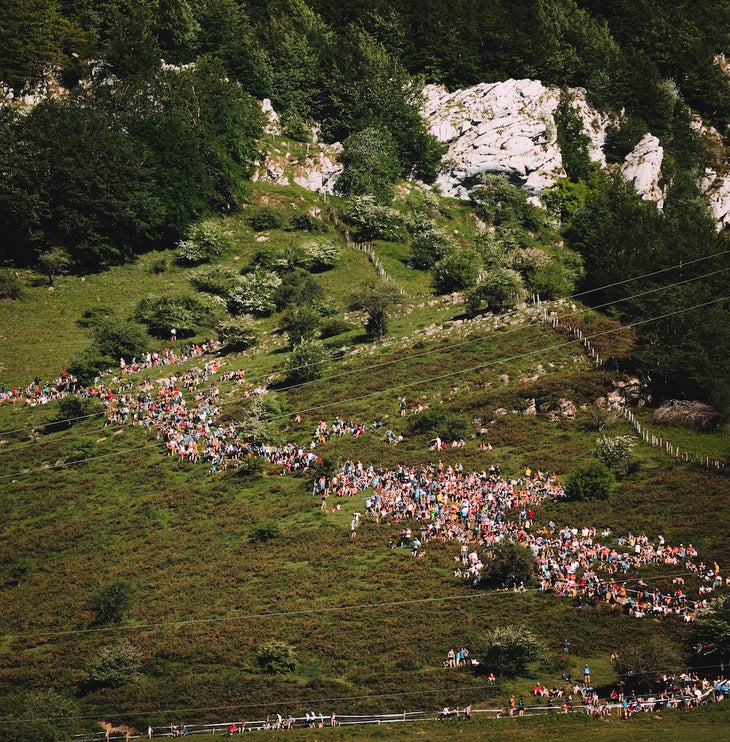 A Favorite Mountain Race for Champions
Kilian Jornet (Spain) has won Zegama nine times and currently holds the course record in 3:36:40, while Nienke Brinkman (Netherlands) carries the women's record. Neither will be racing this year, however, which opens up the podium for some seriously fast competition.
Last year drew a strong contingency of American elites, with Utah's Dakota Jones (11th overall), Oregon's Max King (16th), and Colorado's Courtney Dauwalter (10th woman). "Zegama is a race that is definitely better understood through experience," said Dauwalter, 38. "Before I went there to race last year, I had heard about the electric crowds and the incredible terrain, but being there and experiencing it first hand blew me away. It was bigger and better than I could have even imagined."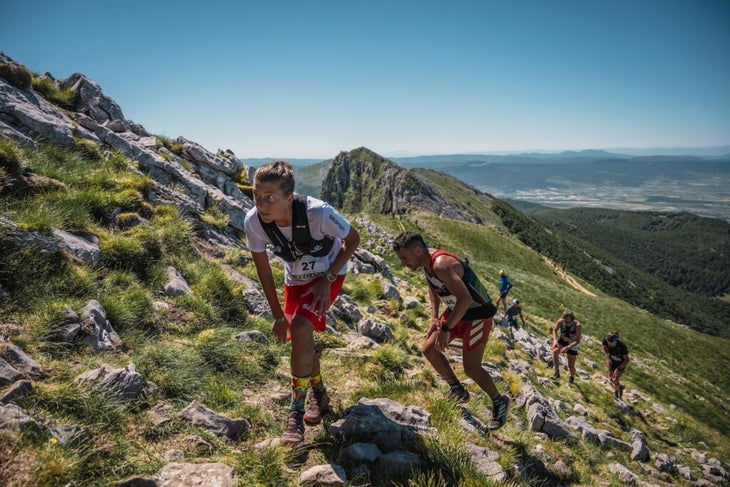 The course is a marathon distance, which means that people race from the gun and clock unbelievably fast times over rocky terrain. Dauwalter is the G.O.A.T. of ultrarunning, and yet Zegama's pace and deep field put her skills to the test. "The race is extra cool because it attracts some of the best shorter distance trail runners in the world through the Golden Trail Series," she said. "And dang, they run fast!"
RELATED: How Courtney Dauwalter Keeps Running Simple
Speaking of fast, Jonathan Albon, 34, from the United Kingdom but currently living in Bergen, Norway, will be toeing the line at Zegama. "The start of Zegama is going to feel like a baptism of fire after the winter," said Albon. His training over the winter has been primarily skiing, but he's now transitioned to more running in his approach to Zegama, logging anywhere from 40,000 to 60,000 vertical feet weekly across all sports.
To mimic the rocky, technical nature of Zegama, Albon has been doing laps of a 2,300-foot technical climb with fixed ropes, in the coastal mountains of Bergen. "It's not a very Zegama-like trail, but you have to work with what you have," said Albon. "The focus has been to condition my legs to handle the uphill, flat, and downhill, as well as maintaining the base fitness that was created on the skis."
Albon is no stranger to podiums. Most recently, Albon set the course record at UTMB's OCC 100K (2021), won the Mont Blanc Marathon (2022), and reached the podium in the 40K race at the World Mountain and Trail Championships in Thailand, last fall. Still, he is so excited to return to the Basque country to race.
"The start of Zegama is going to feel like a baptism of fire."
"Zegama is just one of those special races that you have to experience," he said. "I raced there some years back but was not proud of my performance. I hope I can do myself justice this time around." Though steep, the elevation isn't too demanding, which Albon agreed is a big plus. "Though if it's hot I'll likely be in trouble; if it rains, it may give me the edge."
After Zegama, Albon will head to Innsbruck for the World Mountain and Trail Running Championships (June 6-10), Sierre Zinal (August 13), and CCC at UTMB (August 28 – September 3).
Elite Runners to Watch
Men's Field
Remi Bonnet (Switzerland)
Jonathan Albon (UK)
Manuel Merilles (Spain)
Bart Przedwojewski (Poland)
Elhousine Elazzaoui (Morocco)
Robert Pkenboi Matayango (Kenya)
Thibaut Baronian (France)
Francesco Puppi (Italy)
Women's Field
Blandine L'Hirondel (France)
Caitlin Fielder (New Zealand)
Nuria Gil (Spain)
Ida Nilson (Sweden)
Azara Garcia (Spain)
Marcela Vasinova (Czech Republic)
Mathilde Sagnes (France)
Miao Yao (China)
Fabiola Conti (Italy)
Camille Bruyas (France)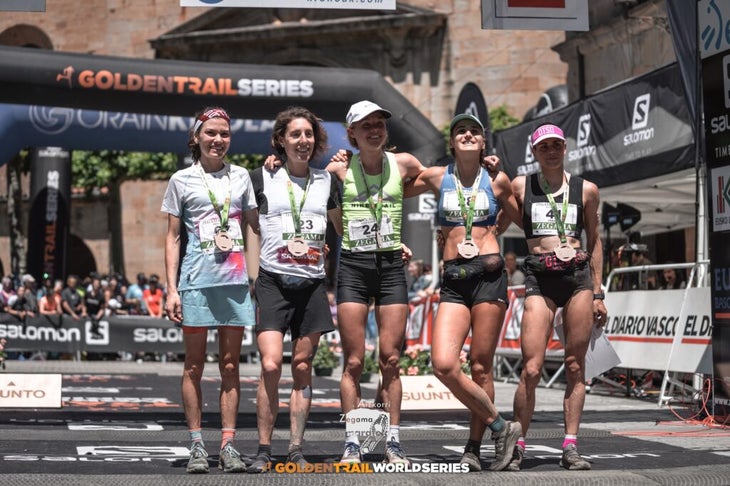 Golden Trail World Series VS. Golden Trail National Series
These series, like UTMB, can often be confusing, so here's what you need to know: The Golden Trail World Series includes six races, which start with Zegama and end with the seventh and final event, Il Golfo Dell'Isola, in Italy, on October 19.
The top 30 men and women from the overall Golden Trail Series ranking will be invited to Il Golfo Dell'Isola for the final, a 15-mile course with about 4,000 feet of elevation gain. In addition to the Golden Trail World Series, there's also the Golden Trail National Series, which offers another network of races within the Golden Trail Series, but that are contained within 11 different countries and regions, and have their own final races. (The U.S. and Canada region includes five races, including a series final at the Mammoth TrailFest.) In total, more than $324,000 in prize money will be distributed to top finishers through the Golden Trail Series.
After Zegama, here are the next Golden Trail World Series events to watch out for:
June 25: Marathon du Mont Blanc (France)
July 15: Dolomyths Run (Italy)
August 12: Sierre-Zinal (Switzerland)
September 16: Pikes Peak Ascent (US)
September 23: Mammoth 26K Trail Fest (US)
October 19: Finals – Il Golfo Dell'Isola (Italy)
How to Follow Along
This year, the Golden Trail Series will be partnering with Eurosport to live broadcast four races—Mont Blanc Marathon, Sierre-Zinal, and the two final races at Il Golfo Dell'Isola—in 20 languages and 53 countries. They will also be putting together 20-plus-minute highlight films for select races, and Zegama will be one of them.