Why These Indigenous Runners Want You To Wear Orange This September
Across the U.S. and Canada, Native athletes and activists are using running to draw attention to the harm caused by boarding and residential schools.
Heading out the door? Read this article on the new Outside+ app available now on iOS devices for members! Download the app.
Rising Hearts, a non-profit led by Jordan Marie Daniel is hosting a virtual 5k on  September 30th Remembrance Run for #OrangeShirtDay and #EveryChildMatters. The run will commemorate and honor the thousands of Indigenous children stolen from their families and homelands, forced into Boarding and Residential Schools, the survivors, and descendants.
"The intersection of running and advocacy is a powerful way and platform that helps to inform the community, running with intention and purpose, and brings issues that we care about to the forefront of social issues that need support and visibility," says Daniel.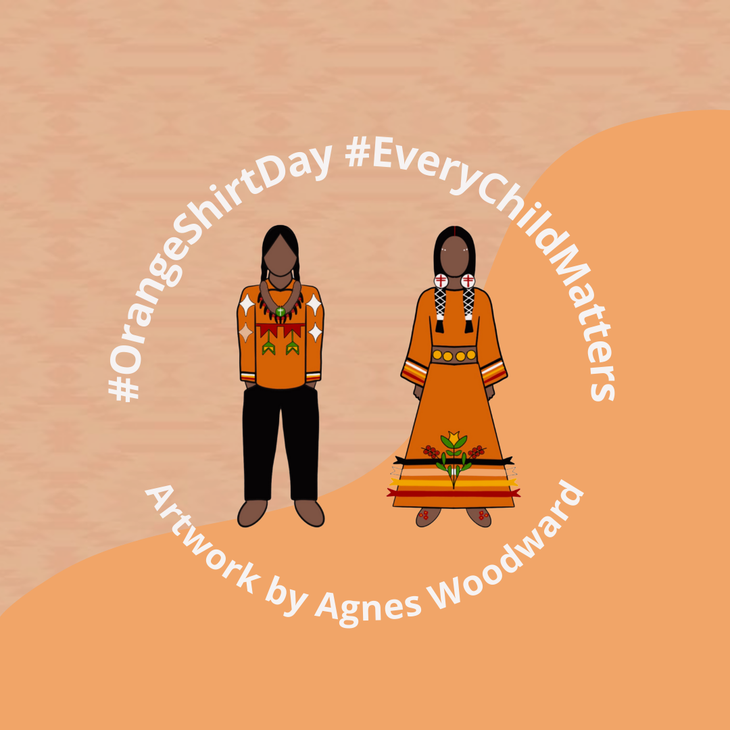 The virtual run will raise funds for the National Native American Boarding School Healing Coalition and Indian Residential School Survivors fund in Canada. Runners simply need to register for the event here, and log a 5k run, walk or bike ride between September 30th and October 3rd.
Verna Volker, founder of Native Women Running, is collaborating with First Nations runners in Canada on a virtual and in-person 5k and 10k event. "For Indigenous people, running has been part of healing, ceremony, prayer and honoring our ancestors.  Running brings a community together."
View this post on Instagram
Participants are encouraged to wear the color orange, in honor of Phyllis Webstad (founder of the Orange Shirt Society and Orange Shirt Day), who was given an orange shirt before her first day of school, before it was taken away and never returned by the boarding school. To Webstad, the color orange reminds her of her experiences at residential school and, as she has said, "how my feelings didn't matter, how no one cared and I felt like I was worth nothing. All of us little children were crying and no one cared."
RELATED: What We Can Learn From Indigenous Runners
Webstad went on to found Orange Shirt Day in Canada, and push for wider understanding of the trauma and harm caused by boarding and residential schools in North America.
Legendary Indigenous runner and Olympian Billy Mills (the only American man to win a gold medal in the 10,000 meters) was a survivor of the boarding school system.  Daniel's grandfather, Nyal Brings Three White Horses,  who was also an accomplished athlete and Mills' running buddy, was also a survivor of the system.
"My lala, who was fairly fluent in Lakota, never wanted to share the language and culture with his children for fear of them being ridiculed and bullied.  These boarding schools' primary focus was to 'kill the Indian, save the man' by forcing the children to stop speaking their language, cutting their hair, choosing Christian names, and becoming civilized," says Daniel. "The trauma is still very much present today – you can feel it and hear it. It will only continue with the calls to action for justice, healing and accountability on the governments to search all school properties, to send the children back to their homelands, to establish a truth and reconciliation commission or task force, to support the survivors and descendants, to offer compensation, and to offer mental health services."
RELATED: Jordan Marie Daniel Is Running For Justice
For Daniel, running isn't just a way to raise awareness of these often hidden histories and violence, it's also a way to heal, and honor the resilience of survivors.
"Running is deeply ingrained into our culture as Indigenous Peoples but within that history since1492, it's also a way to survive," says Daniel. "We hear many stories of our ancestors, children, running away from the Boarding and Residential schools. Some escaped, some were able to find their way back to their families, some were found and returned to the schools, and some children – out of the hundreds of thousands of children stolen from their families, never made it home."
RELATED: Verna Volker Finds Healing In A Community She Built
Boarding and residential schools have left a dark stain on American history and have caused immense harm and trauma to the individuals and families they affected. The schools harmed Indigenous children by removing them from their families and homes, forcing them to speak English instead of their ancestral language and disconnecting them from their culture and traditions. Events like those organized by Daniels and Volker seek to draw attention to the harm caused by these institutions, draw attention to similar harms done today and restore dignity and justice by raising funds for organizations that support survivors.
View this post on Instagram
"Running is a way to tell a story – to tell a perspective that isn't told in textbooks or curriculums. Running is a way (for some), to run in prayer and honor those no longer with us.  Running is a way to raise awareness and keep the conversation going while being in community," says Daniels.
Volker also highlights the importance of community in remembrance and restoration. " Running is a way for us to remember and draw awareness to this issue," says Volker. 
Volker's mother was separated from her family to live with foster parents at a young age, a traumatizing experience her mother struggles to speak about. Volker also spent several years at a boarding school growing up, and while her experience was less extreme, being separated from her family and culture at age six was still a difficult experience.
"When we see the injustice of our people, all these areas make us want to come together," says Volker.  "It's a way to honor and remember those who have gone before us. It's a time for us to heal as individuals and as a community."