What It Takes To Crush In Chamonix
Abby Hall finished second in the CCC with smart training, a calm mindset and aggressive racing strategy
Heading out the door? Read this article on the new Outside+ app available now on iOS devices for members! Download the app.
As Abby Hall toed the starting line of the 101km CCC race on the morning of August 27 in Courmayeur, Italy, she was eager to charge. But more importantly, she was physically and mentally ready to charge.
The 63-mile race sends trail runners from the quaint Italian village that abuts the south side of Monte Bianco — aka 15,777-foot Mont Blanc, as it is known in France — through the edge of Switzerland and into France to the grand finish line in Chamonix. It's one of the hardest and most competitive events during the weeklong festival of races connected to the Ultra-Trail du Mont-Blanc (UTMB).
With more than 20,000 feet in vertical gain, several steep climbs and numerous sections of technical terrain, it's a hard route to run fast from the bell. But that's precisely what Hall was prepared to do, even though she as coming off a strong, 14th-place effort at the Western States 100 on June 27.
"From the first climb out of Courmayeur, my goal for the whole race was to take more risks than normal, run a little more aggressively and really race hard," said Hall, 31, who hails from Boulder, Colorado. "I wanted to be up against that line the whole day."
RELATED: How Clare Gallagher Won CCC With Fewer Miles And More Speed
The Scene in Chamonix

That's a tenacious mindset to have at the start of a race, especially that race. Racing competitively in any of the UTMB races means you have to push yourself along a treacherous razor's edge that can lead to the glory of the podium or the satisfaction of a top-10 finish or, yes, a self-destructive bonk and quite possibly a disappointing DNF. 
Facing those unique variables is especially challenging for American runners, who typically head to Chamonix in the shape of their lives but find themselves having to navigate things like uncommonly steep trails, more competitive race fields that what they're used to stateside, and slightly different foods than their accustomed to in the U.S. — not to mention jet lag, a variety of different languages and other quirky nuances that come with racing overseas such as packing all of the mandatory gear that must be carried from start to finish. 
There's also the danger of getting lulled into the almost-euphoric energy that oozes from Chamonix and the eye-popping views of the stunning mountain vistas in the days before the race.
About 100 American runners found their way to Chamonix this year amid Covid-19 travel precautions, and while some suffered greatly, learned lessons and crashed and burned, several runners found a way to utilize their high level of fitness, inherent competitiveness, smart fueling protocols and gritty determination to find success. 
Courtney Dauwalter certainly curated a version of that recipe en route to winning the women's UTMB in record-breaking fashion, as did Hayden Hawks, who placed fifth overall in the 56km OCC race. Seth Swanson (7th in TDS), Katie Schide (8th in UTMB), Taylor Nowlin (9th in OCC), Tyler Green (10th in TDS), Alex Borsuk (11th in TDS) and Emily Schmitz (11th in OCC) were among the other Americans who overcame adversity and shined.
But it's not an easy task. The mountains are huge, the pre-race vibe is sky-high and the culture of trail running is so thick it's tangible. And, ultimately, the running is downright hard.
"It was extra challenging. I felt like I was in a different sport, but not running," said Portland, Oregon, trail runner Alex Borsuk, after placing 11th in the women's division of the 145km TDS, a 90-mile race with almost 30,000 feet of vertical gain. "I had always heard about magical this event was, but until you come here and experience it, there's nothing like it. It was definitely the hardest thing I have ever attempted to do."
RELATED: What Went Down At The 2019 CCC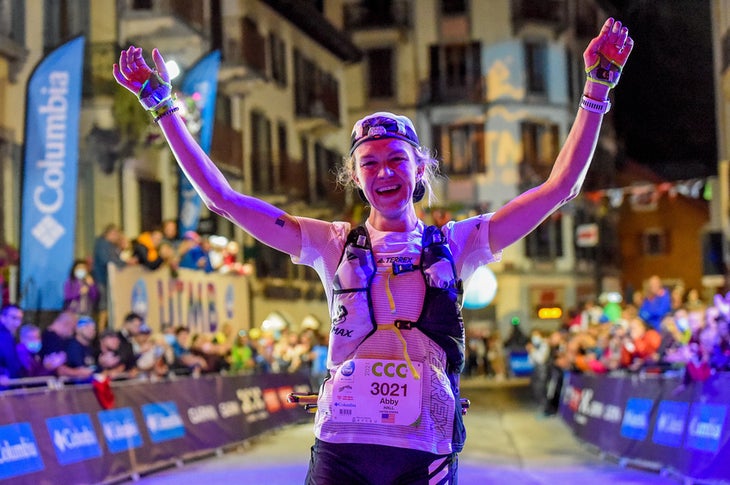 Relentless Racing
Abby Hall was introduced to trail running in fifth grade, when she and her family ran a series of summertime races in Vermont. (She won a pie after a strong effort in her first race!) She loved running cross country and track in high school and continued at Wheaton College, a small NCAA Division III school in suburban Chicago. 
After a stint in Los Angeles, she moved to Boulder in 2016 and started joining every group trail run she could find, which led her to entering her first 50K and meeting a lot of new people — including Cordis Hall, who she married in 2019. Now they're both members of the Adidas-Terrex international trail running team.
"I was a fairly mediocre runner as far as college competition goes, but I always kept going because I loved it," Hall said. "I never dreamed that I would have a career as a professional ultrarunner. But following something I am passionate about has led me to some really special things."
But Hall, who placed eighth in the CCC (officially known as the Ultra-Trail Courmayeur-Champex-Chamonix) in 2019, was ready for it and did her homework. Having arrived in Chamonix five weeks before the race with Cordis, she trained on the course, got used to the atmosphere and specific sections of the course before the stoke went off the charts, and, as a result, felt calm and prepared when she entered the starting corral.
When the race started, Hall went out hard and was among the first women to reach the base of the 4,500-foot initial climb up Tete de la Tronche, an iconic 8,478-foot point that requires relentless power hiking at the pace of the runners in front of you. After bombing back down a singletrack trail to the first aid station at Refuge Bertone, she leaned into a hard tempo pace when the course leveled out through the 26km mark and then kept pushing up over Grand Col Ferret, the challenging 8,323-foot pass into Switzerland. 
"I studied the splits of podium finishers from previous races and based on that, it was clear that the podium pack tends to break away and lose touch from the rest of the field," Hall said. "So I wanted to make sure I was part of that right from the start. I made it a point to go out fairly aggressively while still staying within myself."
Feeling good, she kept her foot on the accelerator during the long downhill into the 40km aid station village of La Fouly, and then ran one of the fastest splits for the 14km section that concluded with a long climb into the Champex-Lac aid station just behind the halfway point of the race. She was in third place at that point, about 10 minutes behind leader Petra Sevcikova of the Czech Republic and nine minutes back of Marta Molist Codina of Spain.
That's when Hall planned to make her move. Over the previous weeks, she had made it a point to run hard workouts on key sections of the course, including several steady-state efforts on the 2,100-foot climb on the 11.5km section from Champex-Lack to the La Giète aid station.
"I told my coach and my husband that I wanted to arrive in Champex Lac almost unsure if I could continue. Whatever condition I arrived in, I knew I'd have to trust my body and my training to power through the climb to La Giète," Hall said. "When I started out of Champex-Lac, I was feeling like it was just another workout. I felt like I knew every turn, where to pull out my poles, where to put on the gas and what to expect every step of the way."
RELATED: So You Want To Run UTMB. Here's How To Qualify.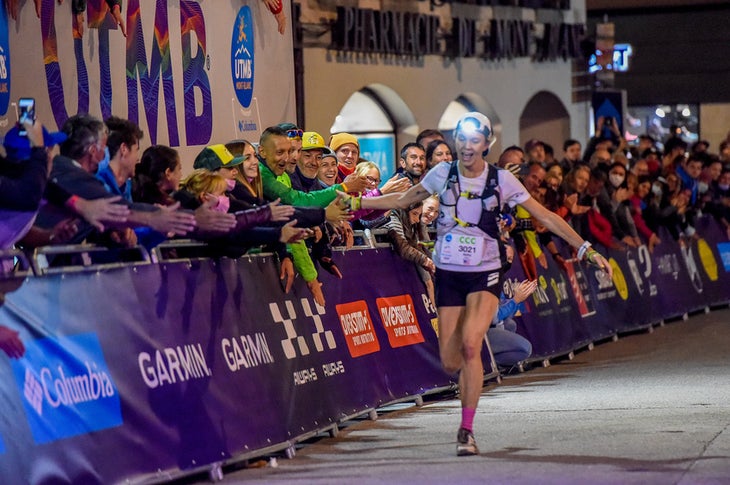 Preparation is Key
Thanks to the workouts and guidance from coach Jason Koop, Hall was optimally prepared from a physical point of view. But she also had taken time to make sure she had the optimal mindset heading into the race. She regularly practices meditation, does a lot of journaling and verbalizes her concerns and fears with her coach, husband, friends and running partners as a way to manage them.
"I think a healthy mindset is so important for long-term health in the sport, not just for short-term, tactical success," she said. "At the end of the day, I am doing this because I love it. I love the journey, growing through success and failure, and sharing about that process with others. My journey as a runner has been as full of doubt and fear as it has confidence and strength. Working through the things that running surfaces helps me not just as a runner but as a person. It's all connected."
Although she passed 18 runners on the way to LaGiete, Hall was still third among women heading into the aid station at Trient and the next big climb across the French border and into the village of Vallorcine at the 81km mark. But she was running strong and her confidence was growing because she knew she was closing the gap. She charged up the initial mild climb out of Vallorcine and kept going hard up the steep switchbacks of the long final climb up to the 6,995-foot summit of La Tête aux vents, passing Sevcikova along the way.
She immediately gapped Sevcikova and started focusing on Molist Codina, who had taken the lead on the descent into Vallorcine. Hall never caught her, but she kept running hard over the final 10km through the last aid station atop the La Flégère ski area.  
"The goal was to empty all of the tanks and give it everything I had," Hall said. "I didn't have a grasp of how far ahead Marta was at the point, but I just ran as hard as I could until the end because you never know with these things. It's never over 'til it's over. So even on the final descent into Chamonix, I was giving it everything I could hoping I might be able to close it down."
Hall didn't let up until her she reached the village and Adidas-Terrex teammates told her she was in the clear and that she should enjoy the final approach to the finish line. As she cruised through the village amid thousands of cheering fans, she knew her smart preparation, determined efforts and calculated risks played out almost perfectly. She crossed the finish line to a hero's welcome after 13 hours and 4 minutes of running, about 14 minutes behind Molist Codina and 17 minutes ahead of Sevcikova.
"The atmosphere here, you read about it, you follow it online and you think you have an idea about what it's all about, but then you get here and there's just an energy in the air here that's so special," said Hall, who was met at the finish line by Cordis, who had placed 14th in the TDS a few days earlier. "It was a dream come true to finish on the podium. As soon as I crossed the finish line for the first time here in 2019, I started thinking about what it would take to come back and run even faster. But I think we all share that goal. Everyone lining up here in Chamonix has big dreams we're all trying to bring to life. The shared dream of improving on our best and running far and fast in the mountains is what makes this place so special. No matter what place I finish, for me that's what it's all about."