Verna Volker Finds Healing In A Community She Built
One Indigenous runner didn't see her community reflected in running media, so she set out to build her own community based on representation and an intersectional awareness of barriers many runners of color still face.
Heading out the door? Read this article on the new Outside+ app available now on iOS devices for members! Download the app.
Growing up on a Navajo reservation in New Mexico, Verna Volker hated running. Like many kids on the reservation, her home became the basketball court, the sound of dribbling echoing through the brown mesas and canyons beyond. On television, she caught glimpses of distance races where small-framed women traveled in hordes, their white arms pumping and blonde ponytails bobbing. To Volker, these women looked nearly identical to each other, and almost nothing like herself. So, Volker continued to play basketball. She would excel at the sport in high school, leading her team to state championships, and all the while dreading each conditioning run. 
Then there was a marriage, three young children, a teaching career, and decades of neglecting her personal health and happiness. When Volker trained for her first half marathon in 2009, she hoped to gain fitness and recommit to her health. Instead, she gained something deeper—the burning desire to train for new distances, to go further and faster. 
LISTEN: Verna Volker on the DNF Podcast
Empowered by a newfound love of the sport, Volker searched Instagram for other Native women runners. On running industry pages, droves of small-bodied, white women smiled in Boston Marathon finisher shirts. Nearly a decade had passed, but the monolithic image remained. 
View this post on Instagram
"When I did my research I thought, why aren't they showing Native women like me?" Volker recalls. "There are so many of us out here running." In 2018, she founded Native Women Running (NWR), an online community that features and encourages Native women runners on and off the reservation/reserve. Now a 48-years-old teacher and mother of four based in Minneapolis, Volker runs ultramarathons and continues to grow the NWR platform. 
RELATED: Land Acknowledgements And How We Relate To The Trails We Run
Getting Specific About the Experiences of Native Women Runners 
It's no secret that there are countless ways in which race and gender interact to limit access to the trails. In recent years, conversation has increased on the barriers that BIPOC women face—from the financial and time costs to the psychological effects of inadequate representation. Through NWR, Volker addresses these barriers, as well as obstacles more specific to Native women. 
"Everything we run on is stolen land. Even though I'm an Indigenous runner and I run here on Dakota land, I still don't feel like it's a part of me," explains Volker. Her words expose a paradox: on the very lands that were stolen from Native people—lands that belong to Native people—they are too often made to feel unwelcome.
Yet, feeling unwelcome is only part of the equation; feeling unsafe is just as pervasive. Indigenous women are murdered at a rate 10X higher than all other ethnicities, and more than 4 out of 5 Indigenous women have faced violence of some kind. Most of these murders are committed by non-Native people on Native-owned land. 
Yet, these cases are often ignored, as jurisdictional conflicts between tribal, local, state, and federal law enforcement too often prevent the investigative process from beginning. In 2016, there were 5,717 cases of missing American Indian and Alaska Native women and girls. The U.S. Department of Justice reported a mere 116 of them. To put it simply, Native women runners face a justified and unparalleled brand of fear.  
RELATED: The Case For Re-Naming Public Lands
NWR fights back
"I never like to play the victim as an Indigenous woman," Volker explains. "But any Indigenous woman fears for her safety while running on the trails." Thus, NWR's mission is two-fold: fighting against the injustices and violence faced by Native women while simultaneously serving as a platform for empowerment and celebration. 
And celebrate Volker does—by sharing the stories of Native women runners of different sizes, body types, tribes, and gender identities. This empowering theme has proven successful, and the NWR Instagram page has gained a following of 24.8K in just three years. 
At the same time, Volker is candid about the delicate interplay between her goals—celebrating Native women and simultaneously raising awareness about the crisis they face. In recent years, NWR has focused on tangible actions. Twice, they partnered with Red Earth Running Co. to organize virtual runs and raise money for MMIW USA. For their third and most successful MMIW virtual run, NWR partnered with Hoka One One, attracting 3,000 participants and raising $86,967.85. NWR has also partnered with Go-Guarded, and Roar Training to give safety tools and self-defense courses to Native women, tempering fear with strength and self-reliance. 
"Yes, there is sadness. But there is empowerment in the fact that our women can protect themselves and look out for one another," Volker says. 
RELATED: You Cannot Erase Us: Letter From An Indigenous Runner
Advice for the Trail Running Industry 
There have been thousands of triumphs—thousands of followers gained, dollars raised, stories shared, and messages of support for Native Women Running. There have been thousands of celebration-worthy events and yet, the image remains. Volkner saw it on her TV screen as a child, and on her Instagram feed as a new runner. Now, she sees it on the start lines of trail races: most women share a body type and a skin color. She sees very few Brown women in the trail running community. 
For Volker, one recent event underscored this problem. In July, the organization Trail Sisters hosted a Women of Hardrock panel, leading up to the Hardrock 100 Endurance Run. They hoped to discuss plans to increase the number of women on the Hardrock start line—a worthy feat, except for one oversight: the panel consisted entirely of white women.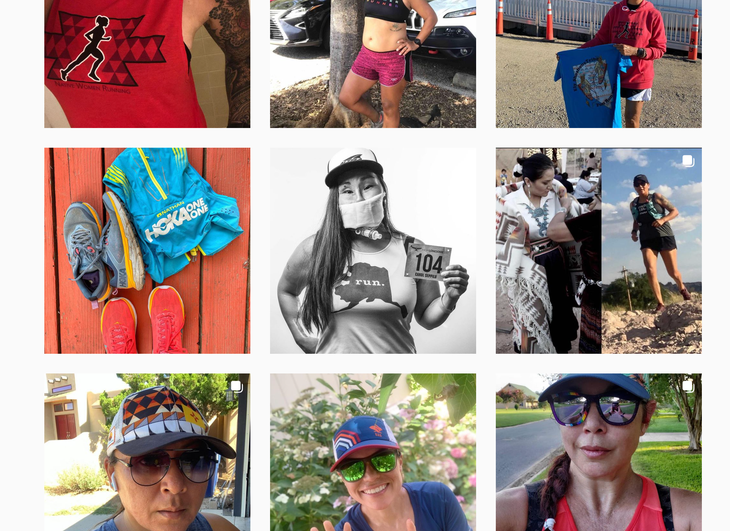 "I truly believe in gender equality, but there needs to be intersectionality," says Volker. "We give you access to this land, all we're asking is that you invite us to be part of these panels and committees." For members of the running industry who wish to create more inclusive events, Volker has some words of advice: "Reach out to Indigenous women! But don't just reach out to make yourself feel better; build authentic relationships. There are people who have consistently reached out [to NWR], and that's what means a lot to me."
Building authentic relationships also means acknowledging the trauma that Native women face, and the various reasons why they might run. 
"For us, running isn't always about PRs or races," Volker explains. "Sure, that's important. But, for me, running has been a lot about crying and healing. Don't be surprised if we say we're running to heal from many generations of trauma."
RELATED: How Dinée Dorame Is Building A Deeper Understanding Of Running Culture