Unpaving The Way
How Jeremy P. McGhee is making trails accessible to a new generation of adaptive athletes. 
Heading out the door? Read this article on the new Outside+ app available now on iOS devices for members! Download the app.
Deep in the Ozarks, on a meandering trail that overlooks the town of Bentonville, Arkansas, Jeremy McGhee pauses to reflect. 
He removes a glove and sinks his bare hand into the peaty earth. He wiggles his fingers to feel the threadlike filaments of roots and warm moss and the gentle scurrying of insects. He counts the seconds, sure to hold his hand in the dirt for a full minute, to really feel its vibrance, teeming with the kind of life surface-dwellers often forget. He runs a leaf through his fingers, careful to feel each vein, imagining it to be pulsing with the same energy that powered him to this far-off point on the trail. 
"How often do we get the opportunity to touch, really touch the earth with our bare skin?" asks McGhee. "It's really important, for our mental and physical health and wellbeing, to just touch the dirt. To get in the water. It's extremely grounding."
Connecting with the dirt, the leaves, the water is very important to McGhee. It's important because it's difficult, and he likes to do difficult things. It's difficult, because McGhee is an adaptive trail runner who uses a modified mountain-bike-like wheelchair to trail run. These connections, between runner or rider and the earth, are so important to McGhee, he has spent the better part of his career making them more accessible for adaptive athletes like himself.
Once A Runner
Jeremy McGhee, 45, whose friends refer to him as JP, wears blocky, black-framed glasses that barely disguise a near-perpetual squint, eyes betraying his brain's propensity to launch into problem-solving mode. McGhee's tawny hair looks most at home under a flat-brimmed hat or beanie, depending on the weather. He's a So-Cal surfing transplant who summers in Arkansas, riding, running and building trails. 
"There should be a  sitcom about JP called 'Fish out of Water," living in the middle of the bible-belt. The local community adores the man and shows him the hospitality we pride ourselves with," says Uriah Nazario, Assistant Project Manager at Trailblazers, an Arkansas-based non-profit geared at building accessible trails and providing bike education. 
McGhee is equal parts affable and sardonic, and as we spoke over Zoom, I noticed his sparsely decorated apartment boasted one notable piece of decor: a Live Laugh Bike mantle decoration in a hyperbolicly curly-cue font glimmering  over the fireplace. 
McGhee has always been a runner. Growing up in Mira Mesa, California, he ran cross-country in high school and has long been in love with that feeling of revving his body into the next gear, pushing to that next peak. He spent his childhood biking the six miles to the beach with his little brother, exploring nearby canyons. In college, he fell in love with surfing, but kept running as a dry-land activity he could depend on for days with insufficient waves breaking over the Cardiff Reef. 
McGhee describes his younger self as a bit egotistical, no stranger to speed work on the hedonic treadmill. He says he probably would have been an ultra runner, were it not for the motorcycle crash in 2001 that left him paralyzed from his tenth thoracic vertebra down. 
"I've always been a runner, my whole life," says McGhee. "And that hasn't changed since I've been in a wheelchair."
Paralyzed from the waist down, McGhee struggled, mentally and physically, with feeling trapped in a new life that wasn't his own. He was confined to his bed for three months following the crash, and spent hours a day on Google Maps, getting lost between the tight topo lines and winding trails that he longed to connect with again. His mind wandered far from his confinement to daydreams of being back in the single track, free and moving forward. 
A problem-solver by nature, McGhee could almost feel the wheels turning in his head….wheels….a bike! He began researching other modes of off-road transportation. A few years later, in 2007, McGhee took his adaptive mountain bike on the trail for the first time. 
"I feel like it's my responsibility to clear the way for myself. And if the world isn't going to adapt to me, I'm going to make that world adapt. Waiting around for something to change doesn't get me to the top of mountains," says McGhee.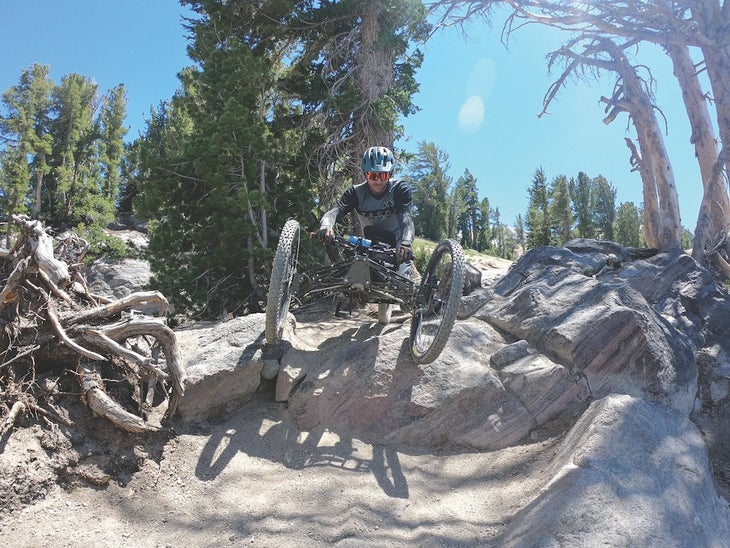 First Tracks
Chris Orr first met McGhee in a parking lot at the Mammoth Mountain Ski area. "I was laying there, destroyed, and this guy was getting his ski ready for a pow day," says Orr. Like many friendships, it was cemented over a mutual appreciation for fancy gear. "He had a sweet, custom carbon seat for his sit-ski."
Orr was born with a lower leg disability that made walking difficult but was easy enough to work around biking or skiing. Orr and McGhee's friendship was cemented over their "extra-ability" and drive to spend as much time outside, chasing powder and air, as possible. 
"Jeremy is the definition of someone that is extra-abled," says Orr. "In order to do and live the way JP does – it takes an incredible amount of extra effort, extra perseverance, and extra passion."
After years separated from his beloved trails, McGhee was resolved to get back out there. His first ride was equal parts exhilarating and clunky. Even getting to the trailhead was a feat of endurance. 
"It feels like everything I do requires me pushing through a huge layer of molasses," says McGhee. "And I struggle with that. It's tough to even just get out of bed. And biking requires a bunch of extra steps. Just being able to put your shoes on and run out the door is a beautiful thing." McGhee pauses, reflecting. "Do not take it for granted. If you can do it, you better do it every damn day."
Back On The Trails
It was cold and overcast in Mammoth for McGhee's first ride after being paralyzed. McGhee loaded up his bike and headed to Sherwin Creek Road, the only local dirt he knew of. He and his dog, a chunky black lab named Freedom, ambled up the road. Working the bike occupied every ounce of McGhee's effort, as he strained to push the pedals and steer using just his hands. He remembers the sound of gravel crackling under the rubber of his tires, much closer to his ears than it had ever been before. 
He had spent years dreaming about this chance to be back on the dirt, but now he was focused on the dull ache in his chest from the bike's chest pad, and keeping himself and his dog out of traffic. 
"That first ride wasn't much fun," says McGhee. "We had only gone a couple miles, but I turned around to crawl back to the car. Ride number one was in the books."
While designs vary, McGhee's first bike didn't allow him to steer and pedal simultaneously, as both actions required the use of his hands. But he approached this, and many of his newfound challenges, with the mind of an engineer and the weight-shaving inclinations of an elite cyclist: always looking for ways to streamline design and save a bit of weight where he could to maximize adventure. 
Over the course of a few more years, and a few more bikes, McGhee landed on his current model, a marvel of adaptive design and engineering. McGhee's legs are tucked beneath him, a foot on either side of a single rear wheel. The front of the bike looks like a regular mountain bike, but it disguises a complex machine that McGhee helped inspire.
"I wanted a bike that would let me max out my heart rate going uphill, and feel some adrenaline going downhill," says McGhee. His current machine boasts both a drive train and full suspension: a true off-road vehicle. 
It was important that this machine let McGhee reconnect with his athletic self, and not merely be an off-road wheelchair. This was an adventure machine. Something that would facilitate speed, excitement and the adrenaline that had shaped his younger years. 
"It's a beautiful feat of engineering," says McGhee. "My bike is way cooler than I am."
McGhee's bike is designed so that while he pedals with his hands, he can steer with his chest, allowing him to simultaneously accelerate and steer. This way, he can still chase that heart-pumping, dirt-chewing thrill he sought while trail running. 
One reason McGhee identifies as a trail runner as much as a mountain biker is because of the types of trails he prefers. Fire roads are not so sought after in the world of mountain biking, but there's nothing McGhee loves more than cranking uphill and getting his heart rate up. 
"I'm not as stoked on the heinous, downhill stuff," he says. "But it really does feel like running, in a way. Since I've been in a wheelchair and I've been on the trail, I realize that what I'm doing in my mind is trail running. And that's where my heart's at."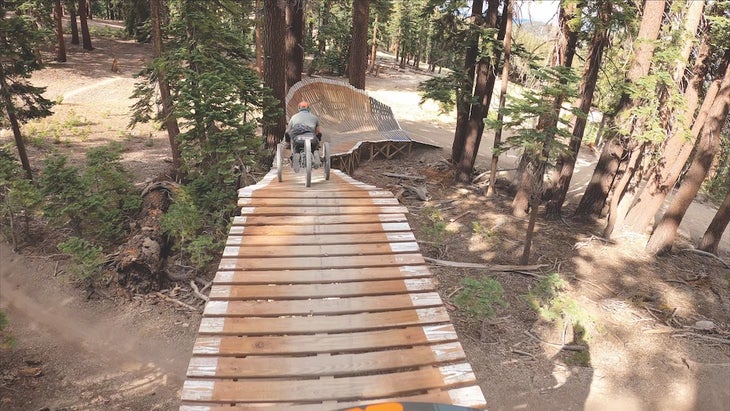 Where The Sidewalk Ends
Positivity does not come naturally to McGhee. Things that most people take for granted, like walking the dog or loading their gear into the car, require enormous effort and cumbersome planning. Everything takes a lot of work and repetition. 
"I don't know if you'd call it depression, but I do have an inclination to focus on the negative," says McGhee. A self-described, "glass half-empty kind of guy", friends have been known to call him "Cranky McCrankster". But beneath a brooding exterior is an unending reservoir of stoke.
His primary source of that stoke, of course, is trails. 
"Every time we go on a ride together, other trail users want to stop to check out his rig, but then they quickly realize they probably made a new friend," says Susie Murphy, Executive Director of the San Diego Mountain Bikers Association. "He is patient with people's curiosity and gracious with his time."
"I used to feel stuck and disconnected from nature because life in a wheelchair is relegated to the pavement, but this bike has expanded my world and enabled me to explore wild spaces," says McGhee. "I feel a lot better when I've gotten a hug from Mother Nature."
Not long after that first ride, McGhee found that he was really starting to struggle with depression. After a few more rides and time spent outside, he noticed those feelings started to dissipate. McGhee was happiest when he was outside, running, riding, surfing and skiing. He feels most at home outside exploring in the Ozarks or on the beaches of California. 
"I love that feeling of pushing myself, of cranking back and forth, and getting into a rhythm. That's when I really feel like I'm running, and that's the feeling I'm chasing."
McGhee sincerely believes in liberating athletes like himself from the confines of concrete environments. He knows that he is not alone in seeking that connection with dirt, earth and rowdy adventure. For many athletes of all abilities, it is critical to mental and physical health, and that's what inspired him to pursue a career a bit off the beaten path. 
McGhee spends a lot of time on the trail as a professional trail auditor and trail-building consultant. On an average day of work, he loads up his bike and sets out on the trail, armed with a fanny pack that carries his phone. He usually brings a friend on another bike as a safety precaution, in case he wants to get a little bit sendy on the job. 
McGhee rides trails, and if he runs into an issue like a pinch point – a trail that's too narrow for a wider bike (most adaptive bikes have two front wheels) or excessively off-camber (which causes a balance issue for those front wheels), McGhee will stop, pull out his phone and record the GPS location and nature of the problem. After the ride, he meticulously documents every rut, root and turn that might cause issues for adaptive athletes. 
"My goal isn't to change the nature or the challenge of the trail," says McGhee. "I don't need the trails to be easy, or dumbed down. They should still be rowdy and exciting and hard. They should just be accessible, too."
McGhee's goal is to make the kind of tweaks that have minimal environmental impact but can open up the trail to an additional user group. He knows he's not going to make everyone happy, but ultimately, he's out to create the kind of trails that he'd want to run and ride. Inclusive, and exciting. 
"What amazes me is how ready Jeremy is to tackle the craziest jumps, drops, rock gardens, features. He is a proper rider in all forms," says Nazario. 
McGhee partners with public and private trail builders to audit and give feedback on the accessibility of their trails. In 2018, he helped found The UNPavement, a movement aimed at inspiring folks to get into the wild. 
In McGhee's words, The UNPavement is a remedy for society's "nature deficit disorder," that seeks to de-couple concrete from the ability to have an intimate relationship with nature. McGhee and other UNPavement ambassadors tour around the country, stopping at bike and trail festivals to spread stoke and the gospel of getting dirty. The UNPavement also works to make and share instructional videos for adaptive athletes, and has developed a rating system to help athletes like McGhee get off-road. 
"I'm a pro athlete, and that's really fun for me to say," says McGhee. "I'm an athlete, and a trail builder, and a professional trail consultant. I pinch myself every day, because I get paid to do this."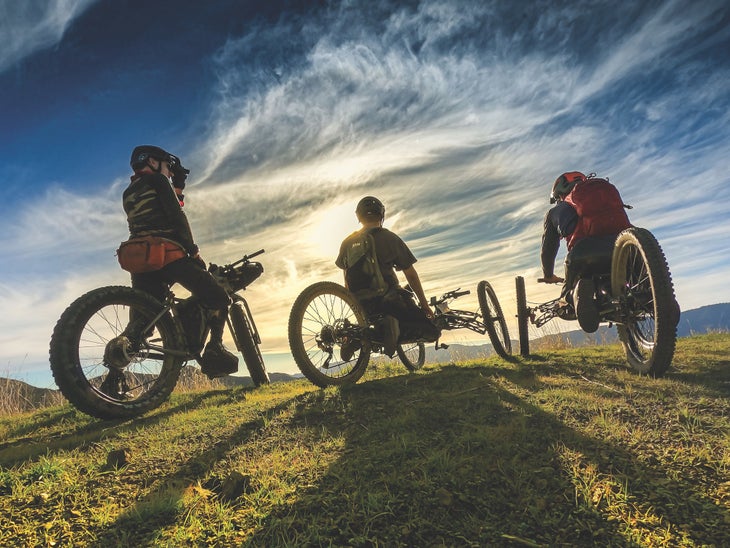 If You Build It
When McGhee isn't riding and auditing trails, he's building them. Dissatisfied with being a casual observer of the process, McGhee does what he does best: gets his hands dirty. 
"I love contributing to the actual physical part of the job," says McGhee. "It's really fun. Exhausting work, but very satisfying."
McGhee's adaptability extends far beyond his physical capabilities.  Orr sees it in his entire outlook. Not far beneath the crusty, mountain-biker veneer of Cranky McCrankster, once you get past an endearing propensity for expletives, you find an unyielding advocate for adaptive adventure and off-road access. 
"Jeremy is a big gushy heart that is very passionate about furthering his sports. It's been extremely helpful to get him and other adaptive riders' perspectives when it comes to soft-surface trail building and improvements," says Nazario. 
"What you should know about JP is what you should know about yourself," says Orr. "Those obstacles in front of you?  You can go around, over, under, through the obstacles in your life with the right attitude. You might not make it the first time.  You might roll over and get stuck.  Call a friend for help and do it again.  Learn.  Do it again or do it differently until you get it. 
Be like Jeremy and don't quit. Adapt."
JP's Favorite Trails
>> Tunnel 4 in Los Peñasquitos Canyon in San Diego might be most appropriate because I used to hike it as a child and worked with the rangers to make it adaptive friendly.
>> DH and Velocity on the Mammoth Mountain Bike Park are big boy trails and extra gnarly.
>> In Sedona, I absolutely love a trail called Llama but require assistance through a few sections.
>> In Moab, Baby Steps in the Klondike Bluffs area is SO fun! It is my goal to figure out a solo route for adaptive there. Also, the Slickrock Loop and, in the Mag 7 area, Bull Run and Getaway are some of my adaptive-friendly faves. All that requires assistance though and the most adaptive friendly would probably be all the stuff out of Deadhorse Point. Great Pyramid is a trail area that is pretty rowdy and fun.