Ultra Black Running's Dora Atim Wants Black Trail Runners to Be More Visible at UTMB
Finding community while immersing in UTMB's weeklong trail running celebration in Chamonix
Heading out the door? Read this article on the new Outside+ app available now on iOS devices for members! Download the app.
Dora Atim, 30, is an ultrarunner. She's an influencer, a leader, a coach, and a changemaker. A super-hero of sorts. Atim is the kind of person who can't be put in a box. She's not afraid to talk about the things that most people are. She's not afraid to stand up for the people who are often invisible and silenced, especially in sport. 
Atim, who lives in London, started Ultra Black Running in 2020, during pandemic lockdowns. It's an online and in-person safe space for black women and black non-binary people to come together, have community, and trail run. It's not about speed, or podiums, or doing the biggest, hardest things—it's about having fun, feeling safe, and outdoor adventure. 
Last week, in collaboration with CamelBak, Atim and a group of runners from London traveled to Chamonix, France, for Ultra-Trail du Mont-Blanc. They ran the ETC race on Tuesday in Courmayeur, Italy, then spent the rest of the week soaking up the most epic trail running celebration in the world in Chamonix. "The race itself was so crazy, so much fun," Atim said. "It was nice because UTMB is quite a serious race. Everyone is very serious. But we did not have the same serious approach. We went through and suffered together, and celebrated together."
ETC covers 15 kilometers and climbs 1,200 meters (9.3 miles with nearly 4,000 feet of climbing). "Even when it got really dark out there, like when it was really tough, we were just laughing it off. Because we don't get to do this every single day. We don't have mountains where we're from in London. It was also an opportunity to be really grateful for being able to travel to the mountains, and then celebrate afterwards and waddle around Chamonix with pride and our medals."
On Thursday, Atim and other members of Ultra Black Running also took part in a panel discussion with Team CamelBak athletes Sally McRae, Sage Canaday, Harry Jones and Scotty Hawker. They discussed challenges within ultrarunning, fostering the growth of the sport, and redefining the limits of what's possible within the community.
"It was very nice to be able to come together and collaborate in that sense," Atim said of the panel. "To talk about building communities and tribes and safe spaces, and also share insights on how brands can support grassroots communities in terms of creating unique experiences for people to explore."
Atim also works with Nike, and said, "I've been on multiple running trips. I've run multiple trail races. But there was something about UTMB that was really eye opening. I left feeling very inspired because I do lots of these kinds of things and I always leave feeling exhausted. I was tired after Chamonix, yes, but I felt a new spark—like we're heading in a good direction. And I think progress will continue to come through collaboration, through listening, through coming together and sharing. I left feeling very uplifted and inspired."
Sometimes it's easy to get caught up in things happening really quickly, or that in order for something to be a success it needs to check all the boxes. But Atim believes in a more organic approach. "The right things happen at the right time. If you love something so much and you start something, it will naturally grow. It doesn't have to be within a year, you don't have to be immediately sponsored. The right people come along and it feels perfect." Atim created a space, and then the people in that space made it grow. "For me [trail running] became my saving grace. But I didn't see people who relate to me in that space. So I created it. I didn't really know what was going to come from it."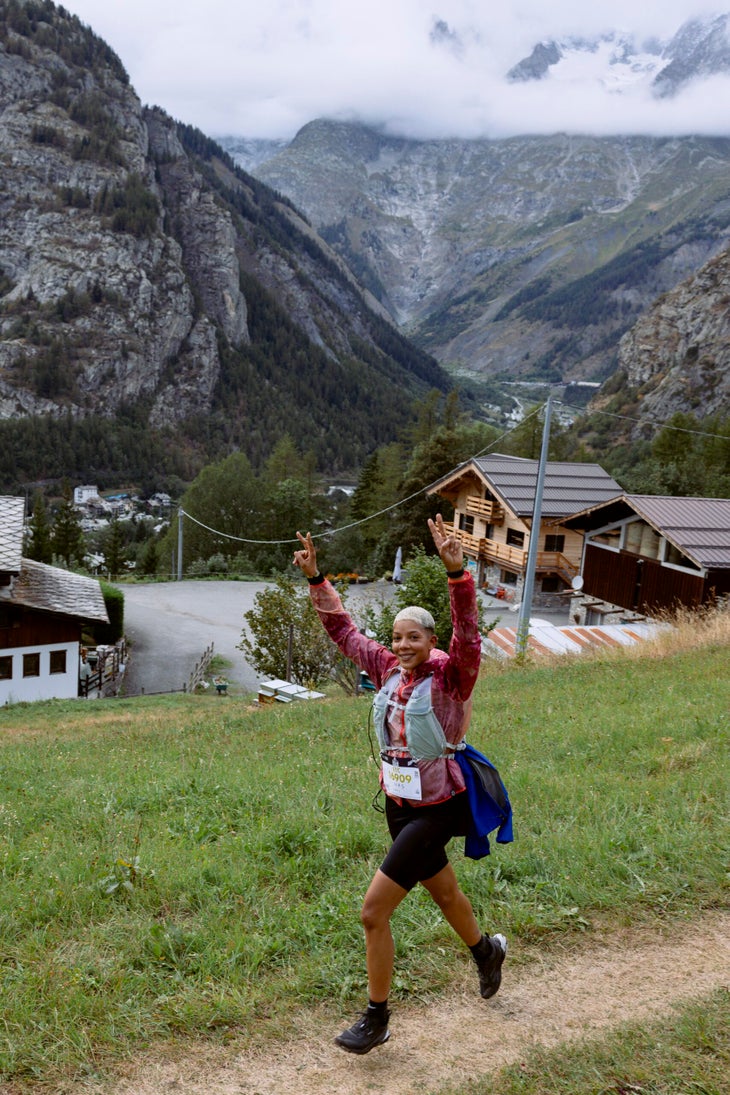 For Atim that organic growth is the only way to keep it honest—to not create something fake. She initially imagined Ultra Black Running just being for her group of friends, but more people wanted in. "I initially wanted it to just be me and the girlies, but I posted it on Instagram and it started to take off. More people wanted it. So I thought, absolutely, let's just see where it goes. And we grew a big community of black women, and non-binary people, to explore the outdoors in running."
Looking ahead, Atim wants to foster more and more experiences for people. She wants to create more leaders, coaches, and trainers who feel empowered. "The goal is for me to take a bit of a backseat—so that I can let the community drive what is now a big ship. I created it but it isn't for me. This is for the people who have poured into it day in and day out. So that's kind of the gold."
Atim is grateful for CamelBak and Nike and wants to see other brands and sponsors stepping into the space that's not so established—not so mainstream. "It can be tough to make things happen because we're grassroots. So I'm quite thankful for the opportunity and the experience." 
The Ultra Black Running crew will be back at UTMB next year, and Atim hopes there will be at least double the numbers from this year. It was an experience that she says more people need to have. "When you do something where you pour your whole self in, it can really drain you. But I feel replenished and I've not felt that in a very long time."