Trail Running and Drug-Testing: Where Do We Go From Here?
Athletes are pushing for change amid increased prize money and high-profile doping incidents.
Heading out the door? Read this article on the new Outside+ app available now on iOS devices for members! Download the app.
For years, trail running has had a reputation as a clean sport with a bit of a "wild west" vibe. 
But the globalization of the sport, increased level of competition, more sponsorship contracts, and the advent of bigger prize purses has started to change the sport in the past decade, and with it, the concern about performance-enhancing drug use has followed. 
Because there is very little authentic drug testing in trail and ultra-distance running, no out-of-competition testing and often delayed and inconsistent communication among anti-doping agencies, the sport is at a critical juncture with a growing influx of money and professionalism — especially after the results of one of the sport's most prestigious events were tarnished by doping last year. 
On January 7, Esther Chesang, the women's winner of the 2022 Sierra-Zinal trail running race last August in Switzerland, was provisionally suspended by the Athletics Integrity Unit (AIU) after it was revealed that the 28-year-old Kenyan runner had triamcinolone acetonide (glucocorticoid) — an anti-inflammatory steroid on banned by World Anti-Doping Agency — present in her system after an in-competition drug test last May 11. 
In theory, Chesang, a mid-level marathoner and first-year trail runner shouldn't have been able to run the Sierra-Zinal race, but because the prior negative test hadn't been reported by the Anti-Doping Agency of Kenya (ADAK) until early January and she received no sanctions after the negative test, there was no reason to keep her from running.  Furthermore, she was tested as part of the Quartz health and wellness program prior to the Sierra-Zinal race on August 13 and her test results eventually came back clean, according to the AIU.
The awkward irony of the Chesang bust being announced by ADAK was that it came a day after a visit from World Athletics president Sebastian Coe, who warned that if Kenya didn't clean up its act, it could suffer a long-term suspension from international competition similar to the one Russia received in 2015. 
The news about Chesang came after months of doping infractions by Kenyan athletes. Three months earlier, Kenyan Mark Kangogo — the men's winner of the Sierra-Zinal race — was suspended for four years by the AIU after tests showed the presence of two prohibited substances, triamcinolone acetonide and norandrosterone (an anabolic steroid used to promote tissue and skeletal repair), in his system after an in-competition drug test was verified by a WADA-accredited laboratory in Lausanne, Switzerland, on September 5, three weeks after winning the Sierre-Zinal trail race. Because he admitted to the violation, he was granted a one-year reduction in the ban, eliminating him from competition for three years retroactive to September 9.
In their first year racing on the trails, Chesang and Kangogo dominated the 31K Sierre-Zinal village-to-village race that includes 7,200 feet of climbing and 3,600 feet of descending. Chesang won the women's race by 30 seconds over Switzerland's Maude Mathys, while Kangogo finished almost 2 minutes ahead of runner-up Andreu Blanes of Spain.
Both Chesang and Kangogo had been part of the Milimani Runners, a new On-sponsored Kenyan trail running team organized by Swiss coach Julien Lyon in 2021. The group spent a year training in Iten, Kenya, with the intent of running the Sierre-Zinal race and other World Mountain Running Association World Cup races in Europe in 2022. Several other runners in the group earned podium finishes in 2022 and wound up ranked among the top 10 in the World Mountain Running annual rankings.
While Chesang's provisional suspension is still pending, it's likely she will lose all of her results and prize money from 2022 and Mathys will likely be announced as the women's Sierre-Zinal champion. Kangogo has already forfeited his Sierre-Zinal victory and $2,900 prize purse — Blanes has since been declared the winner — as well his results and prizes from several other European trail races in 2022. 
But irreparable damage has already been done. Take for example the case of Australia runner Simone Brick. She finished 31st in the 2022 Golden Trail Series season rankings, one place away from a top-30 position that would have earned her financial support to race in the Golden Trail World Series Final in Madeira, Portugal. 
"This pisses me off so much," Brick said in an Instagram post on January ninth that has since been deleted. "Esther was in the top ranking. Take her out and I would have made it in. My entire season (and financials) would have ended very differently. Even worse was when she tested positive 3 MONTHS before Sierra-Zinal. F@$k cheats."
The suspensions of Chesang and Kangogo aren't isolated incidents, but they could show the lengths sponsoring brands will go to attract elite-level runners, given that On and Salomon have attempted to develop Kenyan trail runners since 2021. But it might also be a sign that as more trail runners and perhaps athletes from other sports — i.e., road running, Nordic skiing, obstacle course racing, triathlon — chase prize purses in trail running, performance-enhancing drug use could become more prevalent. 
Mathys (Switzerland), Elisa Desco (Italy), Petro Mamu (Eritrea), Christel Dewalle (France), and Gonzalo Calisto (Ecuador) are among the top international runners who have either been suspended or reprimanded after getting caught for using performance-enhancing drugs on WADA's list of banned substances in recent years. (Mathys received a warning from the Swiss Olympic Disciplinary Chamber after twice testing positive for the banned fertility drug clomifene without a therapeutic use exemption at the 2015 International Ski Mountaineering Federation World Championships and an out-of-competition test.) 
Many coaches, athletes and race organizers connected to the sport believe there would be athletes caught using PEDs (performance enhancing drugs) if there was more consistent testing.
Perhaps just in the nick of time, elite athlete and prominent figurehead Kilian Jornet, a four-time winner of the Ultra-Trail du Mont-Blanc (UTMB) and founder of the Nnormal shoe brand, has helped form a new non-profit organization called the Pro Trailrunners Association (PTA) intended to help athletes play a significant role in shaping the future of the sport, specifically in the areas of athletes rights, anti-doping, the environment and competition fairness and safety. It's a direct response, he says, to the growth, influx of money and doping concerns that have developed in recent years.
"Trail running is growing fast … but we have seen also the increase of doping, some environmental boundaries crossed to make an event or behaviors towards fellow runners, volunteers or the land where running that we believe are not representing the values of this community," Jornet said in an Instagram post on January 9. "With this expansion and the challenges that all the actors of the sport will face we thought it was the moment to unite as professional and elite trail runners. To have a voice to keep the fair play in the competitions, with more anti-doping controls, to ensure that the preservation of the landscapes and ecosystems we use is a priority, and that the rights of runners are respected, with equality and equity of opportunities for all."
RELATED: Kilian Jornet isn't the G.O.A.T. of trail running just because he wins big races.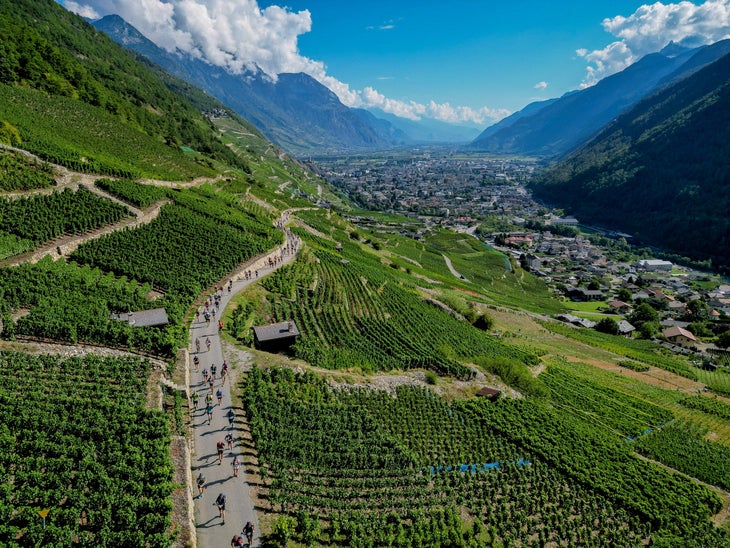 Anti-Doping Measures in Trail Running
Ultrarunning coach and athlete Jason Koop has been pushing for an anti-doping strategy in trail running for years. Although he's an outspoken advocate for the need for out-of-competition testing — as of now, only athletes who happen to be in the system from another sport discipline under World Anti-Doping Agency (WADA) purview are subject to random, out-of-competition tests — he's confident the culture of trail running is still intact and not yet tarnished with the widespread cheating and corruption that have plagued cycling, track and field, and triathlon at times. But there's no time like the present to get started with the small steps of developing a systematic approach, he says.
"When you see these big things, particularly in cycling, whenever doping has been going on unchecked for long periods of time, it's difficult to get rid of because the culture is so rotten. It's just like any other business organization with a rotten culture. It's the hardest thing to turn around," Koop says. "Trail running, although it's not pure and clean and perfect by any means, it's not so rotten right now and not like it's a Titanic of a ship to try to turn around. Every year that goes by, that statement is a little harder to make, but we're still very early in the whole process that we have a few years to figure it out, in my estimation."
But, he admits, it won't be an easy task. Although some races utilize various  forms of drug-testing protocol, the immediate challenge to making it universal is the lack of a unifying governing body for trail, mountain, and ultra-distance running. Drug testing is also both expensive and, as it is presently administered, inconsistent. Additionally, there's the question of how to pay for universal drug-testing at races and out-of-competition testing, though many coaches, athletes, and race directors have said they'd be interested in contributing to some sort of boot-strapped model if big races, shoe brands and other sponsors got behind it, too. 
While a few races utilize post-race drug-testing sanctioned by WADA — including the Western States 100, Comrades Marathon, the International Association of Ultrarunners (IAU) 24-Hour and 50K and 100K Road World Championships — other races use the Quartz program organized by the independent Athletes for Transparency (AFT). 
Post-race urinalysis tests administered under WADA policies and procedures are aimed at detecting use of illegal substances on the WADA Prohibited List and are consistent with those used in international track and field meets and marathons sanctioned by World Athletics, as well as major triathlons sanctioned by World Triathlon (formerly the International Triathlon Union) and World Triathlon Corporation (Ironman). The national governing body of running for every country in the world adheres to the WADA regulations. 
The Quartz program requires competitive athletes interested in prize money and inclusion in a race's final results to submit a blood test to the Quartz system, either onsite in the days before a race or in advance, for evaluation. It also organizes post-race blood tests for top finishers that are submitted to WADA-accredited labs for review.
But the Quartz program, which is used by the Golden Trail Series, UTMB, Marathon des Sables, and the Festival des Templiers in France, among others, is geared toward protecting an athlete's overall health and not necessarily the detection of performance-enhancing drugs, according to Simon Pallet, chairman of the AFT. 
"Doping doesn't concern us," Pallet said in an explanatory statement promoted by the Golden Trail Series and shared with media organizations after Kongogo's suspension was announced. "What we are interested in are the medical risks, such as thrombosis or serious kidney failure. Our mission is not to catch those who cheat — although we are pleased to help make the sport fair — it's to talk about health issues with the athletes and protect them when they aren't able to do it themselves."
The Quartz program administers medical tests before races to obtain an athlete's biological profile, plus toxicology testing for some banned substances at the finish line. Quartz's list of banned substances contains not only all of the drugs regulated by WADA, but also many others including all painkillers, cannabidiol (CBD), and non-steroidal anti-inflammatories (NSAIDs) — such as aspirin, ibuprofen and naproxen. Under the Quartz program, athletes can be disqualified after a race if they test positive prohibited substances, but they can also be prevented from starting if administrators deem them not medically fit. 
But that's where things have gotten messy. The Quartz program, which is not sanctioned by any national governing bodies, doesn't make its disqualifications public, nor does it report results to WADA. And that has left many athletes to believe it is too arbitrary and wields too much independent power over the sport. 
In late September, two weeks after Kongogo's positive test was discovered but two weeks before it was announced by the AIU, elite American runner Joe Gray raced in Colorado's Pikes Peak Ascent, an event he has won four times. But the two-time world champion mountain runner chose not to take part in the Quartz program because he says it's too vague and he doesn't trust it. 
Gray ran a good race and finished third in the Pikes Peak Ascent, but because he voluntarily opted out of the Quartz program, he took himself out of consideration for the Golden Trail Series prize money that overlapped with the Pikes Peak Ascent. In other words, he wound up missing out on the $1,000 that was allotted for the third-place finisher.
"My decision not to participate in the Quartz testing at Pikes Peak is based on my opinion that this is not a sufficient drug testing program compared to @usantidoping and @wada_ama, which I am completely compliant with" Gray said in an Instagram post before the race. "In my opinion, our sport needs real drug testing, not a company parading as one yet only serving as a 'health checkup.' Quartz is ruining classic events globally by fooling race directors into buying into their 'health"' program, distracting them from actual drug testing that is necessary. This system is not protecting us as athletes. It's not preserving our sport, and it sure isn't upholding true clean sport." As of publication, Quartz had not responded to requests for comment.
For 2023, the race organizations behind the Pikes Peak Ascent and Marathon and the Mammoth Trail Fest, which will both be part of the Golden Trail World Series, have decided to shun the Quartz program in favor of U.S. Anti-Doping Agency (USADA) testing compliant with WADA code. Mammoth Trail fest director Tim Tollefson said the races will be organizing a free webinar to educate athletes, coaches, agents and race directors on the anti-doping policies and procedures by late winter.
Tollfeson hopes the decision of those events to switch to USADA race-day testing will encourage other American races to follow suit. But he also hopes that it will be the first step in creating a comprehensive anti-doping framework that will eventually include out-of-competition testing.
"As my conversations began with the Golden Trail Series and Salomon, I was upfront about my concerns about the Quartz program. There could be a benefit of that system, but it isn't anti-doping," Tollefson said. "We want to align ourselves with credible agencies that can be objective to be able to protect the integrity of the sport. We just have to take those steps. We're at a tipping point where, if we don't take a stand, our sport is at risk of becoming cycling in 10 to 15 years, and I won't stand for that."
RELATED: More Prize Money Is Flowing Into Trail Running. What Does That Mean for the Sport?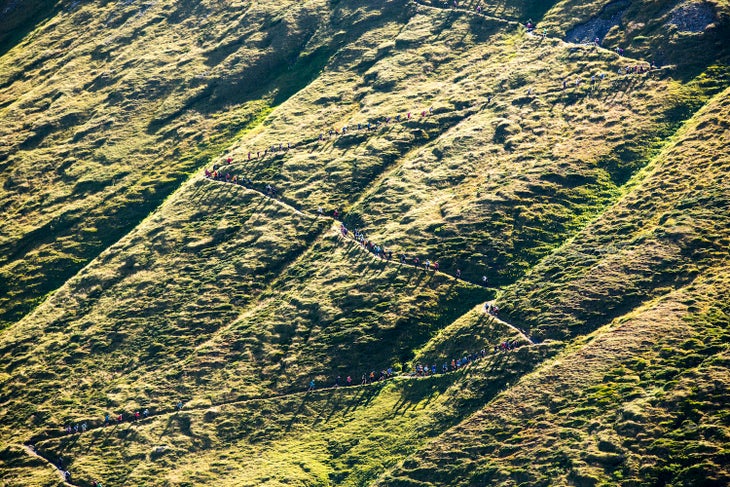 Starting From Scratch
A few years ago, Arizona runner Charlie Ware, a top-10 finisher at the Western States 100 in 2018, was inspired to begin working on a framework of a new drug-testing system after submitting a blood test to the Quartz program, prior to the Tarawera 100K race in 2019, and realizing it was more of a "facade of being a doping program" and not really at all a drug test.
Ware's concept centered around the idea of elite runners voluntarily paying to be a part of an out-of-competition drug-testing program that would include randomized WADA/USADA-sanctioned testing. It would be limited in scope, but impactful enough to create a deterrent to cheating by presenting a threat to getting caught.
Ware talked to dozens of people — athletes, race directors, scientists, plus the drug-testing experts and policymakers at USADA — and said he received overwhelming support.
"It would be cool if we were there before the problem, because it's naive to think it won't come into our sport — as it has in every other endurance sport," Ware says. "My whole idea was, 'Let's get ahead of it, let's have systems in place before it becomes a problem and taints our sport like it did with cycling.' We're definitely in a gray area and no one would dispute that. There's no testing. So this would be a start."
Ware did a deep dive into the subject and built a framework for an initiative called the Ultrarunning Athlete Collective (UAC) — essentially an athlete union that would allow athletes to take control of an anti-doping system—that would have developed a U.S.-based voluntary testing program in which athletes would contribute $370 per year to fund out-of-competition testing.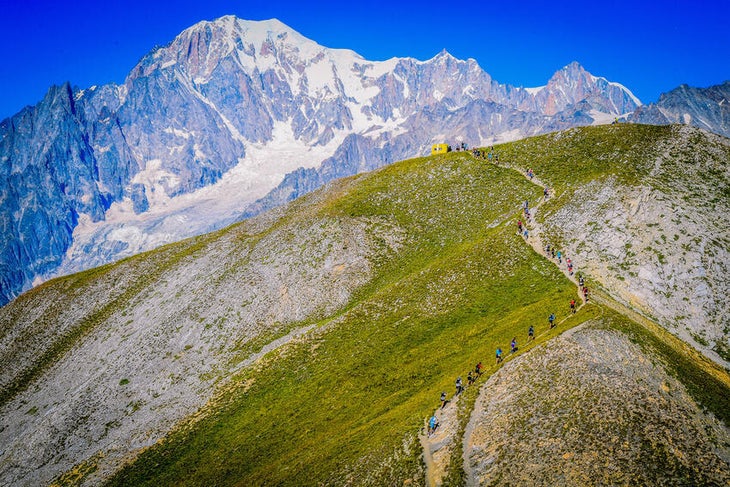 Athletes Organize Against Doping
Ware specifically reached out to the top 10 men and women's finishers at the previous year's Western States 100 and the top 10 men's and women's candidates for the ultrarunner of the year awards. The plan used those rankings as a core group of elite athletes that would annually pool together about $15,000, which would be enough to order seven to 10 random tests administered by USADA. (Individual tests cost about $1,200, including the travel to administer the test and the analysis at a professional lab.)
"It would be completely random and anybody could get tested at any time. Based on that, we'd have a situation in place in which everybody is aware that someone could show up on their doorstep and say, 'Hey, you have to pee in a cup,'" Ware says. "To me, that's the only effective way to have testing. It's not race-day testing. It's not a silly little pledge or a temporary tattoo that says, 'I run clean.' It's got to be random out-of-competition testing." 
From there, Ware expanded the concept into a collective among athletes and races in which additional athletes would opt in and pay the $370 fee and race directors could support it by agreeing only to pay prize money to athletes who were paying members of the testing pool.  (Ware said race officials from Aravaipa Running, Run Rabbit Run and Western States were among those interested.) The participating athletes would have to be part of the USADA Clean Athlete Program (CAP), which is a "whereabouts" system that requires the athletes to declare their primary residence and training locations. 
Positive tests of an athlete's "A" sample would require retesting an athlete's secondary "B" sample. If a suspension is warranted after a thorough investigation, it would be posted on the USADA website and races (and presumably sponsoring brands) would be held accountable to enforce the sanctions.
Ware's proposal also called for the development of a governing body to determine how the system would work, which substances outside of the WADA prohibited list would be illegal, and how the tests would be administered. Furthermore, the program also suggested 70 percent of the random tests would be given to athletes with high-level ITRA rankings (800 or higher for men, 700 or higher for women) and the other 30 percent to go toward runners with rankings below those standards. 
Ware said the initiative gained a lot of momentum and support, and ultimately he learned a lot about the drug-testing process along the way. But it stalled out because it was clear that it would become more complicated and more expensive when it came to dealing with positive test results — especially in situations when athletes appealed or believe there were victim of a false-positive result, possibly related to an unknown or tainted supplement or food source. 
In either situation, re-tests and third-party tests would have to be administered, then considered by an independent review board or court of appeals. Because of that, Ware figured it would take an additional $150,000 pool of funds to get the program off the ground. 
"You're in a place now where you need $50,000 to clear your name if you get caught up in a situation like that," Ware says. "And that was a contingency I didn't prepare for or really have a solution for. I wasn't comfortable launching this initiative and starting to order tests from USADA until we had that portion figured out. I didn't see a situation where, because of a tainted supplement, their whole career was ruined and didn't have the money to clear their name."
Ware says he learned a lot and appreciated the questions and input those close to the support provided. Not long after COVID-19 shut down the world, Ware tabled the plan, mostly because he knew he wouldn't be able to push it any farther on his own. 
But a continued influx in money — prize money, sponsorship money, and big-time events popping up around the world — and a few recent athletes busted for doping, it might be time to start again, he said. Discussing it recently, Ware says there might be good reasons to dust off the framework he developed and try to get more people involved to develop the structure to go forward. In addition to athlete contributions, funding could also come from shoe and apparel brands that are immersed in the sport. But it would also take non-athlete administrators and organizational structure to manage the money and procedures.
"I think at this point, it's a matter of funding and getting enough people who want it to happen to make it happen," he says. "That will take a lot of willingness of the people in the sport to make it happen. It's totally doable. It's not a far-fetched thing. It just comes down to doing it."
As the new era of trail running continues to evolve, there has been increased discussions among athletes, race directors, sponsoring brands and agents. 
On December 15, the independent Pro Trailrunners Association held its first official meeting and named elite runners Francesco Puppi (Italy), Pascal Egli (Switzerland), Pau Capell (Spain), Frédéric Tranchand (France), Eszter Csillag (Hungary/Hong Kong) and Americans Kaytlyn Gerbin and Corine Malcolm as its first board members. The primary goal of the donation-funded organization is to create a voice for athletes that can be leveraged to impact positive change in the sport.
Tollefson, for one, believes the increased chatter around the sport could help a better approach to drug-testing could start to materialize for 2024 or sooner.
"I'm a firm believer that if all stakeholders take a part, we can fund what we want to see," Tollefson said. "If we all share that load, we could have a legitimate, well-rounded anti-doping program under USADA or WADA and that's something I want to help to continue to work towards."
PART I: More Prize Money Is Flowing Into Trail Running. What Does That Mean for the Future of the Sport?