This Retreat Is Helping Support Women of Color in the Running Industry
Women Take The Lead Retreat is creating space for women of color in the running industry to network, learn, and connect with tools to advance their careers
Heading out the door? Read this article on the new Outside+ app available now on iOS devices for members! Download the app.
The running industry, particularly at executive and leadership levels, remains largely white and male. Only 15 percent of outdoor companies are led by women, and 85 percent are white, according to the most recent data gathered by Camber Outdoors.
Alison Désir, activist and author of Running While Black, is working to change that. Now in its second year, WOC (Women of Color) Take The Lead Retreat, co-founded by Désir and Martha Garcia, Senior Director of Brand Marketing at Parks Project, is bringing together women and female-identifying leaders of color from around the running industry to network, problem-solve, and work in a space that centers their experience.
Last year's inaugural event was held in Seattle, Washington, at Brooks' headquarters, where they hosted 64 participants representing brands from around the industry, including Brooks, Feetures, Salomon, ON Running, New Balance, Strava, and Oiselle. This year's event will be held in Chicago, Illinois, from August 14-16, and those interested can sign up here. The organization is actively pursuing additional partnerships to support registration fees for some participants.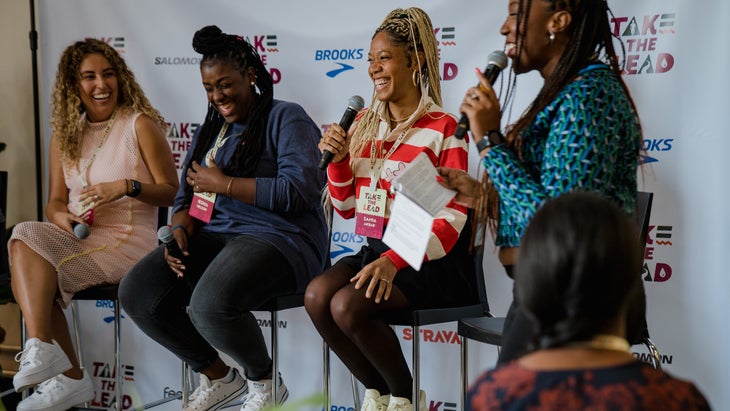 "The gender and racial pay gap leave, for women and femme of color, make significantly less than our white women counterparts, who themselves make even less than white men. What this means for women and femme of color currently in leadership positions—or looking to get into leadership positions—is that we often feel isolated, without a network of anyone who might share similar cultural experiences," says Désir. "Take the Lead exists to nurture existing and future leaders, normalize our experiences, advocate for equity, and provide opportunities for us to show up as our full authentic selves."
WOC Take the Lead co-founder, and co-founder of BibRave, Jessica Murphy, says this retreat acts as a corrective to inequities found in c-suites and boardrooms. "Many WOC are the only ones in their organization, or at their level within their organization," says Murphy. "This is a rare opportunity for WOC to connect with others at their level, or at similar organizations, for peer-to-peer connection and mentorship."
Many women of color feel pressure to conform to "professional" expectations that center the needs and experiences of white men in the workplace, and this retreat seeks to act as a corrective to that culture, to give leaders a space where they can show up, skill-up, and connect more authentically.
"Spaces like these are important for women of color in the running industry because we're still operating in such a homogeneous and male-dominated industry, especially at the corporate level," says Kailin Rodriguez, who is co-organizing this year's retreat. "Creating safe spaces, free from retaliation, where we can share our experiences in confidence, feel seen and heard, build one another up, and feel empowered to create the change we want to see are necessary for us to keep doing the work we're doing and progressing conversations forward. If we don't, who will?"
The retreat offers opportunities to network, communicate with sponsors, and connect directly with resources that feel out of reach for many WOC, like the opportunity to get professional headshots, which can feel out of reach for many women of color. Professional assets like these might be taken for granted by some, but the opportunity to be professionally photographed can lead to tangible career advancement for many.
"Intentionally providing these tools and resources is important because too often these are gatekept or require certain access or funds that might not be readily available," says Rodriguez. "With access to mentorship, conversations, and resources, we can empower ourselves, evolve, and continue to show up."
Désir agrees that mentorship opportunities, like the ones offered at WOC Take the Lead, are critical, because many participants report that these resources feel out of reach. "Plugging people into resources is an essential part of career development, and we want to ensure that everyone leaves with valuable and tangible takeaways," says Désir.
The retreat will also feature panels on topics like career development, community development, connecting with mentors, and mentoring other WOC in the run space. Panelists at different career stages will discuss challenges they've faced in their work and the specific tactics they've used to overcome them. They'll also share how they've used their platforms and influence to make a difference in the running industry, and how mentorship can extend that positive influence.
Joy and connection are central to the retreat's mission. Each day of the retreat will also feature dance breaks, group runs, and downtime so that participants can balance career development. Often, WOC in white-centric spaces don't have the opportunity to let their guards down, take a deep breath, and have fun.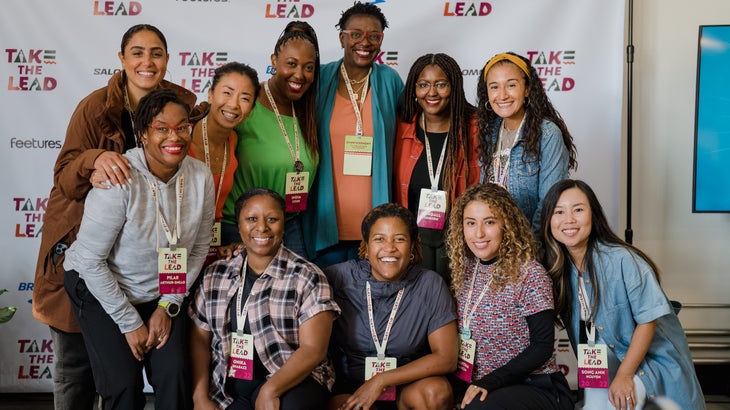 "I had never been in a room with only women and femme of color in a professional setting! I had been so used to attending running industry events where I was one of the only or a few, where the women of color found each other in a sea of white people, or during a scheduled BIPOC happy hour," says Désir. "What a relief to look around and realize that there are indeed a lot of us—we are not alone and that we can reimagine what the running industry looks like, centering our needs."
Murphy, who attended the event last year, says the connections she made have been critical.
"Don't underestimate the power of connection," says Murphy. "Since September, I've been able to connect with others I met through Take the Lead when at other events, the New York City Marathon, TRE, etc. Spaces that normally you would feel like the 'only' one, now there is another friendly face to connect with. It's been invaluable."
Rodriguez hopes the retreat will underline the fact that WOC don't need to change anything about how they show up professionally, and that it's the systems of support that need changing.
"You have everything you need within you already," says Rodriguez. "And when you equip yourself with a supportive network, mentorship, menteeship, allies, and folks who not only have your back but who are actively rooting for you, you are that much more powerful."
Désir, Rodriguez, and Murphy agree that while the industry has made some progress, there is deeper work to be done to create an industry truly built on equity. Many feel that the running industry's short attention span often tokenizes or takes advantage of WOC and that the affinity space created by this event can help radically re-conceptualize what a truly equitable running community might look like.
"This event is for us, by us. This is not an event where there will be a single conversation that centers us and everyone pats themselves on the back. Everything—from the music choices, to the topics of conversation, to the food—will celebrate us," says Désir. "You will leave with not only tangible resources but the deep sense of knowing that we have your back."
Zoë Rom is the Editor in Chief of Trail Runner and Managing Editor of Women's Running.