The Awkward Thrill Of Running Up Ski Slopes
What does down, must come back up.
Photo: Michael Werlberger
Heading out the door? Read this article on the new Outside+ app available now on iOS devices for members! Download the app.
"Your last name means slaughterhouse in German!"
That's the only thing I can make out the PA announcer saying amid the thumping music, cheering spectators and the outrageous sound of my breathing as I lie on the concrete with a feeling that my heart is about to pump out of my chest.
But honestly, I felt like I had been through a slaughterhouse after "running" one of the hardest trail races of my life at the Inov-8 Descent Race+ in Kitzbühel, Austria last weekend. And all of this happened in less than 6 minutes of running. And by running, I mean power-hiking. And by power-hiking, I mean, moving on all fours like livestock, well, um, heading to slaughter. 
In trail running, we tend to celebrate great feats of endurance, and rightfully so. The challenge of running for relatively long periods of time — whether it's 5K or a marathon or 100 miles or longer — is legit and always a worthy endeavor, given the physical, mental and emotional struggles we go through to complete those journeys.
But generally, we don't celebrate short bursts of trail running, except when we string them together over time. While there are a few routes like the leg- and lung-burning Manitou Incline and plenty of Vertical K races and courses, but even those take 20 to 40 minutes. There's no such thing as a 100-meter dash or the trails or even an off-road mile time trial. And even when it comes to Fastest Known Time pursuits, routes must be at least 5 miles long with 500 feet of climbing, and that means most take 35 to 40 minutes by default. 
RELATED: Back-to-Back Long Runs and Workouts: Next-Level Training, if Done Right
What makes the Inov-8 Descent Race+ so unique is that it's held on the grassy slopes on the upper portion of the Streif, the ungodly steep course of the infamous Hahnenkamm Downhill ski race. As a ski race, it's the most difficult on the World Cup tour, with grades as steep as 85 degrees and several double fall-line turns that making staying upright a huge challenge.
As a trail running race, it's equally notorious because it's so steep and, quite frankly, because it's also used as a cow pasture during the summer months. It was formerly a wild, downhill-only running race, but the organizers changed it up this year to make it a two-person team race in which one runner runs down the 350-meter hill in time-trial format and the other runs back up.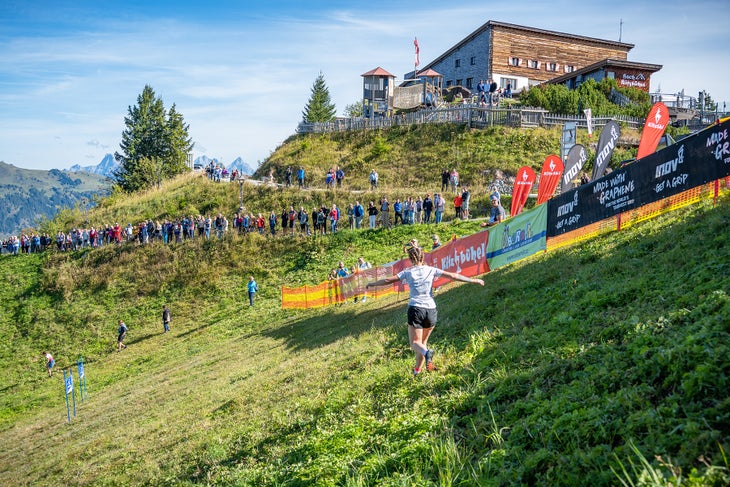 Up and Up
When we signed up for this crazy race, my running partner, Adam Chase, told me he'd prefer to run down so that meant the uphill leg was all mine. Thanks, buddy! I spent the last several months running and hiking up steep mountains in Colorado and pounding out uphill miles on my road bike in the hopes of preparing myself for such a grind.
As it turns out, the only thing that might have prepared me for this kind of race was to run on a Stairmaster in altitude chamber that was somehow short on oxygen.
How hard was it? Two words: lung burn. 
It's been two days and I have a lingering post-race cough that I haven't experienced since my long-ago days of running indoor track races. My legs and lower back ache and I'm pretty sure my heart rate will never return to normal.
RELATED: Training To Be A Strong Downhill Runner
Yup, it was a short, sharp shock to in every possible way, but it was definitely Type 2 fun that makes me want to go back and do it again. 
As runners ran the downhill portion, it looked treacherously hard, so I was glad, for the moment, to be running the uphill section. Some runners were running impossibly fast and other were blowing up into hilarious, head-over-heels gymnastics just to get down the mountain. I couldn't believe they weren't wearing helmets.
But it wasn't until I was at the starting line of the uphill section that I realized how difficult my task was going to be. Runners were sent off in an ascending order of times based on the performance of their downhill partner. I had a lot of runners in front of me that I had to try and catch, but as enticing as that was, it wasn't going to be easy.
The course started with a relatively moderate slope, so the first 10 steps felt like normal trail running. But then the gradient increased from about a 30-degree incline to what seemed like near-vertical and that sent me to an oxygen-depraved stupor and forced me onto all fours for the remainder of the race. I couldn't believe my breathing and heart rate were immediately maxed out and wondered how I could possibly continue at that level of exertion.
I was moving my arms and legs as fast as I could, but I was gasping for air and everything seemed to be happening in slow motion. The terrain was soft — and, um, very slippery, thanks to the cows that had recently been on the slope — so footing was extremely tenuous, even while wearing very luggy Inov-8 Mudclaw G-260 shoes.
Going Nowhere Fast
Despite my efforts, I wasn't going anywhere very fast. By the time I reached the halfway point, where there was a flat section over a service road, I was delirious, blurry-eyed and cardiovascularly cooked. I tried to run across that break in the terrain, but instead I wound up stumbling forward and tripping into the hill that continued a few feet away at an even steeper slope. 
Scrambling on my hands and feet like a toddler over the mucky ground, I actually managed to pass two other "runners," but it wasn't the least bit graceful, athletic or even satisfying. I continued on up the slope, going deeper into oxygen debt and lactic-acid overload. But the faster I tried to move, the slower I seemed to move. 
With music blaring, people screaming and the sight and smell of earthy, organic slippery slime providing a sensory overload, I found myself oddly caught in a moment of suspended animation, a state of bliss. And yes, I was moving at about 24-minute mile pace. 
(I later learned the twentysomething Austrian runner who had the fastest uphill split, Florian Heutberger, did it in three and a half minutes, approximately 15-minute mile pace. Combined with the downhill effort of teammate Roland Dottinger, they easily won the race in 4:58. Let's just say that Adam and I were much slower.)
Although I had lost connection with my correlative efforts propelling me up the slope, I was doing something right because I was making progress and nearing the finish line on the small platform that typically serves as the starting house for ski racers. I crawled up a slanted wooden platform, grabbed a rope and, without feeling my legs, somehow pulled myself up to the finish.
As I laid on my back hoping my heart would settle down before it would explode, I heard the announcer talking about my family name and slaughterhouses. I wondered how he knew my German ancestors were in the meat-packing business and why my legs felt like raw hamburger starting to sizzle on an open flame.
Brian Metzler was the founding editor of Trail Runner magazine and now serves as a contributing editor.