The Alchemy of Grief
Race director and runner Elizabeth Reese has a message for the world: running isn't the same thing as therapy.
Heading out the door? Read this article on the new Outside+ app available now on iOS devices for members! Download the app.
***Heads up that this article mentions sexual violence and may not be appropriate for everyone. 
Scrolling through social media, Elizabeth Reese saw post after post of exhilarated runners in the woods, smiling in selfies, paired with captions like "Running is cheaper than therapy" or "Endorphins keep me sane." 
Two months into the global pandemic, Elizabeth—a trail runner in Seattle and race director of Oregon's Waldo 100K—felt anything but sane. Three months earlier, her dad had died of cancer. Now, thousands of people were dying of Covid-19, news of racial violence had exploded and, everywhere, people were isolated from their loved ones. Elizabeth had just been laid off from the job she'd had for four years managing race operations for Rainshadow Running; as with many small businesses, income streams had evaporated overnight.
The internet could make it feel like others were coping with the hardships of 2020 with ease, thanks to a little "#trailtherapy." Elizabeth began to wonder, Am I the only one who's not fine?
Without her job to keep her busy, and the regular cadence of races to keep her connected, her emotions could feel overwhelming. Escaping to the woods helped, but her usual enthusiasm for training had waned.
"I do not want to choose suffering as a recreational activity right now," she wrote in her journal. "I understand the need to choose it, because I think we learn a lot about ourselves when we suffer and come out on the other side, changed. But right now, I need the mountains to give me solace from my suffering."
But what if the mountains weren't enough?
***
Elizabeth, now 35, grew up on a farm on a gravel road in Iowa, as part of a graduating class of 38 people. Her childhood was rich with backyard adventures—riding bikes with her older brother, Daniel; exploring nearby creeks; sledding in the ditches in the winter. She loved pretending to be an archaeologist, filling her family's sun porch with boxes of rusty farm equipment she'd dug up in the fields behind their house.
Money was scarce. Her dad, Rob, hunted to fill his deer tag to ensure they had enough food to get through winter. When Elizabeth inherited the family Oldsmobile, she used a garbage bag and duct tape to seal a rust hole in the trunk to keep gravel-dust out. They never took family vacations, but when she and Daniel had an opportunity to go to Europe through a school program, their parents took out a second mortgage to be able to send them. 
"Going to Europe was the highlight of my youth," she says. 
Then, in her senior year of high school, tragedy struck. She and two friends went for a drive one day on the country roads. They piled into the bench-style front seat and had a grand time talking and laughing—so much so that Elizabeth's friend, who was driving, missed a stop sign. Their car collided with a truck.
The next thing Elizabeth remembered was surveying the scene from outside the car—her friends crying but OK, debris everywhere, white foam all over the road, the truck on its side and the truck's driver lying motionless on the ground. He died at the hospital that evening.
The man had been a beloved community member—a volunteer firefighter and the owner of a convenience store that Elizabeth and her friends had frequented. She attended his funeral at a local church. It was overflowing with people.
"I could feel the pain of everyone," she recalls. "We had not been drinking or on drugs, but we had been careless and caused the premature death of a person loved by so many." 
Elizabeth didn't know how to talk to anyone about what happened. People in her life—family, friends, teachers—seemed content not to talk about it either. She fell into a deep depression. She'd been a cheerleader and track athlete, but all exercise sputtered to a stop since the accident left her with four broken ribs—a perfect metaphor for the pain inside that was invisible to everyone around her.
At her parents' suggestion, she began seeing a therapist. When she mentioned feeling anxious about having gained weight since the accident, the therapist handed her a copy of The South Beach Diet. It sent her down a path for years of disordered eating. 
Then came college at the University of Iowa and, with it, a new coping mechanism: alcohol. She partied hard and drank heavily. Back home for the summer after freshman year, she woke up one morning to discover that while blacked out the night before, she'd been raped by an acquaintance from church. 
"You would think that would have opened my eyes to adjust my behavior, but instead, I started drinking and partying even more," she says. Years later, she'd realize being raped wasn't her fault, but at the time, she didn't feel like she could tell anyone—"mostly because I was so freaking ashamed."
The following year, her dad and uncle began rock climbing once a week at a gym on campus. Elizabeth joined them and loved how strong climbing made her feel.
"It set off something more adventurous inside of me," she says. "I do have a touch of height freight, but I knew I had nothing to worry about because my dad was on the other end of the belay, and he was the strongest man I knew."
That summer, she met a young man named Joel Reese at an open mic night. He recalls being drawn to her vibrant energy and shared passion for music. Dating came naturally to them; he was one of the first guys Elizabeth had ever felt safe with.
"He loved me for who I was and helped me out of that black hole of a time," she says.
Two years later, they were married. In lieu of a honeymoon, they traveled to Seattle to visit Joel's brother and sister-in-law, and so Joel—who'd run cross-country in college—could run the Seattle Marathon. It was Elizabeth's first time at a marathon. Attending the expo, she was enamored.
"I think it really inspired her," says Joel. "She wanted to be a part of that positive atmosphere."
The city of Seattle also wooed her, especially its sprawling, green parks—swaths of wilderness woven into the fabric of a city tucked between snow-capped mountains and glittering bodies of water as far as the eye could see.
"This is where I want to live," she thought.
***
By the time she and Joel packed their life into a U-Haul and moved to Seattle a year and a half later, Elizabeth had worked her way through a common road-running trajectory—5K to half-marathon to full marathon. Next up: trying to qualify for the Boston Marathon. 
Then, unexpectedly, she got pregnant. Though it was sooner than she and Joel had planned to have kids, they quickly got excited. But when they went in for their first ultrasound, the technician couldn't find a heartbeat. Further testing was necessary.
On Valentine's Day, Elizabeth got the call: "Your baby's dead." Because her body hadn't miscarried on its own, she was given a series of pills to take at home to induce a miscarriage. When those didn't work, she had to get a D&C (dilation and curettage) procedure to have the fetus removed.
Afterward, she again found things difficult to talk about, so instead threw herself into marathon training.
"I think I turned to running to fulfill things," she says. "We talked about trying to conceive a baby again, but I never felt ready. I think it was probably because the miscarriage had been so traumatic and part of me was scared it would happen again."
The next year, a friend from Iowa got into the Western States Endurance Run. He invited Joel to pace him (Elizabeth couldn't get the time off from work to join them), and sent them a copy of Unbreakable, a film about the 2010 race. It reminded Elizabeth of a time she and Joel had gone hiking shortly after moving to Seattle; several dozen runners had passed them on the uphill, then flew back past on their descent.
After their hike Elizabeth recalls, "The runners were gathered in the parking lot, shoes off, drinking beers, talking and laughing. I thought, 'I want to be a part of that.'" Later, after watching Unbreakable, she thought, "We have trails here too. We could do that."
She signed up to volunteer at a trail race and was instantly smitten. In 2013, she ran her first trail race.
"I loved the thrill and competition of a race or setting a PR or tackling a new distance," she says. "But just as equally, I loved the freedom of not wearing a watch … just waking up to a drizzly day and doing a long run because there is something spiritual to me about running in the rain—like the outside cleansing somehow cleanses my soul." 
The next year, she left her job as a special-education assistant teacher to work for Rainshadow Running. The following spring, she became co-race director of its ever-expanding lineup of trail races throughout the Pacific Northwest.
"She would never admit it, but she is the perfect RD," says Colton Gerhart, who worked with Elizabeth for years. "She has the purest heart of anyone I've ever met, and cares so much about every runner, whether they're elite or just there to spend time with friends."
"There wasn't a moment where I saw her lose her cool," says Kesia Lopez, who also worked with Elizabeth. "It's as though she has a plan B, C, D and E for when things come up."
Race weeks were especially exhausting—Elizabeth worked around the clock coordinating vendors and volunteers, lining up port-a-potty rentals and party tents, ordering swag, answering emails, organizing supplies—but she loved her job. It steeped her in a community that came to feel like family. 
 "As a relative newbie to the sport of trail running, I was not around for the old-school days," she says, "but working with [Rainshadow founder] James Varner taught me how important the community aspect of these events can be. It's not just about the run itself; it's also about the connections made before, during and after."
In 2017, Rainshadow took over the Waldo 100K from its co-founder, Craig Thornley. Elizabeth was immediately taken with the event and dozens of volunteers who come together, year after year, to make magic happen. She was all in. According to Jessie McClurg, another former Rainshadow colleague, Elizabeth worked nonstop for days, then would wake up at 1 a.m. to have coffee ready for the volunteers and 3 a.m. early start runners. Eighteen hours later, she'd still be there, cheering the last runner over the finish line.
Even after James had to let his staff go last spring because of COVID, he told Thornley all the Waldo knowledge was in Elizabeth's head, not his—so she retained her role as RD, independent of Rainshadow.
***
In 2017, Elizabeth's parents moved to Seattle. Her dad, Rob, joined the Rainshadow team that summer as well, helping out with odd jobs on race weeks. It was a fitting role for a guy who loved telling people how he'd "run away with the circus" as a kid—a story that always delighted Elizabeth, though she says it was a slight stretch of reality: he'd skipped school one day when the circus came to town, befriended the staff and helped them set up in exchange for a ticket to the show.
Before his role at Rainshadow, Rob had done it all—helicopter crew in the Air Force, carpentry, woodworking, blacksmithing, rodeo bullfighting, scuba diving, mountaineering, volunteering with Search and Rescue—and, at the time, he was training for an Ironman. 
Colton described him as the "quintessential dad to our Rainshadow Running family," whom he first met when Elizabeth's parents hosted them during a stop on Rainshadow's Trail Run Film Festival tour: "I could see immediately where Liz got her passion for life and abundance of love to give to those around her. It shone through Rob's smile when he greeted us at the door, when he took us to all his favorite local breweries and introduced me to mead." 
Years earlier, Rob had been diagnosed with a condition called Barrett's esophagus that could, in rare cases, lead to cancer—but more than a decade of clean scans had pushed that fear from their family's mind. 
Then, in 2018, he began to have trouble swallowing. He went in for a scope a few days before Elizabeth was planning to volunteer at Washington's newest 100-miler, the Teanaway Country 100. Just before she left, he broke the news: he had Stage 3 esophageal cancer. 
The next morning, Elizabeth drove over Snoqualmie Pass to watch the start of the race before joining an aid-station crew. She and several friends dressed up in animal onesies and danced to boom box music, cheering runners on through the mountains all day and all night long.
 "I was able to forget for a while that anything existed outside of this little trail-running bubble," she says. 
Her dad wasted no time starting chemotherapy and radiation. Elizabeth drove him to his chemo appointments each Monday in Bellevue, just east of Seattle. Normally, driving east out of the city meant excitement, going to the mountains to play—crossing Lake Washington, watching the Seattle skyline grow small in the rearview mirror as the green foothills on either side of the highway grew into mountains. But now the drive east was a somber one under gray skies, often silent except for the swish-swish of the windshield wipers fending off the steady Northwest drizzle.
It was agonizing, watching chemo and radiation chip away at her dad's otherwise vibrant spirit and athletic body. Responding to work emails became a chore: No, I cannot let you into this race because you spaced and missed the lottery window. No, I cannot let you in because you're friends with my boss. Copy and paste the cancellation policy page. Copy and paste the bib-transfer-policy page. 
"Can't you please just read the website?" she wanted to write, struggling to sympathize with what now seemed like trivial concerns. Don't you know my dad is dying?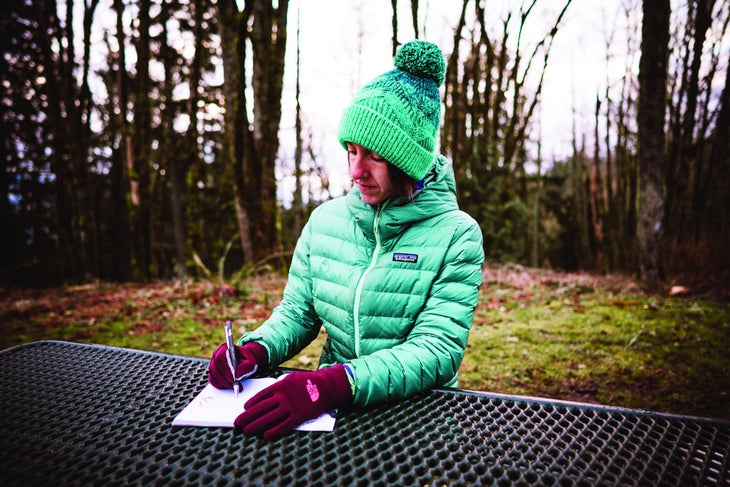 ***
To make matters worse, Elizabeth had begun experiencing unexplained pain of her own earlier that year—a dull ache in her left hip that flared up after runs. She took several months off from running and did physical therapy, but the pain lingered. Mentally, she was struggling, too: "I was so drained and full of fear that I couldn't muster the energy to drive back to the mountains, even though I knew solace awaited."
When her dad's chemo treatments ended, there was good news: the tumor had shrunk enough that he was a candidate for surgery to remove his esophagus, which doctors hoped could grant him many more years. Surgery was scheduled for early February, in the middle of one of Elizabeth's busiest work periods—a three-week stretch of races on Orcas Island, a forested paradise shaped like a set of lungs in the Salish Sea northwest of Seattle.
Rob's surgery fell between the 50K and the 100-miler. Elizabeth left the island for the day to be with her mom at the hospital while they awaited word of how the surgery had gone. To everyone's relief, it had been successful.
She returned to Orcas the next morning to prepare for the 100-miler. It was her favorite race weekend—one that always left her feeling "overwhelmed with love and friendship." But that week, snowstorms slammed the region. At the race headquarters in Moran State Park, a huge tree came down and destroyed a cabin that, days earlier, had been filled with runners. As the storms raged on, the Rainshadow team had no choice but to cancel the 100-miler. Elizabeth was disappointed but grateful that everyone was safe.
***
Meanwhile, the pain in her hip worsened. A four-mile run on Orcas left her so debilitated that she could barely walk for days. When she had an MRI, she got differing opinions. One doctor said she had torn cartilage in her hip; another said she had hip dysplasia and shouldn't ever run again. 
"I completely lost it," she says. "I stood in the bathroom with my hands on the counter as sobs came crashing out of my body, losing my breath and choking back air. Running is how I dealt with … everything."
The scan revealed something else, too—an incidental discovery: a baseball-sized mass in her uterus. Though Elizabeth's mind first jumped to cancer, her doctor reassured her it was likely benign. Such fibroids are remarkably common but can wreak havoc on women's bodies and menstrual cycles. It explained why Elizabeth often struggled with heavy bleeding and cramps so intense they radiated down her legs.
Given its size—she named the fibroid Zuul, after the demon dog from Ghostbusters—the doctor said it would be difficult to remove without removing her entire uterus, but they could try if she and Joel felt strongly about wanting to start a family.
Though they'd spent the early years of their marriage assuming they'd have kids someday, as the years went on, they'd leaned more the other way. This wasn't embraced by their families or the traditional values they'd grown up with in Iowa, but when a friend confided about how difficult parenthood was and advised Elizabeth not to have kids unless they were 100 percent on board, she felt a wave of relief and validation: "It's OK to say no to this. Joel and I talked about it, came to the decision to not have kids, but knowing that we could always change our minds later."
So at the time, it felt like a simple decision to get a hysterectomy. "No more periods?" she thought. "Sign me up." (She could keep her ovaries, which meant no early menopause.) She scheduled surgery around her work calendar—after Sun Mountain, before Waldo—and, at the age of 33, said goodbye to her uterus, Zuul and all.
After recovering from surgery, she saw a muscle-activation therapist who thought the fibroid had caused her hip pain by altering her posture. After a few sessions with him, she could hike and run again without pain. 
"The emotions I felt were indescribable," says Elizabeth. "I reminded myself how lucky I was to be able to lace up and go for a run. Not everyone has that luxury."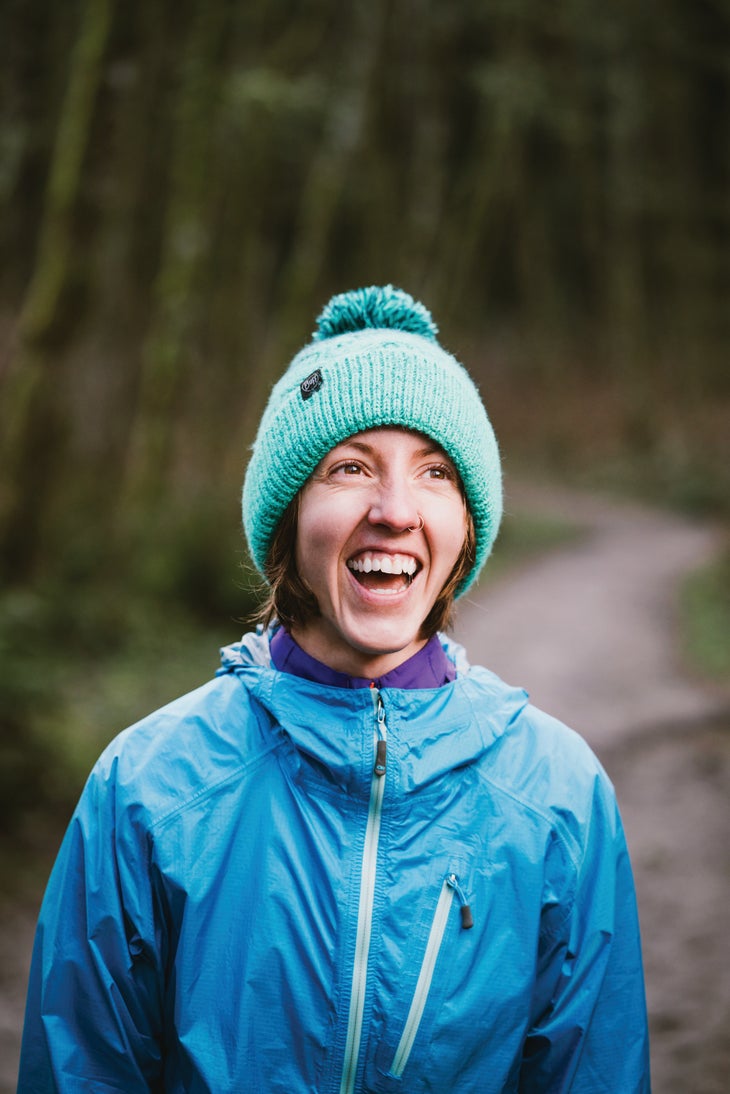 ***
Later that summer, her dad's cancer spread and was restaged as terminal. He declined a second round of chemo and radiation, and was given six months to live.
Five months later, Elizabeth was back on Orcas Island when she received word that her dad was being moved into hospice care. When she got the call, she was doing work email while the rest of the Rainshadow team marked the 50K course. She had time to step outside, breathe in the salty air and the sunlight filtering through the moss-draped forest, and cry. After staying up late briefing Jessie on how to take over race operations, she took the first ferry off the island in the morning to go say goodbye.
Rob was 55 when he died. At first, Elizabeth felt cheated out of more time with her dad. There were still so many things she wanted to do with him; conversations she'd thought there would still be time to have. But when the pandemic hit a month later and thousands of people began dying alone in hospital rooms, isolated from their loved ones, Elizabeth recognized the strange silver lining. 
 "I am beyond grateful that his passing came before this lockdown," she wrote on social media, "and we got to spend all of our time by his side, holding his hand, reading him stories and playing music, bringing in friends to say goodbye and showering him with all the love we could muster. … In the moment, it felt too soon. I understand now."
***
When Elizabeth and her brother were kids, their parents took them to an amusement park in Iowa called Adventureland. There was a ride called the Silly Silo, where everyone stood inside, backs against the silo's cylindrical wall. It began spinning, slowly at first, then faster and faster. Suddenly the floor dropped out, but centrifugal force pinned people in place until the floor returned and the ride slowed to a stop. 
For Elizabeth, this ride is the aptest metaphor for grief. Sometimes, at first, aspects feel exhilarating—having meaningful conversations with friends, listening to music, reading books, making art—for the healing they steer her toward. But then, things start spinning faster, more out of control: "I know a breakdown is coming, but there is little I can do to make it stop."
Trail running continued to offer a safe harbor, but it couldn't replace the emotional work she felt she needed to do. And periods of sickness (she also suffered a long bout with mono in 2017), injury or overwhelm had taught her that running was also a floor that could drop out at any moment. What then?
Through a combination of influences—listening to Brene Brown's podcast, reading Glennon Doyle's book Untamed, having friends who talked openly about going to therapy—Elizabeth began thinking, "I really need somebody I can talk to, especially because we're in a pandemic and you can't just see your friends and cry with them and hug them."
She found a therapist she felt comfortable confiding in over Zoom. For the first time, she began unraveling past traumas that she'd stuffed away, having relied so frequently on escape mechanisms like alcohol, running or work to avoid confronting them. 
She also quit drinking: "It led me to want to do more things that I forgot I enjoyed, like drawing or going for long walks, or getting up to watch the sunrise; I didn't even realize how much I loved mornings because I was always too foggy to get up that early." She began journaling, meditating and doing yoga. Sitting still turned the volume up on everything—the grief, but also the joy. 
In August, she joined Banshee Running, a company her former coworker Jessie had started. Jessie had worked hard to plan a new race in Washington called Devil's Gulch 120, but Covid-19 forced her to cancel its inaugural running. When she invited Elizabeth to partner with her at Banshee, they brainstormed by asking themselves what they felt like they most needed in their lives during the pandemic. The answer was simple: a community.
They wanted to offer something different than existing race companies—a way to connect with others, not just by comparing who's fastest or ran the most miles. Joining the nascent Running Industry Diversity Coalition introduced them to the stories of many people who haven't experienced the running world as an inclusive one, whether due to race, gender, socioeconomic status, physical ability or otherwise.
"Not everyone can go do 'epic' shit in the mountains," Elizabeth says. "We're trying to create a space where everyone feels welcome—people who don't feel safe running in the backcountry, parents who don't have time to do huge mileage, anyone who's injured, et cetera—and can find people to support them."
Last fall, Banshee hosted an accountability challenge to help runners work toward personal goals. People connected in a private group online, where they not only celebrated running or walking achievements, but also confided in one another about life, work, pandemic stress. On social media, Elizabeth began sharing more candidly about her own struggles. 
"I feel like the trail-running community is on the other end of my belay now," she says. "Everything came crashing down, but the people I've met through running are collectively keeping me up until I can find my hold again." 
The more Elizabeth opened up, the more others did too. As Colton Gerhart says, "Her light is shining through everyone's tiny screens as we navigate these tough times together."
Turns out, she wasn't the only one for whom #trailtherapy wasn't a panacea—but vulnerability can be a salve, and the more she shared, the better she felt. As the poet Rumi wrote, "The wound is the place where the light enters you."
***
When her dad's cancer became terminal, Elizabeth began to unpack some of the emotions she initially ignored after her hysterectomy: "'Legacy' is a weird term, but I began wondering, what is my dad going to be remembered for? Who is going to think about him when he's gone? I'd always had the option to have kids and now, biologically, I can't, even if I change my mind."
Those questions didn't mean that she had changed her mind—only that grief is complicated, and that her dad's mortality forced her to confront her own, and wonder what she could pass on—not just to her nieces and nephews, to whom she adores being an aunt, but also to the greater world around her. 
"There are so many ways I want to help create change and leave the world better than I found it," she says, "or break cycles of trauma and abuse, and reduce the stigma around mental health. My goal is to help people feel less alone. Even just one person."
Unlike the challenges we runners willingly invite into our lives, grief has no finish line. Real trauma runs deep, and the work of healing from it is complex. But just like the races Elizabeth has spent years gifting to the trail-running community, it begins with one step. Then another. Then another.