Stubborn as a Burro
For a man who has been running off-road since the mid-1960s and quietly made a name for himself in Colorado's trail community, you need know only this to appreciate Bill Lee's staying power: He has run every World Championship burro race since the late eighties.
---
Join Trail Runner Magazine
Create a personalized feed and bookmark your favorites.
Join Trail Runner Magazine
Create a personalized feed and bookmark your favorites.
Join for free
Heading out the door? Read this article on the new Outside+ app available now on iOS devices for members! Download the app.
On a brisk but sunny morning in Idaho Springs, Colorado, Bill Lee nudges two reindeer cows across his driveway. It's a few days before Christmas at Lee's 44-acre Laughing Valley Ranch, which is perched above town on a steep dirt road that requires tire chains if it snows. Lee, one of trail running's pacesetters, historically speaking, and an icon in the subculture that is burro racing is leading Dasher and Dancer into a trailer for tonight's nativity scene in Denver. He's dressed in jeans, a red Carhartt jacket, red plaid trapper hat, and black rubber boots almost up to his knees. 
Donkeys bray, dogs bark, a steer moos: it sounds like the set of an old Western. Thanks to his fluffy white beard and soft blue eyes, Lee usually earns a third of his annual income playing Santa and displaying his animals during the holidays. But this year, due to the pandemic, his gigs were cut from 90 to 30, and the manner of his visits changed. Instead of posing with kids on his lap, he stood in an inflatable snow globe last week in Silverthorne, then drove around Frisco in a Jeep, unannounced, waving to families from afar lest a crowd form on the curb. "I miss the hugs," he says when asked how his holiday business is going. "That's one of the hardest things about not being able to visit with kids this year. You transfer a little love when you give somebody a hug."
Lee laments the old days before reindeer got hot. "It's kind of like the lama market when owning a lama was first a fad," he sniffs, eyeing his reindeer. "These two girls right here: $10,000 apiece. And they only live about a dozen years." Both animals were born in April and are working their first holiday season, mostly as stationary models for a rate of $500 an hour. "They're too young to fly," Lee says, his eyes twinkling. 
In total at Laughing Valley, Lee has 16 burros, six reindeer, one lama, five alpacas, three sheep, eight goats, four cows, and five dogs—as well as seven sleighs in his barn. To the uninitiated, Lee's characters (he plays Red Tail the Mountain Man in summer, telling stories about Colorado's frontier days) might seem more interesting than their actor. But don't be fooled. 
For a man who has been running off-road since the mid-1960s and quietly made a name for himself in Colorado's trail community, you need know only this to appreciate Lee's staying power: He has run every World Championship burro race since the late eighties. That's 29 miles on an out-and-back course that crests 13,185-foot Mosquito Pass above Fairplay, Colorado—while tethered, lest anyone forget, to a 500-pound donkey that may or may not be interested in the objective. Lee finished the most recent edition at age 71.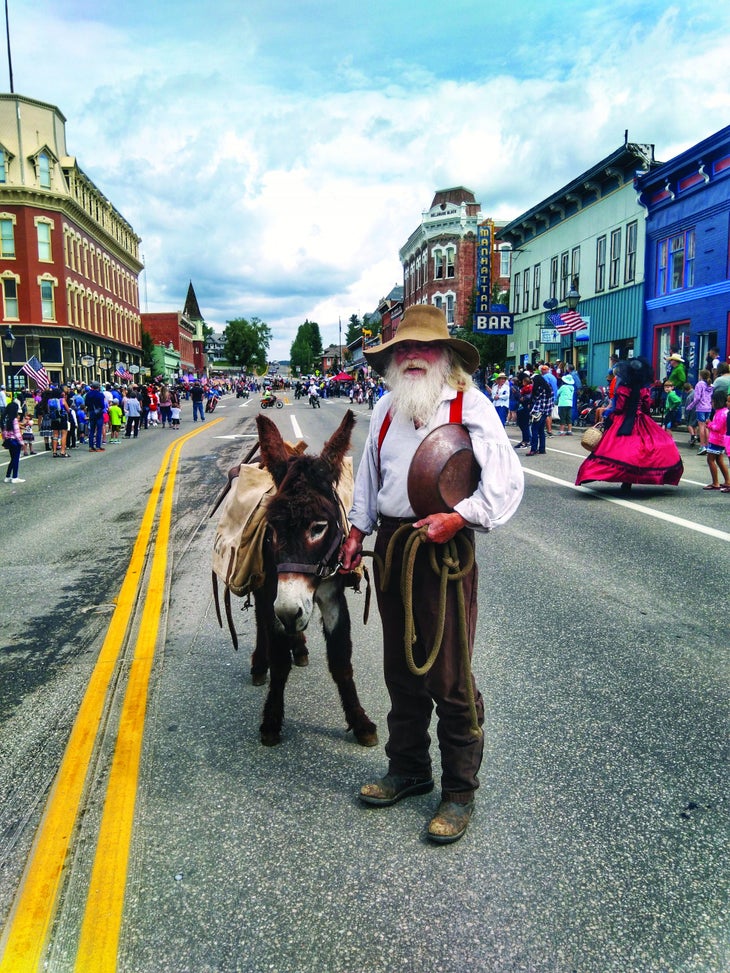 A Trail Runner and Burro-Racing Legend Is Born
William Brackston Lee III wasn't born a runner. He suffered from infantile paralysis when he was young, a milder form of polio, and didn't walk until he was four. When he finally found running, in adolescence, his jaunts often took him through cornfields in his native Illinois. He ran the 2-mile relay in high school, helping to set a district record that still stands. "The track coach would take us out to the suburban forest, and we'd run through the trees on narrow trails," Lee says of his introduction to singletrack. 
He studied pharmacy at Southeast Missouri State—lured by the prospect of "a five-figure income"—and managed a McDonald's to get by. After getting married and welcoming his son, Brack, Lee moved his family to Denver in 1975. Five years later, he got divorced. Overweight and unhappy at age 30, he turned to trail running again, dropping 50 pounds from his 5-foot-11 frame and finding formerly elusive peace of mind. He signed up for the Colorado Mountain Race Circuit and began traveling across the state to race. Lee rarely missed an event, even when they conflicted with his bartending gig. "I remember years when I would leave the club at 3 in the morning, drive all night to get to Kendall Mountain in Silverton, run the race, then come back and go to work again," he says. 
Colorado's first burro race, which requires man and beast to complete the course together, on foot and hoof, took place in 1949—the year of Lee's birth. The event went from Leadville to Fairplay and delivered a top prize of $500, equivalent to $5,500 today. Lee ran his first burro race in the late eighties with Bambi, an old, formerly wild Bureau of Land Management burro. "She didn't want to go," he recalls. "It was a struggle." During the world championship, they took a wrong turn at treeline and barely finished. "We were Last Ass every race that year," Lee chuckles. 
He has run hundreds of burro races since then, prioritizing a trio known as the Triple Crown: Leadville (21 miles), Fairplay (29 miles), and Buena Vista (13 miles).  He placed third in the Triple Crown standings one year, despite his burro stopping to pee right before the finish line in Leadville, which cost them a place. Sans furry partner, Lee has finished the Leadville 100 twice, Pikes Peak Marathon 25 times, and the Mohican 100, Angeles Crest 100, and Western States once each. His best 100-mile time was 27 hours at Angeles Crest. "I'm a plugger," he declares proudly. 
It is no coincidence that his animals could say the same if they could say anything. But their high gears are faster. Five of his burros have won the world championship, bringing Lee a share of their winnings. To that end, his contemporaries say Lee's biggest strength as a burro racer is the relationships he develops with his partners. He watches their ears during a race to detect a change in temperament, and is constantly tuned in to their needs on and off course. "I have seen donkeys not like their humans. They don't care if you're here," says Brad Wann, a longtime friend of Lee's and fellow burro racer. "But Bill doesn't have that problem with his animals."
While Lee's distinct appearance and consistent presence at races bring a bit of recognition, his willingness to support the sport's lower rung has become his signature. He rents burros to newcomers and provides a home for other runners' burros at his ranch, where they can show up to train but don't have to shovel their animal's poop before supper. He founded two entry-level events, in Idaho Springs and Georgetown, that continue to attract beginners. "He absolutely has been instrumental in keeping this sport alive," says Wann, who helps run the Western Pack Burro Ass-ociation, of which Lee is a past president. Wann also got the sport recognized as Colorado's "summer heritage sport" by the state legislature. "People have written articles that burro racing is dying, and Bill just wasn't having any of it," Wann says. "He kept showing up and bringing in new runners, some of who are now world champions. He educates them a little about animals, a little about nature, and a little about life."
It doesn't hurt that mid-pack burro racers often go home with prize money (one race paid the top 30 finishers last year). But Lee would be there regardless, tickled to see so many people interested in his favorite hobby. Three decades after he started slinging drinks at Denver's famous Country Western concert hall, the Grizzly Rose, Lee no longer hops over the bar to break up fistfights between drunken bodybuilders. But you could argue he's almost as famous (locally, at least) as some of the artists who play there, a list that has included Garth Brooks, Blake Shelton, and Taylor Swift. His coworkers call him "Claus," and his customers get a kick out of seeing Santa doling out suds. Even though Lee only works sold-out shows now, the whole operation hinges on a handful of dates that he refuses to show up for. "We still have to schedule," chuckles general manager Lindy Arnold, "around his burro races."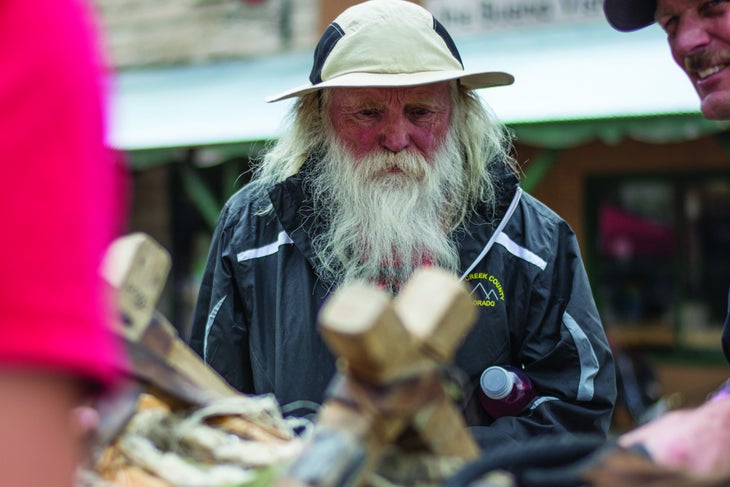 Embracing Nonconformity
Part of Lee's magic is his perspective on life, a wide-ranging worldview shaped by decades of noncomformity. He is quick to praise his father for raising six kids on a blue-collar salary, then just as quick to declare that lifestyle a threat to his sanity. "I told myself when I was young that I didn't want to get caught up in the rat race of life like my father," Lee says. "Nine to five, five days a week, driving an hour and a half to work, then an hour and a half home, fighting traffic. I said I'd like to be a forest ranger, or a cowboy on a cattle ranch, or maybe even a miner." None of those came true, of course, but the premise did. Lee simply desired to draw his own blueprint. 
It hasn't all been roses, however. He's been divorced twice and endured physical and emotional trauma. In April 2011, while trying to stop his truck from rolling backward down a driveway, Lee jumped in and got his foot stuck, then fell out. The truck ran over his chest, hospitalizing him for 28 days at age 62. He ran the Garden of the Gods 10 Mile race two months later, and finished burro racing's Triple Crown that same summer. 
As Lee recovered from the accident—his lungs still aren't as strong as they were before it, requiring a few deep breaths to get moving after a rest—people grew concerned about the condition of his animals. An animal control officer from Clear Creek County visited his ranch and eventually charged Lee with 32 counts of misdemeanor animal cruelty in 2012. All of his animals were seized. He struck a deal and pleaded guilty to one count in 2013. Many animals were returned, but not all. The experience still is hard for him to discuss. 
"I came home to no livestock on the property. No dogs, no burros, nothing. I felt devastated. I felt terrible," he says quietly. "But I didn't know what I was doing wrong. And I really feel today that I wasn't doing anything wrong. But somebody had an agenda that was kind of PETA oriented, and an overzealous animal control officer caused me major grief." The only thing that saved him, he says, were the normally reclusive wild animals that stood in for his domesticated ones until they returned. 
Lee's family and friends recognize his steadfast nature and don't begrudge it. "He's an independent, wild-western spirit," says Brack, who recalls his dad taking him to a Rolling Stones concert when he was eight—and signing him up for the Pikes Peak Marathon when he was 14, even though entrants were supposed to be 16. "He has that ability to connect with people, just because he's genuine. He doesn't present himself as anything other than who he is. And doesn't expect anything from anyone else other than who they are."
Brack, now a 46-year-old father of two who lives in Erie, Colorado, continues: "What I admire most about him is he encourages others to see new and different things. But like any dreamer, sometimes he can fail to grasp elements of reality that are right there in front of him. He can certainly get lost in his own fantastic ambition."
Lee is perpetually trying to make sense of the world around him. He's not sure if global warming exists but is fanatical about recycling. He doesn't care for big government. Hasn't shaved in 41 years. Thinks Interstate 70's traffic woes will be solved by cars using Jetson-like force fields within the next century. Sometimes you wonder if he believes sheer will can conquer anything, no matter the circumstances. "I have an old saying," he says in his driveway. "Dreams come true when you tell them to." 
There is likely some truth to that in Lee's life. His outlook might not fit everyone, but despite ample potholes, he has a weird way of gliding along a trail that he's perpetually charting—sometimes while attached to an ass that has the mentality of a 3-year-old.
Devon O'Neil is a freelance journalist in Breckenridge, Colorado. His work has been recognized in the Best American Sports Writing and Best American Travel Writing anthologies. Find more of his writing at www.devononeil.com.