Strength, Balance And Sparkle: Ryan Montgomery Preps For UTMB
Montgomery isn't afraid to try new things, especially when it comes to training for 106 brutal miles through the Alps.
Heading out the door? Read this article on the new Outside+ app available now on iOS devices for members! Download the app.
This article is free. Sign up with a Trail Runner Membership, now just $2 a month for a limited time, and you get unlimited access to thousands of stories and articles by world-class authors on trailrunnermag.com plus a print subscription to Trail Runner and our annual coffee-table edition of DIRT.  Please join the Trail Runner team today.
Ryan Montgomery, 27 of Park City, Utah, says his path into ultrarunning was unconventional. 
After running his first marathon at just 15 years old, Montgomery got involved with a nonprofit organization called Impossible2Possible  that took him on an expedition that involved running a marathon a day for a week. 
"That was an 'aha' moment for me," says Montgomery. "Getting to see how far I could push myself, and what the human body can actually do was pretty incredible." 
Montgomery was immediately attracted to longer races and fell in love with the 100-mile distance. 
"I loved how you get to experience all the emotions that come with that distance," says Montgomery. "You get to feel the highest highs, and the lowest lows."
His first 100 miler was the Wasatch 100 in 2017, and he finished in 27 hours. Soon enough, he was toeing the line at the infamous Badwater 135, a long, hot road race that takes contestants through Death Valley and temperatures that can top out over 130 degrees. He also has top finishes at the Desert Solstice 24-Hour race (154.71 miles), an unsupported FKT on the 93-mile Wonderland Trail and a 13-hour finish for the 100-mile distance at the 2019 USATF National Championships. 
Now, Montgomery is focusing all of his energy on Ultra Trail Du Mont Blanc. 
RELATED: UTMB Is Back!
Headed For The Hills
While many of Montgomery's top performances have been on flatter courses like Badwater or Brazos Bend 100, he's no stranger to the steeps. 
"I pride myself on being a dynamic ultrarunner who loves the mountains but also loves the flats. I want to prove that I can show up in the mountains and perform well there too," says Montgomery. 
UTMB completely circles its namesake summit in just over 106 miles with a whopping 32,808 feet of vertical gain—more than it would take to summit Everest from sea level. About 2,300 runners will attempt to traverse the course's 10 alpine summits in under 46 hours 30 minutes. Elite runners like Montgomery will try to complete the loop in just over 20 hours. 
To prepare for the vertical rigor of the course, Montgomery has pivoted away from monster 120-mile weeks to focus on more quality in his training, aiming for shorter steeper runs that mimic the terrain of UTMB. His happy place has hovered around 90 miles and 20,000 ft of gain per week (don't try this at home!) and has included more specific strength training than in past training blocks. 
"To get to that next level, you really have to show up and do strength training. I'm talking heavy loading strength," says Montgomery. His routine has included functional hip strength, heavy loading leg strength, core, and ankle and leg stability.  
RELATED: How Mario Mendoza Is Training To Crush UTMB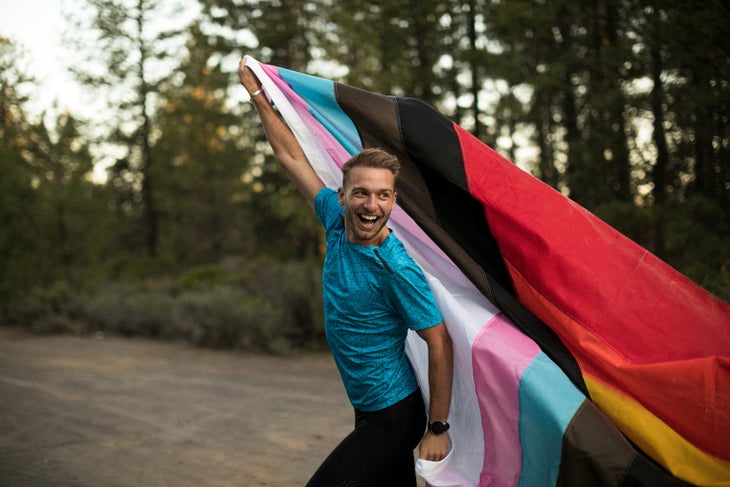 All About Balance
When he's not running, Montgomery works full-time for a tech startup in addition to coaching athletes with Mountain Endurance Coaching. He says fitting in his training around his work and coaching obligations is all about balance. 
"The key is being flexible. I always try to run in the morning, but my schedule is pretty dynamic and can change every day. If there's a firestorm that I have to fix first thing in the morning, the training will have to wait," says Montgomery. "You'll find a way to fit it in if it's meaningful to you."
Montgomery schedules his client meetings, calls, workouts and strength training ahead of time to make sure everything fits. And when it doesn't – well, he stays flexible. 
"Sometimes it's a hustle, but I just take each day as it comes."
Don't Neglect Self-Care
Montgomery also emphasizes his self-care rituals as he prepares for the big dance. 
"Training is all about the small things," says Montgomery. He recommends every runner find a PT that they like and can see regularly, and develop a relationship with that person. 
"Trying to work through a niggle with just your foam roller is not going to be enough. Find an expert, that's always going to be better than a hunk of foam."
Montgomery also sees a massage therapist weekly, and a bodyworker when he needs it. If something hurts or feels off, he'll take an extra rest day to make sure the niggle doesn't bloom into a full-blown injury. He says that elite runners aren't superhuman, and even the most seasoned ul
 He stresses the importance of getting enough sleep, and near-constant eating for ultra runners trying to raise their game. 
"You have to eat a lot if you want to show up in the mountains," says Montgomery. 
RELATED: Ultra-Trail du Mont-Blanc Partners with Ironman
Allez!
Race day is sure to bring unexpected challenges, but Montgomery is doing his best to anticipate where hiccups might occur. He's been dialing in a new nutrition strategy, focusing on real foods like bread and chips earlier on, then pivoting to a more liquid diet later in the race as stress and fatigue make digestion more difficult. 
"You're going to be in a bad place trying to get back to France if you're only eating crackers and cheese," says Montgomery. 
The weather is another factor in Montgomery's race day planning. Some days at UTMB have been scorching hot, others unfathomably rainy. One year the race was re-routed to avoiding thunderstorms on the higher peaks. Montgomery has been practicing with UTMB's list of required gear (which includes a taped-seam jacket and rain pants), doing longer runs with a full pack to make sure his gear is distributed well and is easily accessible. 
Perhaps most importantly for Montgomery? Choosing his race-day nail polish. In an Instagram poll last week, the runner asked followers what hue he should paint his nails for the big day. 
"The color is yet undetermined, but it's definitely going to have a lot of sparkle," says Montgomery. "I want to have fun, and I want to run my race. That's going to require some glitter."
RELATED: Trail Runner's Guide to UTMB