Bestselling Author Ryan Holiday Runs Trails to Embody Stoic Philosophy
His newest book, Discipline Is Destiny, has essential lessons for committing to a lifelong pursuit of running. 
Photo: Courtesy of Ten Thousand
Heading out the door? Read this article on the new Outside+ app available now on iOS devices for members! Download the app.
When picturing a Stoic philosopher, you might imagine a bust of Zeno, the ancient Greek founder of the movement. The stillness of the bust, bearded and wise, on the cusp of uttering some insightful paradox, might echo the stillness one associates with philosophy in general. After all, isn't philosophy mostly about sitting around and thinking?
Not quite, says modern-day Stoic Ryan Holiday, who's made it clear through his numerous books and The Daily Stoic newsletter (with over a quarter million subscribers), that Stoic philosophy is about a life of doing with both body and mind in service of one's larger goals. Those of us who have spent countless hours running know deeply that the practice can be immensely supportive and motivating in ways that extend far beyond the trail. 
In the short film, STOIC GRIT (a collaboration between Holiday and Ten Thousand), the author details the ways in which body movement and thought go hand-in-hand. He quotes Zeno, one of the founders of Stoicism, who stated:
"Wellbeing is realized by small steps. But it's no small thing." 
Holiday, like so many others, has taken these steps out on runs in his home state of Texas, where some of his best ideas have come to mind. Holiday and his family live near Austin, and when he is not out on trails or penning profound thoughts, he operates an indie bookstore (not too far, for Texas, from the Bandera 100k course).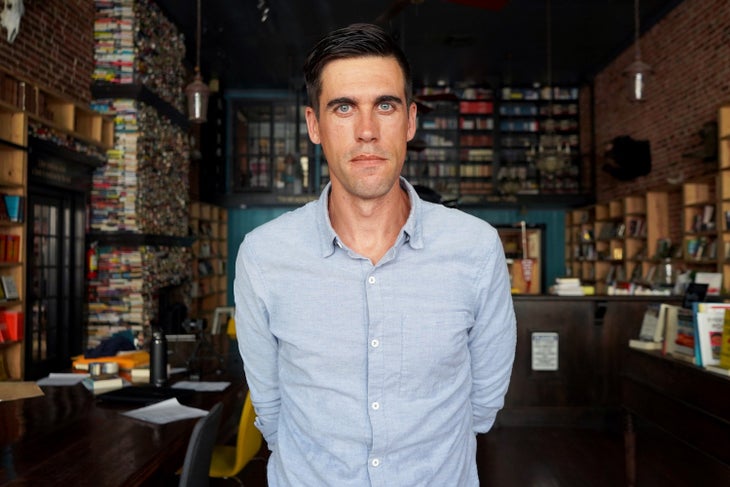 We caught up with Holiday in advance of his newest book, Discipline is Destiny, to find out more about his life as a runner and thinker:
What is it about running on trails that is so alluring for you? Can you describe your background as a runner? 
I got into it at an early age, was on the track and cross country teams in high school, and then fell in love all over again when I got serious about writing.
Professional writers quickly learn one reality of the job: you have more bad days than good days. But exercise—especially running—is the opposite for me. A run is almost always good. Running is predictable, dependable, and satisfying, a counterbalance for the mercurial muses of the creative professional. I can also say that most of my biggest breakthroughs as a writer came after I had stopped writing and gone running.
RELATED: The Case For Sustainable Training Levels To Support Long-Term Growth
In the STOIC GRIT series, you include the Marcus Aurelius quote, "You could be good today, but instead you choose tomorrow…" which immediately makes me want to get out on a run. How has Stoic philosophy shaped your journey as an athlete and as a trail runner? 
One of the passages in Aurelius's Meditations that first struck me—so much so that I wrote it down on an index card and kept it on my desk for a while—was the one where he tells himself that he has to get out of bed, that he can't huddle under the blankets all day, that he was created to be up and doing things out in the world. He says: "Why aren't you running to do what your nature demands?" I still have this dialogue with myself from time to time. I like to think this philosophy has helped me win that battle many more times than I would have if I hadn't found Stoicism.
You note that the Stoics were known for being physically active, citing the "strong mind, strong body" dictum. How has being active shaped your thinking and mindset?
One of my favorite quotes from Seneca is, "The body should be treated more rigorously, that it may not be disobedient to the mind." I think about that before I go for just about every run or swim or bike ride. I think about it every morning, just before I crank the shower knob to cold. And I think about it right before I sit down to write. Who is in charge? The courageous side of me or the cowardly side? The side that doesn't flinch at discomfort or the side that desires to always be comfortable? The side that does the hard thing or the side that takes the easy way? 
I often find that my best ideas and clearest thinking occurs while I'm running, though I know others use trail running to totally clear their mind. So which is it for you: run and contemplate, or run and meditate? 
I tend to do some of my best thinking when I'm running. At least I can say that most of my biggest breakthroughs as a writer came after I had stopped writing and gone running. It is fairly common for me to come storming into my bookstore or my house after a run, saying, "No one talk to me. I need to write down this idea." Then I find the nearest notecard and write down whatever it was. 
Most of my biggest breakthroughs as a writer came after I had stopped writing and gone running.
Are there favorite trails or moments on the trail that might perfectly capture what it means to be a Stoic runner?
In the summer of 2019, my wife and I took our two sons for a hike in the Lost Pines Forest, a prehistoric loblolly forest about thirty minutes from our house in Texas. 
RELATED: Training for Life, Not Races
On the trail, I was carrying my son in the backpack, and my mind had drifted briefly to the fact that my book Stillness is the Key would soon be released and it would mark the end of what had become a three-book trilogy. What would I tackle next? I thought. A book about courage would be cool.
A few days later, we were on vacation in the panhandle in Florida. I was building a sandcastle with my son when suddenly, it hit me. Not just a book about courage, a series on the four virtues, and starting with courage! And that's how the four-book series on the Stoic Virtues came to be.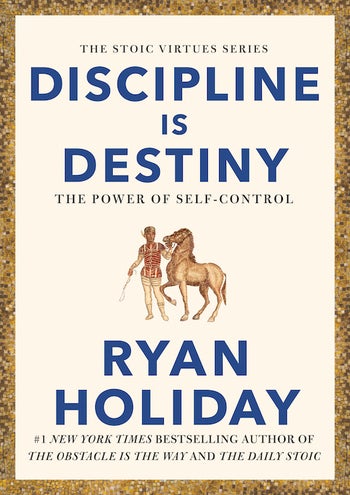 Ryan Holiday's book, Discipline is Destiny, is available today. Pick it up at your local independent bookstore or order it through bookshop.org. And remember, in the words of Seneca, "It is a rough road that leads to the heights of greatness." Luckily for us trail runners, rough roads are our playground.