Heading out the door? Read this article on the new Outside+ app available now on iOS devices for members! Download the app.
Brought to you by COLUMBIA
Tall and athletic looking, with a shaved head and high cheekbones, Yassine Diboun could appear intimidating. But the second you meet him, his face lights up and he breaks a huge smile, welcoming and warm. Over the past 10 years, Diboun, who just turned 41 today, has become a central figure in the vibrant Portland running scene. Now with over 80 ultras to his credit, including top-10 finishes at big 100-milers like HURT, Western States and Cascade Crest, Diboun trains on the great trails of the city and surrounding volcanoes such as mounts Hood and Rainier, living with his wife, Erica, and nine-year-old daughter, Farah.
Growing up as a youth in Florida, Diboun thrived on sports, including soccer, ice hockey, tennis, baseball, football and basketball. He even had a stint playing Division III basketball at a small Pennsylvania college, after which he moved to Ithaca, New York. He suffered a dark period during his early to mid-20s, but recovered and eventually got into sprint and Olympic triathlons. Ironically, it was a horrible bike crash that would lead to his passion for running. On a training ride, Diboun t-boned a van and had to be airlifted to a hospital; he still bears the scars on his right shoulder and says the near-death experience was a wake-up call.
"I thought, 'Life is short, I'm going to do a marathon,'" he says, which led to numerous big-city marathons, from Boston to New York to Miami.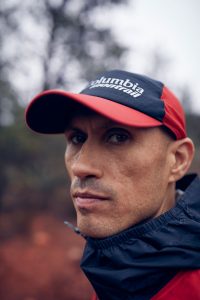 But after an introduction by a buddy, it was the trails that really resonated with Diboun, who, in his first race, the Finger Lakes 50s 50K, won and set a course record. He says he felt more alive on the forest trails and connected with the folks running long races there. He cites reading Dean Karnazes Ultramarathon Man as a huge motivator.
In 2009, Diboun's wife received a job offer in Portland and they made the move. The sport was starting to boom around then, and Diboun relished being at "the epicenter of awesome trails." The area was more conducive to year-round running, which helped take his running to a new level.
In 2010 Diboun earned a degree in exercise science from Portland State. After a year of personal consulting and coaching, he met another area trail runner Willie McBride, with whom he started a business. Their enterprise, Wy'east Wolfpack (Wy'east is the Native American word for Mount Hood) offers fitness classes for corporate wellness. While Diboun says there have been ups and downs, overall, it has been a success, and allows him to combine his job and his own training, and the flexibility to get after it.
We caught up with Diboun in Chamonix, France, during UTMB week, where he is preparing to run the CCC 100K, a burly race that generally covers the final 60 miles of the UTMB course and with a highly competitive 1,900-runner field. In 2017, Diboun ran UTMB in a race that featured stormy and even snowy conditions. "It was the longest [approximately 28 hours] I've ever been out on a course," says Diboun, who is looking forward to, due to the race's timing, running key sections of the UTMB course in the daylight that you would do at night in that race. He hopes for a UTMB rematch in the future.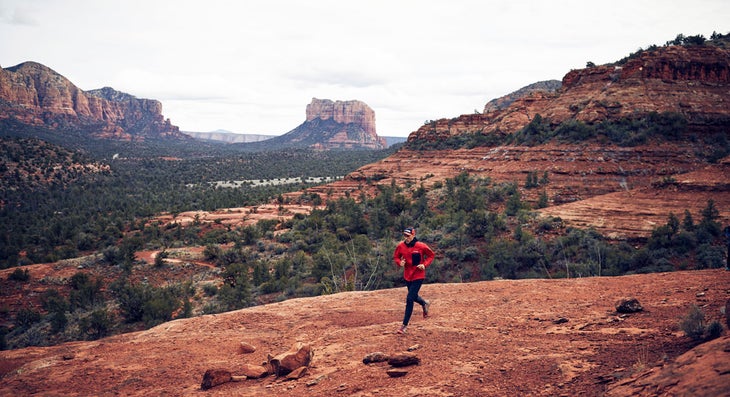 Q&A
Can you tell us about your training?
I don't stack long races too close together, and emphasize longevity and not getting injured and burnt out. I would call my training holistic, with lots of easy running and cross-training. This includes mountain biking, kettlebell, core and bodyweight exercises and functional fitness classes. I go easy on easy days, hard on hard days and throw in drop-back weeks.
What do you do for recovery?
I do a lot of hydrotherapy, which includes "contrast bathing." For example, that may involve going from a cold plunge to a sauna or steam room and back and forth. I hardly take showers nowadays and do hot baths with Epsom salts. It really revives your legs and promotes good circulation and blood flow to tendons and ligaments. The Scandinavians do it so it must be good! I try to practice what I preach to my clients.
You mention being mostly injury free for eight years—what else do you do?
The most important thing is sleep. A lot of this other stuff is placebo. I usually put my daughter to bed and I'm not far behind her. I try to get at least seven hours. In heavy training—peaking for a 100—I shoot for more if possible.
Outside of racing, what kinds of runs do you like?
I love adventure running, especially around the Northwest volcanoes, and think that it helps contribute to longevity. I had the FKT for the unsupported Wonderland Trail [circumnavigating Mount Rainier], which was about 25 hours over the 93 miles.
In 2016, I set the supported FKT on Oregon section of the Pacific Crest Trail—8 days 12 hours [53 miles per day], but two Oregon women are on it now and on pace to break it.
Would you be willing to share anything about the rough period in your 20s?
Sure, I kept it to myself for about 10 years, but have opened up more in the past five or so years in hopes I can help other people. It was a really wreckless and self-destructive time, and I think, like for a lot people, that it resulted from trauma early in life.
I joke now that I had two drugs of choice—whatever you've got and more. I was smoking a pack of cigarettes a day, and it was alcohol and coke that eventually took me down. I burned a lot of bridges and felt empty inside and out. It was a blessing in disguise as it took me down quickly.
What have you been enjoying lately outside of trail running?
I just watched this documentary about Bill Murray, The Bill Murray Stories, that's about these encounters that people have with Bill Murray.  He does all these things, like showing up at people's houses to do their dishes,  because he just loves to make people happy.
What do you like most about trail running?
I feel fortunate and grateful that running has taken me to great places, literally and figuratively. It is awesome being a runner because you get to go see places differently.