Jax Mariash Continues to Take the Stage
Heading out the door? Read this article on the new Outside+ app available now on iOS devices for members! Download the app.
Under a gibbous moon in the dry desert of Kanab, Utah, Jax Mariash climbed, hand over hand, up a pink sand dune. Then another. Then another. She climbed up and over 25 while wearing a 19-pound pack that carried all her food and supplies for seven days.
Mariash, 38, of Park City, Utah, was in the middle of the seven-day, 171-mile stage race in the Southwest, spanning from the North Rim of the Grand Canyon to the Grand Staircase in Utah.
"It was gorgeous," says Mariash of the nocturnal sand-dune climbing in Coral Pink Sand Dunes State Park, Utah. "I was all alone; I could see one red blinking light like five dunes ahead. Every time you'd crawl up you'd be like, what the eff am I doing? But it was so peaceful. The people that came through the next day were literally crawling on baking-hot sand."
On a mission to complete, and win, a self-supported stage race on every continent, Mariash is succeeding.
In 2015, she came in 2nd for women in the 4 Deserts Atacama Crossing in Chile; in 2016, she was the women's champion of the 4 Deserts Gobi March in the Gobi Desert, 2nd for women in Racing the Planet in Sri Lanka, women's champion of the 4 Deserts Last Desert in Antarctica, women's champion of the 4 Deserts Namibia in Africa and came back to be the women's champion of the Atacama Crossing. And in September 2018, she became the female champion of the Grand to Grand Ultra, checking off her North America box. She also came in 6th female in Morocco's legendary Marathon Des Sables earlier this year.
Her finishes in 2016 made her the first woman to have ever completed the 4 Deserts Grand Slam Plus (five 4 Deserts Ultra stage races), and she was crowned the 2016 4 Deserts Female World Champion. Mariash has raced dozens more races, but these alone total 1,256 miles, and they were all self supported.
"When Jax told me she was going to run five ultras in a year to win a world record," says Jonathan Macias, a business partner of Mariash's, "I didn't have a doubt in my mind that she would do it. After having her heart set on that project, she started training like a maniac and, sure enough, she became the first woman in the world to run the 4 Deserts Grand Slam Plus."
I want to have major gnar in the history books.
Her decorated running resume started in 2011 with mostly the half-marathon distance and quickly grew into the multi-day races she runs now, which range from 155 to 170 miles.
What Is a Stage Race?
Stage races are ultramarathons that cover long distances over a series of days, each featuring a specific distance called a stage. Runners camp at night with gear they run with, if it's a self-supported race, and they also carry all of their food for multiple days. Runners carry water, but refill stations are typically offered at checkpoints along the course.
The daily grind of the Grand to Grand broke down like this: (Day 1) 31 miles, (Day 2) 27 miles, (Day 3) 53.3 miles, (Day 4) Rest Day, (Day 5) 26.2 miles, (Day 6) 26.2 miles, (Day 7) 7.7 miles.
"Man, 171 miles is really different than 150," says Mariash, laughing. "It was trending up—we did 18,000 feet of climbing and the long days were all like running on the beach."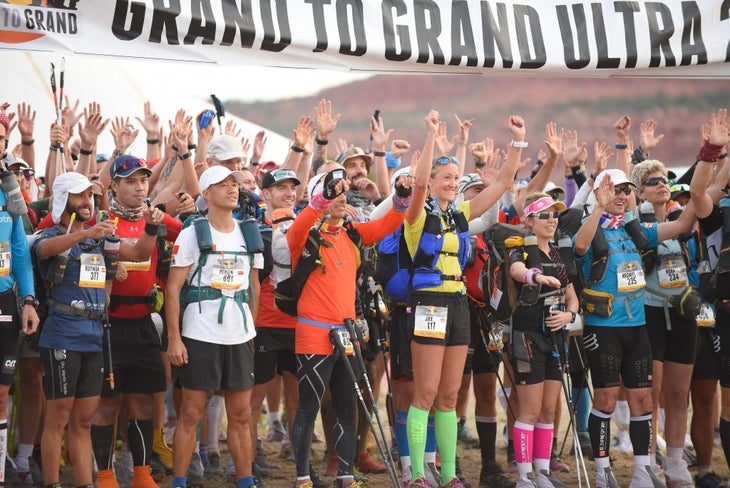 "Doing an ultra on every continent is kind of played out," she says. " I want to do self-supported stage races. I want to have major gnar in the history books. I love doing stuff for females and showing the female presence. And in stage racing, you're carrying the same amount of weight on your backs as men."
Stages of Healing
Three weeks prior to the Grand to Grand Ultra (G2G), Mariash rolled her ankle at mile two of the famous Ultra-Trail du Mont-Blanc in Chamonix and tore a tendon. She made it to mile 19.6 before DNF'ing.
"I was passing a bunch of people because I started a little behind," says Mariash. "Then there was a group of guys ahead and I was like I can beat them, and went for it and hit a rock wrong and tore a tendon."
I was crying at aid stations and bonky. Garth called me 'Drama Queen Jax' that day.
Knowing she had to do some miracle healing in short order, she did what she does best: went full throttle.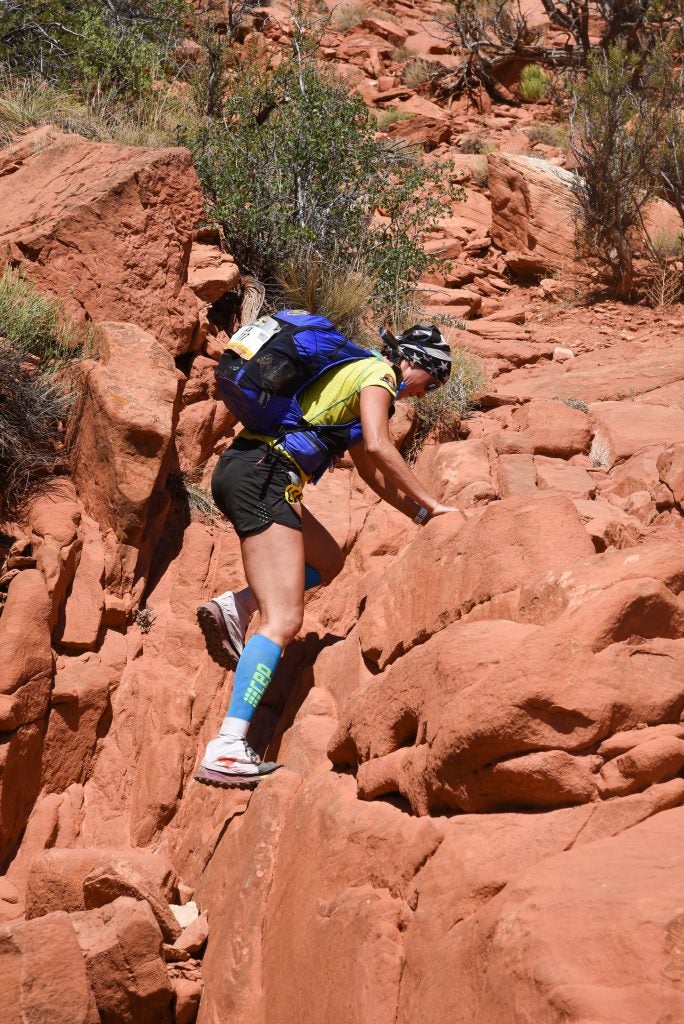 She did cryotherapy, antigravity-treadmill running, chiropractic work, low-level laser therapy, at-home electrical-muscle stimulation, wore recovery boots, taped the tendon everyday, used arnica, essential oils, essential-oil cream and something called B Strong Training which restricts blood flow to major muscles while engaging in low-impact strength work. She also drank cherry juice to help with inflammation, meditated and visualized winning the Grand to Grand.
"I wanted to win this race so badly," she said. "It was an obsession."
Stages of Training
Of course, this zeal appears in her training as well. Despite running her own business, STOKED ROASTERS® Coffee Company, she trains to win and nothing less.
During the winter, she'll occasionally substitute skimo racing for trail running, but tends to keep a full and international trail-running schedule. This winter, she plans to complete the Ice Ultra 230K in Sweden and the Leadwoman (a progressive race series consisting of the Leadville Trail Marathon, Silver Rush 50-mile bike race or run, Silver Rush 100-mile mountain bike race, the Leadville 10K race and the Leadville Trail 100), next summer. Then she's off to "train really hard" for the inaugural Cloud City 278K stage race out of Leadville, Colorado, in fall of 2019. In 2020, she'll compete in New Zealand's Alps to Ocean 301K to tag her last continent.
"Cloud City is at high altitude and an extremely difficult course. In addition to the prize money, if a woman wins outright, they're going to give her an extra thousand dollars. So UTMB will wait for 2020."
Snapshot of Mariash's typical training week:
Monday: Strength training, yoga or day off.
Tuesday: Speed workout in the morning (10 x 1 min hard, 1 min easy) or a fartlek session of 8 x 2 mins usually on flat road. Then an easy run in the afternoon with a weighted pack on.
Wednesday: Medium/long run of 15 – 18 miles.
Thursday: Repeat Tuesday.
Friday: 3 or 4 miles plus strength training.
Saturday: Long run up to 50K.
Sunday: 12 miles to 20 miles—one long run for the weekend is on road and one on trail.
"In a good year, I'm trying to do a lot more volume, like 80 to 100 miles per week. Beyond the speed, I try to stay in Zone 1 or 2 (conversational effort).
Stages of Eating
Despite her hard training and recovery, Mariash found herself bonking during the G2G. Packing for a stage race means counting calories as well as weight and Mariash shoots for at least 2,200 calories per day with the least amount of weight.
This is monitored by officials during stage races. To ensure racers aren't running out of food or cheating and acquiring food along the course, they weigh racer's packs every day.
"This guy Garth would come in and weigh my pack. On day five, he was like 'Jax, are you eating enough?' I wasn't. I was crying at aid stations and bonky. Garth called me 'Drama Queen Jax' that day."
It was a good lesson in eating regularly.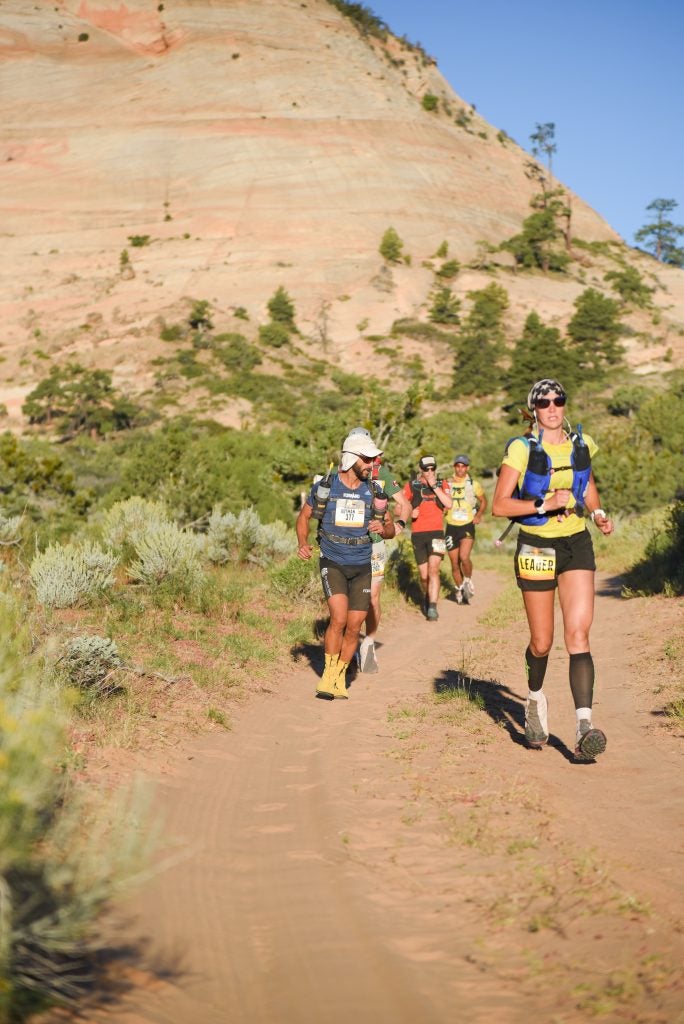 "I use calories per gram," she says. "Oreos for breakfast with a ProBar peanut-butter packet. That's 400 calories. Then my own instant coffee. During the running part I'll have a Voke Tab—superfood caffeine tablets—then I'll mix ProBar chews with coconut chips and macadamia nuts.
"Then I'll allow myself two Swedish fish per day. I also like Cheezits, Fritos, moon cheese (it's like space cheese—four or five little balls is a lot of calories) and Expedition Foods' mac and cheese."
Stages of Grandeur
The first three days of G2G covers 117 miles of ambitious terrain. "There were lots of sections running around cactus and dead trees," said Mariash, "and there aren't really trails anywhere. This was different from other stage races. The Marathon Des Sables just felt really hot, but this one was actually grueling. My toe had a humungous blood blister, and my toenail was just, like, floating around. And I had to tape my ankles to avoid rolling them."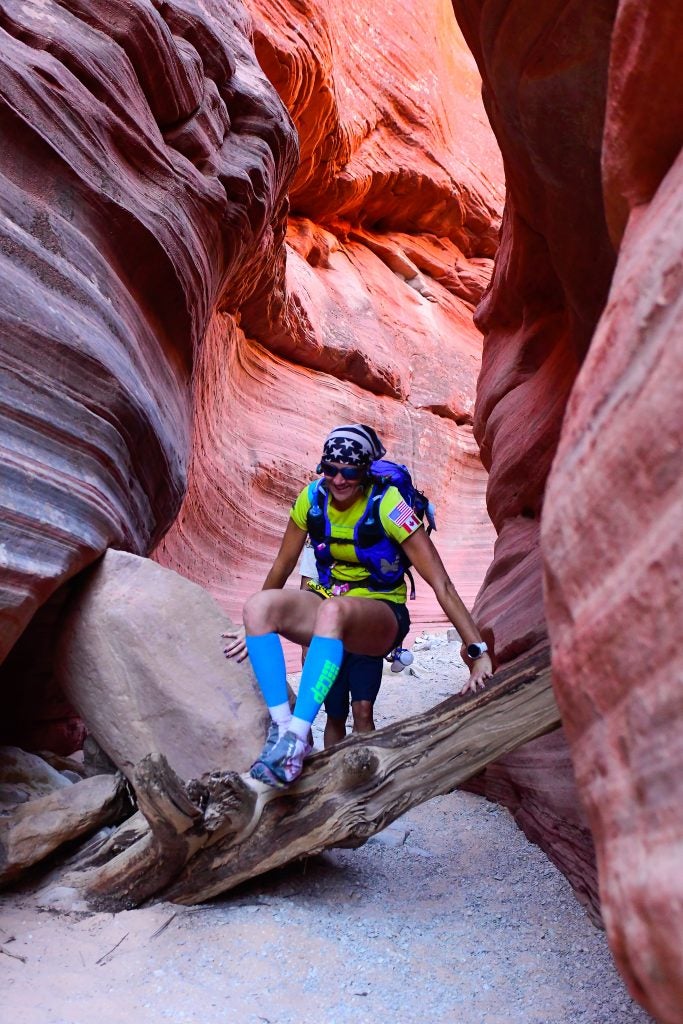 And, yet, she looks back on the course fondly. What makes G2G unique is the geologically diverse terrain that it runs through: the deserts of the southwest U.S.
"The first day starts at the North Rim of the Grand Canyon in Arizona," she says. "You could sit and dangle your feet off the rim."
The course continues from Grand Canyon to Kaibab National Forest, crosses the border from Arizona to Utah, goes through Zion and Bryce National Parks before ending at the Pink Cliffs of Grand Staircase, passing buttes, buttresses, slot canyons and red rocks.
"There are castles of rocks," said Mariash. "One of our campsites looked out on Zion. It felt like a slice of heaven. It's the hardest terrain I've done; there was no slack but it was gorgeous."
After 39 hours 10 minutes 41 seconds of racing time after leaving the North Rim, Mariash crossed the line as the first woman and first American. She finished 7th overall and had a lead of 3 hours 20 minutes over second place.
"The impossible is possible," she says. "I love showing people that through action. My favorite part is when people are like, 'I follow you; you've inspired me for years.' That is my why. That's why I run. People will hear about it and follow it. And it will take us outside to play."