UTMB-bound Athlete Zachary Friedley is Opening the Trails to Adaptive Athletes
Zachary Friedley has a lot of goals for his trail running career. One is making the sport more accessible to adaptive athletes.
Photo: On Running by Ryan Thomas
Heading out the door? Read this article on the new Outside+ app available now on iOS devices for members! Download the app.
Zachary Friedley is on a mission, but a daunting quest to cross the finish line of a massive trail running race next week in Chamonix, France, is just a small part of it.
Since he caught the trail running bug a few years ago, the 38-year-old adaptive athlete who was born without a right leg and several fingers on his right hand says life has taken on new meaning and his physical activity has had much more purpose. 
Running with a multi-part prosthetic right leg — which includes a mechanical knee and a carbon-fiber running blade — Friedley admits he isn't fast, but he's driven by many of the same things we all love about trail running, most notably the ability to immerse in nature, experience the freedom of movement, and connect with the welcoming and supportive community of people the sport is known for.
As he prepares to toe the starting line of the 40K MCC trail race from Martigny-Combe, Switzerland, to Chamonix on August 22 during the Ultra-Trail du Mont-Blanc festival of trail races, the resident of Mendicino, California, is on a quest to spread accessibility in sport  to other individuals with disabilities in the hopes of growing the number of adaptive athletes participating in trail running races.
"I just want to give people the opportunity to feel welcomed at something I love doing," Friedley says. "Trail running is so healing and epic, and there's something really amazing about it. To think there's a whole bunch of people who don't get that opportunity because it's not mainstream or they're just not invited is kind of crazy to me."
Always an Athlete
Friedley found his calling in sports early in life. Using a prosthetic leg, he grew up in the Kansas City area playing baseball and was a wrestler for his high school team. Although he struggled to find adaptive athletes as role models when he was a teenager, his family encouraged and supported him, never using the word "disabled" in their home.
But when he aged out of the Shriners Hospital for Children program at 21, he had to find resources and new prosthetics on his own. He connected with a company that made him a new leg, but it wasn't comfortable or entirely effective, so he wrote to the company president, who invited him to the Oklahoma City headquarters to get adjustments made.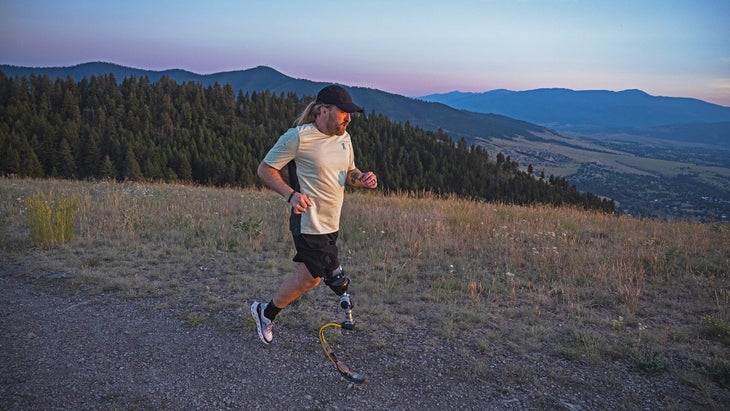 While he was there, Friedley was given his first running blade and connected with adaptive track coaches, and soon found himself training to try to qualify for the 2008 Paralympics in Beijing in the 100-meter dash and the long jump.
It didn't work out, but it was much more of a beginning than a failure.
"That was the first time I made the mental decision that I was going to run," Friedley says. "That was my connection or entry to running, trying to make the team in Beijing. Before that the running I had done for other sports was for training or punishment. I didn't come close to qualifying because I didn't train right and didn't have the right mental space to make that happen. But that was the first time I thought about running."
RELATED: Unpaving The Way
However, Friedley's path to trail running in his early 30s was long, challenging, and sometimes frustrating. But thanks in part to a month-long experience learning how to meditate and working with a shaman in an ashram at the foot of the Himalayas in India and the ensuing vision quest that changed his life, it was ultimately enlightening. 
When he returned to California in the spring of 2019, he began trail running more and started a nonprofit called Mendicino Movement Project, aimed at helping make prosthetics more accessible to under-resourced individuals and also found his way to the Born to Run Ultra Marathons festival in Los Olivos, California, with the intent of volunteering.
When he got to the race, he met race organizer and trail running sage Luis Escobar and immersed himself in the contagious vibe of those who had traveled to participate in the event. Before he knew it, Friedley found himself running his first trail race. 
"You know how it goes, right? You're around all of these runners who are lunatics and they talk you into doing something and all of a sudden I was running the 10-mile race," Friedley says, laughing. "I was super wigged-out because I had never run a race on a trail. I had never run further than 3 miles in my life, and it was one of the most mind-blowing experiences of my life…I really didn't expect all of the emotions to come out the way they did when I crossed the finish line. And I was like, whoa, what is this? I was hooked."
Relying on his innate athleticism and what he had learned about managing his prosthetic equipment — including having to pick dirt, twigs, and seeds out of his mechanical knee from time to time — he finished the 10-mile race in 2:23:01, finishing 163rd among 216 runners. 
A section of that course included a climb that was so difficult for Friedley that he had to crawl on his hands and knees. Photographers captured his effort, and when Escobar saw the images of what Friedley endured to reach the finish line, he invited him to be a guest on his Road Dog Podcast.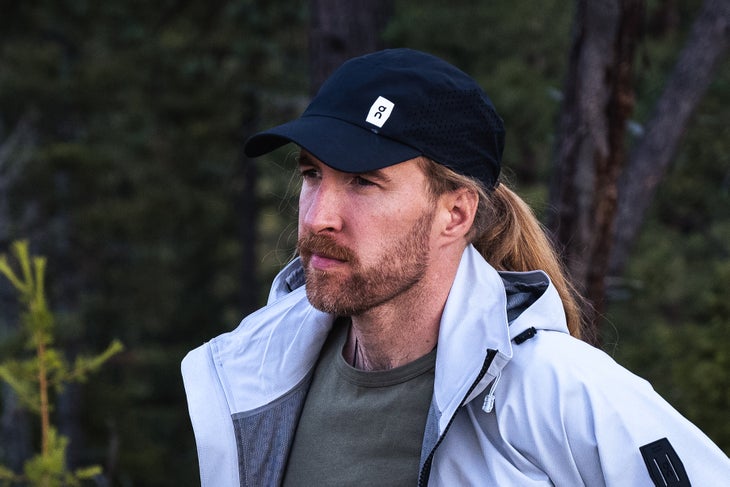 Friedley lamented that there were no other adaptive trail runners at the Born to Run Ultra race. He explained that 15% of the world's population is disabled, and that he wanted to inspire and encourage others to become adaptive trail runners in a setting where they feel included, seen, and celebrated. 
The two struck up a friendship and Escobar began mentoring him to become a race director. As Covid-19 put the world on hold, Friedley kept running and began working with Chicago-based endurance coach Chris Palmquist, who serves as the USA Triathlon Paratriathlon National Team Coach. She's helped Friedley train more efficiently and, most importantly, stay healthy.
Last May, Friedley ran Escobar's Greenhorn Ranch 25K race in Quincy, California, followed by the Old Cascadia 20-miler in Blue River, Oregon. His running and endurance were improving, but he was also making progress on launching his first adaptive trail running race and caught the eye of Go Sleeves CEO Darren Lancaster, who agreed to sponsor him and the race.
On April 16, the first edition of the Born to Adapt trail running race was held in conjunction with the annual Born to Run Ultra festival. (Go Sleeves helped produce a video about the inaugural event.) Six adaptive athletes participated in the inaugural 5K race (which was also offered as a virtual event), including a woman suffering from a progressive illness called polycystic kidney disease, a young boy who was born with limited mobility after suffering an intracranial hemorrhage in utero, and a woman who had a stroke five years ago and has to run with an ankle foot orthosis (AFO) brace to maintain a consistent gait.
The event was deemed a success, if for no other reason that it was the first one in the trail running world.
"What Zach has created is a space that is inclusive to all athletes," says Leigh Scraber, a physical therapist from Ventura, California, who helped run with a boy in an adaptive wheelchair at this year's race. "Adaptive athletes and athletes of all kinds running together is really special."
That inspired Friedley to keep going, both as an advocate for adaptive athletes and in pursuit of his own running goals. Last December, he quit his corporate gig and put all of his time and energy into trail running. During the winter, he approached several running shoe brands for sponsorship, but was initially frustrated by a lack of response or engaging conversation. 
But then he met with David Kilgore, the global head of sports innovation for trail running for the brand On Running. Friedley finally felt like he had been heard. The 30-year-old Kilgore, a former collegiate runner who manages and runs on the brand's global trail team, thought Friedley was a perfect fit for On.
"We're looking for multi-faceted athletes, athletes who are moving the needle of the sport, and what he's doing and the energy he brings to the sport is super impactful," Kilgore says. "There aren't a lot of opportunities to compete for people with similar adaptations, so that's a huge mission of his to help give people to race and explore the sport as well. That's super rad."
RELATED: 14 Runner-Friendly Summits
Friedley is hoping to get more trail race organizers starting divisions for adaptive athletes, both domestically and around the world. He knows having more races promoting that kind of inclusivity will help grow participation.
"We need a pioneer to bridge the gap between the adaptive athlete community and the rest of the trail running world," Escobar says. "Right now, that pioneer is Zachary Friedley. He's not only advocating for adaptive athletes but he's the guy out there doing things as an adaptive athlete himself. He has one foot and one knee and he's running trails. Zachary Friedley sees the world from a different perspective. I believe in him and what he's doing." 
As for MCC, Friedley knows it will be a tall order. Just short of a marathon in distance, it includes a whopping 2,300 meters (7,545 feet) of elevation gain as it sends runners from Martigny-Combe over the Swiss-French border and along the final section of the UTMB course before finishing in Chamonix. Although it's the smallest and shortest race during UTMB, it's still a big deal with 1,000 runners and a 10-hour cut-off time.
"It's gonna kick my ass, man," Friedley says. "I'd say there's a really big chance I might not finish. That's how big of a challenge it is. People ask me what my goal is and my goal is to finish the damn race in the allotted time and not get hurt and continue trail running the next week. Not to be reckless out there, but just finish. I want to be an example to other runners that adaptive athletes are athletes too."