Lee Berube Races Against Himself
Heading out the door? Read this article on the new Outside+ app available now on iOS devices for members! Download the app.
When Lee Berube crossed the line at the USATF Trail Half-Marathon Championships in June, advice from his legendary SUNY Geneseo college coach Mike Woods echoed through his head, "Always believe in yourself."
Berube had done just that, running away from an elite field at Montage Mountain in Scranton, Pennsylvania to win his first National Title. 
"It was a unique experience for me as it felt like a culmination of a lifetime of preparation, achievement, and failure."
The championship win is just one of Berube's recent successes in the trail and mountain running scene since transitioning from the road scene and refining his focus in 2017. He's most known for his triumphs at the nearly half century old point-to-point trail race in upstate New York, the Escarpment Trail Run. 
Nearly every picture of a runner competing at the 'trail run' held annually in July, depicts anything but traditional running skills. Scrambling on all fours, sliding on their backsides, contorting their bodies in every which way is what's required to traverse this remote and rugged hiking trail in the Northern Catskill Mountains.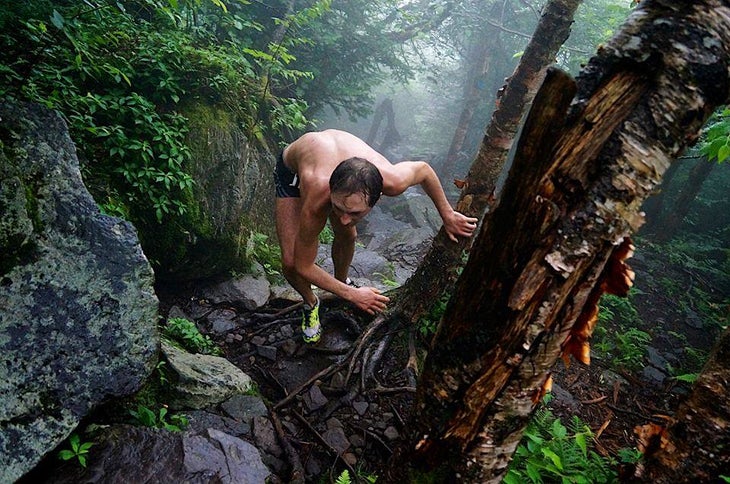 At 18 miles, with roughly 4,000 feet of elevation gain (and another 6,000 feet of elevation loss) this race in the midst of a typical blistering summer heat in upstate New York is for serious mountain goats only—it requires the speed of a road racer, yet technical skills of a mountain runner, and even the ability to navigate obstacles such as bees, bears, and cliff drops making it as iconic of a trail race in North America as it gets.
Lee Berube is one of those sure-footed climbing mammals, perhaps the G.O.A.T at the Escarpment.
The winner of the last two editions of this 44 year old race, created by Dick Vincent in 1977, set the course record in 2018, but heat hampered his ability to run faster this summer. 
"I think Lee has a very good chance of breaking his own record," says Vincent.
"However, I know it will take a good weather day. This year it was much hotter than the previous year, but if he can maintain his fitness and get a year similar to 2018, he can break it."
The race director, who was a stout mountain runner in his own right back in the day, is sure that in the future somebody, if not Berube himself, will go under 2:40 (His current CR is 2:42:09). It will likely take a group runners with similarly competitive C.V.'s working together to crack the barrier.
Berube set the foundation for his running prowess before he was even in kindergarten, and by the eighth grade, he was formally training for races. His childhood home was only a stone's throw from trails he learned to love as a kid. Featuring rugged trails to high peaks like Whiteface Mountain and miles upon miles of densely forested and root laden trails, Berube was able to hone the trail skills he uses at the Escarpment from a young age—adventures perfect to foster a challenging yet fun escape from school and all easily accessible out his family's backdoor.
"My parents encouraged my two brothers and I to be active and outdoors since as early as I can remember. We were fortunate to live in the Adirondack Park, have a small pond in front of our house to play in and miles of trails behind our house to run, walk, and ski. My two brothers and I were constantly outside. Fishing and biking were two of my favorite activities in the summer and I enjoyed cross-country skiing in the winter."
After high school, Berube ran cross-country and track & field for SUNY Geneseo. Following graduation in 2012, he kept training on the roads in an attempt to qualify for the 2016 Olympic Marathon Trials, but a combination of overtraining, high mileage, and unnecessary weight training resulted in an injury that took him a few years to recover from. 
"I found that running on trails was more conducive for recovery and injury prevention versus running on paved roads."
He turned back to his roots as a teenage runner and began training more on the trails and in the mountains near his home of Syracuse, New York.
Spending more time training on similar trails that inspired him to stay active while growing up near Adirondack Park rejuvenated Berube, and in 2017 he won his first mountain race, the Whiteface VK in Wilmington, New York, just one second off of the course record. Motivated by this result, Berube focused his training on accumulating vertical via steep ascent trails while simultaneously refining his technical descending skills on longer mountain runs each weekend over the next year and returned the following summer, breaking the record by nearly a minute. 
"I knew that I was decent at climbing based on previous training efforts, but it was somewhat of a surprise for me to win the race that day. After that success, I made it my goal to compete at the USA Mountain Running Championships."
Berube's had an outstanding 2019 season by first winning the USATF Trail Half-Marathon Championships in the beginning of June. He followed that up two weeks later with a third place finish at the historic Mount Washington Road Race and then successfully defended his Escarpment title a month later, albeit slightly slower (2:47:33) than in 2018. 
He has plans to go back for the three-peat in 2020. 
"I would say that the Escarpment Trail Run is a perfect blend of technical and runnable sections of trail. It gives you just enough jagged rocks and ledges to question your sanity while at the same time allowing you to learn something new about yourself if you work through it and finish the race. I like a trail or course that teaches you something about yourself while you run it." 
This year the grueling climbs at the Escarpment taught Berube patience in the heat and the challenging obstacle-filled descents forced him to focus with beads of sweat seeping into his eyes. Although less than a perfect race execution by his standards, his experience reinforced that he should enjoy the process and the story of the day, much more than the result. 
"That is a lesson that I can use beyond running. Participation in sport is a great complement to life, but not as important as your family, friends, and community. Trail runners keep things low key, they are not afraid to joke and laugh, or search to find their limits. There is a focus on sharing stories, the experience the trail provides, and I have met some really cool, truly unique people at trail and mountain races."
He'll use the winter and spring to work on his speed in hopes of setting a new 5k PR, while also incorporating hour-long sessions on the treadmill at 18% every other week to build strength for the grueling terrain he'll face next July.
"There is something about that race that is special; especially for a runner that hails from the Northeast. I view the race as a crossover of mountain and road running, and I am fascinated by the training process for the event."
His main goal for next year is to continue to improve and to never forget Coach Woods seemingly simple advice: "Always believe in yourself."
A true competitor at heart though, Berube wants to rewrite the record books as well.
"I plan to run the Escarpment Trail Run and attempt to break my own course record."
Applications for the July, 26th, 2020 Escarpment Trail Run open in May or you can volunteer at the race too.
—
Jeffrey Stern is a dog lover, coach, consultant and freelance writer with over a decade of experience in endurance sports. He grew up one mile from the start of his beloved Dipsea Race at the base of Mt. Tamalpais in Mill Valley and currently resides in sunny Santa Barbara, California. In his free time he coaches high school cross-country, enjoys exploring the Los Padres National Forest, swimming in the Pacific Ocean, and helping others in any way he can.