Jennifer Lichter is Taking The Mountains By Storm
After finding herself in Montana, Jennifer Lichter discovered a love and affinity for trail running. Now she's competing among the best.
Heading out the door? Read this article on the new Outside+ app available now on iOS devices for members! Download the app.
This article is featured in the Summer 2022 print issue of Trail Runner. 
When race organizers for Montana's Rut Mountain Runs took to social media to preview the field for last fall's 50K race, the list had one glaring omission: Jennifer Lichter from Whitefish, Montana. 
The omission was really  only noticed by a small group of runners Lichter trains with outside of Glacier National Park. They knew there had been an oversight, but an understandable one — Lichter didn't have any trail results to her name other than a half marathon from 2019. 
However, it didn't take long after the bobbing headlamps took off toward the 11,166-foot Lone Peak for Lichter to begin making waves amongst spectators and race officials. 
"I just kept getting updates from aid stations and ski patrol about the first runners," race director Mike Foote said. "I kept hearing 'the gal who's in the lead is running up things no one else is running up and chasing down the dudes.'"
Lichter built up a three-minute gap on second place by the five mile mark and only increased her lead from there. She would ultimately finish in 6:14:34, a mere 59 seconds off the course record.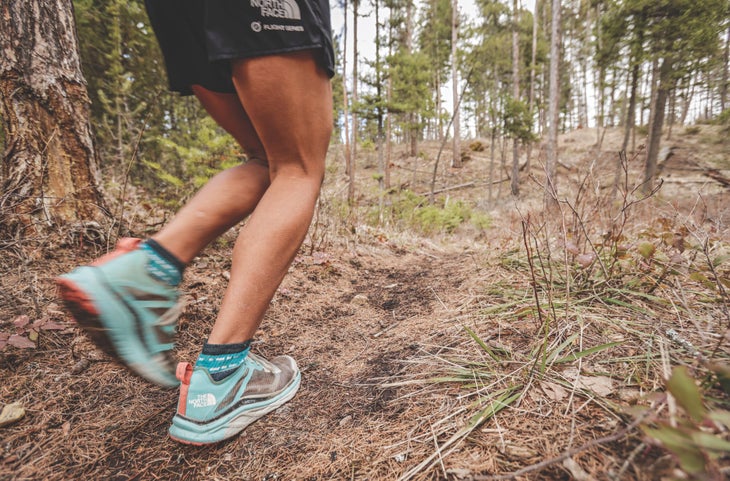 "Most people cross the line in various states of fatigue and despair, which is totally the norm and to be expected, but Jenn maybe put her hands on her knees for a couple seconds but overall looked just happy and fine," Foote said. "Some of the best female ultrarunners in the world have run that race over the last few years, so for her to be that close to the course record is saying a lot."
RELATED: Experience The Rut 50K In Two Videos
For Lichter, her stoke from winning was only mitigated by the barest hint of disappointment. 
"I wasn't even sore the next day," she said. "I think if I'd known how fast I was running I'd have found that extra minute."
Coming into that event as an underdog has given her a "nothing to lose" mentality when it comes to bigger, longer, and higher-profile races. Since the Rut, Lichter, 26, has been on a tear across distance and terrain. 
"I feel like the Rut gave me the confidence to say 'who cares who's in the field, you can do this,'" she says, "so I enter every event ready to run my own race." 
In October, she ran another trail race, the 4.7-mile Montana Cup in Butte, and won by holding off Missoula's Erin Clark, an All-American collegiate runner while at the University of Colorado who now runs professionally on the trails for Hoka.
"My dad says I have a strong heart because of that and tells me it's my gift," Lichter said. "I was made for the mountains."
A little over a month later, Lichter made her road marathon debut at the California International Marathon in Sacramento, finishing in 2:39:09, just two minutes off the qualifying mark for the 2024 Olympic Trials (the 2020 qualifying time was 2:45).
And people began to notice. By the end of 2021, The North Face had reached out and Lichter  had a professional contract in hand and a new wardrobe from the feet up.
"I feel more excited and more motivated for my running this year," Lichter said. "But I'm also more in tune with the idea that I have to take it a little more seriously. There's a little pressure that comes with being sponsored, but I know that for me as long as I keep it fun I don't think it'll feel like pressure."
RELATED: Trail Towns – Bozeman, Montana
Keeping The Doors Open
So far, it doesn't seem like the change of footwear has dampened her spirits. A few hours after sunrise on an unassuming May morning, Lichter warmed up to a high school track in Whitefish to run a time trial. 
Paced by two training partners, she clicked off near-even splits for two miles before cranking down for another four and a half laps. The result on the stopwatch was 16:34 for 5K, a 14-second improvement over her best as a collegiate athlete at the University of Toledo, and a time that had her absolutely beaming. 
"I'm kind of in shock at how strong and smooth that felt, especially because I haven't been doing any speed work," she said on her cooldown.
"It's kind of unreal how tough Jenn is, especially because you can't really tell she's working that hard," Cody Moore, a 2:29 marathoner and one of Jenn's pacers that day said. "She just isn't tested very often by competition and we really don't know what she'll do in the right conditions."
Lichter's training this spring was geared toward the opposite side of the spectrum from short track races — she was in the middle of an ultra-distance-focused training block that began with her win at the inaugural Lake Sonoma Trail Marathon in April and culminated with the a win and course record at the Broken Arrow 52K in June, which also earned her a spot on Team USA for the inaugural World Mountain and Trail Running Championships . Even with the trail focus, she still made a splash on the roads, finishing as the fourth American in Spokane's Bloomsday 12K on May 1. 
"Jenn's one of the toughest athletes I've ever worked with," said Lichter's coach, Boise-based Kameron Ulmer. "She's willing to tackle any distance, any competition, any time, and really thrives on the competition. As a coach I feel my main goal is to keep her happy and healthy and make sure she is always having fun. With those ingredients the doors are wide open."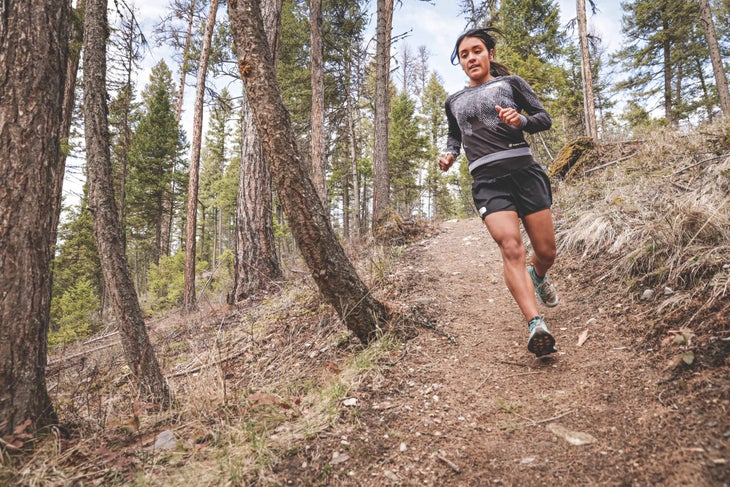 Made For The Mountains
Lichter was born in Colombia and attributes her affinity for the mountains to the nine years she lived in Bogota, one of the highest capital cities in the world at 8,661 feet. While she never played organized sports as a child, she said she knew she liked to "run around like crazy all the time."
"My dad says I have a strong heart because of that and tells me it's my gift," Lichter said. "I was made for the mountains."
Lichter and her two siblings were adopted from their orphanage in 2005 and moved to Wisconsin. They knew no English aside from the colors of the Colombian flag (yellow, red, and blue.) She hasn't been back to Colombia since, but is currently planning to spend a portion of next winter training there to take advantage of the altitude and climate and escape the Montana winter. 
It was in Wisconsin that Lichter first began competing in sports, taking golf and  swimming lessons and playing volleyball and soccer before discovering basketball as her first favorite sport. 
"I fell in love with running kind of accidentally after I outgrew the basketball scene. Or rather, everyone else outgrew me and I stayed short," the five-foot-two Lichter said. She started running at her mom's encouragement and did well enough in high school to continue at the University of Toledo in Ohio, though she calls her time there "rollercoaster-y". 
"I was training to train, not training to race," Lichter said. "That's why after college when I thought about quitting running, I realized there was so much more competitiveness in me than what I showed in college. That was just a glimpse."
RELATED: The Trail Runner Lightning Round – Missoula, Montana's Adam Peterman
Eyes To The Future
From Ohio she moved to Montana — another life-defining change that occurred by accident. She had intended to pursue a career in art therapy in Portland when a detour on her drive west brought her to Glacier. National Park.
"My mom and I were road tripping and stopping at all the national parks," Lichter said. "We stayed in Kalispell for two extra days because I loved it so much, but we had to get to Portland so my mom could fly home."
It took less than a week of city life before Lichter drove back to the Flathead Valley and made the mountains her permanent home. 
"It was this place where I didn't feel like I had to try, I just fit in," Lichter said. 
Lichter began working as a hiking guide in Glacier during the summers, spending each day taking visitors along the park's most popular trails, then returning in the evenings to cover the same ground at a much quicker pace. 
"Something in that lit this fire in me that I wasn't done running," Lichter said. 
She began working with a new coach and put down some goals — run a marathon, run The Rut, run across the Grand Canyon. Now as a budding professional, those goals are getting loftier. She wants to be competitive on the international level, whether that's over 50K or one day 100 miles, or any other distance that plays to her numerous strengths. As a dual citizen, there's also the possibility of competing as a member of the Colombian national team at an event like the World Mountain Running Championships.
"That's why I'm so excited. I feel like I'm slowly unlocking the potential that I always knew I had," Lichter said. "The big goal, though, is I just want to stay happy with the sport, and if I find balance, train well, and race well, I think I can do that. I can keep the stoke high."
Micah Drew lives, writes, and runs in western Montana. He can be reached at micah@flatheadbeacon.com.