"Funny Runner" Brittany Charboneau Overcomes Fears to Find Fun and Success in Trail Running
Heading out the door? Read this article on the new Outside+ app available now on iOS devices for members! Download the app.
Brittany Charboneau turned heads when she lined up for the Rundola, a trail race in Telluride, Colorado, on July 4. Sporting a sparkly star-spangled singlet, a USA visor, a jaunty blond ponytail and makeup that made her eyes pop, she looked more like a patriotic cheerleader than one of the weathered local trail runners who normally dominate this race.
Charboneau also wore shoes made for road, not trail. "I had no clue what I was doing," said the 31-year-old from Golden, Colorado, afterward about her second-ever trail race, which featured a climb under the town's mountain-hugging gondola, which ascends 1,800 feet up a ski slope in just 1.3 miles.
But when the gun went off, she charged up the hill not far behind ultrarunning-champ Jason Schlarb and ahead of ultra-phenom Kelly Wolf. She made it to the top of the mountain in 26:17, 1st female, 7th overall and just 11 seconds off the women's course record.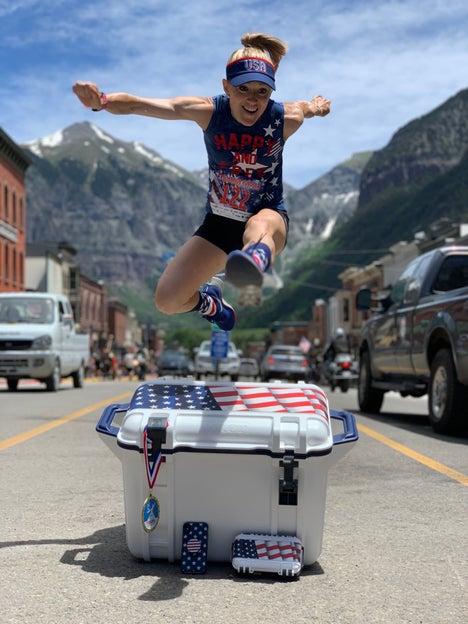 "I never experienced one mile that was more challenging in my whole life," she said. "My heart almost beat out of my chest, and all I was doing was scrambling up a freaking mountain, relying on shrubs to help get me up!"
Charboneau is an up-and-coming, elite-level road marathoner with Olympic aspirations who moonlights as a comedian and improv teacher. Until this summer, she avoided running and racing trails because "I had a hearty amount of stereotypes in my head about trail runners, and also I was terrified of nature."
Then circumstances prompted her to sign up on short notice for the Leadville Trail Marathon and Heavy Half on June 15, where she won the half-marathon event handily, finishing 7th overall and 16 minutes ahead of the second-place woman. She has since decided to embrace training on trails, believing it'll help her reach her goal at the upcoming Olympic Marathon Trials while also giving her fresh comedic material and stoking the fun of running.
"Trail running has been an incredible strength-builder physically, and I'm feeling even stronger on the road," she says. "I love tackling the insane climbs on the trail, because it makes the road hills seem like adorable babies."
"The Funny Runner"
Charboneau adopted the social-media handle "The Funny Runner" a couple of years ago when she quit a full-time corporate job to pursue running and comedy. "I wanted something to call myself when people asked what I did for a living."
While her comedy and acting pursuits have taken a back seat to her running during the past year, she continues to teach improv at the Bovine Metropolis Theater in Denver. "It's a blast because it's basically adult playtime."
Originally from Denver, Charboneau ran cross country and track starting in 8th grade and through high school. "I never won a race, was never the top runner on the team, but loved it." She headed off to Colorado State University in Fort Collins to pursue a triple major in Spanish, International Studies and History, and during her first two years of college ran casually on her own.
"Then a friend encouraged me to walk on the cross-country team in 2008, so for my last two years of college," she says. "I ran cross country and the 800 meter in track, and was pretty awful! I was mega hard on myself and ridiculously negative—I lost a lot of joy in running during that time."
Following college, she decided to take on the challenge of a marathon. After she finished her first marathon in 2012 in 3:33, she made steady progress over the next six years. She ran 3:00 at the 2015 Chicago Marathon, then earned a course-record win in 2:52 at the 2017 Colfax Marathon in Denver.
In 2018, Charboneau set a stretch goal to qualify for the Olympic Marathon Trials, to be held February 29, 2020, in Atlanta. She smashed her goal with a PR of 2:36:25 at the Los Angeles Marathon, good enough to qualify for the Trials' sub-2:37 "A" standard.
Also in 2018, Charboneau found herself in the spotlight at the New York City Marathon when she briefly led the field of elite women and ultimately finished 17th female, 10th American. She ran and won shorter road races last year as well, including the Disney Princess 10K in 37:03 while dressed in costume as Ariel.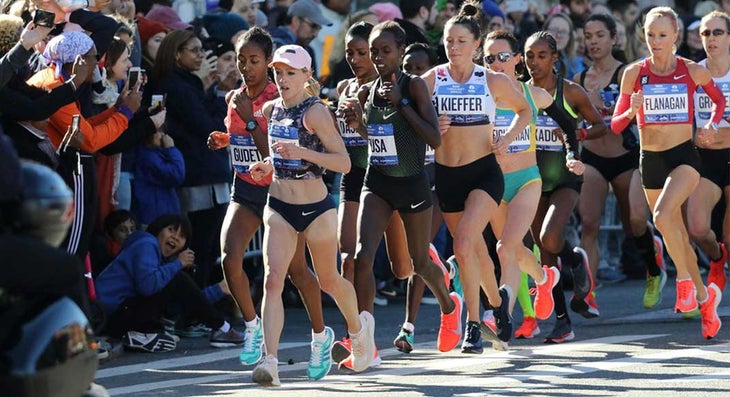 Along with marathoning, Charboneau discovered acting and comedy during her post-collegiate years. She moved to Chicago to train at Second City, a comedy school and theater, where she studied improv and sketch comedy from 2015 through 2016, then moved back to Colorado.
She created a one-woman show called "My Long-Distance Relationship with Running, from the Early Miles to the Olympic Trials." Her show, which features running as a character personified by a pink treadmill that she runs on, traces her 17-year relationship with the sport, "from puppy love miles to eventually 'going all the way' in the marathon." One scene features a cooking demonstration on "how to hate running."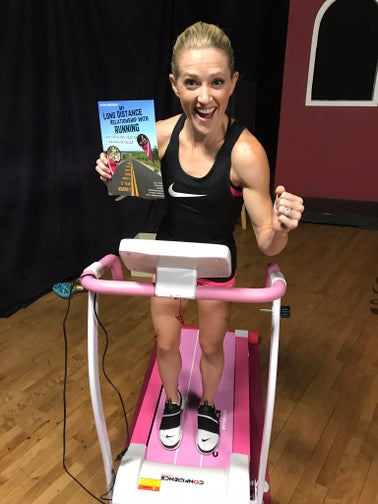 The show debuted in June 2018 at a theater in Denver. Charboneau hopes to revise it and perhaps add a character sketch about how her perception of trail runners changed this summer.
 "Trails Are For Snails"
"I have been so vehemently against trail running for the longest time," Charboneau confessed in a blog post following the Leadville half-marathon in June. "Why do they need to wear backpacks for just a 10-mile run? How is running a 12-minute mile a 'run'? Why doesn't anyone wear a crop top? If I start trail running, 'those people' are going to make me grow a beard. … I swear, my opinions have changed!"
Thinking "trails are for snails," she stuck to training and racing on pavement until an injury involving her SI joint prompted her to skip the London Marathon in April. Then her Denver-based coach, Jenni Nettik, encouraged her to train on trails once a week for softer surfaces and greater variety. Charboneau agreed, reluctantly.
https://www.youtube.com/watch?time_continue=28&v=OAtl3EOgUcw
"I think deep down I was afraid of nature, animals and snakes, even though I was born and raised in Colorado—I'm the worst Coloradoan," she says. "And I was like, why would you not want to go as fast as possible" on pavement instead of dirt?
Charboneau's husband, Justin, who runs casually, had signed up for the Leadville Heavy Half, and three weeks before the race, she decided to join him. Her longest run on a trail leading up to that race was just eight miles.
"I planned not to walk any of it," says Charboneau of the Leadville Heavy Half. "But it was brutal, absolutely brutal." She succumbed to hiking the steepest parts of the high-altitude course, "and I thought, if somebody passes me, good for them, because I can't go any harder. It was bananas, having to walk."
She also confronted the reality of needing more fuel during the trail race. Sucking down a Huma-brand gel for the first time, she got the name of the state fish of Hawaii, humuhumunukunukuapua'a, stuck in her head like a mantra.
Although the Leadville half-marathon felt relatively slow to her, she averaged a 7:24 pace for the win in 1:54. By comparison, she had trained to run the London Marathon at a 5:40 or faster pace.
One of the best parts of the Leadville Heavy Half, she discovered, was the support she received on the out-and-back course. "When I made the turnaround, everyone was cheering, high-fiving and encouraging me, even the other women in the top 10. I couldn't believe it; I don't think I've experienced or given praise like that in road races, because they can be really cutthroat. I loved the energy ."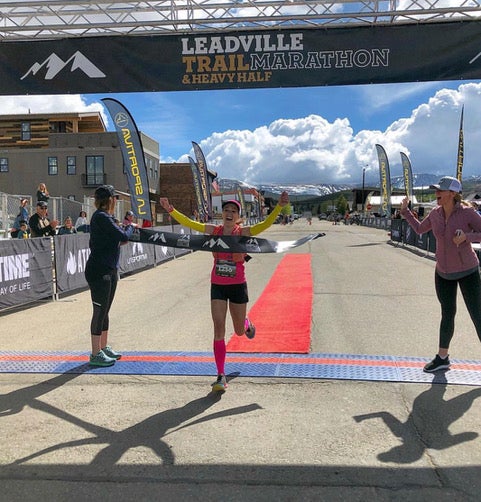 The trail race taught her two key lessons, she says: "Power hiking is still moving and sometimes more efficient. Also, soak in the scenery and realize what a privilege it is to be running in this environment."
Since the Leadville race, she has found that training on trails complements her road running. "Being on trail gets me excited to be on road and to go fast, and when I'm on the road, I'm excited to run trail for the next crazy challenge."
In road racing, she adds, "I know all of the competitors and all of their PRs. The beauty of trail now is that I have no expectations for myself, so I just get to see what I can do. Trail running is this whole other extension where I get to play and explore."
Using Improv on Race Day
Charboneau's next trail race is August 10, the Aspen Backcountry Heavy Half Marathon, and this fall she'll build up to the Marine Corps Marathon in October.
"Obviously my ultimate goal is to make the top 3 at Trials next year" to earn a spot on the marathon team for the 2020 Olympics in Tokyo, "but I've come to realize that the Trials doesn't start or stop my career. I'm pumped to keep working as hard as I can and to show up in my best shape ever in February, but there is so much opportunity in running that I can't wait to see where my journey might lead."
Charboneau also began coaching professionally recently. She entered a partnership with Nettik, her coach, to specialize in coaching youth and young adults. "Coaching youth helps breathe even more life into my own running," she says. "They remind me to keep running fun and silly, and to practice what I preach with my own training."
For her upcoming races, Charboneau says she'll draw on improv training to manage race-day stress.
"Improv is all about being in the moment, staying present and playing with whatever comes at you," she explains. "I try to take that same approach with running, especially prepping for the Trials. I want to get in as much training until that day, then let everything go and just play, because it could be a once-in-a-lifetime opportunity."
In improv, as with racing, she adds, "Trusting yourself is huge. In improv, as soon as you start to hold back or question, the audience sees it. … On race day, when I trust in my plan and the work I've done, I rock the race and have a blast."
—Sarah Lavender Smith is a Telluride-based coach and the author of The Trail Runner's Companion: A Step-by-Step Guide to Trail Running and Racing, from 5Ks to Ultras. She met Charboneau at the Rundola race.