Heading out the door? Read this article on the new Outside+ app available now on iOS devices for members! Download the app.
Jim Walmsley isn't the only top trail runner competing at the Olympic Marathon Trials on February 29th. Twenty-nine-year-old Ashley Brasovan will toe the line at this year's Trials, qualifying at the 2017 California International Marathon in 2:40:20. In 2019, Brasovan was the North America Skyrunning  Champion and USATF Half-Marathon Trail Champion. 
This year's Trials might give trail runners a distinct advantage. According to the Atlanta Track Club, the course features 1,389 feet of ascent and 1,382 feet of downhill running. For comparison, the famously hilly Boston Marathon boasts 924 feet of gain on the course. This year's course may favor a competitor like Brasovan, whose mountain-forged legs are used to the specific demands of grinding uphills and grueling downhills. 
Born To Run
Brasovan was born in Florida and grew up swimming and scuba diving. In high school, she was a champion track athlete and won the 2007 Foot Locker championships, and came in second in 2008. Her early track achievements won her an athletic scholarship from Duke University in North Carolina, though injuries kept her from competing during most of her college years. 
Her early days exploring the ocean near her home in Florida fostered Brasovan's love for the environment, and she started studying oceanography before switching to environmental studies. Her passion for the natural world and energy studies prompted her to pursue a career in sustainability and energy in Golden, Colorado.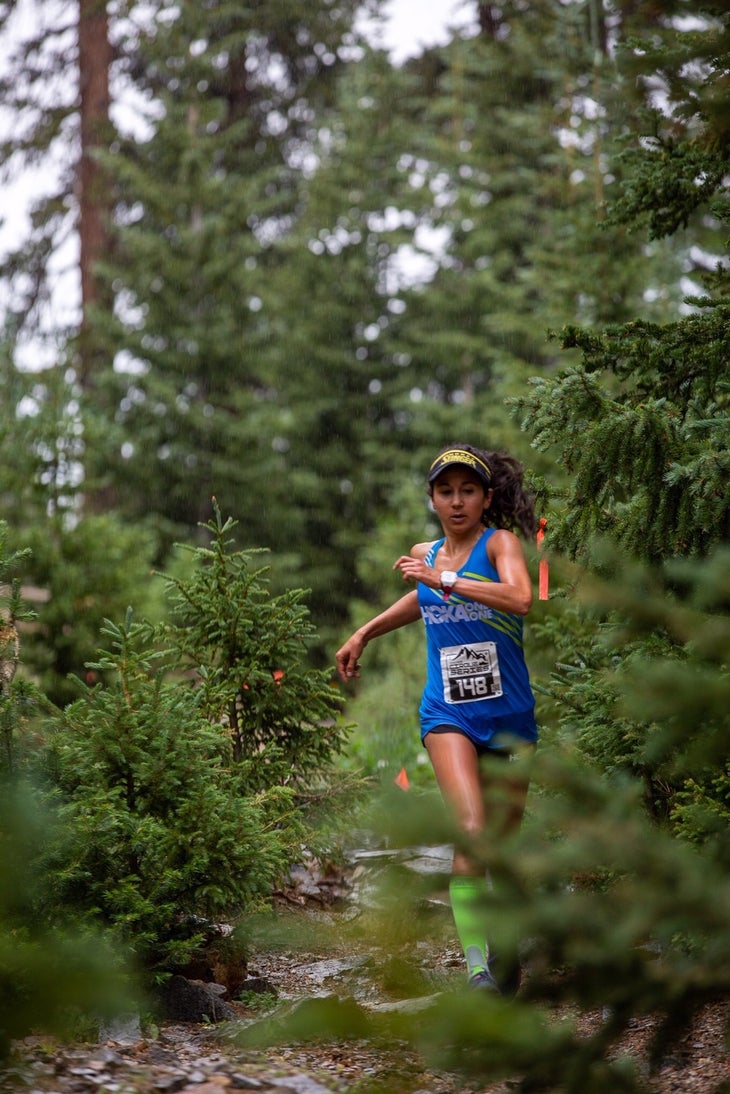 Moving To The Mountains
Shortly after moving to Colorado in 2016, Brasovan launched her post-collegiate career by racing her first half-marathon and unexpectedly qualifying for the 2016 Olympic Trials with a time of 1:14. Five weeks later, she toed the line in LA for her first marathon. 
"At that point, I had never taken a gel in my life and had never done a long run over 90 minutes so my goal was basically to finish the race," says Brosovan. "[That first marathon] was quite a learning curve and I knew that I needed to increase mileage and workouts, and hone in on nutrition."
After tackling her first marathon, Brasovan turned her attention to the mountains. Femoral stress fractures and a metatarsal fracture had sidelined Brasovan in college. To prevent future injuries, she turned to softer surfaces for her training and racing. In 2017, she took her speed to the trails at the USATF Trail Half-Marathon Championships, where she won in a blistering 1:18:30, in her first-ever trail race. She finished more than five minutes ahead of the second-place woman. 
"Coaching Ashley is what I imagine it's like to be one of those people in Mission Control at NASA," says her coach, David Roche. "She has rockets in her legs, so my role is to try to help point the rockets in the right direction, and get out of the way when it's time for liftoff. We try to keep her speed high year-round, which has benefits for roads and trails." 
For the past two years, Brasovan has competed in the World Long Distance Mountain Running Championships for Team USA, and in 2019 won the Barr Trail Mountain Race on the famous 14er Pikes Peak to earn the North American Skyrunner Champion title. Later that summer, she scaled the 14,000-foot mountain again to snag second place in the Golden Trail Series Pikes Peak Ascent. She capped off the season with a win at Chamonix, France's Mont-Blanc trail 10K and the season title at the Cirque Series.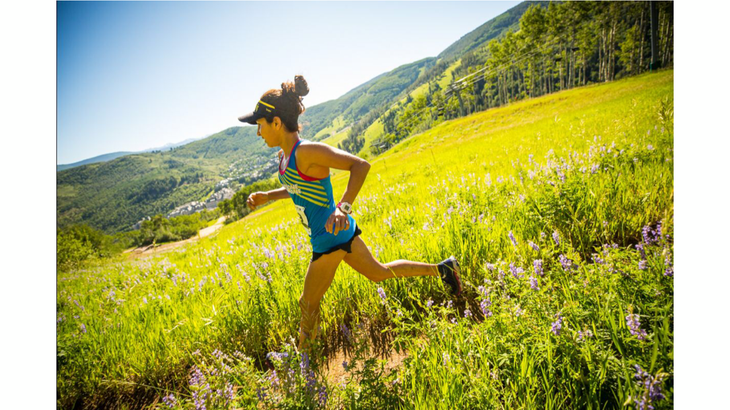 Bringing In Balance
Brasovan strives for balance in her training, mixing up surfaces and even sports. Her winter training has consisted of a low-volume, speed-focused approach that includes plenty of fun cross training, including cross-country skiing, yoga, strength training and swimming. Her average weekly volume has hovered around 50 miles spread across five days. 
"I will definitely be one of the lowest-mileage athletes on the starting line in Atlanta but have been really excited and happy about life in general," she says. "I'll be relying on the 'freshness' and mental happiness in this race!"
Her favorite workout? Hill repeats, to build strength and keep impact down. Her go-to: 5 X 3-minute repeats. 
Brasovan is passionate about her career outside of running. Most days, she's awake at 5:30 to squeeze in a run or a workout before work, sometimes in Colorado's frigid morning temperatures. She almost never does more than one workout a week, to keep the risk of injury low and work/life balance in check. 
Brasovan works with communities to improve their sustainability and energy efficiency, which feels like a natural way for her to give back to the environment she loves and runs in. 
This Saturday at the Trials, Brasovan will set off with 511 other American women to run a marathon around Atlanta. 
"I'll be relying on the fitness from all of the trail racing that I have been doing and on my strength and strong hill-running abilities especially in the second half of the race," says Brasovan. 
Her main goal is to show up rested, happy and ready to improve on her previous 55th-place finish in the 2016 Trials. 
Zoë Rom is Assistant Editor at Trail Runner and host of the DNF Podcast. Her runs are fueled by podcasts and pizza.